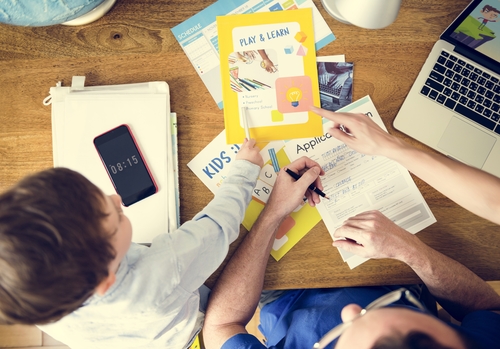 Educational subscription boxes are perfect for homeschoolers. Boxes are available in themes ranging from science, to music, to geography, and beyond. Whether you're on the hunt to replace a textbook, mix things up a bit, or encourage a new interest, here are the 10 best subscription boxes for homeschoolers.
Little Passports
From $14.95 / month
Little Passports offers a variety of different subscription boxes based on age, including:
Early Explorers (ages 3-5)
Science Junior (ages 5-8)
World Edition (ages 6-10)
USA Edition (7-12)
Science Expeditions (ages 9+)
The boxes provide students with an excellent way to study geography and science. Each box, regardless of age or edition, revolves around a new theme each month.
Steve Spangler Science Box
From $19.99 / box
Homeschool science can be a blast with the Steve Spangler Science Box. It's available in two sizes — STEM Lab (up to five activities) and STEM Deluxe (up to 10 activities). This unique science box is packed with anything and everything a student needs to explore the subjects of:
science
technology
engineering
mathematics
Every activity comes with an easy-to-follow instruction guide. The Steve Spangler Science Box is designed for children ages 5-12 years.
Sol Book Box
$20.00 / month
Homeschoolers studying Spanish will find the Sol Book Box to be an excellent resource! The monthly subscription box carefully curates Spanish-language and bilingual books from Spain, Latin America, and the United States, then sends one gift wrapped like a present right to your doorstep.
Learning Crates
$24.99 / month
Learning Crates provide students and parents with an excellent way of supplementing just about any subject with fun activities. Upon signing up, you select your child's grade level, gender, favorite hobbies and academic interests. You can also select any specific need or subject you'd like your monthly subscription box to cover. Each month, a box of fun academic items hand-picked for your child by K-6 teachers will arrive on your doorstep.
Little Minds Learning Box
From $25.95 / month
Little Minds Learning Box is another monthly subscription box which provides preschool-aged children with a slew of developmentally appropriate activities. Myriad different subscription options are available, from a one-child/one-theme box, to a one-child/two-theme box, to boxes for several children in the same household. Boxes include 13-16 activities per theme. All are carefully designed to follow a child's development with motor skills, STEM, crafts, language, and more.
Genius Box
$29.00 / month
The Genius Box monthly subscription box invites homeschoolers to "think inside-out of the box!" Each box is delivered right to your doorstep, and includes a minimum of three STEM activities with everything a child needs to complete. Boxes always follow a theme. A few past themes have included:
shapes and structures
flight
polymers
exercise science.
The Preschool Box
$32.95 + shipping / month
Designed for children ages 3-6, The Preschool Box provides you with a great way to introduce fun learning activities to your young children at home. Each box is packed with a minimum of 16 hands-on activities meant to:
teach important reading skills
encourage creativity
engage students in basic math concepts, and much more
Subscribers even receive a fun new read-aloud book in every box! Have more than one child? The Preschool Box can be adapted to include materials for up to three kids.
Club SciKidz Labs
$34.95 / month
With the Club SciKidz Labs subscription box, engaging in science has never been more fun! This monthly box is designed to invite young scientists of all ages to explore the world around them. Each new box contains multiple hands-on activities, experiments, and projects, plus:
a lab notebook
science quotes & riddles
facts about inspiring scientists, and more
Every month, students can explore a new theme. A few past past themes have included:
weather
forensic science
fossils
robotics
It is even possible to purchase a past box should a particular theme be of special interest.
Ignite English
$34.99 / Two Months
Whether a student loves reading, or needs a bit of inspired help in the subject, Ignite English is an ideal solution. The Englishbox is a bimonthly box curated by experienced teachers. Each new box features:
a classic or bestselling novel
an in-depth reading guide complete with discussion questions
2-3 kid-approved gifts relating to the theme of the book
Subscribers even have access to Ignite English's online bookclub, a perfect resource for discussing the reading with peers.
Songbird Box
$35.00 / Three Months
The aptly named Songbird Box is a delightful quarterly subscription box which brings music right to one's doorstep! Specially curated for children ages 0-6, the Songbird Box includes:
a high-quality musical instrument
a music-themed book
a song guide for learning new songs and rhythms
materials for a music activity
The box is fun for the whole family!