There are few things better than tasty pizza and a good juicy burger — except for maybe tasty pizza and a good juicy burger that can be enjoyed on a college student's budget!
We've found the 30 best college towns for pizzas and burgers. Some of these towns were chosen based on the number of dedicated pizza and burger joints they can offer food lovers, while others made the list because they are home to some of the best pizza and burgers in the nation. Either way, each burger joint and pizzeria mentioned below is near a major college campus, offers plenty of variety, and is accessible for even those on the smallest of college budgets.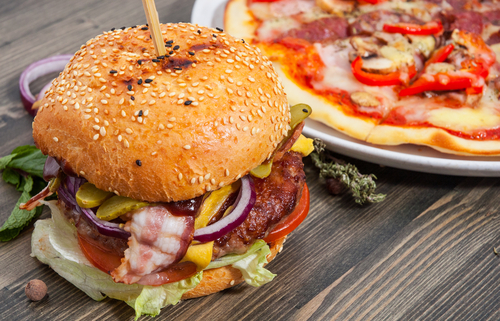 1. Louisville, Kentucky
University of Louisville, Bellarmine University, Southern Baptist Theological Seminary
Just as Starbucks exist on every corner in some places, so do pizza places exist on every corner in Louisville. Home of University of Louisville, Kentucky's largest city may be the birthplace of Papa John's, but it has a wide selection of local and national pizza places to rival even the largest cities. One of the best is BoomBozz, a local pizzeria with a unique potato-topped pie that the Food Network called the best pizza in America. Other local favorites include Coal's Artisan Pizza (which names their unique pizzas after famous Louisville neighborhoods) and Impellizzeri's, while favorite chains include Mellow Mushroom and Blaze Pizza.
2. Providence, Rhode Island
Brown University, Johnson & Wales University, Rhode Island School of Design
When in Providence, Rhode Island pizza lovers flock to Al Forno, a nationally recognized local pizzeria known for its thin-crusted grilled pizzas and fresh toppings. Al Forno's specialty is their signature margarita, which they top with a house-made pomodoro, fresh herbs, two types of cheese, and an extra splash of extra virgin olive oil. Burger lovers will be pleased to know that a number of locally-owned burger joints have been popping up around Providence over the last couple of years, one of the most popular of which is Harry's Bar & Burger (look for the cow out front). You won't beat Harry's sweet potato fries and onion strings, but the main event here is certainly the burgers themselves. We recommend the potato-rolled sliders.
3. New Haven, Connecticut
Yale University
In 1925, Frank Pepe opened Frank Pepe Pizzeria Nepoletana and started a craze with his New Haven-style "apizza." Now one of the oldest pizzerias in the country, Frank's pizza joint is run by his grandchildren and remains a New Haven institution. The most popular pizza is the white clam pizza, though Frank Pepe's The Original Tomato Pie (made without the mozzarella cheese topping) is still a menu favorite. On your trip to Frank's, don't be discouraged if the line stretches out the door and down the street — the pizza is worth the wait.
4. Phoenix, Arizona
Arizona State University, Grand Canyon University
Between avocado pizza and pizza with a Spanish almond topping, college students in Phoenix will have access to some of the most deliciously unique pizzas in the country. The most popular pizzeria in town is undoubtedly Pizzeria Bianco, which has been called the best in America. There is almost always a line out the door, but the wood-fired crusts, house-smoked mozzarella, and signature Margarita pizza are worth it. The gourmet Neapolitan pizza at Cibo in downtown Phoenix is another popular option, as are the Chicago-style pizzas at Spinato's Pizzeria. Finally, those on a student budget are sure to love Venezia's Pizzeria, which offers a slice of quality pie for a mere $2.50 (and that's before all of the restaurant's regular coupons, discounts, and daily deals).
5. Savannah, Georgia
Savannah College of Art and Design, Armstrong State University, Savannah State University
Situated in Savannah's charming historic district is Vinnie Van Go-Go's, a popular pizzeria ranked as the top place for pizza on Yelp and TripAdvisor. Catering to students and other-laid back crowds, Vinnie Van Go-Go's offers outdoor seating, pizza by the pie or slice, and is even dog friendly! Another nearby place, Screamin' Mimi's, has long rivaled Vinnie's for the title of best pizza in town. Serving massive pizzas, Screamin' Mimi's is known for their New Jersey-style White Tomato Basil pizza. Other great Savannah options include Dino's Pizzeria, Sweet Melissa's, and Mellow Mushrooms, the last of which is a popular Southern chain.
6. Amherst, Massachusetts
Amherst College, University of Massachusetts Amherst
Amherst, Massachusetts is home to a number of great eateries that local students can enjoy. One of the most popular is Antonio's Pizza, which serves gourmet pizzas with unique toppings like BBQ steak, tortellini, and creme fraiche. On most days, a single slice of one of Antonio's unique pies can be had for $3-4, but one can also enjoy a slice of classic cheese pizza for $1 on Friday nights. For burgers, head to The Pub and order one of its eight massive burgers. The most popular is the Cheese Excaliburg, a classic 1/2-pound burger smothered in American cheese and dressed with the basics.
7. Charlottesville, Virginia
University of Virginia
University of Virginia students know that the best burgers can be found at White Spot, a greasy spoon-type hole in the wall located beneath the train trestle on the lowest point of The Corner. White Spot is famous for its Gus Burger, a tasty cheeseburger topped with the usual plus a fried egg. The Gus Burger has been White Spot's specialty for more than half a century, and is a definite must for any visit or student in Charlottesville. For pizza, head to Fry's Spring Station, one of the few pizza places in Charlottesville serving quality gluten-free pies. While at Fry's, try the aptly named pizza called The Jefferson, a white pizza deliciously topped with fresh arugula and prosciutto.
8.Chapel Hill, North Carolina
University of North Carolina at Chapel Hill
UNC-Chapel Hill students have a wide selection of tasty food options. Good barbecue burgers can be found at The Pig, while the aptly named Sandwhich offers unique gourmet sandwiches that are big and tasty enough to please even the most die-hard burger fan. For pizza, head to Italian Pizzeria III. Every bit of their pizza, from the dough to their selection of toppings, is handmade each day, and rumor has it that their sauce is their mother's own secret recipe. Whatever it is, Italian Pizzeria III is a great place to enjoy a delicious pizza while watching the UNC games on the many TVs.
9. Bloomington, Indiana
Indiana University
IU students have a number of great options for burgers, including Chocolate Moose and Bub's Burger's & Ice Cream. At Bub's, burger lovers can choose to have their burger made of beef or something more exotic, such as elk. The "Big Ugly" comes highly recommended here, and has even been called an "out-of-body food experience." For pizza, make a trip to Mother's Bear, where pizza lovers have their choice of traditional, deep-dish, or honey-sesame crust. The topping options vary from a salsa del rafano (a blend of house red sauce and fresh horseradish) to apple-gouda chicken sausage. Because it's the Hoosier State, we recommend going the whole nine yards and ordering the Hoosier ham on a deep-dish pizza.
10. Athens, Georgia
University of Georgia

University of Georgia students not only have access to a college town full of great dining options, but they have access to food prepared by world-renowned chefs. At 5&10, executive chef Jason Zygmont prepares prime "pimentowurst" BLT burgers. Zygmont has worked at Noma in Copenhagen and Thomas Keller's Per Se, so burger lovers should be well pleased with the 5&10 offerings. While there aren't any executive chefs at Little Italy Pizzeria, local college students will love the pizzeria's laid-back vibe and extensive menu of pizza and beer options, all at low, college-budget prices.
11. Eugene, Oregon
University of Oregon, Gutenberg College, New Hope Christian College
Students at University of Oregon, Gutenberg College, and New Hope Christian College are spoiled with Eugene's extensive collection of worthy pizzerias. For those with dietary restrictions, Cozmic Pizza offers organic pizzas and microbrews, plus a laid-back feel that makes for the perfect hang-out. Near the Oregon campus is Sy's New York Pizza, which one Yelp reviewer said has the "best New York Style pizza this side of the Mississippi." Other worthy and popular pizza options include Mezza Luna Pizzeria, Pegasus Pizza, Pizza Research Institute, Track Town Pizza, and Whirled Pies Pizzeria, to name but a few.
12. Ann Arbor, Michigan
University of Michigan
Blimpy is the go-to burger joint in Ann Arbor. This unique place, which is as famous for its chastising behind-the-counter staff as it is its burgers, is best known for its sliders. Order one topped with bacon, cheese, and fried eggs, and you won't regret it. Busy pizza lovers, on the other hand, love NeoPapalis, located only a few minutes' walk from campus. They claim to prepare the fastest pizzas in town and we believe it; students need only wait around two minutes before their custom pizza is ready to be enjoyed in-house or on the walk back to campus. While Blimpy and NeoPapalis may certainly be enough to tide over even the biggest burger- and pizza-lover, Ann Arbor-based Zingerman's and its famous Rueben sandwich are too famous not to mention here.
13. Oxford, Mississippi
University of Mississippi
Pizza and burgers are tailgating staples, and no one tailgates quite like Ole Miss fans. Ajax Diner in downtown Oxford is best known for its massive menu of Southern comfort food, but it is also home to a huge customizable burger that burger-lovers can top with just about anything they may want, including cheddar, pepper jack, onions, pimento cheese, and bacon, to name but a few options. Also on the menu is the popular "The Deuce," a double-decker bacon cheeseburger that will leave you feeling full and satisfied.
14. Saratoga Springs, New York
Skidmore College, Empire State College
Saratoga Springs has a long history, part of which combines its pizza and the Saratoga Springs-based Skidmore College. At the local restaurant Esperanto, pizza lovers can get the popular calzone which includes chicken, cheese, and scallions baked into lightly-browned pizza dough. Rumor has it that it was originally invented by a Skidmore professor. Another great pizzeria is Harvest and Hearth, while the English-style pub The Local is a great option for burger lovers. For both pizza and burger options, head to just about any of the bars on Caroline Street, a popular destination for college students and locals alike.
15. Durham, North Carolina
Duke University
Duke University students have been frequenting Randy's Pizza for more than a decade now. Randy's specialty is a delicious New York-style pizza, but as a bonus students can also choose from a variety of appetizers, salads, pastas, calzones, and desserts. Another popular go-to is Pizzeria Toro, which has an extensive menu of wood-fired pizzas topped with all kinds of unique topping combinations. At the aptly named Only Burger — which claims they serve the "only burgers you'll ever want!" — burger lovers can get a beef, veggie, or turkey burger topped however they want and served alongside freshly cut fries, hand-breaded onion rings, or a number of house-made sides. Best of all, the convenience of a burger can come to you, as Only Burger has a food truck that hangs around near the Triangle.
16. Burlington, Vermont
University of Vermont, Champlain College, Burlington College
More than a few Burlington, Vermont pizza lovers are said to live off American Flatbread, a local pizzeria with a wide selection of affordable pizzas. The same can be said for The Shopping Bag and burger lovers. A little off the beaten path, but totally worth the extra effort, The Shopping Bag is actually a convenience store with a burger grill that has become massively popular thanks to word-of-mouth recommendations. The burgers here are massive and always fresh. Specials will appear on the dry-erase board, but The Shopping Bag regulars will almost always recommend the Sizzler, a delicious ground-beef patty topped with provolone, American, bacon, lettuce, cheese, tomato, onion, pickles, ketchup, mustard, and mayo.
17. Columbia, Missouri
University of Missouri, Columbia College, Stephens College
In the laid-back college town of Columbia, Missouri, it seems only right that the best place for burgers would be a place as laid back as Booches Billiard Hall. Advertised only through word-of-mouth, Booches is a cash-only venue that has been a popular hang-out for students at Mizzou and other area colleges since 1884. While you're playing pool and people watching, leave plenty of room for the sliders, which contain a deliciously greasy 1/4 pound of meat each and are layered with American and Swiss cheeses atop a Hy-Vee bun. For pizza, check out Shakespeare's Pizza, where pizza lovers can choose between wheat or white crust, gluten-free or regular, and from a wide selection of toppings.
18. Norman, Oklahoma
University of Oklahoma
Burger lovers in Norman, Oklahoma have been flocking to The Mont since 1929. The joint has a laid-back vibe and is obviously very proud of its collegiate customer base, as evidenced by the decor of scoreboards denoting every single OU football game score in history. On weekends, The Mont is especially packed with OU students enjoying Swirls (frozen margaritas plus sangria) and burgers. You won't go wrong with any burger here, but the Santa Fe Burger, topped with bacon, pepper jack, and guacamole, comes especially recommended. For an even more unique taste, try the Theta, named after an OU sorority and topped with mayo, BBQ sauce, and pickles.
19. Hartford, Connecticut
University of Hartford, Trinity College
Trinity College students have the luxury of being located just down the street from Wood-n-Tap and its massive menu of gourmet burgers. Wood-n-Tap is rightfully proud of its "Homegrown Burgers," but the Classic burger is what comes most highly recommended here. Take the American cheese, lettuce, tomato, pickles, mustard, and mayo topping options, but switch out the grilled onions for the raw diced, recommends a frequent visitor. For pizza, try the Mystic whaler with Mystic Melville cheese at Sorella, any of the coal-fired pizzas at First & Last Tavern, the NY-NY special at NY-NY Pizza Restaurant, or Lena's First & Last Pizzeria for late (late!) night service, to name but a few notable pizza places.
20. Columbus, Ohio
Ohio State University, Capital University, Ohio Dominican University, Franklin University
Burger lovers in Columbus, Ohio flock to The Thurman Cafe, and for good reason. Said to have the tastiest burgers in town, The Thurman Cafe is home to The Thurminator, two 12 oz. patties topped with mayo, lettuce, pickles, tomato, banana peppers, bacon, cheddar cheese, sauteed mushrooms and onions, ham, mozzarella, and American cheese. For something a little more, er, manageable, try any one of The Thurman Cafe's other delicious burgers. These range from a ground-beef patty topped with French onion dip, to another topped with marinara and pepperoni. Whatever burger you choose at The Thurman Cafe, the result is bound to be a happy and full burger lover.
21. Menlo Park, California
Stanford University
Pizza- and burger-lovers in Menlo Park, California have the luxury of hitting up one spot for some of the best burgers and pizza in town. At Oasis, which is often lovingly shortened to "The O," students can order a delicious pizza appetizer followed up by a round of thin double cheeseburgers topped with bacon. The vibe here is cool (there's an acacia tree growing through the roof of the men's bathroom!) and laid back, making it a great place to relax after a long day of classes and studying. For more burger options, Kirk's Steakburgers and Gott's Roadside are both close to campus and come highly recommended.
22. Iowa City, Iowa
University of Iowa
University of Iowa Hawkeyes know that the best place for burgers in town is Short's Burger & Shine, a newish sports bar and grill that is partially owned by NFL kicker Nate Kaeding. Short's black Angus beef burgers all come from the local farm of Ed Smith, and are topped with ingredients just as fresh. For a burger as delicious as it is classic, try the 1006 Melrose, which comes garnished with pickles and cheddar cheese. Short's also offers an impressive collection of local craft beers with which to wash down your burger. The Vine is another great burger option near campus, though in recent years it has become more famous for its wings.
23. Pullman, Washington
Washington State University
Washington State University students have been enjoying the burgers at The Coug since it opened in 1932, and the popular burger joint celebrates its long WSU history with hundreds of old flyers, paintings, murals, stickers, and graffiti on its walls. The Coug remains a great place to relax, hang out, and watch the college football game on television. Burger lovers will love The Coug's long menu of delicious burgers, all of which sit on soft buns and are topped with melted American cheese. Best of all, burger lovers on a college budget can grab a drink, a burger, and an order of fries for a mere $5!
24. Madison, Wisconsin
University of Wisconsin, Edgewood College, Drew University
Don't let the name fool you: Dotty Dumpling's Dowry doesn't sell anything remotely close to dumplings. Rather, it's Madison's best burger joint and home of the Melting Pot burger, a giant stack of patties topped with cheddar, Swiss, and provolone cheeses, plus bacon and Dotty's signature English garlic sauce. Other good burger options here include Stanley's Blue Ribbon (garnished with cream cheese, BBQ sauce, and an onion ring) and the Green & Gold (with deep-fried pickles and bacon-flavored mayonnaise. For pizza, head to Glass Nickel Pizza, Roman Candle Pizza, or for deep dish, Gino's Pizza.
25. Austin, Texas
University of Texas at Austin, St. Edward's University
Milto's pizza in Austin, Texas has got to be one of the most student-friendly and accessible restaurants of any college town anywhere. Not only does Milto's tailgate along with UT fans at each and every football game, but they also have an app that Austin students can use to order food easily and quickly. Milto's pizza is available by the pie or slice, comes in extensive options, and, best of all, is perfectly priced for a college budget. Burgers in Texas are everywhere, but the most popular include those from Counter Cafe, Gourdough's Public House, Hut's Hamburgers, Hopdoddy Burger Bar, and P. Terry's, to name but a few.
26. Berkeley, California
University of California Berkeley
Pizza lovers at UC Berkeley will love Sliver, a tasty local pizza parlor. For the sake of convenience, Sliver serves only one kind of pizza per day. But don't worry, everything they serve is delicious, and a menu is posted online so students can decide which day(s) they'll be ordering. Best of all, Sliver gets its name because of the additional sliver of pizza that comes with each slice ordered. For burgers, Triple Rock is quite popular and serves a large 1/2-pound burger for a reasonable $7. 900 Grayson and Rocky's are two other great options in a college town full of great food.
27. Clemson, South Carolina
Clemson University
As every college student knows well, a craving for pizza or burgers can come at any hour of the day (or night!). Luckily for those at Clemson University, local Todaro Pizza aims to keep its local student population fed at all hours. Pizzas at Todaro are easy on the college budget. On Sunday through Friday, pizza lovers can enjoy a whole pizza buffet for a mere $7.50, while Wednesday nights mean pizza slices and beer for a buck each. Plus, the pizza is great! For burgers, BGR is open late, and is almost always bursting at the gills with students, faculty, visiting parents, and locals. The aptly named Clemson Burger, a pimiento cheeseburger topped with a dollop of BGR's signature horseradish Mojo sauce, comes highly recommended.
28. Manhattan, Kansas
Kansas State University, Manhattan Christian College
Pizza lovers aren't likely to find another pizza place quite like Manhattan, Kansas-based Pizza Shuttle. This popular local hangout is famous for adding cream cheese to every slice or pie of pizza, and the result is absolutely delicious. Even better, Pizza Shuttle offers plenty of frequent discounts, dine-in deals, carryout price cuts, and coupons, so grabbing one of the unique pizzas here isn't too tough on the college student's wallet. For burgers, students flock to Big D's Burger Shack, So Long Saloon, or Wabash Bar & Grill, the last of which is just as famous for its fun party scene as it is its burgers.
29. Blacksburg, Virginia
Virginia Tech
College students definitely won't starve with Benny Marzano's nearby, as a slice of Benny's pizza requires two paper plates to serve! The slices are massive, yet simple and delicious, with options that include mostly cheese, pepperoni, and sliced sausage. For burgers, burger-lovers should head to Mike's Grill, which also caters well to students. The restaurant is closed for much of the summer, and the burgers are affordable and so large, two students on a budget could easily split and share.
30. Cambridge, Massachusetts
Harvard University, MIT, Cambridge College, Boston College School of Theology and Ministry
Students at Harvard won't have to travel much farther than Harvard Square for a great burger. At Alden & Harlow, the not-so-secretly-delicious Secret Burger is an 8 oz. patty made of local beef and topped with a zesty house sauce, bread and butter pickles, a crispy Cabot cheese slice, onions, and lettuce. The daily burger supply is limited here, so burger-lovers should get there early. In Central Square, Craigie on Main serves the Bar Burger, a secret menu item that has recently gained national attention. The patty is a grass-fed beef blend (farmed locally) that includes suet, marrow, and dehydrated miso powder for optimum tasting pleasure. Like Alden & Harlow, the burgers at Craigie's are limited (about 20 each day), so grab one quickly before they're gone!
June 2016
Related: