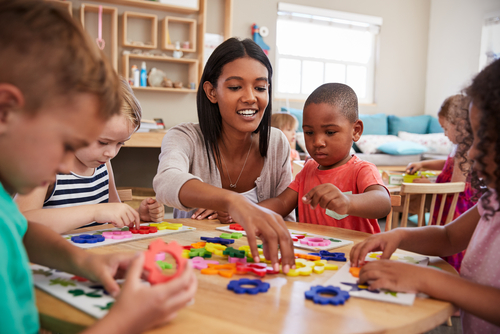 Looking for the perfect gift for a teacher? How about a monthly subscription box! There are thousands of fun monthly subscription boxes on the market, many of which are themed especially for educators. While some are packed with school supplies and organizational items, others focus on recharging a teacher's well-being so he or she can be their very best in the classroom. Keep scrolling for our pick of the 10 best subscription boxes for teachers!
Teacher Trove
From $19.00 / month
Teacher Trove is a monthly subscription box for teachers. Each month, subscribers (or "trovers") receive a box packed with fun, yet useful items meant to enhance the teaching experience and just make one feel good. The boxes are themed.  For example, "Beaching Not Teaching" (July) and "Best Year Yet" (September). Each item in the box fits the theme. Past boxes have included items like t-shirts, tote bags, page flags, journals, and more.
Bookroo
$24.94 / month
Help your favorite teacher grow his or her classroom library with a subscription to Bookroo. Each month, subscribers of this monthly book club will receive their choice of three board books (for ages 0-3, two hardcover picture books for ages 3-6) or a new hardcover chapter book for ages 7-10. The boxes also include an informative insert highlighting each included book and providing a discussion guide of thought-provoking questions.
The Hygge Box
From $25.00 / month
Not every great subscription box for teachers has to do with the classroom. Case in point: The Hygge Box. This delightful monthly subscription box consists of thoughtfully handpicked items meant to promote calm and inspiration. Boxes come in two sizes — the Standard (4-5 items) and the Deluxe (5-7 items). They  contain gifts like bath and beauty products, hot drink mixes, chocolate, candles, and more.
The Teacher Care Crate
$29.99 / month
The Teacher Care Crate is a monthly subscription box for teachers that's thoughtfully curated for an educator's mental health. Each box is packed with 5-7 items meant for inspiration and recharging. Boxes are typically themed. They include two organic bath or beauty items (think bath bombs and face masks), a wearable (tote bags, earrings, etc.), an inspirational art print, a tasty treat such as tea or chocolate, and a few other fun surprises.
The Teacher's Crate
$34.95 / month
The Teacher's Crate is a monthly subscription box packed with exclusive items for educators. Each month, teachers will receive six or more fun and relevant gifts such as t-shirts, water bottles, classroom supplies, and more — all teaching-themed, of course. Similarly, The Teacher's Crate Wearables is a separate monthly subscription with a funny t-shirt and socks each month.
TheraBox
$34.99 / month
Teachers need to be able to relax when they leave the classroom, and that's why the TheraBox makes our list of the best subscription boxes for teachers. This self-care box is thoughtfully put together by therapists, and every box is meant to encourage health and happiness. Each month, subscribers will research a selection of wellness items, aromatherapy, beauty and lifestyle products, and even a science-based happiness activity.
Teacher's Black Box
$35.00 / month
There's nothing naughty about the Teacher's Black Box. This fun monthly subscription box for teachers is packed to the gills with everything a supplies-loving educator could ever dream of. The boxes are "themed" for the time of year at which they're sent. Past boxes have included things like organizational supplies (beginning of the school year), healthy treats (for mid-year and winter time), and refills of pens, pencils, and chalk throughout.
My Coffee and Book Club
$38.99 / month
Give your favorite teacher the gift of relaxation and inspiration with the My Coffee and Book Club! This monthly subscription box includes 12 ounces of high-quality, gourmet coffee (your choice of either ground or whole bean), plus two hardcover books in the genre of your choice. There are lots of genres from which to choose, including acclaimed fiction, mainstream fiction, mystery, romance, and sci fi, to name a few. You can also choose to be surprised each month!
Teach.Life.Style.
$39.00 / BiMonthly
Teach.Life.Style is a subscription box for teachers which arrives every other month. The boxes have all kinds of treats that a teacher is sure to appreciate. Though the contents of these carefully curated boxes vary from month to month, past boxes have included things like tote bags, pens and other school supplies, immunity boosters, warm socks for the winter, and much more.
Kindergarten Crate
$39.00 / month
Kindergarten Crate is a monthly subscription box put together exclusively for pre-K, kindergarten, and first grade teachers. Each box is themed, and includes a new read-aloud book, a corresponding student activity, a few classroom supplies, and something special just for the teacher. Past themes have included libraries, the ocean, and bats, to name a few.