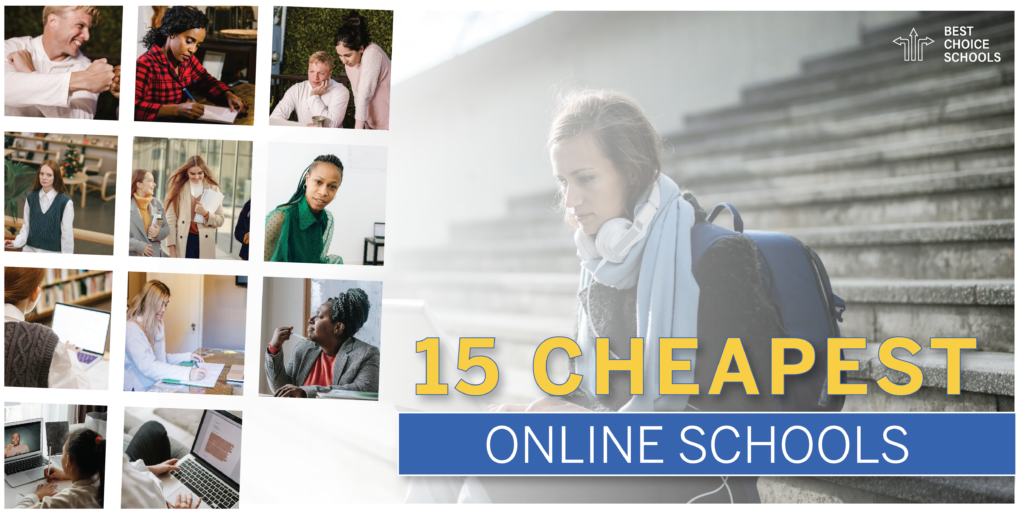 Many schools offer online programs. But how many of those can be considered "online schools?" And of those schools that do have online programs, which are the cheapest for budget-conscious students simply looking to obtain a degree?
Ranking Methodology
With each passing year, more and more universities are offering entire degrees online. But it still isn't the norm. Therefore, for the purposes of this article, it was decided that a university or college could be considered an online school if offering ten or more distinct programs.
The emphasis here is on distinct programs. A school might offer 10 different types of a bachelor's in Business Administration degrees, but for the purposes of this list, that would still only be considered one degree. Included in the list below are 15 schools, ranked according to their affordability, that all offer more than 10 fully online programs. All of the schools on this list are regionally accredited as well (because lack of regional accreditation produce degrees of little real world value).
The tuition information for this article was taken from the National Center for Education Statistics College Navigator. For schools utilizing different rates for residents and non-residents, the higher of the two was used. The price is solely the tuition cost, and does not include the cost of books or other expenses.
Note: All tuition numbers listed below are accurate as of November 2020. Please refer to the college's official website for the most up-to-date tuition and fees.
Bristol, Tennessee
Number of Programs: 16
Tuition: $11,475
King University is a Christian university that strives to teach students to integrate faith into every part of their lives. The 16 programs offered span a wide range of topics including Religious Studies, English, History, Health Informatics, etc. King is certainly one of the most prolific and cheapest accredited online Christian universities.
Crookston, Minnesota
Number of Programs: 16
Tuition: $11,448
The University of Minnesota at Crookston has been offering online programs for years. Recently they have begun to expand their online undergraduate options. The school offers thirteen different programs, which are mostly concentrated in the subject areas of Business, Technology, and Communication.
Tempe, Arizona
Number of Programs: 39
Tuition: $11,209
ASU offers a whopping 39 undergraduate programs. These run the gamut from the typical business programs, to programs that can be more difficult to find online. Examples include philosophy, political science, and history.
Columbus, Ohio
Number of Programs: 34
Tuition: $10,681
Of the 34 programs offered by Franklin, all the staple programs are available. Students will also be glad to know that many of the programs offered are more difficult to find online. Some programs offered by Franklin that can be difficult to find at schools with less choice are Public Safety Management, Web Development, and Emergency Management.
Parkville, Missouri
Number of Programs: 17
Tuition: $10,600
Park offers students many different options, many are included in the standard options one finds at online universities, others however, stand out. Park offers unique programs in Logistics and Geography. The school also offers several minors designed to be paired with majors in order to further enrich the student's education.
New Castle, Delaware
Number of Programs: 19
Tuition: $9,950
Wilmington University offers 19 undergraduate majors, six minors, and several certificates. Unlike many online schools, the majority of these programs are not business programs. The business majors that do exist focus on different areas of management. Some of the more unique programs students can major in include: Early Childhood Education, Organizational Dynamics, and Web Information Systems.
Madison, South Dakota
Number of Programs: 10
Tuition: $9,506
Dakota State University offers many different options and is one of the cheapest online schools for undergraduate students. Notable programs include Computer Science, Health Information Administration, and Network and Security Administration. The school also offers Bachelor of Business Administration programs with many concentrations, as well as some professional programs in accountancy and finance.
Irvine, California
Number of Programs: 11
Tuition: $8,800
Brandman offers eleven distinct programs, but many of those programs feature several options for minors and concentrations. Therefore, students attending Brandman can expect that even within their major they will generally have many options for focusing their study further. Brandman's most versatile majors are Business Administration, and Criminal Justice: the former offers students 11 different areas of concentration, while the latter offers seven.
Trenton, New Jersey
Number of Programs: 27
Tuition: $8,395
Thomas Edison State College is one of the most innovative online schools available. It's a public university that seeks to take full advantage of the distance education format. A wide selection of majors paired with unprecedented flexibility regarding how the program can be completed makes TESC the best choice for students looking for flexibility. Students can transfer in and also CLEP as many classes as they like from their program.
Bemidji, Minnesota
Number of Programs: 10
Tuition: $8,124
Some of the unique offerings students will find at Bemidji State include Applied Engineering, Elementary Education, and Social Work. The school also offers several more commonly found majors, but is one of the few online schools to offer the three listed.
Jackson, Mississippi
Number of Programs: 19
Tuition: $8,100
Baker College has many campuses around the Midwest, the majority of which are located in Michigan. The sum total of the 100% online undergraduate programs available from all campuses is 19. The low cost of these programs is static from campus to campus, meaning the system as a whole offers one of the cheapest undergraduate educations on the market.
Columbia, Missouri
Number of Programs: 14
Tuition: $7,115
Columbia College offers quite a few strong online programs. The business programs common to most online schools are there, but students will also find unique programs including: Computer Information Systems, American Studies, and Military Studies. The distance education option at Columbia College was cultivated to provide an option to working adult students that can't relocate or find the time to earn a degree in the traditional manner.
Concord, New Hampshire
Number of Programs: 22
Tuition: $7,065
Granite State College offers many undergraduate programs online. GSC is one of the few schools to focus primarily on offering undergraduate programs. Students attending GSC can do so with the confidence that when it comes to online programs, they are the main focus of the school. Some programs of note include: Operations Management, Digital and Social Media, and Healthcare Management.
Bellevue, Nebraska
Number of Programs: 47
Tuition: $6,300
Bellevue offers a dazzling selection of programs. This school is not just a pioneer of online education, but of online schools, as few others can match the sheer number of options available. In addition to being one of the few schools that offers a number of programs online that can compete with mid-sized traditional schools, Bellevue is an incredibly affordable online school.
Salt Lake City, Utah
Number of Programs: 23
Tuition: $6,070
Western Governors University was conceived as an idea in 1995, chartered in 1996, and began accepting students in 1999. The brainchild of a group of Midwestern governors, the school has become one of the most affordable, and comprehensive online universities in the world. It's fitting that WGU tops this list, as a school that is solely online. WGU has a strong collection of programs, affordable pricing, and a commitment to providing students everywhere with a quality education. These traits make WGU a fantastic choice for many students.
Related Resources: