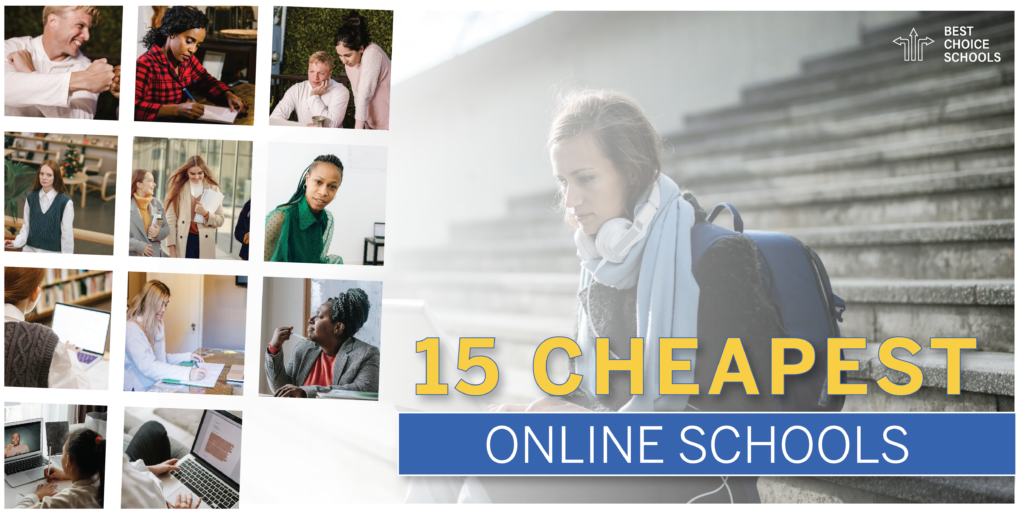 Many schools offer online programs. But how many of those can be considered "online schools?" And of those schools that do have online programs, which are the cheapest for budget-conscious students simply looking to obtain a degree?
Ranking Methodology
With each passing year, more and more universities are offering entire degrees online. While it's still not the norm, it is becoming more common every year. Therefore, for the purposes of this article, we determined that a university or college could be considered an online school if it offers ten or more distinct programs.
The emphasis here is on distinct programs. A school might offer 10 different types of a bachelor's in Business Administration degrees, but for the purposes of this list, that would still only be considered one degree. Included in the list below are 15 schools, ranked according to their affordability, that all offer more than 10 fully online programs. All of the schools on this list are regionally accredited as well (because lack of regional accreditation produce degrees of little real world value).
The tuition information for this article was taken from the National Center for Education Statistics College Navigator. For schools utilizing different rates for residents and non-residents, the higher of the two was used. The price is solely the annual tuition cost, and does not include the cost of books or other expenses.
Note: The number of programs shown is based on the available online undergraduate degree programs available at each school. Many of the schools listed also have online minors, associate, master's, certificate, and doctoral programs. All tuition numbers listed below are accurate as of November 2021. Please refer to the college's official website for the most up-to-date tuition and fees.
15 Most Affordable Online Schools
15. Dakota State University
Madison, South Dakota
Number of Programs: 19
Tuition: $12,606
Dakota State University has been ranked as the top online school in South Dakota, offering 19 online bachelor's degree programs, seven master's degree programs, and two doctoral programs. Plus, students can pursue a variety of minors and certificates.
The school is located in Madison, South Dakota, but you can attend from anywhere. And because the school bills students by the credit hour, you only pay for the classes you take and nothing more. This unique billing structure makes DSU one of the cheapest online colleges on our list. Students can pursue several traditional (and non-traditional) majors at Dakota State, including:
Artificial Intelligence: B.S.
Artificial Intelligence in Organizations: B.S.
Computer Science: B.S.
Cyber Leadership and Intelligence: B.S.
Cyber Leadership and Intelligence: World Affairs and Human Behavior: B.S.
Health Information Administration: B.S.
Network and Security Administration: B.S.
DSU also offers an excellent Bachelor of Business Administration program with several concentrations, including Accounting, Business Technology, Finance, Management, and Marketing.
14. University of Massachusetts Global
Irvine, California
Number of Programs: 36
Tuition: $12,480
University of Massachusetts Global offers 36 online bachelor's degree programs, focusing on higher education for non-traditional students. These programs are highly versatile, allowing students to work on their courses any time so they can take care of other responsibilities like family and career.
One of the unique features of the University of Massachusetts Global is that the faculty is continually improving and updating the curriculum to reflect employer needs in the present economy. As a result, when you take online courses at UMass, you can expect to learn real-world skills that keep up with industry trends. In addition, your instructors are industry experts, and most of them are not just professors but are actively working in their chosen fields.
Through the online program at Umass, students can pursue degrees in Psychology, Communication and Media, Criminal Justice, Organizational Leadership, Social Work, Computing Technology, and more. However, the BBA in Business Administration program is one that really shines at this school. Students can pursue several BBA concentrations, including:
Business Administration
Healthcare Administration
Accounting
Entrepreneurship
GIS & Data Analytics
Finance
General Business
Human REsources
Information Systems Management
Organizational Communication
Marketing
Organizational Leadership
Supply Chain Systems
See also: 20 Best Online Schools for Accounting
13. University of Minnesota–Crookston
Crookston, Minnesota
Number of Programs: 16
Tuition: $12,014
The University of Minnesota at Crookston has been offering online programs for several years, but they've recently begun to expand their online undergraduate options. The school offers 16 different online degree programs, which are primarily concentrated in the following subject areas:
Agriculture and Natural Resources
Math, Science, and Technology
Business
Humanities, Social Sciences, and Education
Every program incorporates technology and management applications into the coursework, so students will graduate with essential, in-demand skills in addition to what they learn in their field of study. A few of the online degree programs at UM Crookston include:
Agricultural Business
Information Technology Management
Sports and Recreation Management
Quality Management
Accounting
Communication
Applied Health
12. Park University
Parkville, Missouri
Number of Programs: 39
Tuition: $11,929
Park University offers online students 39 different bachelor's degree options and quite a few graduate programs. You can also pursue several online minors and certificates at this school. Over 50 faculty members have been certified through the Association of College and University Educators (ACUE). This program supports research-based best practices that close equity gaps and improve student achievement. Nearly 80 percent of all park students complete at least some of their education online. Some of the most popular online bachelor's degree programs include:
Chemistry: B.S.
Computer Information Management: B.S.
Construction Management: B.S.
Corporate Financial Management: B.S.
Economics: B.S
English: B.A.
Fine Art: B.A.
Geography: B.S.
Human Resources: B.S.
Information Systems: B.S.
The University uses Canvas as its learning management platform, and each student has their own dashboard where they can access all of the courses they are enrolled in during the semester. In addition, the programs are mainly asynchronous so that you can work on your studies in your own time. This makes it convenient for students who are trying to juggle many responsibilities at once.
11. Wilmington University
New Castle, Delaware
Number of Programs: 31
Tuition: $11,480
Wilmington University offers 31 undergraduate majors, ten minors, and several certificates. Like many online schools, You'll find standard programs like Accounting, Business Management, Communication, Computer Science, Finance, Education, and others. However, Wilmington has many unique programs, too. Some of these include:
Animation and 3D: B.S.
Environmental Science and Policy: B.S.
Law, Policy, and Political Science: B.S.
Sports Management: B.S.
Web Design: B.S.
There are several ways to study online at Wilmington. Students can take pre-recorded online courses in their own time for the ultimate flexibility. However, many of the courses are offered in other formats too. For example, you might choose live interactive synchronous class sessions, where you log in at a specific time together with your classmates. Or, you may decide to attend hybrid classes. Hybrid classes give you the chance to participate in a combination of in-person classroom instruction plus online classes.
10. Arizona State University
Tempe, Arizona
Number of Programs: 134
Tuition: $10,818
Arizona State University offers the widest variety on our list, with over 120 online degree programs. ASU Online is expressly set up for online learning, and they consistently rank in the top 10 online bachelor's programs by U.S. News & World Report. The choices run the gamut from typical business programs to those more difficult to find online. It would be impossible to list them all in this post, but here are just a few examples:
African and African American Studies: B.A.
Forensic Science: B.S.
Global Health: B.A.
Graphic Information Technology: B.A.S.
Art – Museum Studies: B.A.
Health Entrepreneurship and Innovation: B.S.
Interdisciplinary Arts and Performance: B.A.
Sustainable Food Systems: B.S.
Tourism and Recreation Management: B.S.
Urban Planning: B.S.P.
Food and Nutrition Entrepreneurship: B.A.S.
9. Baker College
Owosso, Michigan
Number of Programs: 20
Tuition: $10,160
Baker College has many campuses around the Midwest, the majority of which are located in Michigan. However, students who are interested in one of Baker's 20 online degree programs are in luck; These programs are some of the most flexible in the country.
Students at Baker have two ways to learn online—Baker Online and Online Live. With Baker online, students take eight-week courses in a flexible, asynchronous format. Online Live classes are just like being on campus, but they meet at set times in a virtual classroom over eight or 16-week semesters. All courses are accredited by the Higher Learning Commission.
This is one of the most affordable online colleges on our list, but the generous transfer policy is another benefit of choosing Baker. Students can transfer up to 90 credits towards their bachelor's degree. Some of the programs offered include:
Accounting
Bachelor degree
Business Administration (Accelerated)
Computer Science
Criminal Justice
Finance
Game Software Development
Healthcare Administration
Human Resource Management
Information Systems
Logistics
Management
Marketing
Psychology
8. Franklin University
Columbus, Ohio
Number of Programs: 38
Tuition: $9,577
Franklin University offers 38 online bachelor's degree programs, plus a wide range of online associate, master's, and doctoral degrees. In addition, almost 80 percent of Franklin students take courses remotely, and the school has a lot of options that are hard to find in online programs. A few examples include:
Exercise Science: B.S.
Interactive Media Design: B.S.
Energy Management: B.S.
Operations and Supply Chain Management: B.S.
Emergency Management and Homeland Security: B.S.
Business Forensics: B.S.
Of course, students can find traditional degree offerings such as Accounting, Communication, Information Technology, Nursing, Marketing, Psychology, and other staple programs as well.
Students at Franklin enjoy an engaging and supportive online experience. You will be able to complete your coursework around work and family obligations without sacrificing your education. You can expect many different learning components, including interactive assignments, live stream meetings, pre-recorded lectures, virtual and proctored exams and quizzes, group projects, case studies, and more.
7. Thomas Edison State University
Trenton, New Jersey
Number of Programs: 35
Tuition: $9,278
Thomas Edison State College is one of the most innovative online schools available. It's a public university that seeks to take full advantage of the distance education format. A wide selection of majors paired with unprecedented flexibility regarding how the programs can be completed makes TESC an excellent choice for students looking for flexibility.
Another fantastic benefit of attending Thomas Edison State College online is that students can earn credit for what they already know. The school offers its own credit by exam program (TECEP®) that will allow you to take a final exam without taking the course. You can also bring credits in from other testing programs, including DSST and CLEP. Additionally, you can take comprehensive portfolio assessment courses and learn about getting assessed for prior credit.
We won't list all 35 programs at TESU. However, some of the more popular degrees offered include:
Communications: B.A.
Computer Science: B.A.
International Studies: B.A.
Mathematics: B.A.
Sociology: B.A.
Electrical Technology: B.S.
Homeland Security and Emergency Management: B.S.
Nuclear Engineering Technology: B.S.
Radiation Protection/Health Physics: B.S.
Technical Studies: B.S.
Cybersecurity: B.S.
Entrepreneurship: B.S.B.A.
Finance: B.S.B.A.
Healthcare Management: B.S.B.A.
Marketing: B.S.B.A.
Operations Management: B.S.B.A.
6. Bemidji State University
Bemidji, Minnesota
Number of Programs: 10
Tuition: $9,076
Bemidji State University is located in the North woods of Minnesota, on the shores of Lake Bemidji. While many students are eager to attend a school in such a beautiful wilderness setting, it's not practical for everyone. However, if you find Bemidjis programs of interest, you can have the next best thing and earn your degree online.
There are ten online degree-completion programs at Bemidji. They are specifically designed for students who have already completed two semesters of college, and transferring at least 24 credits is generally sufficient to start one of the programs. These degree-completion programs include:
Accounting: B.S.
Applied Engineering: B.A.S.
Applied Management: B.A.S.
Business Administration: B.S.
Criminal Justice: B.S.
Marketing Communications: B.S.
Project Management: B.S.
Psychology: B.S. or B.A.
Sociology: B.A.
Nursing: R.N. to B.S.
For those who want to go into Business Administration, several concentrations are available, including Entrepreneurship, Management, Marketing, Finance, and HR Management. Students who opt for the Criminal Justice program can choose from concentrations in Corrections, Law Enforcement, or Victimology.
You may also like: 20 Best Online Schools for Business Administration
5. Granite State College
Concord, New Hampshire
Number of Programs: 22
Tuition: $9,015
Granite State College in New Hampshire offers five associate degree programs and 22 bachelor's degree programs online. Additionally, the school has 36 optional minors students can pursue to meet specific goals and add versatility to their programs. If you plan to continue your education online, you can enroll in one of six master's degree programs or graduate certificates.
Finally, if you plan to teach in the state of New Hampshire, you can also pursue one of 20 teacher certifications, so the opportunities for online learning at Granite State are numerous. A few of the most popular bachelor's degree programs include:
Accounting and Finance: B.S.
Criminal Justice: B.S.
Digital Communication Design: B.S.
Early Childhood Education: B.S.
Health and Wellness: B.S.
Math Studies: B.A.
Operations, Supply Chain, and Logistics Management: B.S.
Marketing: B.S.
The school also offers a handful of bachelor's completion programs for students who have previously earned their associate degree in a related field. Those programs include Allied Health Leadership, Applied Studies – Education and Training, Applied Studies – Management, Fire Service Administration, and an R.N. to B.S.N. Nursing program.
4. Western Carolina University
Bristol, Tennessee
Number of Programs: 22
Tuition: $8,285
Western Carolina University offers 22 online programs designed to fit in with your busy life and schedule. The school is accredited by the Southern Association of Colleges and Schools Commission on Colleges and offers both bachelor's and master's degrees to online students. Some of the most popular online degrees at WCU include:
Emergency and Disaster Management: B.S.
Innovation Leadership and Entrepreneurship: B.S.E.
Finance with a Personal Financial Planning Concentration: B.S.B.A
Birth to Kindergarten: B.S.
Construction Management: M.C.M.
Nurse Educator: M.S.N.
Project Management: M.P.M.
Sports Management: M.S.
WCU uses the Canvas LMS for the majority of its courses, and professors can design those individually. Some courses may be self-paced, while others will have specific class times and due dates. Therefore, you'll want to check the syllabus for each of your classes to ensure that the programs will work around your current schedule.
3. Columbia College
Columbia, Missouri
Number of Programs: 23
Tuition: $8,112
Columbia College offers 23 excellent online programs. Of course, the business programs common to most online schools are there, but students will also find unique programs, including Human Services, Public Administration, Cybersecurity, Sports Management, History, International Business, and many others.
The school also offers an online bachelors in Innovation and Entrepreneurship designed for creative self-starters who have lots of ideas. In this program, students develop an entrepreneurial mindset to apply the concepts and tools they learn to their own start-up or to lead an entrepreneurial organization. This unique program is perfect for students who want to learn how to create cultural, social, and financial opportunities.
The distance education option at Columbia College was cultivated to provide an alternative to working adult students that can't relocate or find the time to earn a degree traditionally. Getting an online degree at Columbia is affordable, too. The school offers a financial program called Truition®. This program ensures that every student pays tuition at one affordable rate—$375 per credit hour. There are no book costs, no additional fees, and no surprises, so you'll know exactly how much your education will cost you upfront.
2. Bellevue University
Bellevue, Nebraska
Number of Programs: 49
Tuition: $7,851
Bellevue offers a dazzling selection of online programs. This school is not just a pioneer of online education; they have streamlined the process of obtaining an education remotely. There are 49 online bachelor's degree programs to choose from, plus around 30 graduate programs. Not only is there a wide variety of choices, but Bellevue is an incredibly affordable online school as well. Some of the best online degree programs at Bellevue include:
Behavioral Science: B.S.
Child Protection and Juvenile Justice: B.S.
Data Science: B.S.
Emergency Management: B.S.
Health Studies: B.S.
Intelligence and Security Studies: B.S.
International Business Administration: B.S.
Supply Chain, Transportation and Logistics Management: B.S.
Software Development: B.S.
Bellevue partners with many community college systems nationwide to ensure students have access to accelerated online degree completion programs at very affordable tuition rates. In addition, the school partners with nearly 100 top employers to help train a workforce that is job-ready and capable of assisting companies in reaching their goals. That means that students have a tremendous amount of support when it comes time to launch a career after graduation.
1. Western Governors University
Salt Lake City, Utah
Number of Programs: 26
Tuition: $6,670
Western Governors University was conceived as an idea in 1995, chartered in 1996, and began accepting students in 1999. The brainchild of a group of Midwestern governors, the school has become one of the most affordable and comprehensive online universities globally. It's fitting that WGU tops this list since it is a school that operates entirely online. They have a robust collection of programs, affordable pricing, and a commitment to providing students everywhere with a quality education. These traits make WGU a fantastic choice for many students.
They offer several B.S. in Business Administration concentrations, including Marketing, Healthcare Management, IT Management, Accounting, Business Management, Human Resource Management, and Health Information Management. Additionally, they have programs in Nursing, Health Services Coordination, and Education.
However, Western Governors also has one of the most comprehensive lists of online internet technology programs of any school on our list. They are offered through the College of I.T. and include:
Software Development: B.S.
Computer Science: B.S.
Cloud Computing: B.S.
Network Operations and Security: B.S.
Data Management/Data Analytics: B.S.
Information Technology: B.S.
Cybersecurity and Information Assurance: B.S.
Related Post: Top 30 Schools for an Online Computer Science Degree
Closing Thoughts
A recent article in EdSource argues that online colleges and universities are here to stay. Although many people thought that once the worst of the pandemic was over, students would head back to campus, that hasn't necessarily been the case. In fact, many students have decided to continue learning from a distance. Some have even improved their performance at school while completing remote courses, and most have learned to navigate online learning systems extraordinarily well.
Tuition for an online college degree is typically more affordable, but there are other financial benefits too. For example, instead of spending money on transportation, housing, food, clothing, and other college expenses, online degree programs allow students to have more cash for necessities and to put money aside for the future.
Thanks to inexpensive online college degree programs, a college education is within reach of more people than ever before. Additionally, students who are eligible for financial aid may be able to substantially reduce the listed tuition costs at any of the schools we've highlighted in this post.
BCS Staff November 2021