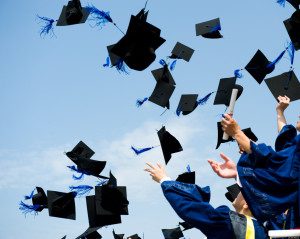 Few choices require more thought and careful research than choosing the right college. The number of considerations is quite large. Students have to make sure that the college they choose offers the academic program they require, has the right accreditations, offers an affordable education, and falls in line with numerous other, individual qualifications. From the quality of on-campus life to the types of classes, instructors, and extracurriculars offered, the considerations are many and the choices are numerous. Luckily, there are several key considerations that can narrow down the list of available colleges into those that are right for each student's unique concerns.
---
Featured Rankings
---
Choosing the Right College Major
Perhaps the first consideration that should be made for all aspiring college students is the major they'll pursue once their chosen college or university has granted them an offer of admission. This is absolutely crucial, since colleges and universities generally pick and choose which academic programs they offer to students. Some schools lack a business program, for example, while others lack an art school and typically don't cater to students who are seeking a BFA or MFA degree. When choosing a major, there are some very important things to consider:
1. Is the Field Interesting?
It might be easy to find a Google ranking of the most lucrative careers, or those that are growing the fastest, but this is not necessarily the blueprint for student success. In fact, students who pursue a major only because of its eventual job placement prospects might find themselves in classes that are too challenging, not nearly engaging enough, and hard to succeed in. This can put students in academic peril. Instead, students should first start by narrowing down their interests, comparing those interests to a wide array of careers and academic majors, and making a list of the ones that seem most interesting, engaging, and promising.
2. Consider Career Implications
An interesting and engaging major is crucially important to all students, but it's important not to minimize the importance of landing and maintaining a career after graduation. With a list of "candidate" majors in hand, students should consider which majors lead to the careers expected to grow and develop the fastest. What can a student do with a degree in English? What can they do with a bachelor's degree in business? What about a degree in education? Evaluate the pros and cons of each chosen field relative to that field's growth, job placement rate, salary implications, and job security. This is an easy way to break a tie between potential majors.
3. Choose the Academic Major with the Right Combination of Content and Promise
The winning college major will be one that offers an interesting array of classes and a promising future in the "real world" after graduation. This might lead some students to choose business over creative writing, or it might lead others to choose education over a major that focuses only on English or mathematics. With this major narrowed down, it's now possible to find colleges and universities that offer a top-ranked program in the field.
Choosing a College That Will Deliver the Most Value
When it comes to higher education, the word "value" pertains to more than just the price of tuition at a university. In fact, value is chiefly concerned with the long-term impact of obtaining a degree at any college or university. Will the university's diploma benefit the graduate's job prospects? Will the programs offered on campus be rigorous enough to prepare a student for their eventual career? These concerns and others determine the value of a college's programs relative to its tuition. To determine the value of any university, as a few key questions before applying or accepting an offer of admission:
1. Is the University Regionally Accredited?
In order for a university's students to receive federal financial aid and stand a chance at job placement after graduation, the university must be accredited by a regional accrediting body. Entities like the Higher Learning Commission, the Middle States Commission on Higher Education, and numerous others, offer their seal of approval to programs that they feel are academically rigorous, beneficial to a candidate's post-graduation job prospects, and run efficiently enough to maximize the student's investment in tuition, room, and board.
2. Is the School Ranked Highly?
Numerous publications offer rankings of top-tier colleges and universities that offer insight into that school's programs, on-campus offerings, and post-graduation benefits. Sources like U.S. News and World Report, the Princeton Review, and College Board, all rank schools in a number of categories. Whether it's academic prestige, campus diversity, quality of on-campus life, job placement, or networking opportunities, these rankings help students assess the value they'll be getting in exchange for their tuition dollars.
3. What is the Job Placement Rate? The Retention Rate? The Graduation Rate?
Finally, prospective college students need to learn a few key statistics about each university they're considering. The first of these is the job placement rate, which most accredited universities will proudly flaunt on their websites and in their printed promotional materials. If a significant number of graduates land jobs with a few months, or even a year, the school is likely a great value.
The retention and graduation rates also matter a great deal. Retention refers to the number of students who choose to stay at the university after their first year of study. If a large percentage of students go elsewhere after their first year, this might indicate that academic programs aren't all they're cracked up to be. The graduation rate refers to the number of students who successfully complete their course of study within 6 years, which is another key metric used to judge the quality and value of a university's academic offerings.
Choosing an Online College
Increasingly, many college students are choosing to pursue online programs that allow them the flexibility to work full-time, live where they choose, and still earn a degree that will help them land the job of their dreams after graduation. Though these programs are pretty desirable, they come with a number of their own considerations for students who intend to maximize the value and rigor of their higher education experience. Before choosing a program offered exclusively online, there are a few things to check and double-check.
– Accreditation Matters
Online universities aren't exempt from the importance of regional accreditation. Make sure that any online university has received such distinction from a regional body, since this will determine whether or not the program can be paid for using federal financial aid. Accreditation will also determine if the degree earned will be helpful for landing a job after graduation.
– Access to Library Materials
Any online program should provide a "virtual library" for distance learning students. This essentially allows students to view and "check out" library materials through their web browser rather than finding those same resources offline. This is an increasingly common practice, especially among larger state universities with global campuses.
– Technology Requirements
Students who intend to pursue an online college's programs need to ensure that their computer is up to the task. Most online programs require a computer that has the latest Mac or Windows operating system, an updated web browser, a microphone and webcam, and access to a broadband Internet connection. Lack of any of these items could cause the student a great deal of difficulty and even cost them a good grade in one or more online classes.
– Value, Rankings, and Retention
Online colleges aren't exempt from the value proposition of their offline counterparts. Make sure that any online program offers great job placement, retention, and graduation rates. Ensure that the tuition charged to students is affordable both in the short-term and after graduation. Look into rankings of online schools to determine which ones offer the most rigorous and prestigious programs for this emerging, online classroom environment.
Preparing to Get Into the Best College
Though the prospect of attending college might be exciting, most students view the application process with a certain amount of dread. That's because colleges tend to accept only a limited number of applicants. While some schools are more selective than others, the way they differentiate accepted applicants from those relegated to the wait-list or those denied admission entirely is rather standard. There are three key components to a successful college application.
1. Grades
Good grades give students more opportunities when applying to the most prestigious colleges that offer their chosen academic program. College admissions officers like to see that students have worked hard, developed sound study habits, and done their best to understand and internalize the material taught in each of their high school classes. For administrators, this is their own way of assessing value: If a student is admitted to the university, will they work hard and make the university's investment worthwhile? Those who prove they will do just that are the ones offered an acceptance letter.
2. Standardized Test Scores
The SAT is still a crucial component of the admissions process, even though many colleges note that it's only one part of their eventual decision. Though many schools emphasize things like extracurricular activities, the SAT is still a good judge of comprehension and aptitude. These two qualities are often associated with the students who will be most likely to achieve good grades, establish great connections with their professors and peers, and do well during and after their time at the university.
3. Extracurriculars and Interviews
Finally, many universities want to get to know the "whole person" when they consider or accept a student for admission. This often means looking at their extracurricular activities in high school. Students looking to gain admission to the most selective universities should be able to demonstrate leadership in extracurricular organizations while in high school, and they should be willing to show their fondness for teamwork by citing membership in school sports teams. Some schools may require an admissions interview, which further gives students the chance to talk about their grades, their perspectives, and their extracurricular activities, all of which will boost their chances of admission.
Paying for College
The final component of a successful college education is simply being able to afford the cost of tuition, room and board, textbooks, and membership in on-campus organizations. To a large extent, the federal government has ensured that a majority of students will at least be able to afford the expenses of a public, in-state university through the federal financial aid programs it offers. All students are eligible to receive need-based Pell Grants and Perkins Loans, as well as Stafford Loans, if they file the Free Application for Federal Student Aid (FAFSA) by their school's deadline. Typically, this deadline ranges from February 15 to April 1 of each year.
For students under the age of 24, submitting the FAFSA will require both the student's tax information and their parents' tax information. Those older than age 24 will be considered independent students, and they will only have to submit their own tax records in order to be eligible for financial aid programs. Schools will analyze this information and use it when determining how much federal, state, and school-based financial aid to offer students. In some cases, the cost of tuition will be fully covered. In other cases, tuition will be partially covered and students will be expected to cover the rest of their tuition costs prior to the start of classes.
Links For Further Reading
For those who want to learn even more about choosing the best college and comparing the rankings of potential schools, there are plenty of great outside resources. Consider the list below as a great starting point for these concerns and many others.
The Princeton Review ranks colleges in a large number of categories, from the biggest party schools to the best engineering programs and the most diverse campuses. This is a great way to compare colleges and find the best one in every category that matters to each student.
The College Board is responsible for developing and administering the SAT, but its website goes above and beyond that responsibility. In-depth statistics for each college can be found on the website, including retention rates, admission rates, academic majors, tuition costs, and much more.
3. U.S. News and World Report College Rankings
U.S. News and World Report ranks colleges nationally, regionally, and by several other metrics. This site is a great way to compare and contrast with the findings of the Princeton Review and other rankings-based college decision sites.
4. NPR Guide to Choosing the Right College
NPR is a great resource for students before, during, and after college. The site's article on how to choose the best institution is full of great advice for those at any level of higher education.
5. Peterson's Guide to Choosing the Right Fit
Peterson's has a great resource for students that discusses the key factors of choosing a major, choosing a university, and maximizing acceptance chances. The guide goes over everything from university size to public vs. private funding and much more.
With all of these great resources available, students have never had an easier way to make this extremely important decision. Be sure to consider the information presented here, as well as the dynamic nature of rankings from outside sources, when choosing the program that offers the best academics, campus environment, and long-term career implications.