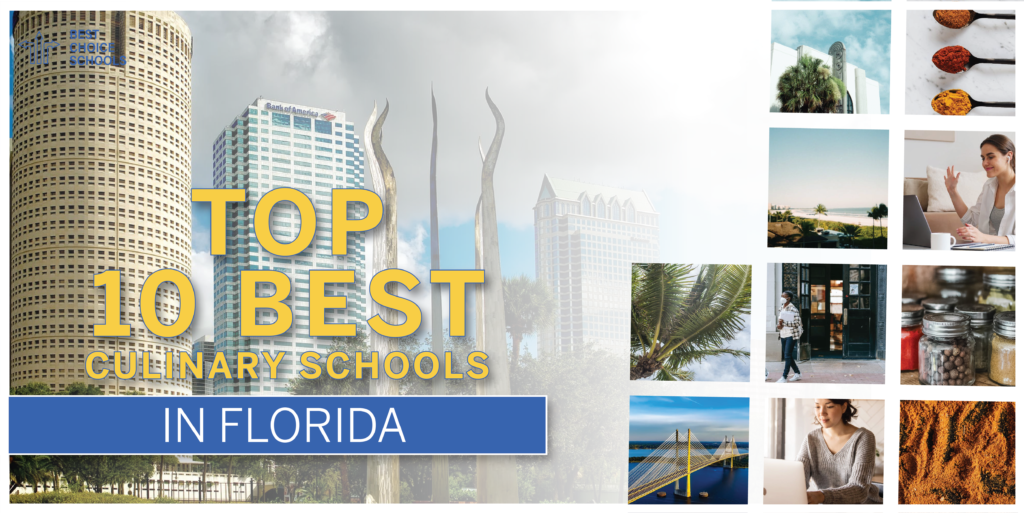 By BCS Staff
March 2021
The Florida culinary scene employs almost a million people and is responsible for nearly 14% of the employment in the state according to restaurant.org. The demand for culinary professionals is strong, with a projected increase of almost 173,000 jobs by 2026.
We created a list of the best culinary schools in the state based on reputation in the industry and program offerings. Many of the schools on our list are accredited by the American Culinary Federation. Degree programs offer internship/externship opportunities to give students more professional experience before entering the field. Certificate programs in our list have received exemplary status from the ACF and include hands on learning in a kitchen laboratory.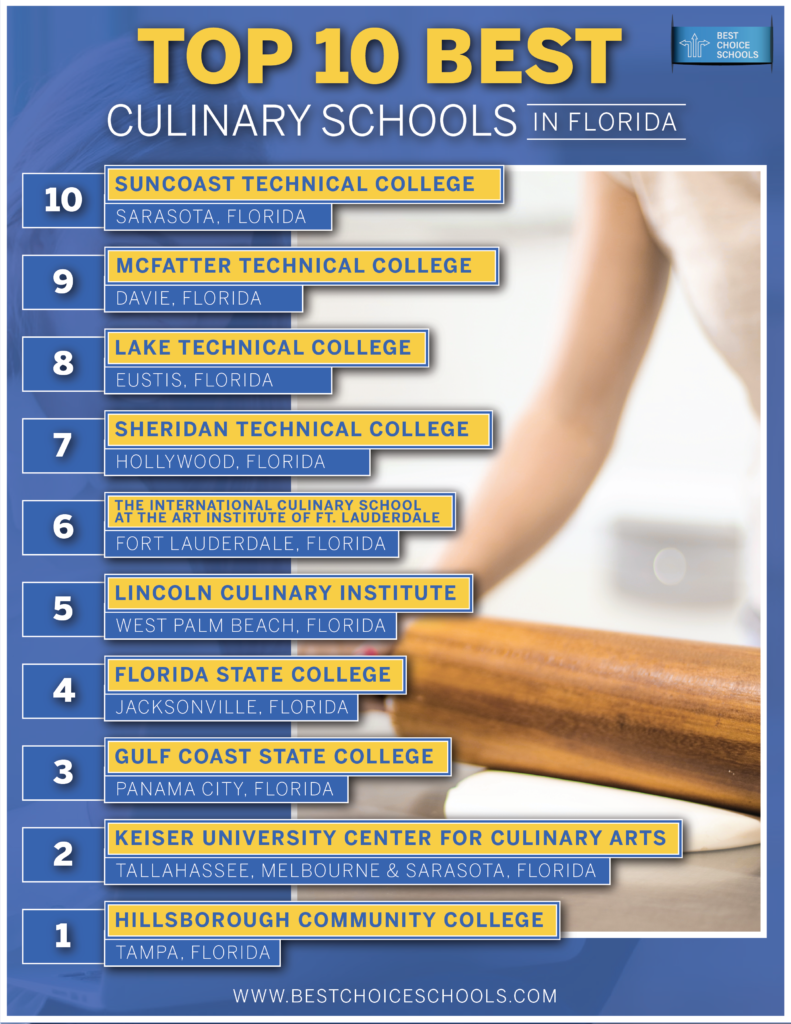 Kissimmee
Florida Technical College offers Culinary Arts Diploma Program. Coursework is hands on, and covers topics ranging from kitchen safety to sauces. Seventy-one quarter credits are required to complete the degree, totaling 420 hours in the kitchen, 460 lecture hours, and 125 hours spent in an externship. Most students are able to complete the diploma in just 12 months. Potential courses include Sanitation & Allergens, International Cuisine, and Restaurant Service, to name but three.

Sarasota
The Certificate in Commercial Foods and Culinary Arts from Suncoast Technical College can be completed in less than one year and is accredited by the American Culinary Federation. Students practice in a kitchen laboratory, learning techniques and skills to prepare specialty and exotic meals. Graduates of the certificate program can transfer credit to earn a more advanced degree from Johnson and Wales University, State College of Florida, or the University of South Florida.

Davie
McFatter Technical College in Davie, Florida has a 12 month Commercial Foods and Culinary Arts certificate that has received exemplary accreditation from the American Culinary Federation. Students are able to earn National Commercial Foods Certifications in a variety of areas including Sanitation and Nutrition. McFatter students engage in interactive cooking experiences, learning skills and techniques from experienced faculty. Students also learn through lectures, videos, and on-line exercises.

Eustis
Lake Technical College offers a certificate program in Commercial Foods and Culinary Arts. The program has been awarded exemplary status by the American Culinary Federation and is open to students who want to work in the food service/hospitality industry. Students can complete the program in less than one year and will learn basic culinary knowledge, nutrition, supervision, and sanitation practices. Students have the opportunity to get creative by learning ice carving and how to create show pieces.

Hollywood
Sheridan Technical College offers a culinary certificate program for those who love preparing food and want to work in the food service industry. The program can be completed in less than one year of full-time study and articulates to a Culinary Arts Management Degree at Broward College. Students learn from a combination of online, laboratory, and lecture training and education. Sheridan's certificate program is extensive, offering training in bakery and dessert preparation, entrepreneurship, communication skills, and cost control. This top culinary school has received exemplary accreditation status from the American Culinary Federation Education Foundation.

West Palm Beach
Students at the Lincoln Culinary Institute learn culinary arts skills and techniques that enable them to be successful in the workforce. Students can study Culinary Management and earn the bachelor's degree, allowing them to successfully manage restaurants and kitchens. The AOS degree programs in Culinary Arts and International Baking and Pastry are led by experts in the field including Certified Baster Bakers, Certified Executive Chefs, and Certified Culinary Educators. Students gain work experience by working at CP Express, an on campus café.

Jacksonville
The American Culinary Federation Education Foundation Accrediting Commission has awarded exemplary status to the Associate degree program in Culinary Management. Students learn strategies and techniques to make them successful in the kitchen or in a management position. One of the highlights of this program is the opportunity to gain valuable work experience at the Mallard Room. This establishment is on campus (next to the cafeteria) and allows students to practice their culinary skills in a fine dining setting. Florida State College at Jacksonville also offers state-of-the-art culinary facilities for students to practice and perfect their techniques. Students at this top culinary school have the opportunity for additional professional development through multiple internship experiences.
Panama City
Gulf Coast State college offers an accredited AAS degree in Culinary Management that can be completed in two years of study (64 credit hours). Students complete two practicum experiences (one in the kitchen and one in a restaurant), an externship, and complete coursework such as Banquet and Convention Management, Food Purchasing, and Dining Room Operations. The student run dining facility, The John Holley Dining Room, serves an a la carte lunch and classical French dinner twice a week. Students have the opportunity interact with dining guests as they use their culinary talents to create a variety of foods. Graduates of this accredited program are eligible to earn certification as a Certified Cook or Certified Pastry Cook after one year of work experience.

Melbourne, Sarasota, Tallahassee
Keiser University Center for Culinary Arts offers accredited culinary programs at its Melbourne, Sarasota, and Tallahassee locations. Students learn through hands on experience in a state-of-the-art kitchen laboratory. This top culinary arts program has received acceptance into the World Association of Chefs Societies (WACS) as a quality program. Students can complete this 72 credit hour in just 18 months. The program includes a 12 credit hour externship, allowing students to gain additional experience and develop a professional network. Graduates are prepared for entry level positions in the culinary arts.
Tampa
Hillsborough Community College provides a state-of-the-art culinary education experience for students who want to go into culinary or restaurant management. This top accredited culinary school allows students to work toward their degree on a full or part time basis. Internship opportunities provide work experience for students to be successful in the field. The hands on learning environment at Hillsborough helps build confidence and is an ideal place for the beginning chef with little to no culinary experience. Graduates are prepared to become professional cooks or chefs or manage a restaurant or dining facility.
---
Featured Ranking
50 Best Culinary Schools in the US
Additional Resources
5 Common Courses in Culinary School
What Should I Look for in a Culinary School
Institute of Culinary Education (ICE)
---