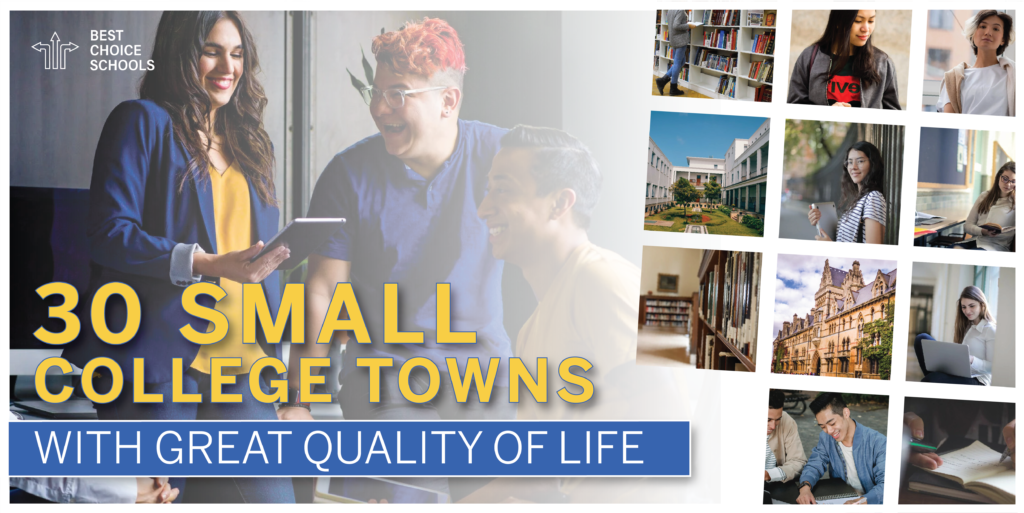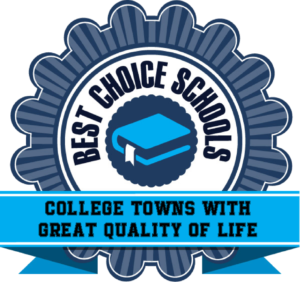 Most prospective college students know to take a long hard look at a college campus. Can they see themselves walking through this quad, sleeping in these dorms, and eating in this cafeteria for the next four years? But what about the town in which a prospective college is located? As college is all about independence, getting off campus for a night on the town can be an important part of relaxing and de-stressing, making a college town's quality of life an important factor to consider when choosing a place to spend the next four years.
For this article, we've found 30 small college towns with great quality of life. As "quality of life" can mean different things to different people, we've based our selection on the following:
Student to resident ratio
Overall livability
Cultural offerings
College/university presence
Employment opportunities (for those students who decide to stick around after graduation)
Populations of less than 100,000 people, according to the 2020 U.S. census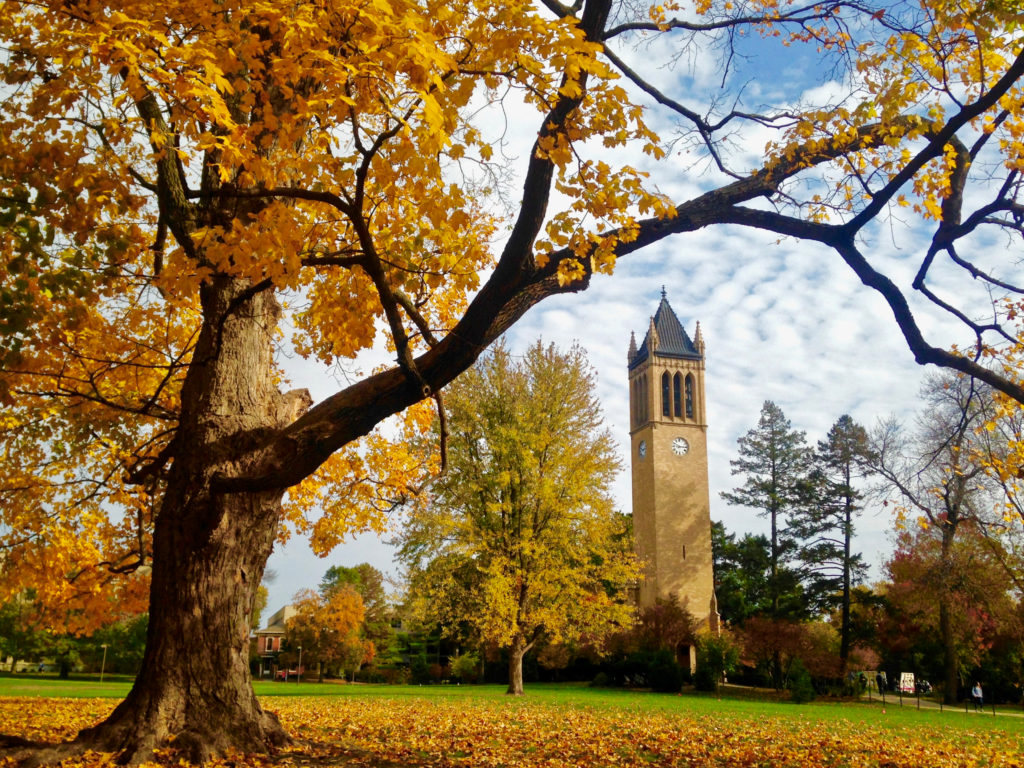 Ames, Iowa
Ames is home to Iowa State University, several national companies, and a high quality of living. Unemployment here is a super-low 3.2%, thanks in large part to companies like 3M, the U.S. Department of Agriculture National Animal Disease Center, and the National Farmer's Association. Nearly half of Ames' population is composed of college students, so this small town is full of opportunities for a fun and vibrant lifestyle. Downtown Ames offers plenty of restaurants and locally owned shops. However, most students head off campus to Campustown, a square with amenities that cater almost exclusively to the college population.
Amherst, Massachusetts
It shouldn't be surprising that a town located in Happy Valley should be one of the best places in the country to live. Home to Amherst College, Hampshire College, and the University of Massachusetts Amherst, the little town of Amherst has a long and interesting history that includes such figures as Robert Frost, Daniel Webster, and Emily Dickinson, among many others. Today, the artist scene thrives in Amherst, and residents have plenty of opportunities for cultural events, theater and concert series, political (almost exclusively Liberal) events, and more. While the cost of living is higher in New England than most other parts of the country, the unemployment rate here is low. This is due in large part to the number of large economic centers within easy commuting distance.
Asheville, North Carolina
If cities can be trendy, then Asheville, North Carolina is on the list. Indeed, it seems everyone everywhere is talking about Asheville! Located in the western part of the state, Asheville enjoys weather that's almost always bearable. Head any direction from downtown and you'll find lakes, mountain ranges, and other stunning natural landscapes. University of North Carolina at Asheville offers local residents a full calendar of arts and cultural events. The town itself offers festivals, galleries, shops, sporting events, and all activities hosted by the Biltmore Estate.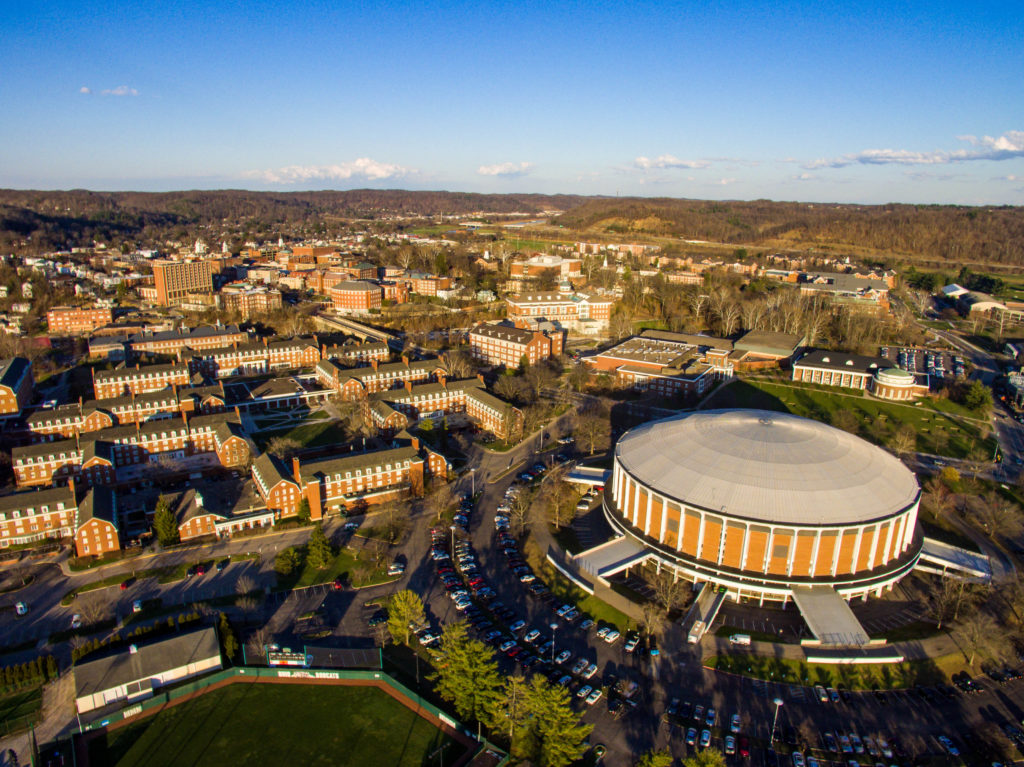 Athens, Ohio
Perhaps as expected, the small town of Athens, Ohio was named after the ancient center of learning in Greece. Ohio's Athens is a pleasant place of tree-lined streets and parks, hills for hiking, and all that goes with being the home of Ohio University. Though outdoor pursuits are the most popular pastimes in Athens, the town has its fair share of shops, restaurants, cultural activities, and other fun things to do and see. Ohio University is Athens' biggest employer for the area.
Beaufort, South Carolina
Those with a keen eye may recognize Beaufort, South Carolina as the backdrop of the film Forrest Gump. At least, this is where much of it was filmed. Home to University of South Carolina Beaufort and located just minutes from Hilton Head Island, Beaufort is the quintessential Southern town, and a great place to spend one's post-college years. The walkable downtown area and nearby beaches provide lots of pastime opportunities. A major employer in the area is the U.S. Marine Corps.
Binghamton, New York
Home to Binghamton University, Binghamton, New York has long attracted residents looking for a charming and economically stable place to call home. Most of Binghamton revolves around the defense industry. Large companies like Lockheed Martin, BAE Systems, IBM, Sanmini-SCI, and Universal Instruments all actively recruit from the University's impressive graduates. For those students who aren't quite sure about spending more than four years here, Binghamton has plenty to offer for both fun and relaxation. The picturesque downtown was made for strolling. It has several fun restaurants, coffee shops, boutiques, art galleries, and even museums. Binghamton is also home to the best philharmonic in the region, while a number of festivals and concert series stop here throughout the year.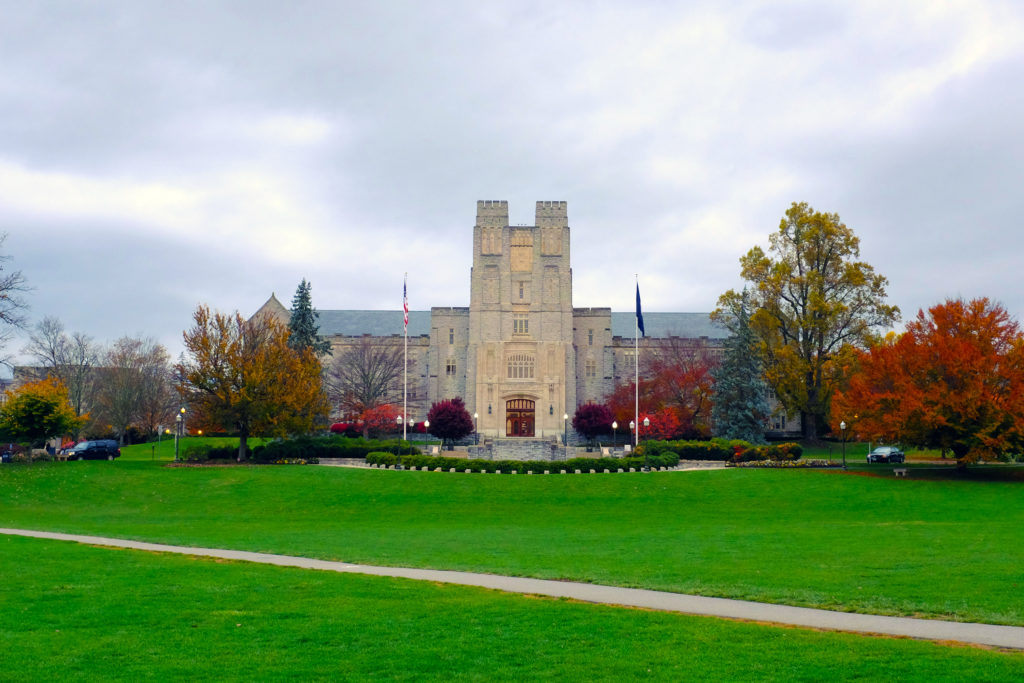 Blacksburg, Virginia
With nearly two students for every one non-student, it's no wonder that Blacksburg, Virginia caters to the students of Virginia Tech and Radford University. Students can get off campus and enjoy more than 150(!) restaurants, pubs, art galleries, and boutiques in and around Blacksburg's downtown area. For more than just an afternoon or evening away, adventurous students will love Blacksburg's close proximity to the Blue Ridge and Allegheny mountains, where hiking, camping, skiing, and snowboarding opportunities are plentiful depending upon the time of year. Finally, Blacksburg's cost of living is some of the lowest in the state thanks to its massive student population. Still, large employers are based here. The small town has recently become a hub for tech firms and start-ups. Blacksburg Electronic Village (BEV) has been one of the top employers in town for nearly three decades.
Bloomington, Illinois
Bloomington, Illinois (along with its next-door neighbor, Normal) is the home of Illinois Wesleyan University and Illinois State University. Thanks to these two large schools, the town of Bloomington enjoys plenty of cultural and sporting events throughout the year. Local businesses cater to the student population and often offer coupons, discounts, and even freebies to Bloomington's student population. The cost-of-living here is low compared to the rest of Illinois, and big employers like State Farm Insurance, Mitsubishi, and Country Financial make it a great location to both attend college and start a life.
Bloomington, Indiana
Not to be confused with Bloomington, Illinois one spots up, Bloomington, Indiana is home to Indiana University. Named for the myriad blooms spotted by early settlers, Bloomington is consistently named one of the most beautiful small towns in the nation. Restaurants, cultural activities, concerts, and university events are enough to keep any Bloomington resident busy. Plenty of nearby outdoor activities make for relaxing weekend getaways. IU's entrepreneurial students will be happy to know that Bloomington was named by Entrepreneur magazine as one of the 50 Hottest Small Cities for Entrepreneurs. Forbes ranked it the third best place for business careers.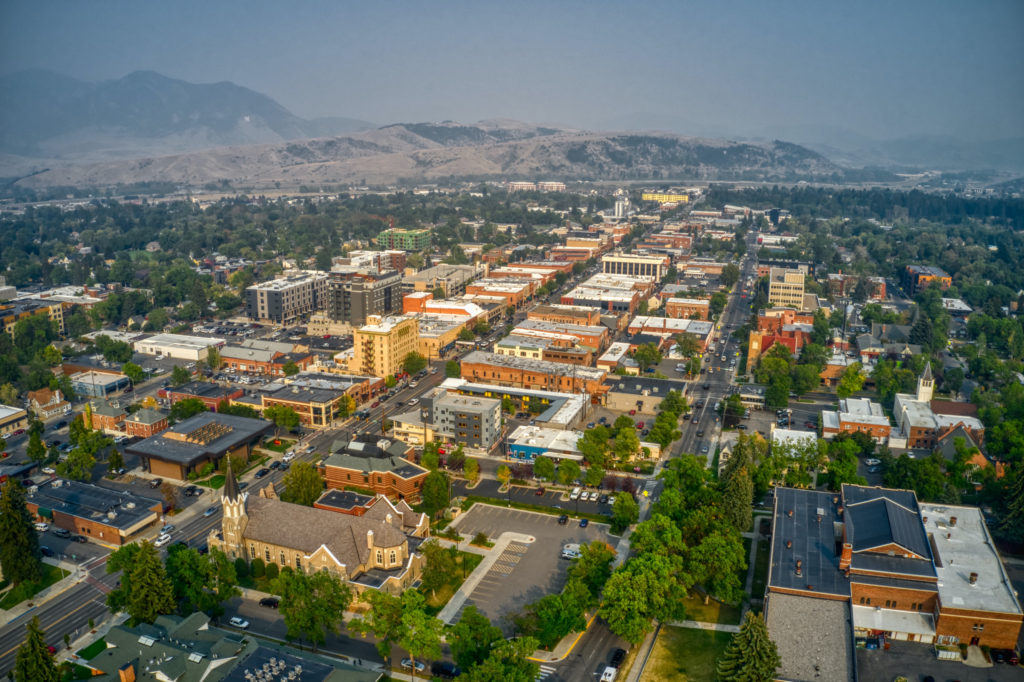 Bozeman, Montana
It's hard to imagine a place quite as beautiful as Bozeman, Montana. With lakes, rivers, and mountains all within an easy driving distance, it's no wonder Montana State University students tend to be outdoorsy types. Fly fishing, rock climbing, skiing, spelunking, and hiking are all popular pastimes here. When it's time to relax, Bozeman's picturesque downtown is lined with friendly and inviting coffee shops, bars, art galleries, and restaurants. For those looking to stick around Bozeman after graduation, the Gibson Guitar Corporation's acoustic guitar factory is located here. There's also a growing number of tech start-ups that are attracted to the lower cost of living and higher quality of life.
Burlington, Vermont
It has a safe and lively urban scene, well-planned community growth and a low cost of living. It also has a business scene inviting for start-ups and other small businesses. All these combined make Burlington, Vermont a college town with great quality of life. The University of Vermont, Burlington College, and Champlain College all call Burlington home and provide most of the town's residents. As would be expected from such a college scene, Burlington has a thriving musical, artistic, and cultural scene that consistently provides local residents with concerts, festivals, theater, and other activities. The downtown is a walkable collection of historic buildings, locally owned shops, and tasty restaurants. Vermont's famed skiing can be found a short drive away.
Charlottesville, Virginia
Spend four years at University of Virginia and you'll find it hard to leave the charming town of Charlottesville. Two U.S. presidents have called Charlottesville home. Thomas Jefferson's Monticello (now a UNESCO World Heritage Site) is located here as one of the town's top tourist attractions. Surrounding Charlottesville are gorgeous rolling hills, a myriad of wineries, and views of the Blue Ridge Mountains. Downtown Charlottesville consists of one of the longest outdoor pedestrian malls in the nation. Walkers can enjoy strolling past nationally recognized restaurants, inviting cafes, locally owned boutiques and independent bookstores, and much more. While the cost of living here can get pretty high, Charlottesville residents say the beautiful surroundings, historical significance, and extensive creature comforts make it all worth it.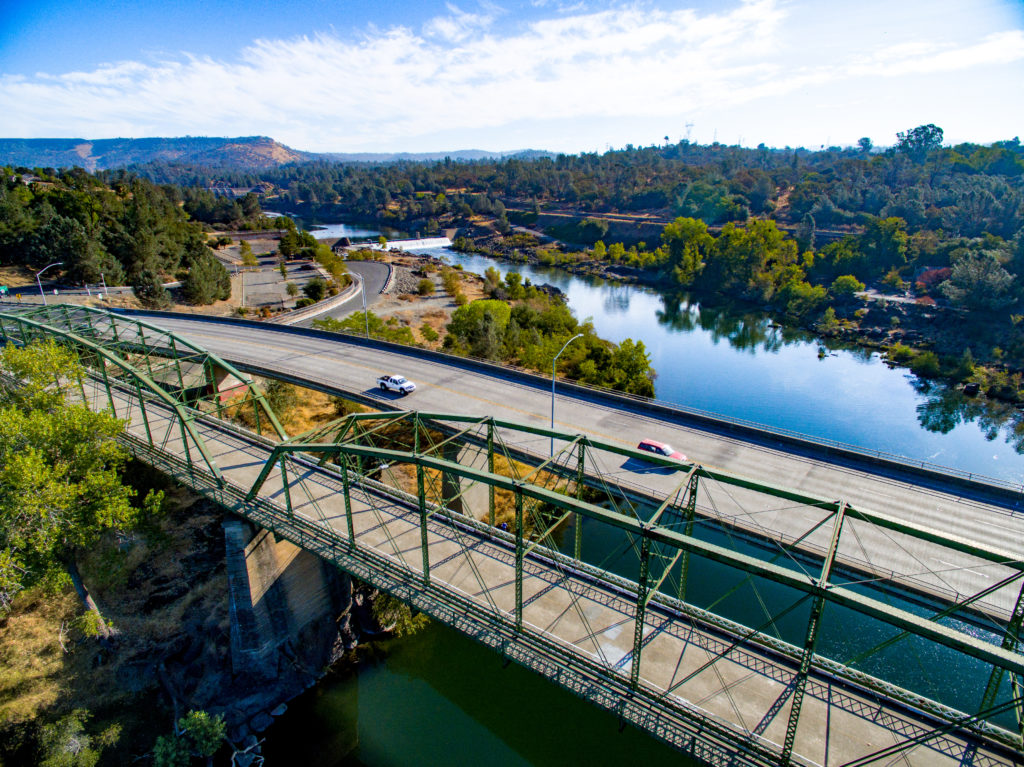 Chico, California
About 16,000 undergraduate students are attending California State University, Chico, and we hear that many of them chose the school because of the town of Chico itself. Known as a fun, party-like atmosphere, Chico boasts a median age of 29.9 years for its residents. Its unemployment rate is a low 3.8% (a great number for a town overrun with students), and it has a whopping 274 bars and restaurants for every 100,000 people. Not to mention, the weather is great.
Claremont, California
Pretty Claremont, California is a great place to attend college and an even better place to live. Often referred to as the "City of Trees and PhDs," Claremont is home to the system of Claremont Colleges, a quiet community scene, and easy access to Los Angeles. Claremont's picturesque downtown is lined with boutiques, inviting coffee shops, and tasty restaurants. There's always something to do downtown or at one of the local parks or theaters. More adventurous pastimes here include skiing or snowboarding in the San Gabriel Mountains, and swimming in the Pacific Ocean. Good news for those who plan to stay in Claremont after graduation: CNN Money recently named the college town the best place to live in all of California.
Corvallis, Oregon
Ranked by Outside magazine as one of the top 20 places to live in America, little Corvallis, Oregon has a lot to offer residents. Home to Oregon State University, Corvallis has a large student population that mixes well with the local community. Popular pastimes here include anything that has to do with being outdoors (think hiking, biking, camping, skiing, and enjoying Corvallis' many parks). Perhaps this is why residents of Corvallis are said to have a longer life expectancy than those in other Oregon cities. Corvallis has also been ranked one of the smartest towns in America, and major companies like Hewlett-Packard, CH2M Hill, and AVI BioPharma all call Corvallis home. The University receives more research funding than all other public higher education institutions in Oregon combined, giving research-oriented students at the University plenty of opportunities to enjoy land-, sea-, space-, and sun-grants around the Corvallis area.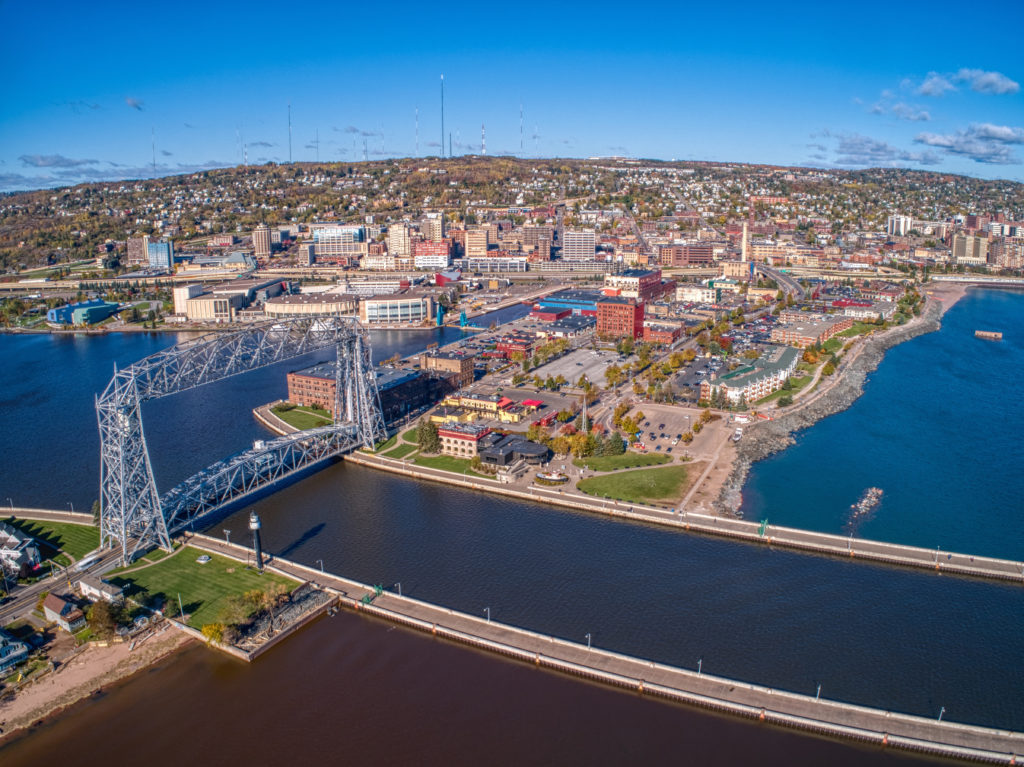 Duluth, Minnesota
Fans of the outdoors are sure to love living in Duluth, home to University of Minnesota Duluth. The city of approximately 86,000 full-time residents is situated right alongside Lake Superior, and miles of lakeside trails are there for strolling, cycling, running, or dog-walking. The university is a major employer in the area, as are companies like Essentia Health and the county government.
Fayetteville, Arkansas
Home to the University of Arkansas, Fayetteville consistently ranks as one of the best small towns in America. Downtown Fayetteville has plenty of locally owned bars, restaurants, coffee shops, festivals, parks, and cultural events to lure students off campus. Plus, the town is set against the beautiful Ozark Mountains. Hiking, camping, and other outdoor activities make for popular pastimes and relaxing weekends away. According to Forbes, Fayetteville is the 8th best city in the country in which to start a business — good news for entrepreneurial Arkansas alumni.
Flagstaff, Arizona
Northern Arizona University students living in Flagstaff, Arizona are surrounded by strong Southwestern culture, plenty of job opportunities, and beautiful mountain scapes and scenery. Theaters and frequent festivals and music events provide plenty of reasons to head off campus. The close proximity of the Grand Canyon means easy access to hiking or camping weekends away. Plenty of students choose to stick around this great place after graduation. Major employers include Gore-Tex, Nestle Purina Petcare, and the U.S. Naval Observatory Flagstaff Station, the latter of which recently teamed up with The Discovery Channel to build a new powerful new telescope for future projects and discoveries.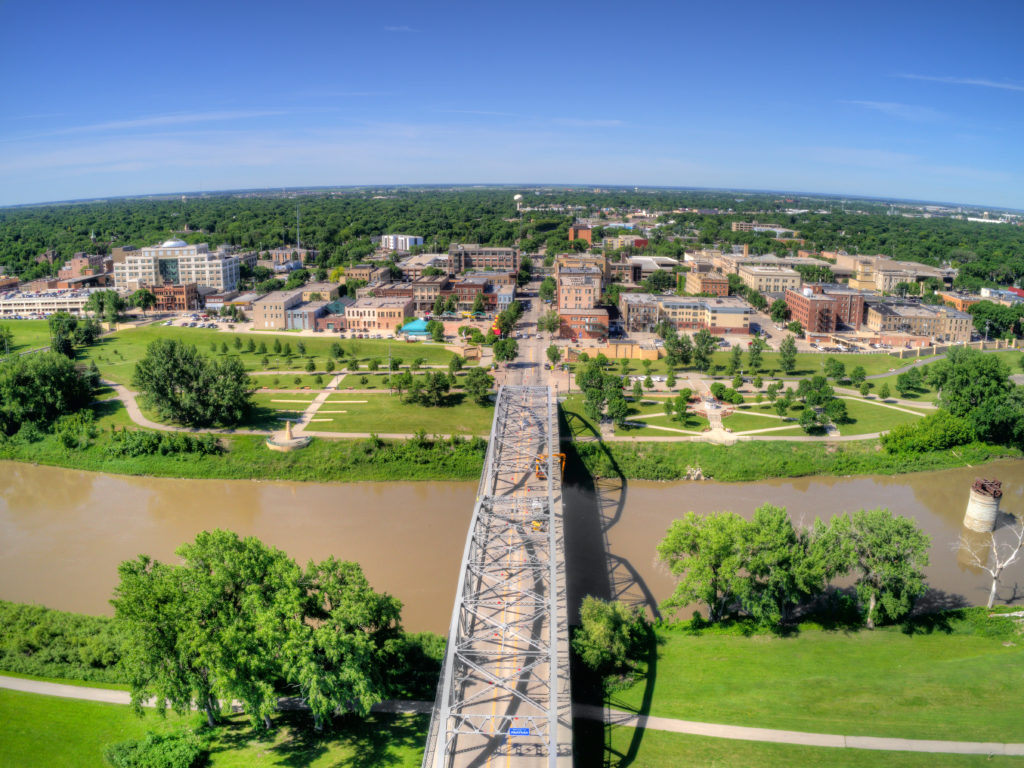 Grand Forks, North Dakota
Home of the University of North Dakota, Grand Forks is very much a college town. Cowboy, Midwestern, and Native American cultures seamlessly blend in Grand Forks. They form a laid-back community with a strong and diversified economy and a low cost of living. Grand Forks is home to a number of industries such as defense, healthcare, education, food processing, and research. Altru Health System, Grand Forks Air Force Base, Amazon.com, and LM Wind Power are the largest employers here, and often employ students in internship or part-time positions.
Iowa City, Iowa
Home to the University of Iowa, Iowa City offers its residents a quality of life that has gotten the town plenty of recognition as one of the best places to live in America. The local hospital system is a pride of Iowa City, and University students host an annual 24-hour dance party that has raised more than $15 million for patients at University of Iowa Children's Hospital. But one need not wait for the once-a-year opportunity to attend a dance party. The University consistently ranks as one of the nation's top party schools. On a more sober note, Iowa City has an impressive literary scene, with ties to such writers as Flannery O'Connor, Robert Frost, and Kurt Vonnegut. Each year, the city hosts a variety of book-themed festivals, including the Iowa Writer's Conference. The city is also the only UNESCO City of Literature in the United States.
Lafayette, Indiana
As the home of Purdue University, most of Lafayette, Indiana revolves around the university life. There is always something happening here, whether it's a concert or festival downtown or an event put on by Purdue's Greek system (the third largest in the nation). A short drive away from campus is the Wabash River, where students can get away for a relaxing weekend of fishing, camping, hiking, or any number of other outdoor activities. Downtown Lafayette is lined with coffee shops, cafes, restaurants, and bars, all of which are affordable and cater to Purdue students. Caterpillar, Wabash National, and Subaru are all major companies that help contribute to the town's low unemployment rate and reasonable cost of living.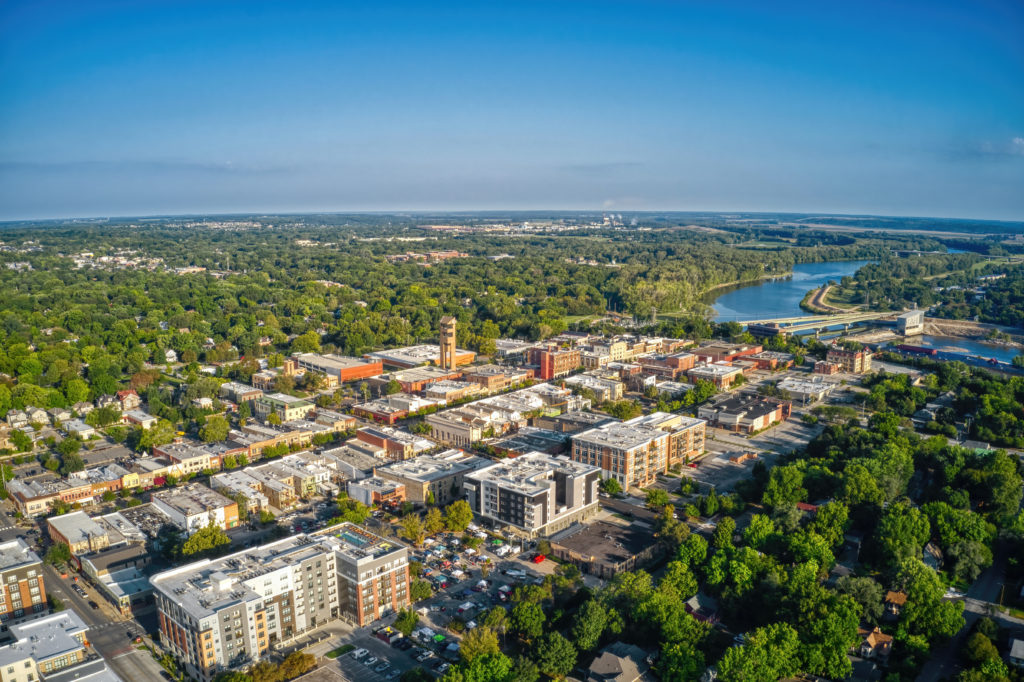 Lawrence, Kansas
Lawrence, Kansas is consistently ranked among the top cities in which to retire, but don't get the wrong idea. Lawrence offers its residents all the creature comforts one could ask for, and as the home of both University of Kansas and Haskell Indian Nations University, has quite a lively college scene. Most of this scene occurs near downtown, where restaurants, bars, and concert venues provide fun places for students to spend evenings off campus. Indeed, the New York Times referred to Lawrence as having "the most vital music scene between Chicago and Denver." Music lovers will especially love the annual Wakarusa Music and Camping Festival, during which upwards of 60,000 music lovers flock to Lawrence to see some of the hottest names in music.
Logan, Utah
Home to Utah State University, Logan offers residents a stunning natural landscape around which skiing, hiking, camping, and fishing are all popular pastimes. Logan has a large religious presence in the Church of Jesus Christ of Latter-Day Saints (Mormons), though those who aren't members of the church need not worry about not fitting into the local community. The Utah Festival Opera is headquartered in Logan, and many other festivals, concert series, and theaters come through town throughout the year. Techies will love the Space Dynamics Laboratory is one of the town's largest employers, along with Icon Health & Fitness, Gossner Foods, and Schreiber Foods. Recently, Newsmax named Logan one of the "Top 25 Uniquely American Cities and Towns."
Malibu, California
Don't let the movie stars' homes and postcard-perfect beaches fool you — Malibu, California is surely a college town. Indeed, Malibu's population of about 12,000 full-time residents practically doubles once you count the students attending Pepperdine University. Enjoying the beach is a popular pastime in Malibu, as is hiking in the nearby state parks, and attending the many arts and cultural events that take place here every year. Those who wish to stick around Malibu after college will have to find the finances to do so. It's pricy! Most jobs here are those in the hospitality and tourism industry.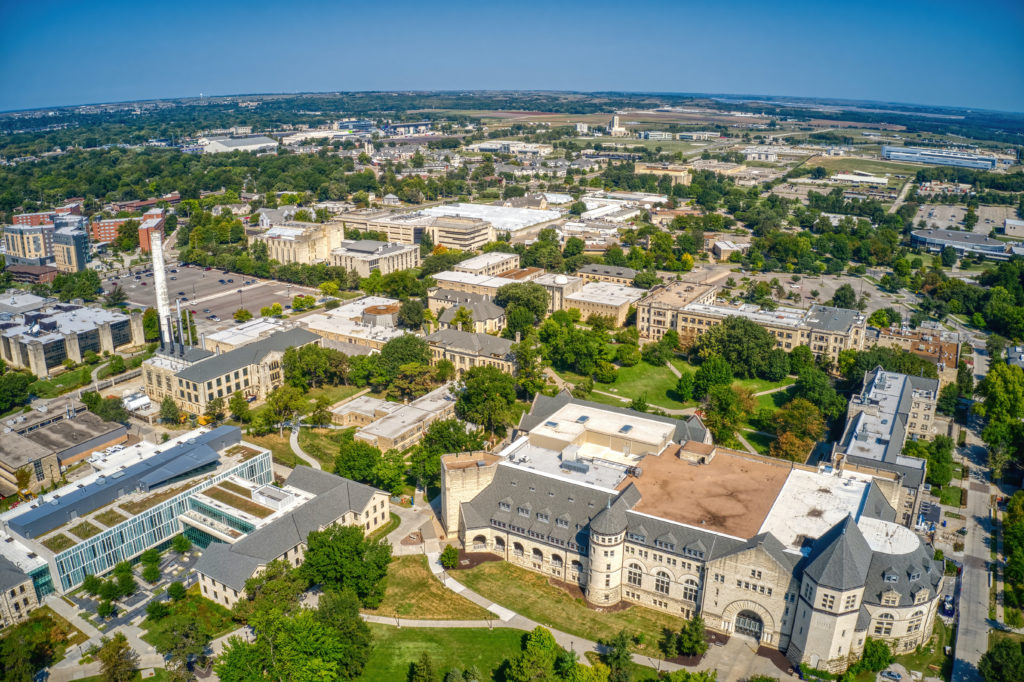 Manhattan, Kansas
Kansas State University is located in Manhattan, Kansas. Manhattan's nickname may be "The Little Apple," but it sure doesn't share a whole lot with its bigger counterpart. Indeed, Manhattan is the quintessential college town, complete with a pedestrian-friendly downtown, student-friendly bars and restaurants, and any kind of shop one may need or want. The university is huge and is one of Manhattan's largest employers.
Morgantown, West Virginia
Situated right on the Monongahela River, the town of Morgantown, West Virginia is one of those places that doesn't get nearly as much attention as it should. West Virginia University is located here, as are a growing number of manufacturing companies, retail stores, and research endeavors. Morgantown's calendar of events is a full one, though the surrounding landscape allows for plenty of outdoorsy pastimes.
Oxford, Mississippi
Oxford, Mississippi, home of Ole Miss, is one of those towns that has it all. The epitome of the southern small town, Oxford has a long literary history, and has been the home of a number of authors, from William Faulkner to John Grisham. In fact, Faulkner's home Rowan Oak is a major must-see site in Oxford. Grilling and tailgating are major pastimes here, especially during Ole Miss football season. Oxford residents also have plenty of access to good music thanks to the town's close proximity to bigger cities like Nashville, Memphis, and New Orleans.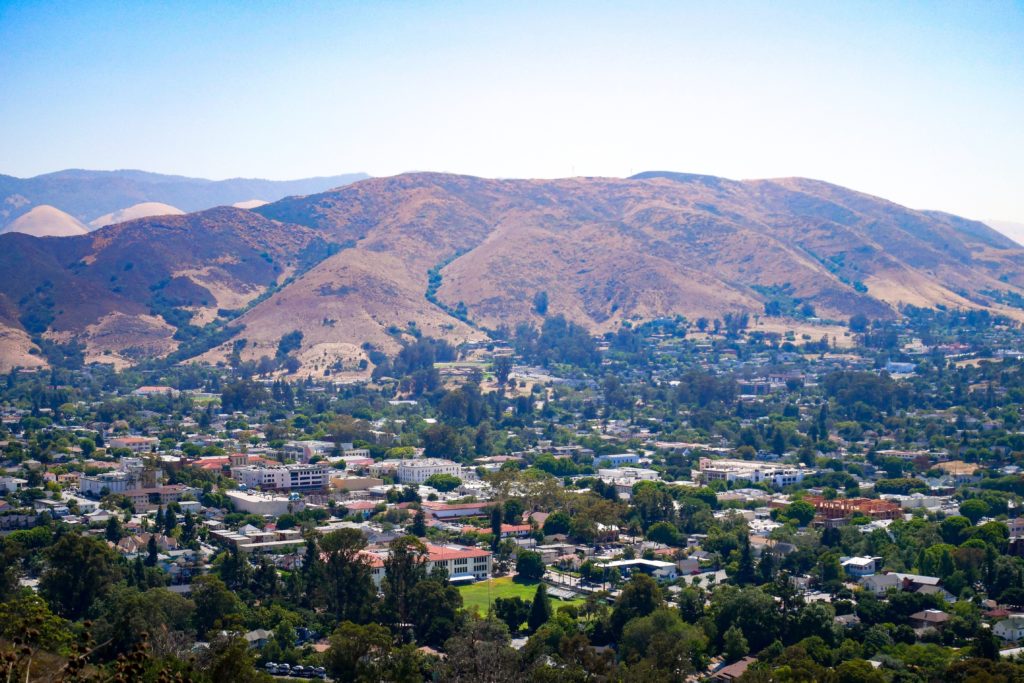 San Luis Obispo, California
San Luis Obispo (or SLO as it's lovingly referred to by California college-aged kids) is one of the oldest cities in the state. Spanish and Native American cultures are strong here, and plenty of historical sites exist within the city limits. The Santa Lucia Mountains make for a pretty view to one side, though SLO also boasts easy access to the Pacific Ocean. Students at California Polytechnic State University relax with popular pastimes like biking, hiking, and spending the day at the beach. Tech-savvy Cal Poly students will like that Pacific Gas & Electric, Tenet Healthcare, and the various research groups associated with the University are all major employers in the greater SLO area.
Santa Cruz, California
Santa Cruz boasts California's mild climate, stellar beach access, and a laid-back vibe — what's not to like?! Home to University of California Santa Cruz, this tight-knit community has a ton to offer. The university provides sporting and cultural events, while the local landscape offers the opportunity for pastimes like hiking and surfing. Employment varies in Santa Cruz, though many people commute to jobs with big companies in Silicon Valley and the Bay Area.
St. Augustine, Florida
Home to Flagler College, St. Augustine is one of those places that tends to have more tourists than full-time residents at any given time. The city is the oldest in Florida, and as such, it has a ton of rich Spanish history and interesting historical sites. Northrup Grumman government contractors and the St. Johns County School District are two of St. Augustine's biggest employers, as are the area's slew of hotels, resorts, restaurants, and bars.
February 2020
More Articles of Interest: