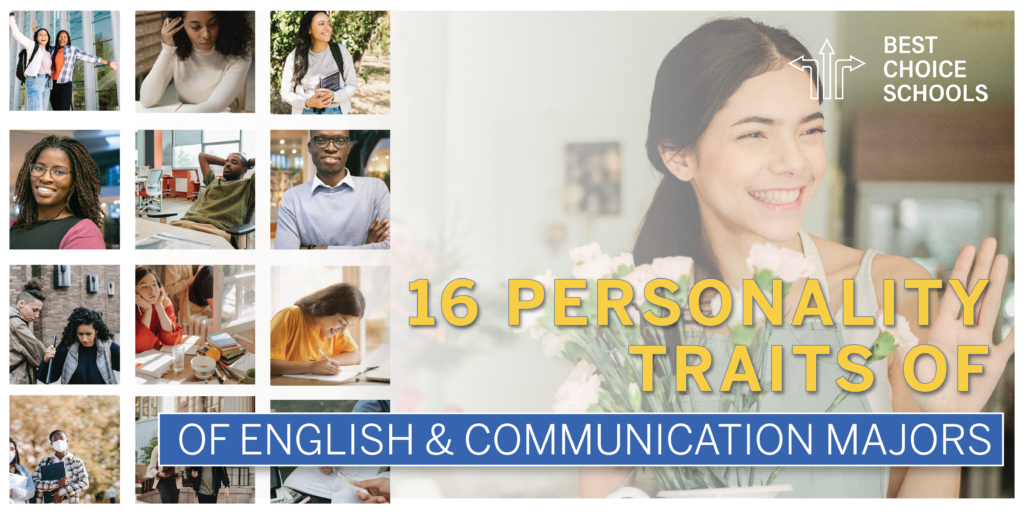 Personality and college choices go hand-in-hand, especially when it comes to picking your major.
Choosing the best college for your personality type is a daunting task. However, there are ways to assess your personality and discover which majors may be right for you by analyzing your dominant characteristics. We've compiled a list of some of the primary traits of English and Communication majors in this article.
English and Communication majors have specific traits that separate them from the rest, and these characteristics can make them strong candidates in their respected fields. For example, Communication majors that have great public speaking skills may excel in a career in broadcast journalism, while those who develop excellent writing skills may be more comfortable in print journalism.
If you're considering enrolling in an online school for English or Communications, there are some distinguishable traits that may make you a solid candidate for one of these programs. Read on to find out more about the 15 personality traits of English or Communication majors.
1. Strong Spelling and Grammar
If spelling and grammar come naturally to you, consider choosing an English or Communications major.
Not everyone grasps the structure of the English language well enough to articulate their feelings or motives. Spelling may seem minor, but when you're writing an important paper or article, it's everything.
If you decide to go into journalism and write investigative pieces or talk about social affairs, your grammar and spelling skills will get a workout.
2. Storytelling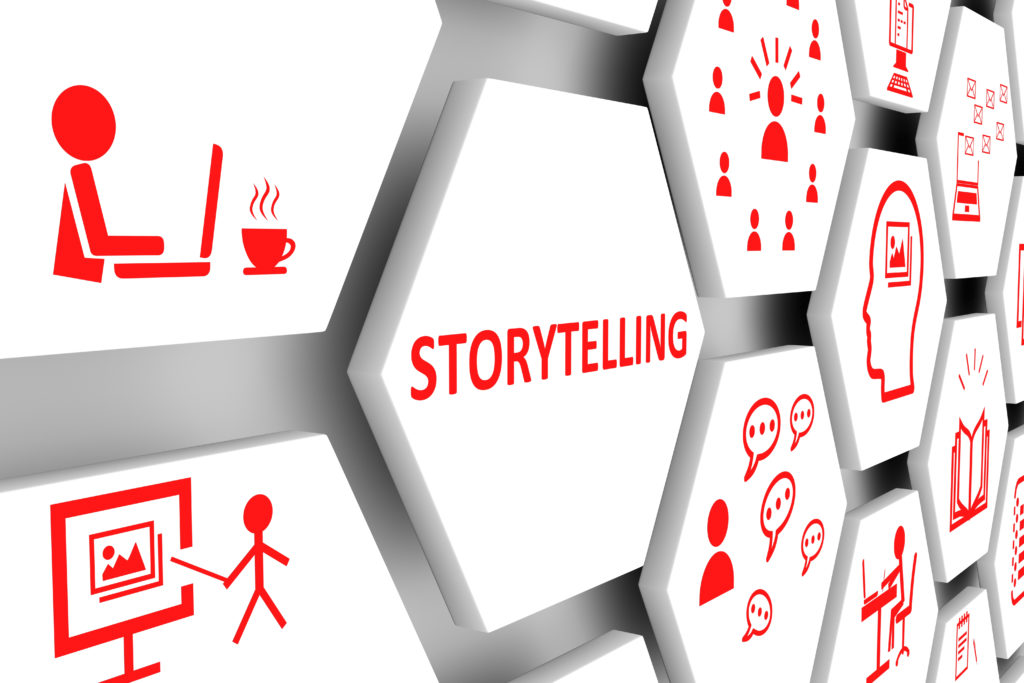 Storytelling, or brand storytelling, has become an important aspect of business. This is where English or Communication majors can bring their expertise to help a company sell their product.
In the age of big tech and big data, brands have been using storytelling for a few years now to market their products effectively. For instance, Apple and its co-founder Steve Jobs was known for storytelling, which is the ability to convey how a product can help customers through relatable experiences.
Using language and personality to convince others is a strong trait that is useful in various industries.
Storytelling is also essential for writing, as you build suspense and captivate audiences while leaving a lasting impression. If getting through to your audience by evoking emotion through language is one of your talents, you might do well in English or Communications.
3. Reading Comprehension
Reading literary works and pinpointing central ideas or analyzing and assessing the big picture is called reading comprehension. This skill can allow you to convey detailed information to other readers.
Grasping the purpose of the text or person gives you the upper hand in producing highly detailed or in-depth articles.
This skill is also a form of critical thinking, which many industries are looking for in English or Communications majors.
4. Tactful Communication
Depending on the industry you plan to work in, consider choosing Communications if you have tactful interaction skills.
We've all witnessed awkward interviews, with some hosts diverting the conversation or expanding on the topic in a way that de-escalates the situation.
Delivering hard news, dealing with unhappy customers, or apologizing also calls for language and tone that expresses you understand their situation. Companies need individuals who can connect with their customers and help resolve problems through tactful communication.
5. Witty
We see wit on display in several places like television, writing, radio, and more.
Being witty involves the skills to bring humor to a situation that can be awkward or uncomfortable. Wit and humor can also hold the attention of viewers or readers. Those who are witty tend to have the largest audiences, as they transform their favorite subjects into enjoyable works of art.
If you have a good sense of humor, consider pursuing English or Communications when looking at your degree options.
6. Comfortable Speaking in Public
More than likely, you will have to speak in public at some point in your career. This may be in a simple board meeting or it could be amongst hundreds or even thousands of people. Whether it's a workshop or a meeting, being comfortable with public speaking allows you to convey your message.
Also, to keep people's attention during long talks requires charisma and a shining personality, which in itself is a talent.
Public speaking has become mainstream, with clubs such as Toastmasters established to help people strengthen their public speaking skills. For many, this skill is also seen as a leadership quality.
Overall, public speaking is a highly desirable skill that many English or Communications majors possess.
7. Quantitative and Qualitative Research Skills
If you love research and finding the truth, consider an English or Communications major.
Effectively finding strong evidence that can lead to a convincing argument is a valuable trait for media fields, especially journalism.
Communications majors can work in various fields that require research, such as law, academia, politics, public relations, marketing, and more.
The ability to convey complex information into layman's terms is also an excellent skill.
8. Branding of Self and Others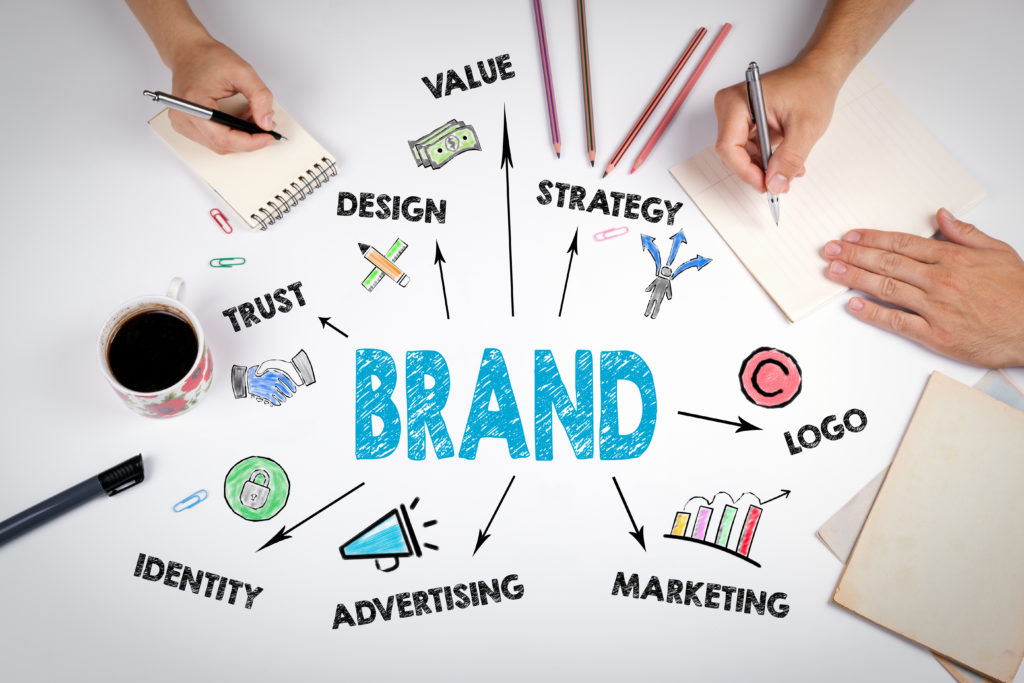 Similar to storytelling, using language to sell yourself can help you in any industry you may want to pursue.
But helping companies to market their brands is a lucrative opportunity in digital marketing that many English and Communication majors are great at. Branding has become essential in nearly all businesses, and those who can grasp this concept make excellent English and Communication majors.
9. Imaginative
Whether it's writing a book, play, or storyline for a television show, imagination is an essential trait.
Today, having an imagination and sharing it with others through fiction can lead to more significant opportunities, such as the Game of Thrones series converting into one of the largest cable television shows to date.
Having an imagination and using it as part of your English curriculum allows you to help potential readers visualize your works.
Imagination also invokes innovation, making you more marketable in the business world. For instance, imagination created Apple's best products, with their best marketing strategy as storytelling to captivate consumers.
10. Independent
English or Communication majors have independence, as they often need to use their own devices to seek out knowledge and information.
Working alone is also common, especially with writing. Often, you will have full responsibility and reliance on yourself to produce articles or documentaries. Many English and Communication majors have come to like long hours of alone time, which can be challenging for other personality types.
Not many jobs allow independence, but working in media behind the scenes may be an excellent career choice if you prefer working by yourself. Companies tend to give full responsibility to people who can work independently and make executive decisions on their own.
11. Formulate and Justify an Argument
Often, debates or arguments require justification and clarification for others to understand a specific point of view. The ability to articulate your thoughts and respectfully justify your positions builds confidence with readers.
This also helps with persuasion, as changing people's points of view on a subject through language, research, and structure is considered a talent.
Consider choosing an English or Communications degree if you enjoy research and developing arguments on today's topics.
12. Perseverance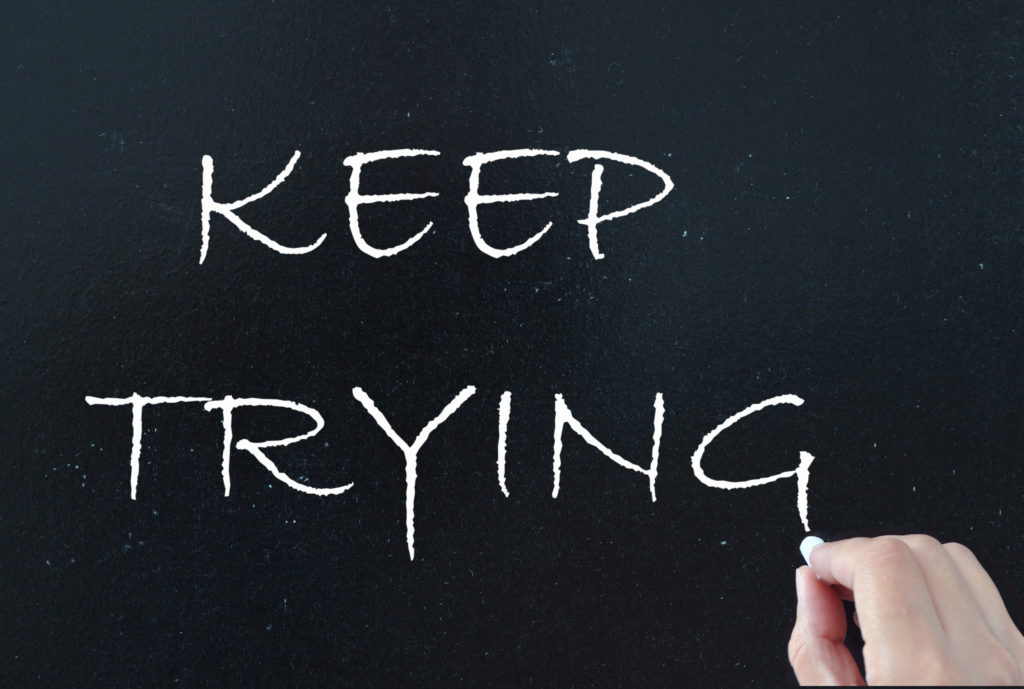 Pursuing and working in Communications can be tough, but those with perseverance will find a way.
For example, working on a ground-breaking story, following up, and getting the latest developments until there's a resolution requires patience and persistence.
Long hours of writing stories, blog posts, or articles can be daunting, especially when you are expected to produce content day after day.
In media, there will also be unique challenges that you must overcome, such as stories falling through or delivering tough messages to audiences.
Having the chops to stick with anything they set your minds to is a common trait among English and Communication majors.
13. Curiosity
If you're someone who is constantly looking for new information, an English or Communications degree may fit your personality.
Curiosity helps with engagement, especially in written works. Also, being curious can help with a positive attitude, which is helpful if you end up in a grueling industry like investigative journalism.
Those who are curious tend to ask better questions. If you pursue a career as a podcaster, radio host, or television personality, this trait will come in handy.
Being curious can also lead to the best stories, whether they be fiction or nonfiction. The media industry is always looking for writers or personalities to cover topics that require curiosity and deep research skills.
14. Enjoy Entertainment
If you are a fan of movies, music, theater, drama, fiction, and non-fiction books, becoming an English or Communications major may be right for you.
While pursuing English, you will learn more about the arts and potentially create your own stories for the public to enjoy.
Communication majors tend to cover the latest news, including celebrities, upcoming movies, talk shows, and more.
High involvement in entertainment also shows you enjoy a world that's changing, as new developments occur constantly. The entertainment industry often employs English and Communications majors.
Content creation is also a lucrative gig within the entertainment industry. It offers a chance for people to showcase their favorite topics to a huge audience.
15. Stand By Your Principles
Often, those who stand by their convictions make for good English or Communication majors.
Many of today's news anchors tend to be journalists that cover topics close to their hearts. They are not afraid to speak their minds and they do not shy away from controversy.
Writers also face the same task, as readers expect authors to have a position and articulate their thoughts and feelings. Those who stand by their principals tend to gravitate to careers in English and Communications.
16. Appreciates Words
Some people have a fondness for words that are almost magical. They can find the correct adjective for any situation, and they know just what to write on their annual holiday letters. For these people, words are not just something they enjoy, they can't imagine life without a strong vocabulary.
English and Communication majors almost always have an undying love for the English Language and it shows in both their written and verbal communications.
Personality Tests to Find Your College Major
Pursuing a college degree requires a strong commitment to a particular subject, but does it also fit your personality? Ensure the degree you choose is fulfilling and suits your traits by taking a college major personality quiz.
Many others also take the Myers Briggs test, which is infamous for categorizing traits. It divides individuals into two categories—introverts and extroverts—with particular specialties such as leadership, judgment, intuition, feeling, and others.
Some examples include:
ENFP college majors: ENFP means extroverted, intuition, feeling, and perceiving. ENFPs might end up as theater majors or pursue English or communication programs.
INFP college majors: INFP means introverted, intuition, feeling, and perceiving. INFPs may be inclined toward journalism, psychology, or art programs.
INFJ college majors: INFP means introverted, intuition, feeling, and judging. These individuals may be interested in liberal arts, social sciences, philosophy, or religious studies.
Your personality may also determine how you use your English or Communications degree, as being a fiction writer is different from a job as a TV personality or radio host.
Also, this field can be for either introverts or extroverts, making it more versatile than other majors. However, those with an extroverted personality may find more opportunities, especially in media as a Communications major.
Overall, taking a college major personality quiz takes a few minutes, yet can give you valuable insight in determining which degree may be right for you.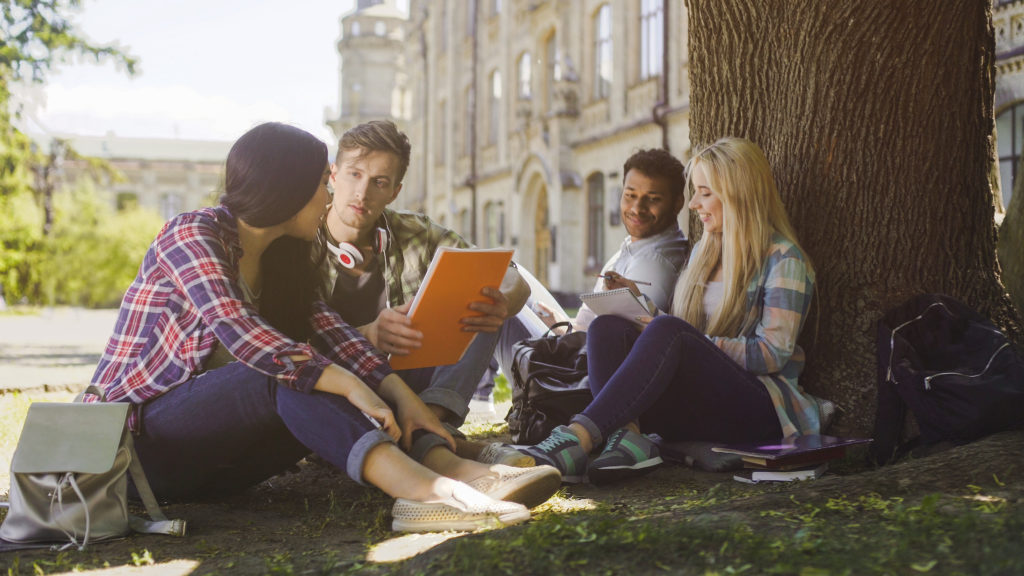 Pursue an English/Communications Degree Today
Whether you're pursuing an online Communications degree, an online English degree, or studying in-person, these are the 16 traits that make you strong candidates for this field.
Both introverts and extroverts have many career choices with either English or Communications. Careers range from investigative journalism, podcasting, television, and everything in between. Whether you're someone who enjoys working alone or with people, you can find the right field for you with a degree in English or Communications.
Common Traits of English and Communication Majors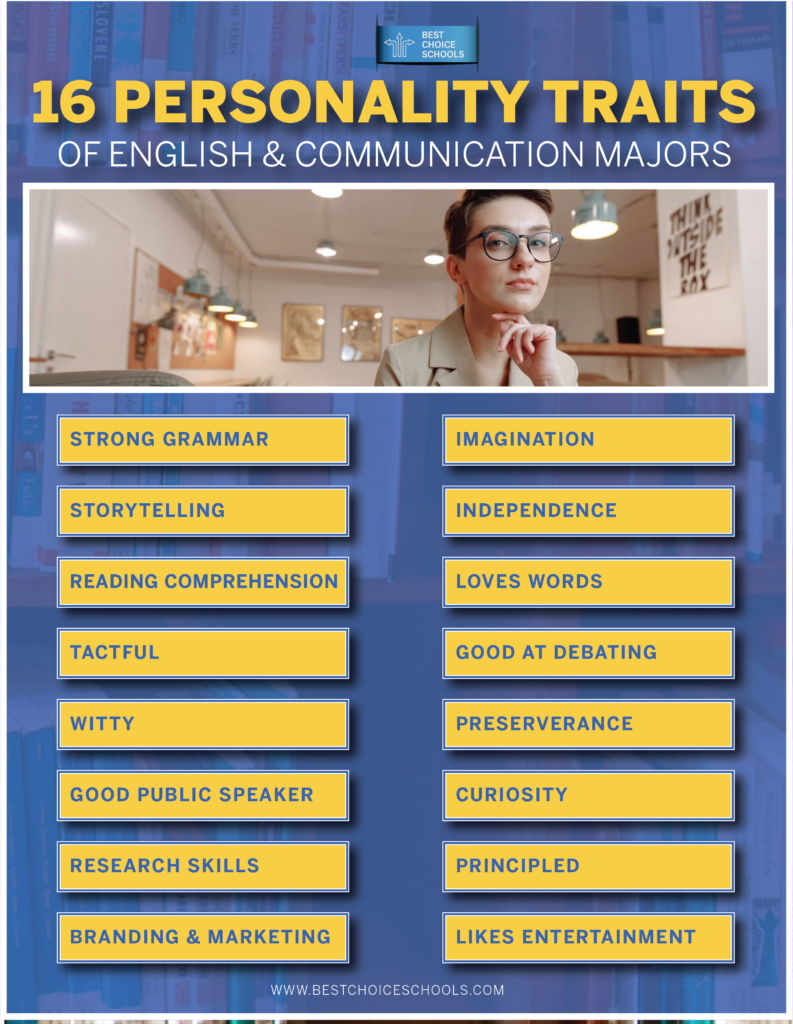 You might also like:
10 Tips for Choosing the Best College Major
Can I Earn a Communications Degree Online?
Choosing a College Major Based on Location
How Do I Decide What Career Choice is Best for Me?