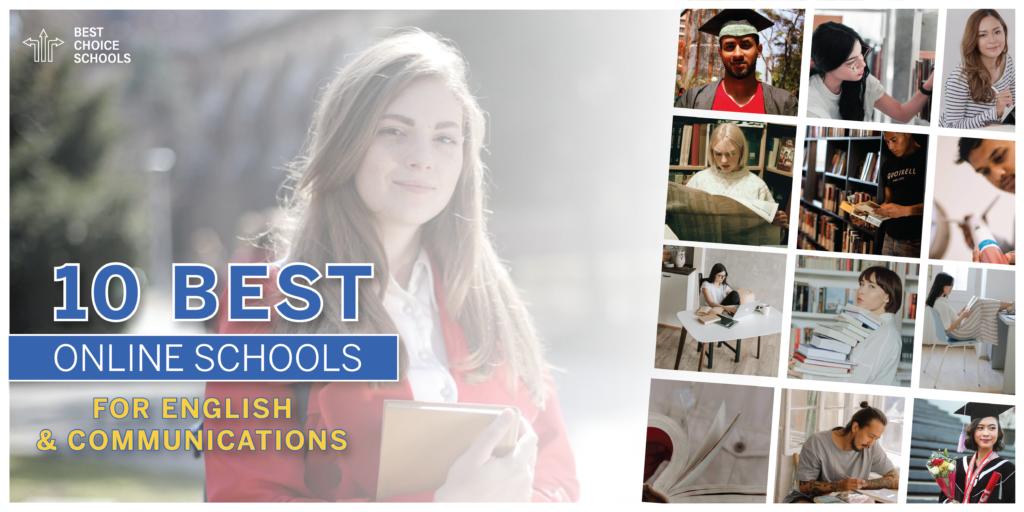 Many elements of communications and English degree paths overlap, and often, students are on the fence about which of these majors to pursue. In this article, we highlight the 10 best online schools for English and communications studies in 2021.
Communications majors can expect to graduate with comprehensive research, technical, and analytical skills, while English majors focus on using critical thinking skills to articulate written and verbal ideas. Because the two are inherently intertwined, enrolling in a school that offers both degree programs provides flexibility should you change your mind about your career path.
Although you may prefer a school that offers a degree in both subjects, you'll also want to look at the program's quality and reputation. And that's precisely what we've done.
Methodology
This ranking was created to find the top institutions offering online bachelor's degrees in both English and communications. The data collected below was taken from the National Center for Education Statistics (NCES) College Navigator based on a particular methodology: percentage of applicants admitted (selectivity rate), graduation rate, and the overall cost of in-state graduate tuition and fees.
We applied our ranking criteria from our original pool of over 50 institutions and developed a list of the ten best online schools for English and communications.
The schools are listed in descending order, with our number one pick at the bottom of the list. Following the review, you will find a little more information about career options for graduates with bachelor's degrees in English and communications.
In the event of a tie, the institution with the lowest graduate tuition price was awarded higher placement on our list. The methodology used is listed below:
Graduate Tuition/Fees
Less than $10,000/year – 3 Points
$10,001-$20,000/year – 2 Points
More than $20,000/year – 1 Point
Applicants Admitted
Less than 25% – 1 Point
25% to 50% – 2 Points
More than 50% – 3 Points
Graduation Rate
50% or Greater – 3 Points
25%-49% – 2 Points
Less than 25% – 1 Point
Below is our list of the top 10 best online schools for English and Communications.
#10 Columbia College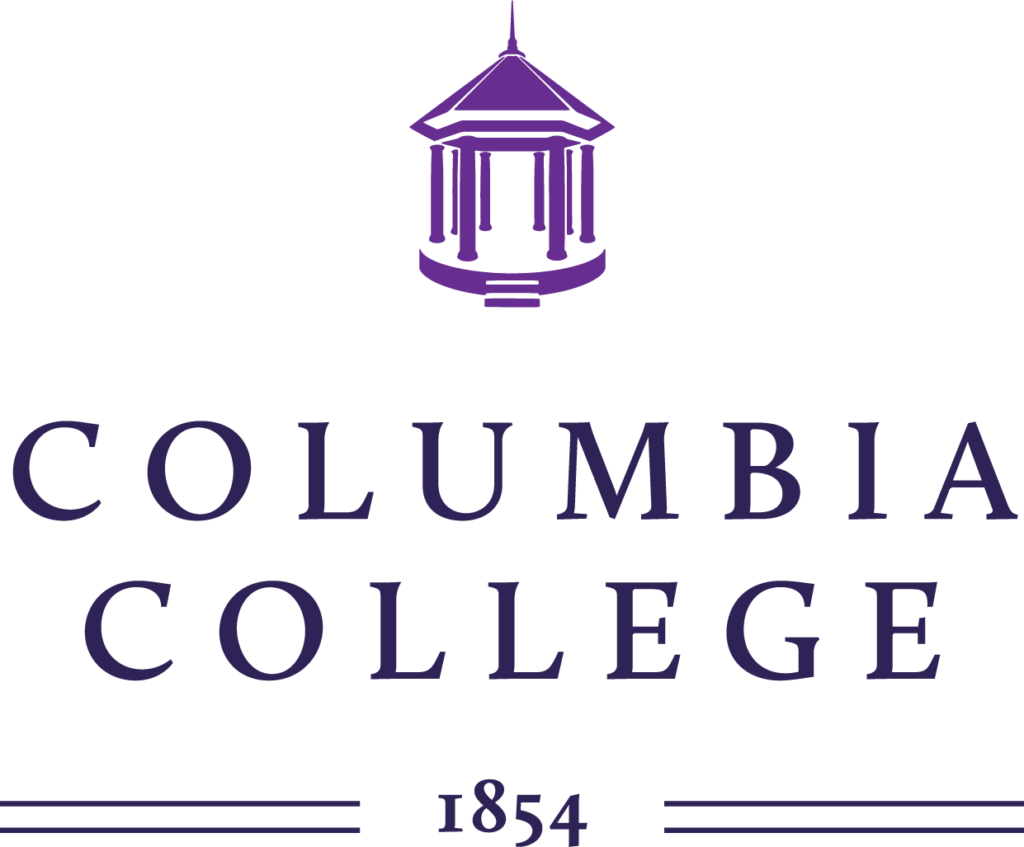 Columbia, Missouri
Tuition/Fees: $23,498
Points: 6
Columbia College has consistently been ranked as a top choice among reviewers thanks to its solid in-campus and online programs. Students pursuing a BA in English will choose an emphasis on either creative writing or literature, depending on preference. Those who wish to pursue Communications can choose from emphases in Communication Studies, Performance Studies, or Media Studies.
This is one of the most expensive colleges in our review. However, the school encourages applicants to apply for financial aid options, which are awarded to more than 90 percent of students. The requirements for admissions to the online program are less rigid than those for Colombia's traditional campus. Students pursuing an online degree only need to have a high school diploma or have passed a high-school equivalency exam.
#9 Maryville University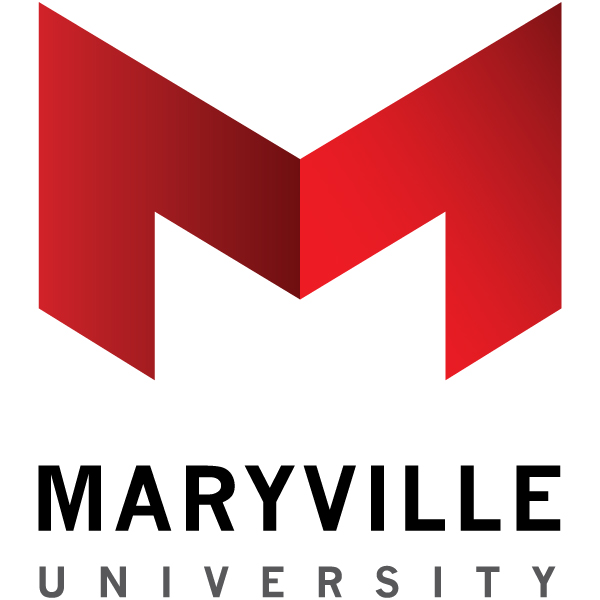 St Louis, Missouri
Tuition/Fees: $28,470
Points: 7
Founded in 1972 as a college for women and underprivileged students, Maryville didn't welcome its first male students until the 1960s. However, they were one of the first institutions to embrace flexible learning schedules. In the 1980s, they launched a "Weekend College" initiative to help working adults improve their skills and future career prospects.
Today, the University is still leading the way in alternative education with its robust online degree program. Communications majors choose from three areas of emphasis: emerging media strategy and social media, strategic communication, and journalism. Plus, a required internship lets students apply what they have learned to real-life situations.
English majors can take advantage of a blended program that combines contemporary and classical literature, composition, rhetoric, and creative and professional writing.
#8 Granite State College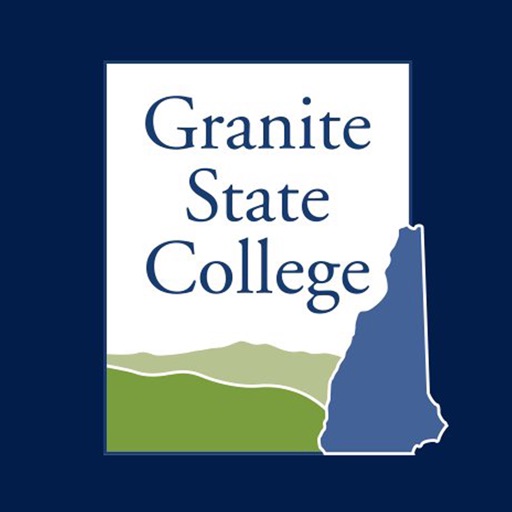 Concord, New Hampshire
Tuition/Fees: $7,791
Points: 7
Granite State College is part of the University System of New Hampshire. Headquartered in the capital city of Concord, it was established in 1972. The school offers several programs, including the option to study 100 percent online for a degree.
The school's flexible English Language Arts degree program is aligned with the NH Department of Education's standards for teacher credentialing. Students from Maine, New Hampshire, Vermont, Rhode Island, and Massachusetts can choose from three teacher certification options to pair with the degree if they wish.
The school's Professional Communication program is designed to prepare students for a career in our media-driven culture and information-based economy. There are three specializations to choose from:
• Business and Strategic Communication
• Interpersonal and Organizational Communication
• Visual Communication and Social Media
#7 Regent University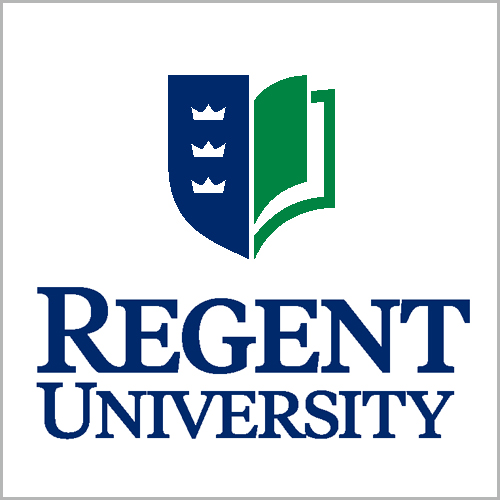 Virginia Beach, Virginia
Tuition/Fees: $18,620
Points: 8
Regent University was founded in 1977 by Pat Robertson. It's a Christian college offering traditional on-campus plus online degree programs. The school has a variety of online bachelor's degree programs in English and communications to choose from, including:
• BA in Communication Studies
• BA in English
• BS in Professional Studies – Communication Studies
• BFA in Graphic Arts
Regent also offers undergraduate minors in Arts/Communication and English. It's one of the top-ranked online schools in several other publications, including Study.com and US News & World Report.
#6 University of Illinois Springfield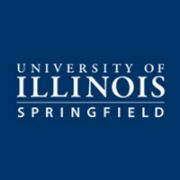 Springfield, Illinois
Tuition/Fees: $11,813
Points: 8
Students can earn their Bachelor of Arts degree in Communication or English entirely online at the University of Illinois Springfield. The University's online program provides the same high-quality education you would expect from on-campus courses in a convenient and flexible format.
In both programs, campus-based majors will be enrolled right along with you in the courses, and you'll have the opportunity to obtain credit for prior learning and internships in your degree. Classes are taught by professional faculty members from a diverse range of backgrounds, and each student gets the attention they need to meet their academic goals from a personal advisor
#5 Arizona State University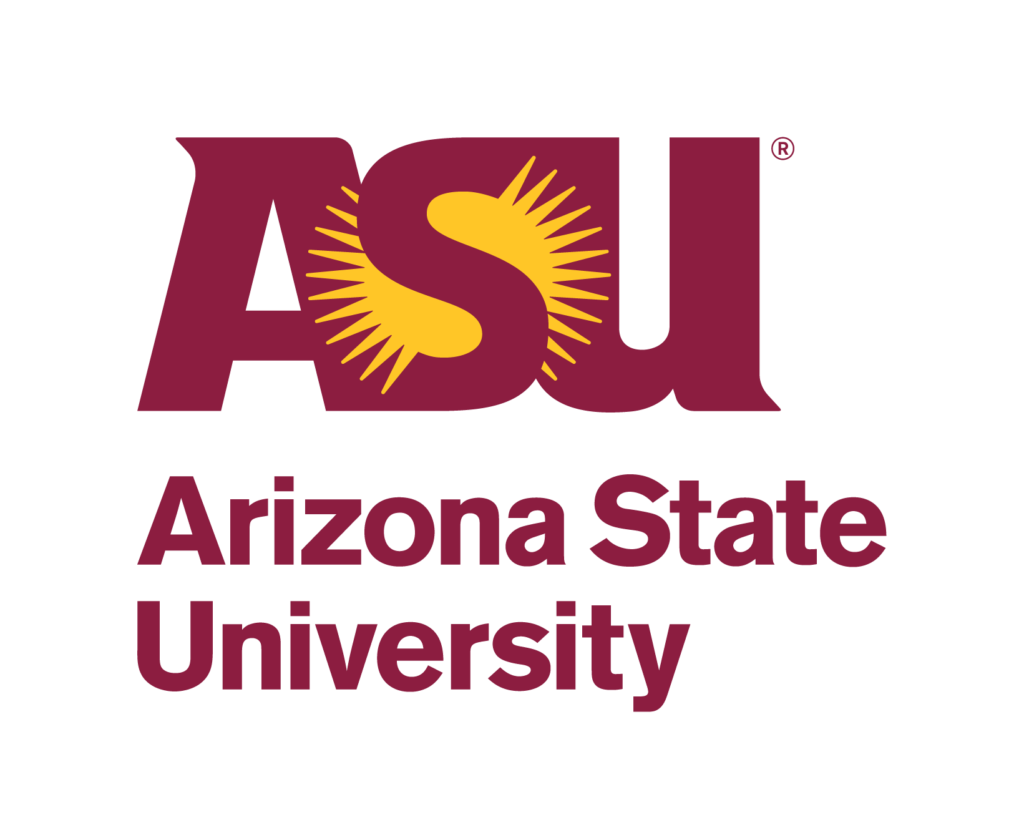 Tempe, Arizona
Tuition/Fees: $11,338
Points: 8
Arizona State University has become well-known for its numerous online degree programs. This comprehensive public research university is a significant contributor to the economic and cultural well-being of the communities that host its on-campus schools. They graduate over 20,000 students each year and have been recognized by US News & World Report as the country's most innovative school.
The school offers a BA in English and has eight bachelor's in communication programs, including:
• Communication (BS)
• Business-Communication (BA)
• Digital Audiences (BS)
• Marketing (BS)
• Mass Communication and Media Studies (BS)
• Organizational Leadership (BA)
• Technical Communication (BS)
• Technical Communication-User Experience (BS)
If you want to get your degree in three years, fast track options are available with your advisor's help. The website features roadmaps for each of the degrees, displaying the exact courses you will need for graduation. This can be especially helpful for communications majors who are undecided about which discipline to pursue.
#4 Clarion University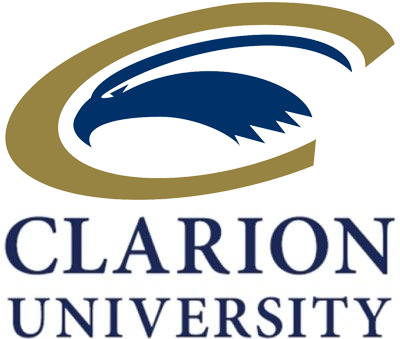 Clarion, Pennsylvania
Tuition/Fees: $11,199
Points: 8
Clarion is a public university and part of the Pennsylvania State System of Higher Education. The school has flexible admissions for adult learners, the military, transfer students, international students, graduate students, and those who want to pursue their degree online. The school holds 28 national accreditations, and 90 percent of faculty members have the highest degree conferred in their fields of study.
Students at Clarion who want to pursue a degree in English online can choose from a BA in English or a BS in integrative studies with an English concentration. While a BS in integrative studies with a writing concentration is also available, it is only offered on campus. However, a 12-credit professional writing certificate is offered online for English majors who are interested.
Those who want to pursue communications have two online degree options: A BS with a concentration in communication principles and a BS in integrative studies with a communication concentration.
#3 Indiana University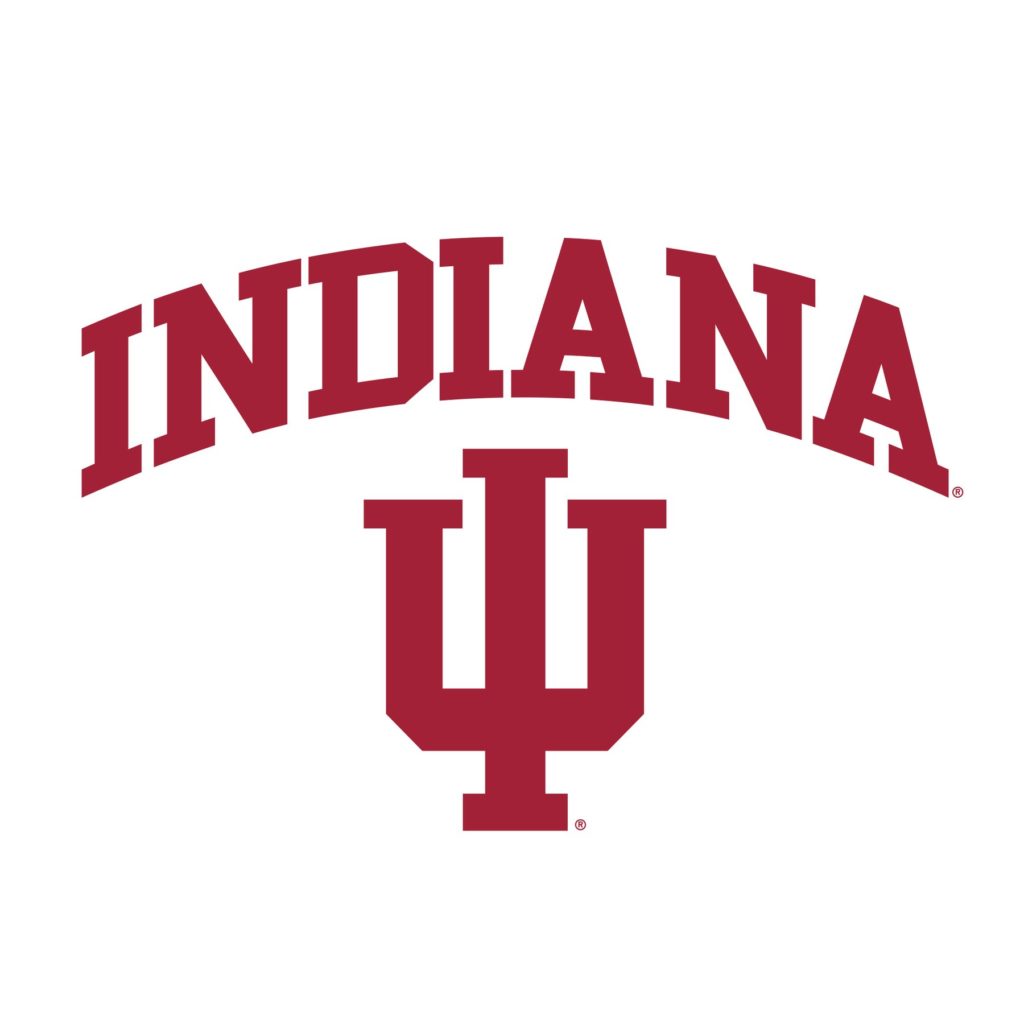 Bloomington, Indiana
Tuition/Fees: $10,947
Points: 8
Founded in 1820 as State Seminary, Indiana University is based in Bloomington and is accredited by the North Central Association of Colleges and Schools (NCACS). With an annual enrollment of over 40,000 students, it's the state's largest college and the Indiana University System's flagship institution.
This Public Ivy school offers the same quality education as its Ivy League competitors at a much lower price. Students can choose from more than 150 online degree programs, from certificates to doctorate degrees. English majors can choose between a BA in English—Technical and Professional Writing or a Bachelor of General Studies.
Communications majors can choose a Bachelor of Arts or Bachelor of Science in Communication Studies. Students will gain real-world organizational, intercultural, and interpersonal skills, as well as communication expertise that is media savvy and enhances the world around them.
#2 University of Central Florida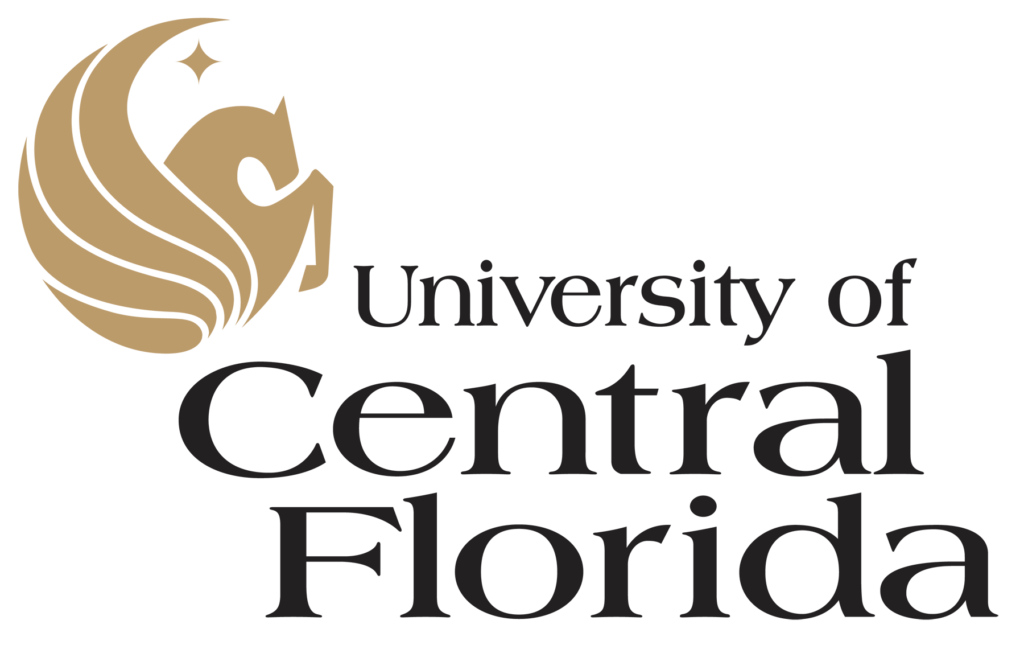 Orlando, Florida
Tuition/Fees: $6,368
Points: 8
The University of Central Florida has been offering online programs for nontraditional students for over two decades. Students can take advantage of over 25 different bachelor's degree paths and excellent program-specific support. The University has some of the most affordable tuition rates of any regionally accredited school in the country.
English majors can pursue a degree in either technical communication or creative writing. Those seeking a communications degree can take advantage of UCF Online's BA in Communication and Conflict. Both learning paths are designed to create excellent interpersonal and intercultural communicators who are well-prepared to work in a wide range of fields.
One of the reasons UCF online is one of the top online schools for English and communications is their fantastic support system. Every remote student has their own dedicated academic success coach. Your coach will guide you through the entire process of getting your education, from admissions through graduation.
#1 Washington State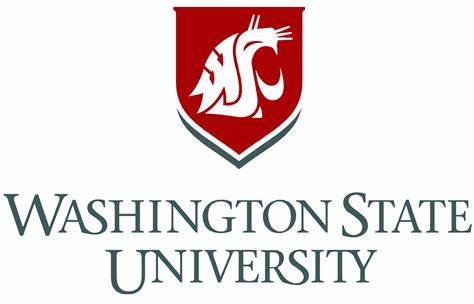 Pullman, Washington
Tuition/Fees: $8,343
Points: 9
WSU was founded in 1890 as Washington's original land-grant University. It has an undergraduate enrollment of around 24,000 and is the state's second-largest college.
Washington State University Global Campus is a robust learning program where students will earn the same diploma they would by attending the school in person. They can also take advantage of the same resources, including full access to the WSU Cougar community.
Students majoring in English at WSU will specialize in rhetoric and professional writing. Plus, they will develop competencies in the English language, including critical thinking and research, along with strong and persuasive writing skills for communicating written ideas to any audience.
Integrated Strategic Communication majors will master persuasive and creative communication while they develop a toolbox of communication skills. The program focuses on social media and digital content management, innovative multimedia content creation, branding, and market research. These practical competencies are integral to a successful communications career.
Why Attend an Online School for Communications or English?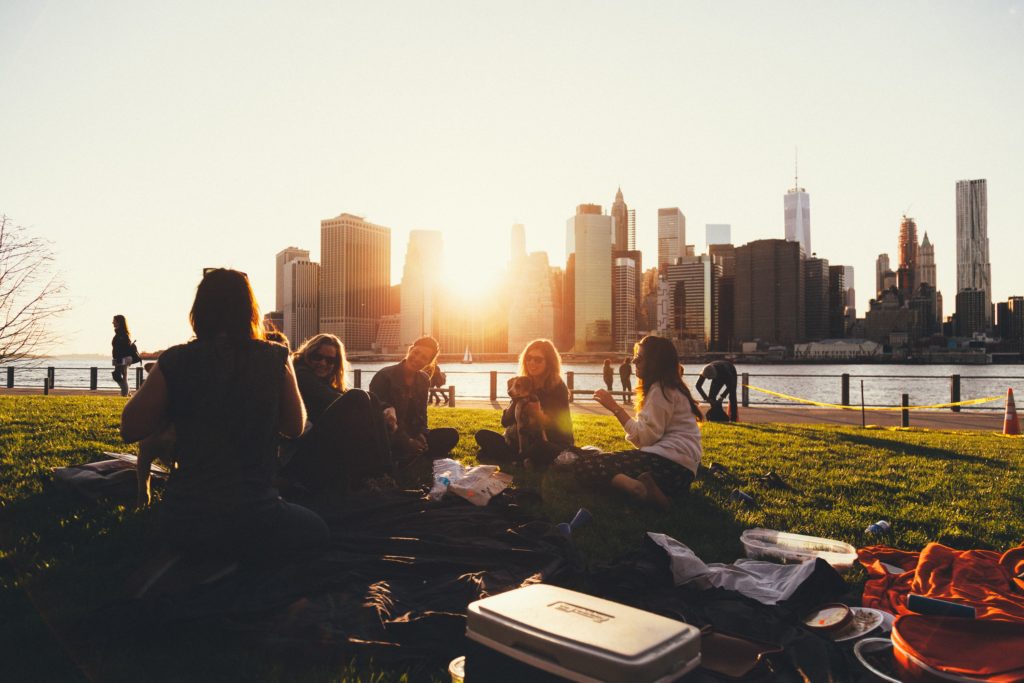 Few majors provide students with such a wide range of real-world skills as communications and English do. Critical and analytical thinking, reading, reading, and strong writing skills are highly sought after by most employers.
Not only that, but these universally essential competencies lead to sharp focus, self-discovery, and insight that can be used in every area of one's life. Managing personal goals and maintaining relationships, leadership, and problem-solving are not just right for your career; they are beneficial to your life as a whole.
Best Careers for English and Communications Majors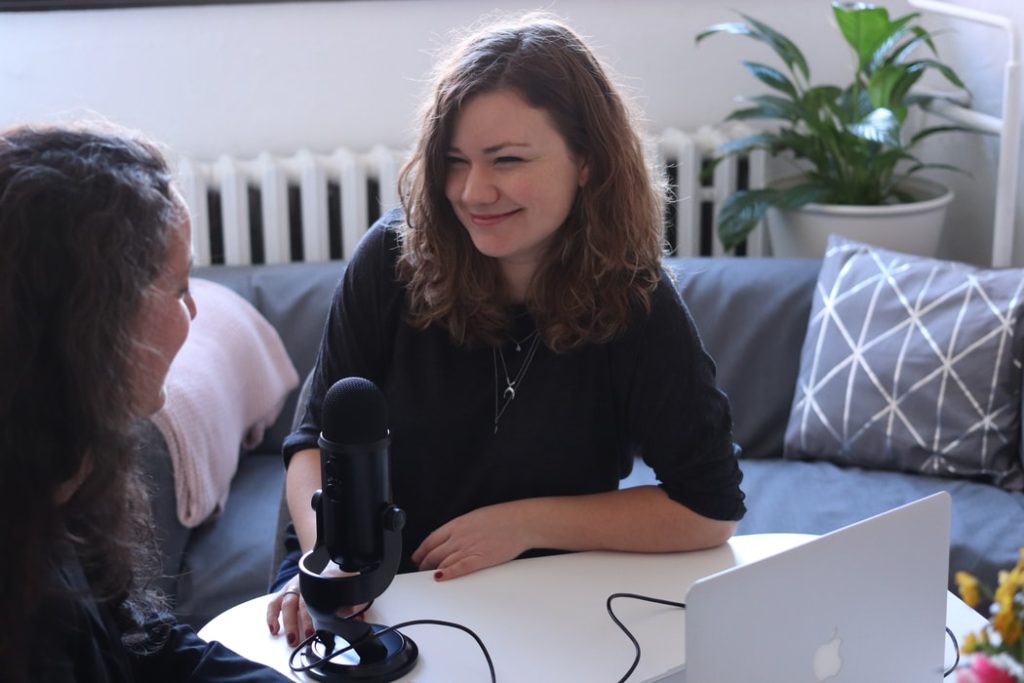 Career options abound for graduates who bring strong English and communication skills to the table. Nearly every industry is looking for well-spoken, well-read applicants who can convey ordinary information compellingly.
As an English or communications graduate, you'll find positions available in marketing, publishing, education, management, human services, public relations, and many other fields. Next, we list some popular career choices for graduates pursuing a communications or English degree.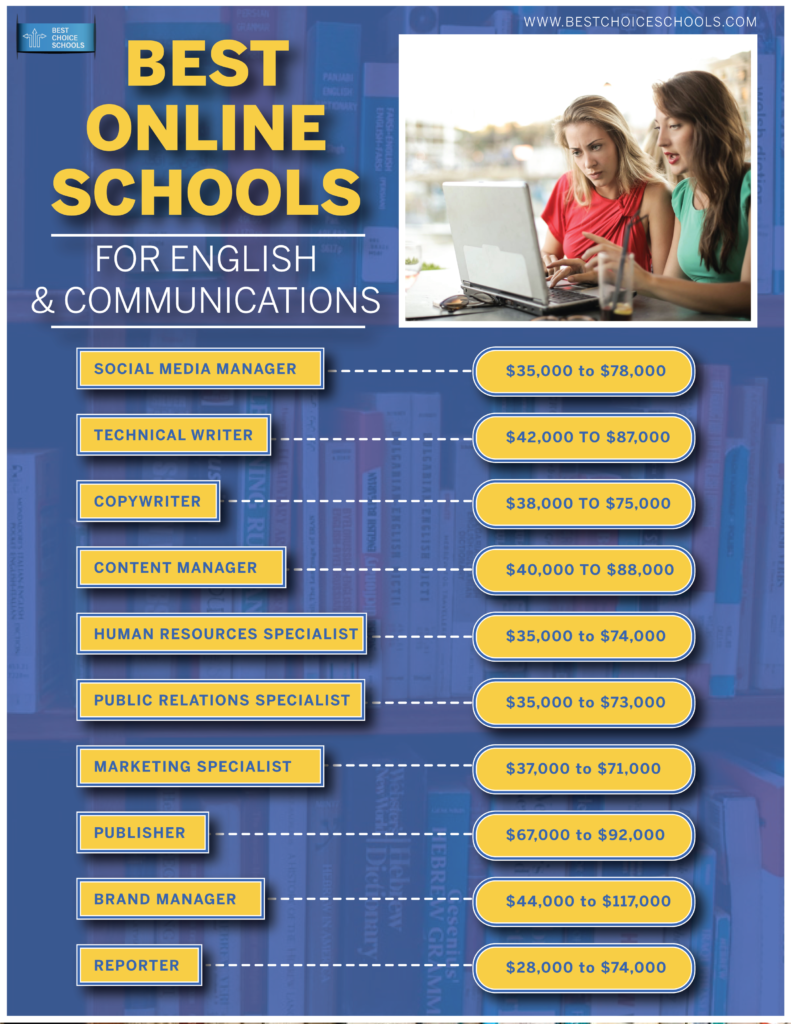 Social Media Manager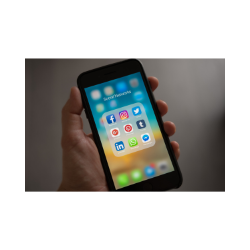 Average Annual Salary Range: $35,000 to $78,000
Social media managers work on curating social channels for a company or brand by planning, monitoring, and moderating content. They may respond to comments, create some of the content themselves, and analyze a marketing campaign's results.
Technical Writer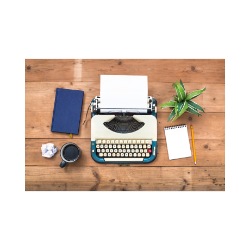 Average Annual Salary Range: $42,000 to $87,000
Technical writers create supporting documents that communicate technical and complex information easily. They are the writers behind instruction manuals, diagrams, how-to-guides, and journal articles.
Copywriter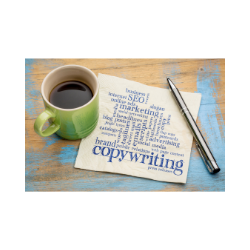 Average Annual Salary Range: $38,000 to $75,000
Copywriters are writers who create compelling articles, blog posts, product descriptions, emails, and other marketing materials to engage consumers or persuade them to make a purchase. Most copywriters work with digital content.
Content Manager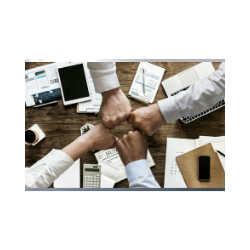 Average Annual Salary Range: $40,000 to $88,000
A content manager is responsible for overseeing the digital content an organization presents, such as blogs, websites, and even print publications. They often supervise teams of writers and editors and post, update, create, and edit content themselves.
Human Resources Specialist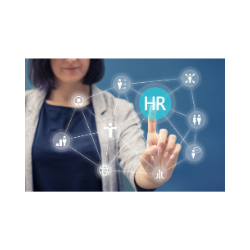 Average Annual Salary Range: $38,000 to $74,000
Human resources specialists work within a company's HR department communicating information to others. They are generally responsible for recruiting and hiring and may work to facilitate communication between management and employees.
Public Relations Specialist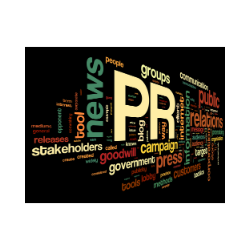 Average Annual Salary Range: $35,000 to $73,000
A public relations specialist is responsible for creating and maintaining a favorable public image for a client, organization, or employer. They may write media-specific material like press releases, direct specific programs, and even work on fundraising.
Marketing Specialist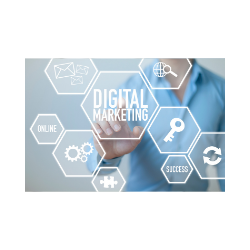 Average Annual Salary Range: $37,000 to $71,000
Marketing specialists research the market and analyze trends to develop and execute marketing plans across various channels. They may also help coordinate conferences, trade shows, and other events.
Publisher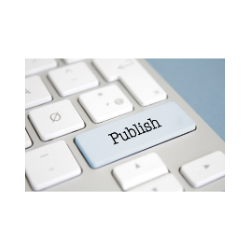 Average Annual Salary Range: $67,000 to $92,000
Publishers are in charge of using distribution channels to replicate written or digital materials. They may work in print books or magazines or on virtual platforms, but the concept is the same. They make the written word available to a specific audience.
Brand Manager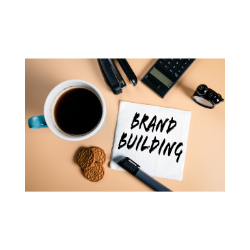 Average Annual Salary Range: $44,000k – $117,000
Brand managers oversee how the public perceives a service or product. They develop advertising, promotional, and public relations campaigns to improve a brand's reputation and recognition.
Reporter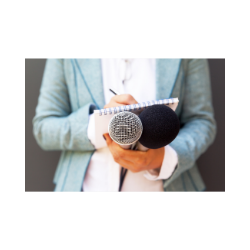 Average Annual Salary Range: $28,000k – $74,000
Reporters research, create, and write stories on current events for newspapers and magazines, online news platforms, radio, television, and other publications. Their goal is to inform the public of noteworthy events and occurrences.
You might also like:
.