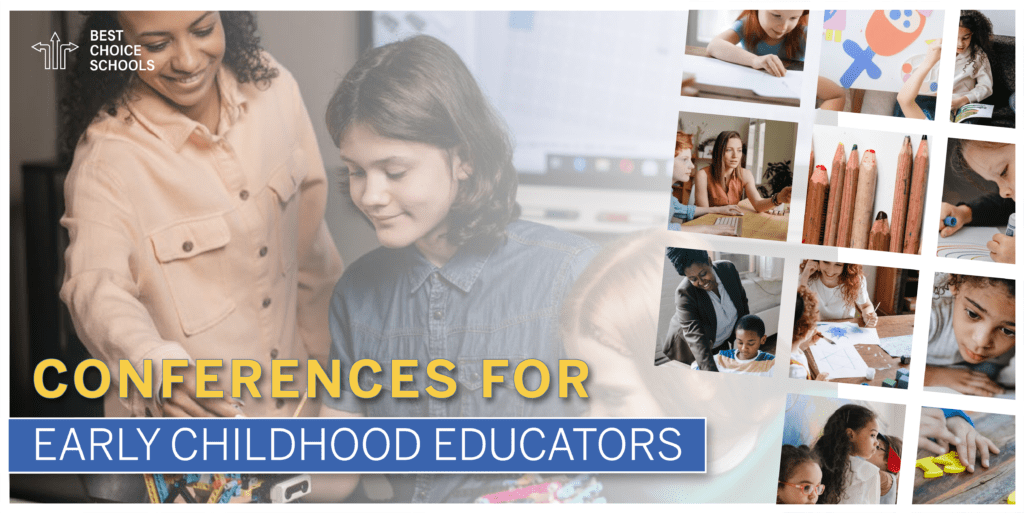 Upcoming 2021–2022 Conferences for Early Childhood Education
Now more than ever, we should be invested in the future of our children. Educators know that, especially during complex worldwide events and tumultuous circumstances, making sure that this generation receives the best from us through their education is imperative.
That's why many of us are turning our attention to resources that can enhance our efforts in the classroom. With unprecedented times come innovative methods and new ways of thinking that can help our young people make it through challenging times, plus help them retain that drive and motivation to succeed throughout their lives.
Related: 10 Best Online Schools for Education
If you're searching for ways to supplement your classroom materials, new perspectives to enhance your own, or for extra input and support from other educators navigating the same waters, then teachers' conferences might be a wonderful place to start.
Over the next school year, many organizations are working tirelessly to plan safe and essential events for teachers to augment their early childhood education resources. Regardless of what region you are in, here are some of our top picks for conferences for early childhood education that will help you mentor and support your students to achieve their potential.
Organizations Involved
Many of the conferences you'll learn about on our list are presented by the World Academy of Science, Engineering, and Technology (WASET). Although this organization also facilitates a wide range of conferences on other topics, it is also a leader of academic thought and cutting-edge research for education.
Since the WASET is a large organization, it contains committees dedicated to its education conferences, including individual topics and disciplines. As such, you'll see the abbreviations for many committee names related to the name of the respective conference.
Each of the conferences we feature here is focused on early childhood education, but you will find a wide range of topics covered from this perspective. Topics like distance learning and technology, the role of playing, and special needs learning are all represented on our list.
Conferences in North America
For those of you based in the United States or Canada, the following conferences are the perfect opportunity to join with other educators in your immediate or general area.
Many, if not most, of these conferences have adapted to a digital, online format. You can find more information about each conference's digital venue on their respective sites.
International Conference on Play-Based Learning, Development and Early Education
October 28–29 of 2021, in Los Angeles, California, the ICPBLECE will be presenting its conference about the role of play in early childhood education. If you're not in the area, the conference is also available for registered users in a digital format.
While this conference will likely differ from the teacher conferences you might have attended in the past, it will undoubtedly enhance your understanding through the use of cutting-edge research and discussion.
The interdisciplinary format of this conference and others from WASET allows researchers and educators to interact about the topic of play-based learning, bringing experience from both ends of the spectrum together to facilitate collaborations about current trends and solutions to practical problems in the field of your classroom.
For information about registration or to submit a paper for consideration, visit this site.
You may also like: 10 Best Subscription Boxes for Teachers 2021
International Conference on Special Needs Education
From November 1–2, 2021, in San Francisco, California, the ICSNE will be holding its conferences on special needs education. While this conference covers many topics relating to special needs education at every stage, it offers excellent resources for early childhood educators.
In regards to younger children, this conference will cover topics such as children's rights in education, the use of digital technologies for inclusion, distance learning, early intervention, and the role of the family to partner with the educator for the child's learning outcomes.
The conference will also foster discussion about support on the emotional, behavioral, social, and educational levels for a more holistic approach to special needs education. Even if you are not a special needs educator, it's crucial to have the tools necessary to support every student.
For more information about the topics of this conference and the details for registration, visit this site.
International Conference on Play-Based Learning and Early Childhood Curriculum
On March 11–12, 2022, the ICPBLECC will be reprising its Play-Based conferences with a new perspective on the topic: play-based learning as relates to early childhood curriculums. This conference will take place in Miami, Florida.
Like with its earlier conference, this research-based environment is perfect for learning all of the most up-to-date work that scientists and researchers are doing regarding the importance of play for early childhood.
This is a significant conference for early childhood educators because of its focus on how teachers should best incorporate this research into school curriculums to help children use the incredible tool of play to foster growth and learning at this crucial stage.
For more information about registration and to see event flyers and programs, visit this site.
International Conference on Early Childhood Education and Teaching Systems
From May 20–21, 2022, in Vancouver, Canada, the ICECET will be holding its conference covering a wide range of topics that are invaluable for early childhood educators.
Among the topics covered will be curriculum development, effective integration of technology into the classroom, literacy education, special needs education, moral education, and more. The ICECET is calling for academic papers regarding these topics to incite discussion about the research and its practical applications.
To submit a paper, see more information via a flyer or program, or to learn more details about the associated dates, visit this site.
See also: 30 Best Schools for a Master's in Special Education Online
International Conference on Childhood Education and Development
On August 09–10, 2022, in New York, the ICCED will be holding the North American leg of its international conference on childhood education. Although it's still more than a year away, this will be one you don't want to miss as an early childhood educator.
Topics will range from children's speech and teaching creative children to planning pre-k-3 programs and school leadership through challenging times. If you are interested in both the administrative and imaginative sides of educating young children, you should put this conference on your calendar.
To submit a paper, register for the conference, or learn more, visit this site.
Conferences Worldwide
While many wonderful and informative conferences are available to educators in North America, there are plenty of other conferences worldwide that offer a vast wealth of resources to help young students.
Since many of these events may also be available in digital format, be sure to check the individual sites for information about participation, even if you are not based in the area.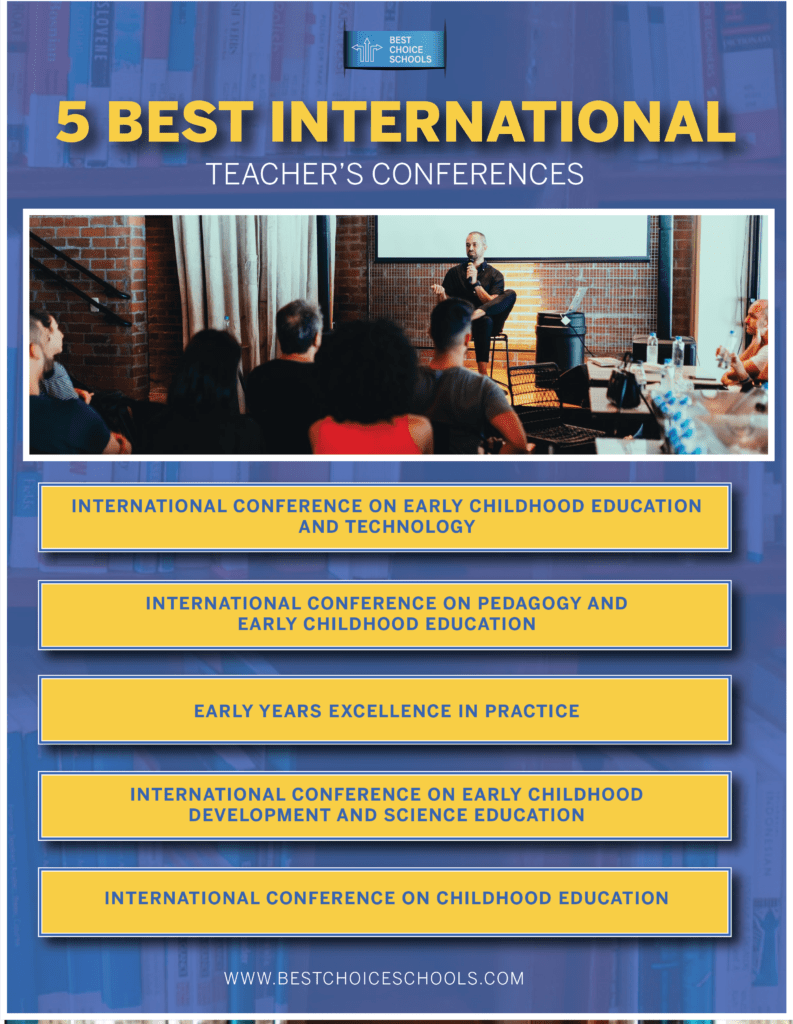 Related: Can I Earn a Teaching Degree Online?
International Conference on Early Childhood Education and Technology
From August 5–6, 2021, the ICECET will be hosting its conference regarding the interaction of early childhood education and technology in Amsterdam, Netherlands. With learning formats reimagined and transformed over the last year, it's more important now than ever to understand how to use technology to benefit your students.
Distance education will, of course, be one of the main topics for presentation and discussion. The conference will also discuss its impact on early education in the areas of curriculum, research, and childhood development.
Reading, mathematics, kinesiology, language education, and more will be reviewed through the lens of distance learning and technology integration. For more information about the conference and how to participate, visit this site.
International Conferences on Pedagogy and Early Childhood Education
During August 19–20, 2021, in Bangkok, Thailand, researchers and educators will be holding a series of conferences regarding early childhood education pedagogy. In short, these conferences are focused on the ideologies that go into the construction of effective educational experiences for children:
The International Conference on Pedagogy and Early Childhood Education will be held by the ICPECE.
The International Conferences on Pedagogical Sciences and Early Childhood Education is being held by the ICPSECR.
The ICAPECE will be holding the International Conference on Advanced Pedagogy and Early Childhood Education.
The ICAPSECE will be facilitating the International Conference on Advanced Pedagogical Sciences and Early Childhood Education.
All these events are slated for the same day. However, they will take place in a digital format to allow educators to partake in one or all of the conferences if they so choose. The topics will vary between assessing student learning, instructional design, teacher quality and development, and integrating pedagogy in individual subjects.
To learn about which conference is right for you or register for all of them, please visit the individual sites for each conference.
Early Years Excellence in Practice
On November 18–20, 2021, in Abu Dhabi, United Arab Emirates, the Bright Start International Conference will be presenting its event for educators, school administrators, occupational therapists, and psychologists.
Convening entirely online, this conference aims to supply professionals with the tools to help young people get a bright start in life. This covers all of the settings that can contribute to assisting students in getting ahead in early childhood, including the classroom.
Leading global experts on childhood development and education will share research and practical strategies through live-streamed content that will be available to registered users for three months after the event's conclusion.
Users can participate in practical workshops, live demonstrations, and round table discussions. To learn more and register for the event, visit this site.
See also: How Does an Early Childhood Education Degree Differ From an Elementary Education Degree?
International Conference on Early Childhood Development and Science Education
From May 6–7, 2022, in Istanbul, Turkey, the ICECDSE will be presenting its conference about the interaction of science education and early childhood development. While early childhood education is often focused on literacy, social skills, and other foundational building blocks, the inclusion of STEM principles and foundations is essential, even at an early age.
This conference will present topics regarding IT in education, the effective integration of technology into the classroom, mathematics education, and early childhood development.
Educators are invited to learn from researchers about their findings in these topics and participate in discussions about implementation and how to overcome classroom challenges regarding science education.
For registration information or more details about the conference, please visit this site.
International Conference on Virtual Learning and Early Childhood Education
From July 08–09, 2022, in Prague, Czechia, the ICVLECE will be holding a conference specifically regarding virtual learning for early childhood educators.
As much of the education world is still working hard to find its footing in effective distance learning, this conference brings together global perspective and experience. Educators will learn from international experts about the impact of virtual learning and how it should be best integrated for favorable outcomes.
The conference will focus on sustainable virtual learning developments, new teaching and learning models, standards and quality of distance education, professional and ethical dilemmas in distance learning, and more relevant and timely topics.
To learn more, submit a paper, or register for the event, please visit this site.
International Conference on Childhood Education
The ICCE will be presenting its conference from July 19–20, 2022, in Paris, France. The broad nature of this conference is sure to provide helpful resources and support for all early childhood educators.
With topics such as education in a multicultural society, distance and eLearning, at-risk children, early STEM learning, and early childhood development, this conference is perfect for educators who want a broad range of topics to choose from.
If you'd like to submit a paper, learn more about the topics the conference will cover, or register for the event, please visit this site.
Related article: How is the Job Outlook for Early Childhood Education?
Conclusion
There are many locations and topics to choose from when seeking early childhood education-related information and support. Regardless of your specialty or support needs, we are confident that you'll find a good fit on our list.
While some people will not be able to travel to the physical location of some of these early childhood education conferences, most on our list are presented either in dual format or digital format only. Although this is done for safety reasons, we are thrilled that this opens up new opportunities for educators who might otherwise not have been able to take advantage of these resources.
We hope that this list has helped increase your awareness of the support available for early childhood educators. But most importantly, we hope you can participate in some of these wonderful conferences that will not only support you but also your students in their personal and academic development.
Related posts: