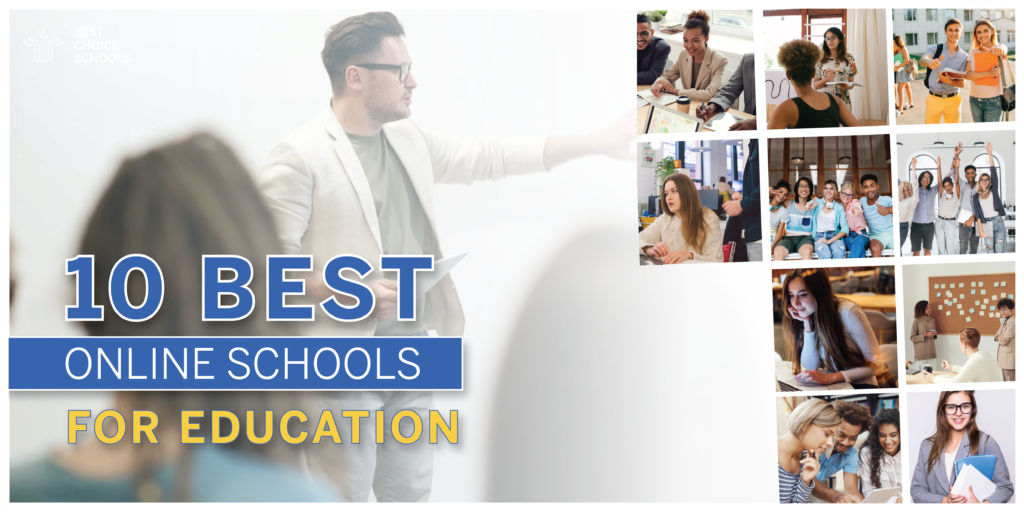 More than ever before, society has begun to learn the immense value of online education.
When schools closed and classrooms were gathering dust, learning didn't stop. Instead, we saw teachers and educators become real-life superheroes as they managed new technology, took on increased workloads, and worked hard not to leave any student behind.
Whether you're interested in becoming a teacher or whether you would like to earn an education degree to apply to another career, we will help you decide where to take that first step by outlining the 10 best online schools for education.
The reason you're likely interested in online schools for education is the flexibility of it. Gone are the days where you have to twist your schedule and responsibilities around classes and lectures. Instead, you can fit these online education degrees into your schedule—anytime and from anywhere.
If you can get online, you can earn an online teaching degree. Let's get started.
Ranking Method
Drawing from information provided by the National Center for Education Statistics, we have scoured through 32 teaching colleges in the United States, and from there, selected the 10 best education degrees offered through online schooling.
We have ranked these online education degrees based on three criteria:
successful applicant rate
graduation rate
cost and fees
Like a New Year's countdown, we have ranked these in descending order, with our top pick as number one. When the points are similar, we awarded the school with the lower tuition fee the higher position on our list. The points were awarded like this:
Tuition/Fees
Less than $10,000/year – 3 Points
$10,001-$20,000/year – 2 Points
More than $20,000/year – 1 Point
Applicants Admitted
Less than 25% – 1 Point
25% to 50% – 2 Points
More than 50% – 3 Points
Graduation Rate
50% or Greater – 3 Points
25%-49% – 2 Points
Less than 25% – 1 Point
First, we'll list the schools for an easy and quick reference. Following that, we'll explore more about the institutions themselves.
To conclude, we'll review some other career options (and their remuneration) that will be available to you with a completed education degree.
School
Tuition
Admission Percentage
Graduate Percentage
Points
Biola University
$41,976
70%
74%
7
Bay Path University
$35,081
72%
54%
7
Arizona State University
$29,428
86%
63%
7
Lesley University
$28,875
75%
60%
7
Webster University
$28,700
57%
58%
7
University of Missouri-
Columbia
$28,348
81%
71%
7
Kansas State University
$23,316
95%
65%
7
University of Northern Iowa
$21,222
79%
67%
7
North Greenville University
$21,120
63%
59%
7
Florida International University
$18,963
58%
63%
8
Let's explore why these are the top 10 best schools offering an online education degree:
#10 Biola University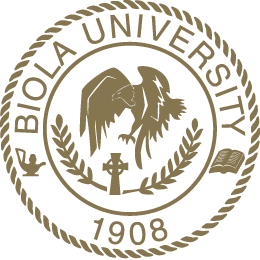 La Mirada, California
Tuition/Fees: $41,976
Points: 7
Biola University is 35 mins south of Los Angeles and under an hour away from the Pacific shoreline. This Christian-centered university was founded in 1908 and incorporates faith-based teachings into its programs.
The average classroom size is 14 students, with 4,000 undergraduates included in the 6,100 total student population. Their Bachelor of Science in Early Childhood degree teaches pupils how to engage with and relate to children, develop teaching techniques and inspire a love of learning.
They also offer online graduate programs in:
Education
Teaching
Special Education
Curriculum and Instruction
#9 Bay Path University
Longmeadow, Massachusetts
Tuition/Fees: $35,081
Points: 7
Since 1897, Bay Path University has worked to create the best path possible from learning to a career for their students. With a student population of 3,300, roughly 1,800 of which are undergraduates, they boast a student/teacher ratio of 12 to 1.
In 1945, Bay Path College was for women only. Now, it offers on-campus and online degrees to both men and women, though it also offers an all-women Bachelor's Degree program.
They have adopted Carpe Diem as their motto and encourage students to seize every moment and forge their own path. Bachelor degrees in online teaching are offered in:
Early Childhood Education
Early Childhood Leadership
Education Studies
Elementary Education
#8 Arizona State University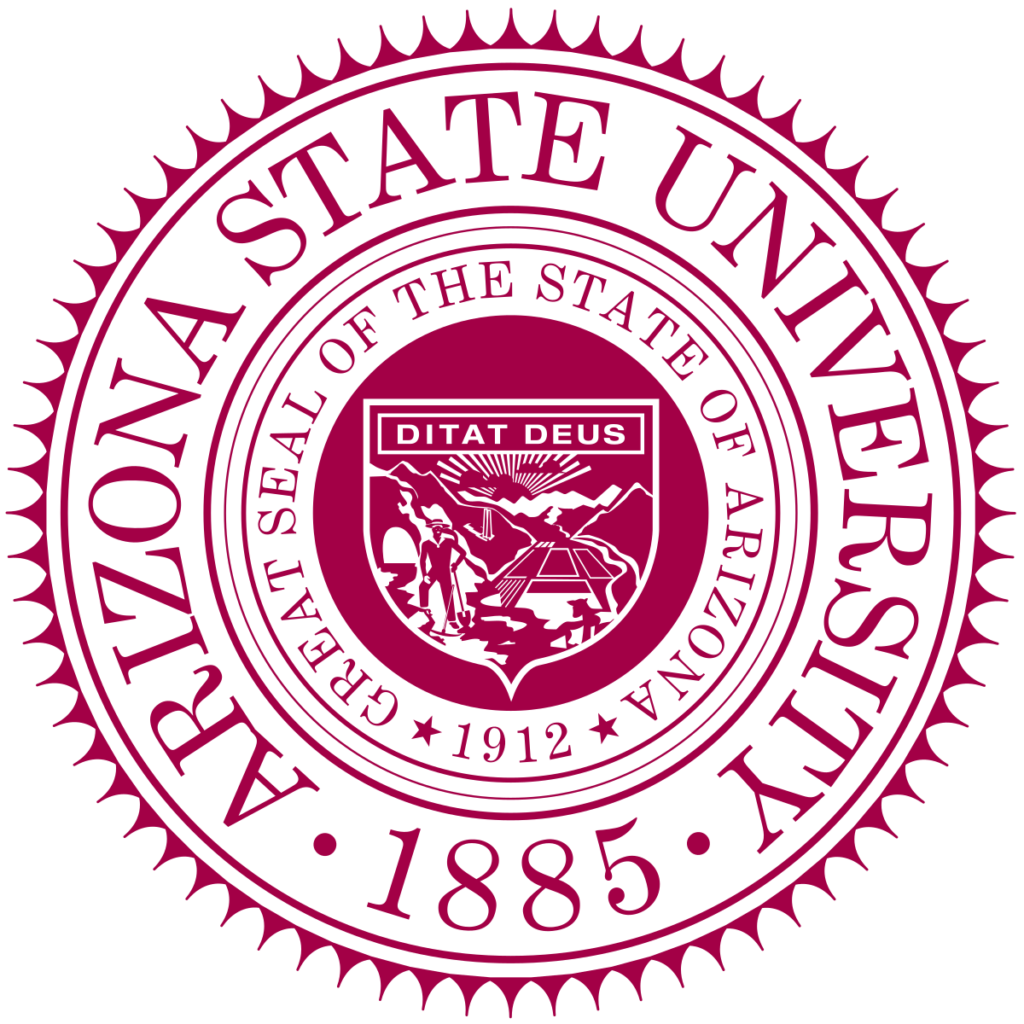 Tempe, Arizona
Tuition/Fees: $29,428
Points: 7
Even though this massive institution now boasts a student population of over 53,000 and offers programs in more than 170 disciplines, Arizona State University was founded in 1885 as a school to train teachers.
In 2013 the university, made up of 17 colleges, adopted a new charter to underline their commitment to success through inclusivity and their civil responsibility to the "economic, social, cultural and health" of the communities in which they live and serve.
There are three undergraduate online education degrees offered:
Early Childhood Studies
Educational Studies
Early Childhood Education
The student/teacher ratio is about 20 to 1, with an overall graduation rate of 63%.
#7 Lesley University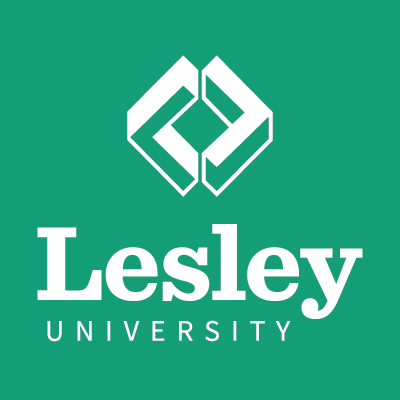 Cambridge, Massachusetts
Tuition/Fees: $28,875
Points: 7
15 minutes down the road from the hallowed halls of Harvard University is Lesley University in Cambridge, Massachusetts. Founded in 1909 by Edith Lesley as a "school to train teachers," Lesley University is a teaching college with a difference.
Teaching more than how to manage a classroom, students at Lesley University explore what it means to educate, the civil and social responsibility of teaching, conduct deep research, and explore the mechanics of expression and engagement.
Their Education Majors for a Bachelor degree include:
Early Childhood Education
Elementary Education
Middle School Education
Secondary School Education
Special Education
Currently, just over 2,000 students make up the undergraduate portion of the 4,000 strong student population. The student/teacher ratio is an impressive 10 to 1.
#6 Webster University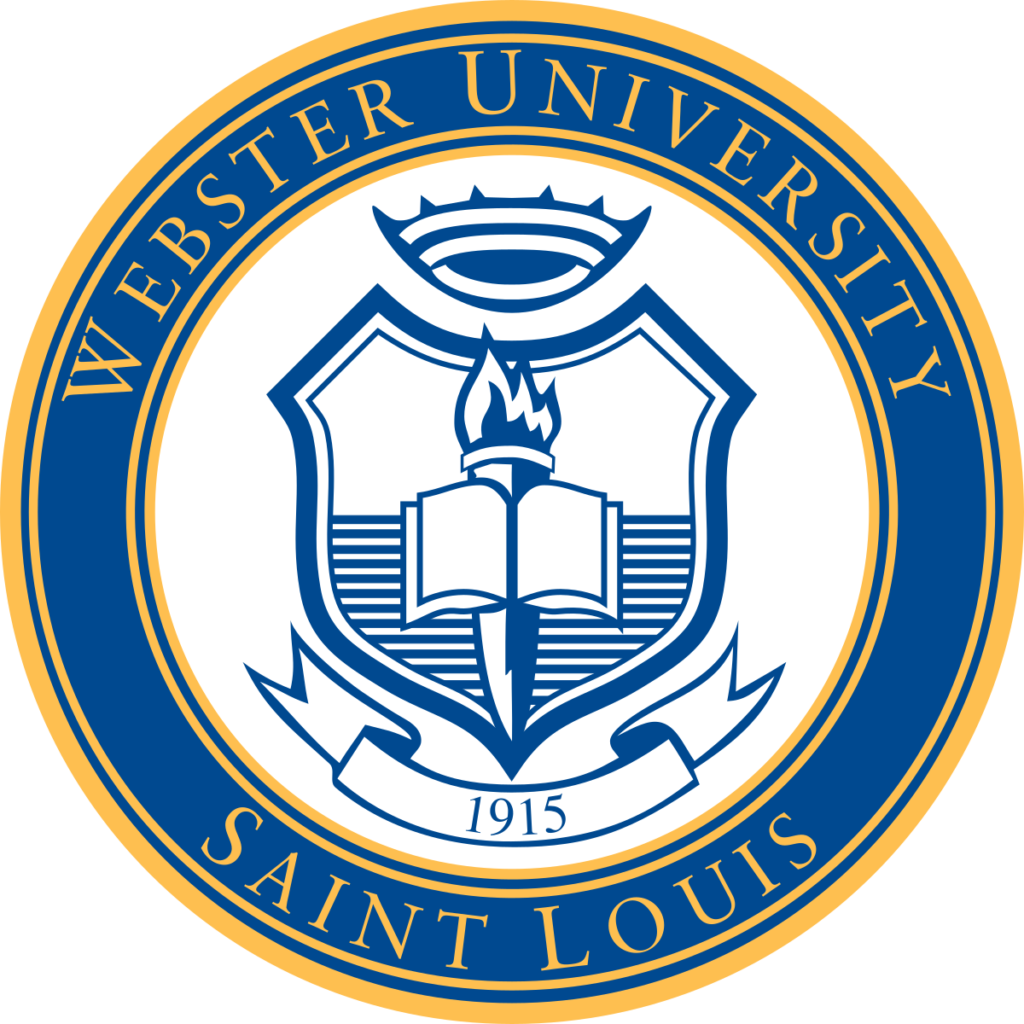 St Louis, Missouri
Tuition/Fees: $28,700
Points: 7
Webster University is a private university with campuses across the country and in Europe and Asia. Under 10,000 students are enrolled at Webster, with only one-fifth of those undergraduates. Suffice it to say, if you gain your undergraduate degree here, there are many options for continuing to graduate programs.
WU has offered online degree programs for over 20 years, promising to deliver the same "rigorous curriculum" as in-person learning.
Undergraduates enrolled in the Department of Teacher Education can choose from 13 different course paths, among which are:
Elementary Education with Special Education (Grades 1 – 6)
World Languages (French, German or Spanish) (Grades K-12)
Secondary English / Mathematics / Social Science
#5 University of Missouri-Columbia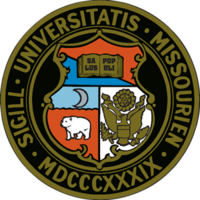 Columbia, Missouri
Tuition/Fees: $23,348
Points: 7
Needless to say, with a student population of 30,000 (22,000 of whom are undergraduates), the University of Missouri is the largest university in the state. And for an institution that large, it has an impressive 17 to 1 student/teacher ratio.
Nicknamed 'Mizzou,' the University of Missouri offers a staggering 300 degree programs among its 13 major disciplines, including many interesting education offerings, all of which are available entirely online. Such as:
Early Childhood Education in a Mobile Society
Masters in Art Education
Education Studies*
*The Education Studies degree program would be ideal for someone looking to use this degree towards a career outside of teaching. The interdisciplinary curriculum focuses on technology-centered learning, education theory and leadership skills.
#4 Kansas State University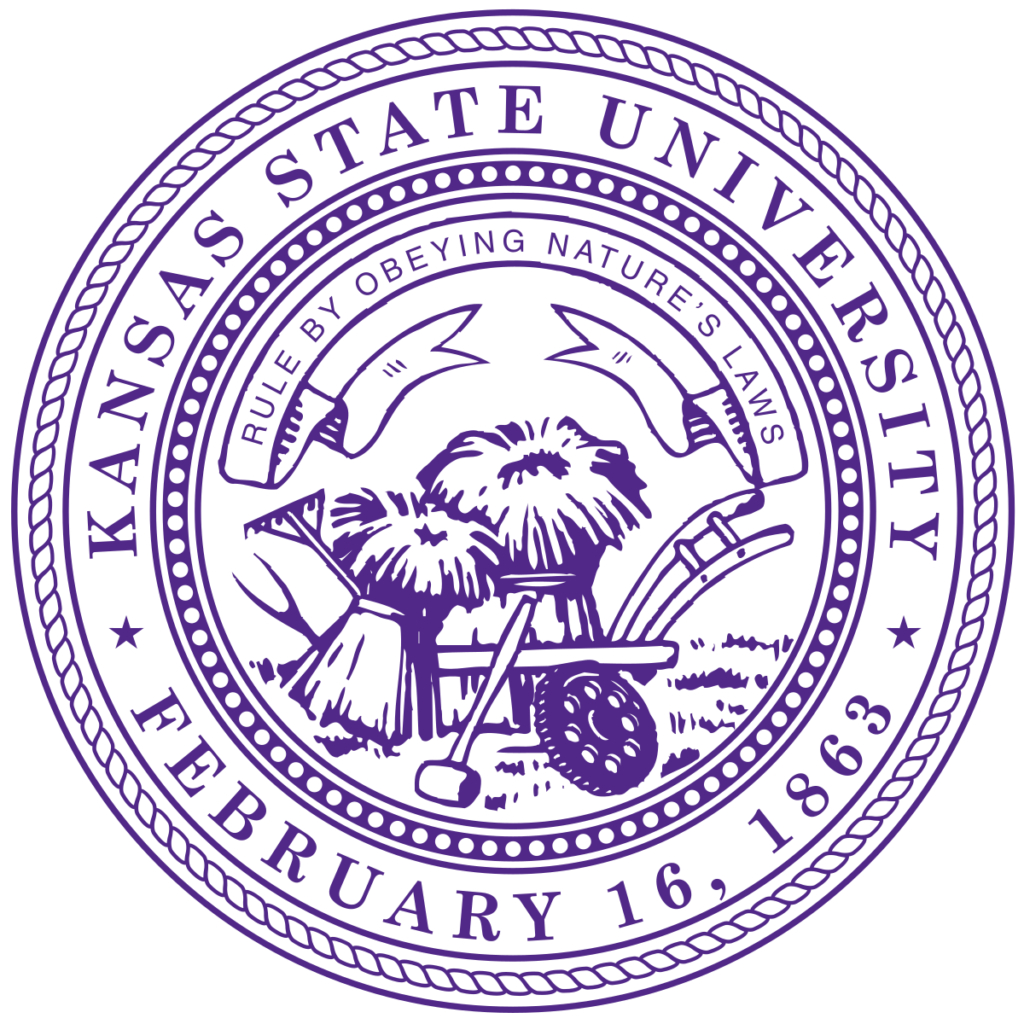 Manhattan, Kansas
Tuition/Fees: $23,316
Points: 7
Kansas State University opened in 1863 and has held a higher learning accreditation since 1916. Now, it offers over 100 different courses online using the latest technology.
A much larger university, the student population is just under 22,000, 17k of which are undergraduate students. The tuition fee of $23,316 is for students out-of-state but drops to $10,440 if you live in Kansas.
KSU offers a helpful FAQ section to those with questions about online learning.
In their online Bachelor education degree offerings, you can follow one of two teaching paths:
Educational Studies (for non-traditional teaching careers, explored further below)
Elementary Education (which includes in-classroom experience in a school near you)
Overall, Kansas State University boasts an impressive 97% job placement rate.
#3 University of Northern Iowa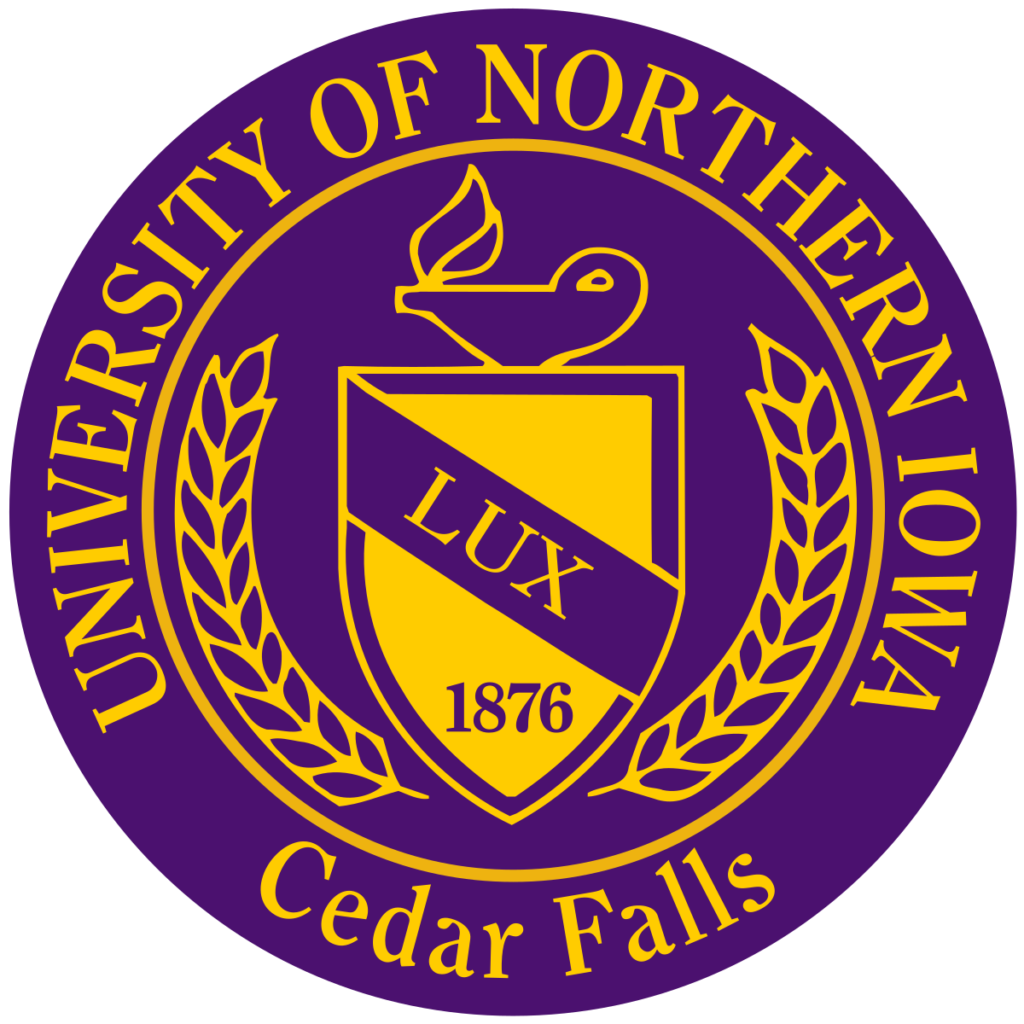 Cedar Falls, Iowa
Tuition/Fees: $21,222
Points: 7
This university can trace its origins back to the civil war and have gone through three other official names before settling on the University of Northern Iowa's current designation.
The student population is just under 10,500, of which 8,950 are undergraduates. The average class size is 17 pupils, and the university boasts an impressive 83% retention rate for undergraduates in their first year who returned for a second year.
About one-fifth of the student populations at UNI are enrolled in distance education degree programs. The undergraduate 2+2 Elementary Education is a Bachelor's degree program that explores Educational Technology, the Development of the Middle School-Aged Child, Classroom Management for K-8, and Teaching at all public school levels.
For those interested in post-graduate degrees, there are multiple options such as:
Art Education
Early Childhood Education
Elementary Education
Literacy Education
Mathematics: Community College Teaching Emphasis
Music Education
Physical Education
The graduation rate at the University of Northern Iowa is 67%.
#2 North Greenville University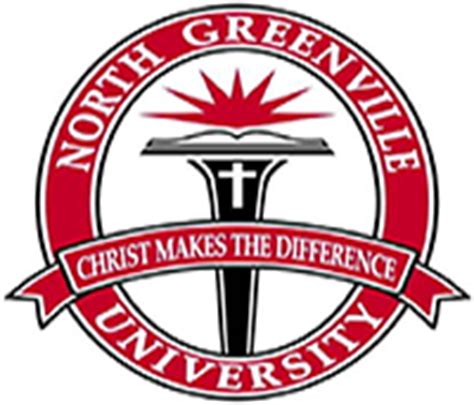 Tigerville, South Carolina
Tuition/Fees: $21,120
Points: 7
Just under 2 hours away from Charlotte in North Carolina, North Greenville University is located in the small town of Tigerville across the border in South Carolina. It currently has just over 2,400 students enrolled, 2,100 of which are undergraduate.
NGU is a Christian University with its strongest ties in the Southern Baptist denomination. An admirable student to teacher ratio, the average class size is just 14 students. A student retention rate of 72% from first to the second year indicates a good and supportive student experience.
Currently, NGU has students enrolled from 25 states and 35 countries. Their Elementary Education Degree is a flexible program designed to work with your learning style and schedule.
You can complete this degree online, though NGU offers virtual classroom experiences where you can interact with your professors and colleagues. Academic advisors will help you choose from general courses, core courses, and electives to construct the degree that's right for you. Some examples are:
E-learning
Natural Science
Historical Perspectives of Education
Classroom Management and Assessment
NGU also offers credits for previous work experience.
#1 Florida International University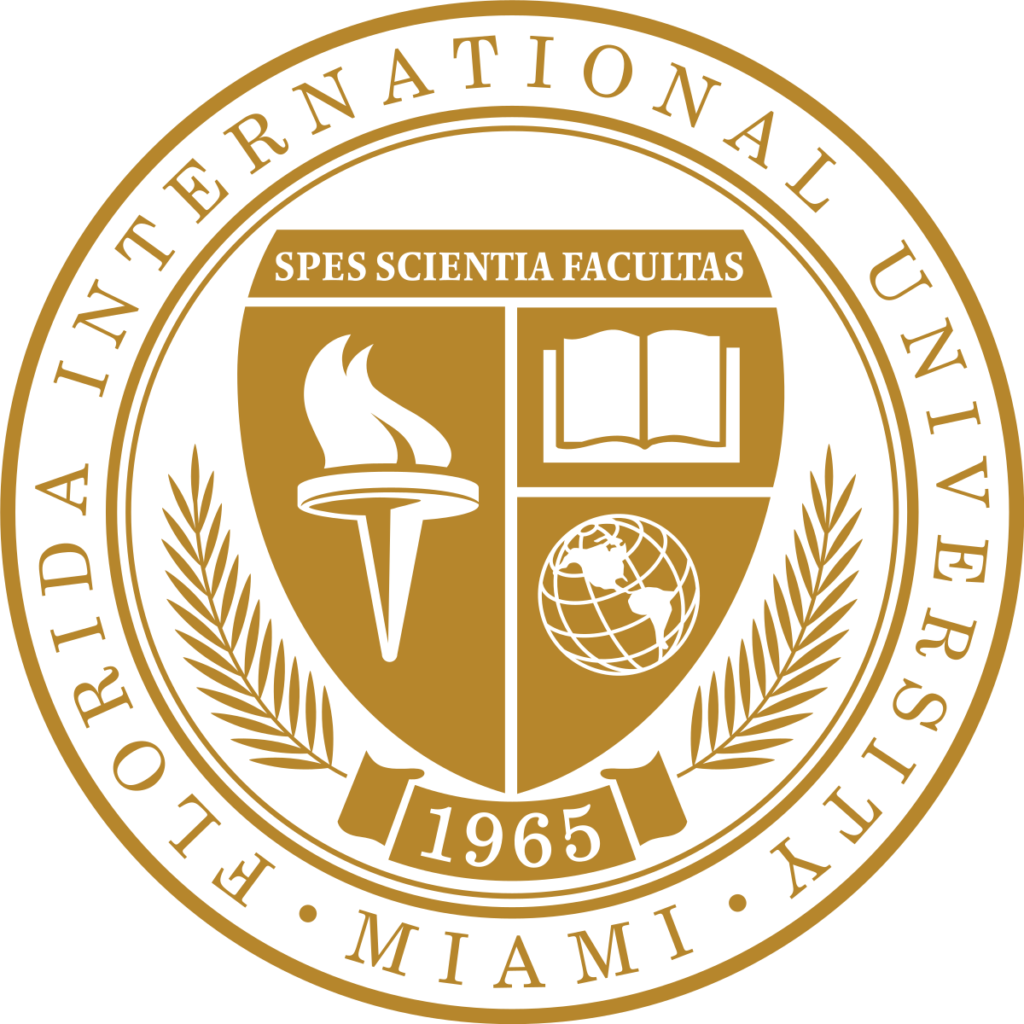 Miami, Florida
Tuition/Fees: $18,963
Points: 8
With a student population of over 58,000 (49,000 of which are undergraduates), Florida International is the fourth-largest university in the United States by enrollment. It offers more than 190 degree programs, 130 of which are available online.
This includes a graduate program in Educational Leadership and two undergraduate online teaching degrees:
Early Childhood Education
Exceptional Student Education
The larger enrollment results in a higher student/teacher ratio of 27 to 1, but the same faculty that teach courses on campus are the same teachers who lead online learning.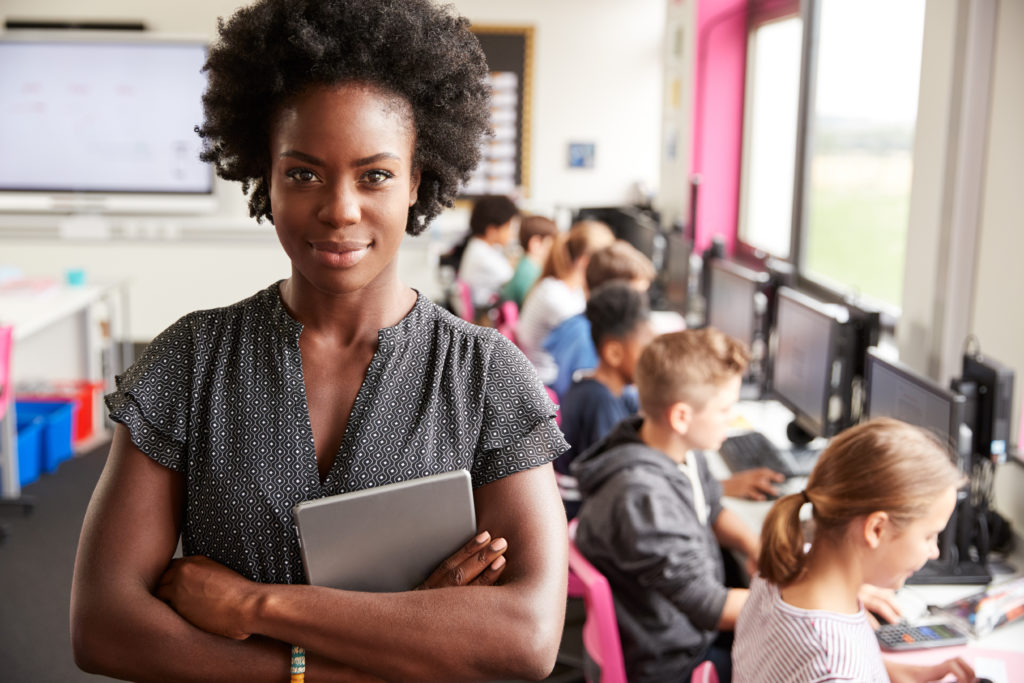 Best Careers for Education and Teaching Degree Majors
Nearly everyone has at least one teacher that made magic happen for them. Someone who made a math formula finally 'click' or helped them learn how to find the beauty in Shakespeare, and not just frustration.
Teachers are as important as parents in a child's life; they ignite our minds, support our stumbles, and are behind us as we climb the ladder of education. They shape us, inspire us and then do it all over again next year.
It's a big responsibility and a big calling, but teaching is not the only option for those with an education degree. During your program, you will develop leadership and communication skills, honed your strategic thinking and analytical skills, and learned how to manage and support pupils with different learning speeds and abilities.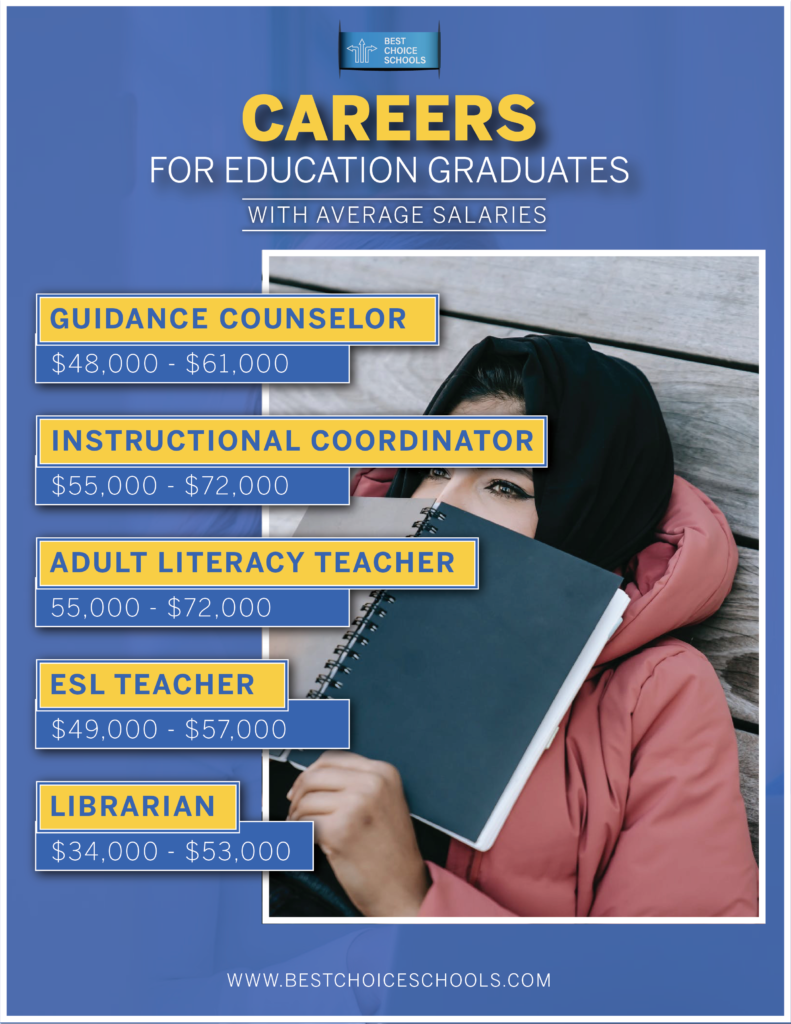 Guidance Counselor
Average Annual Salary Range: $48,000 to $61,000
A guidance counselor is like a big-picture teacher. One who still assists students, but looks at their strengths and weaknesses, not just as it applies to a single subject—but who they are as a whole, and what path would make them happiest.
Also available to help with any social or school-related issues, guidance counselors are there to lend an ear and allow children to feel heard and supported. Your education degree will get you into a Master's program in school counseling.
Instructional Coordinator
Average Annual Salary Range: $55,000 – $72,000
Think of an Instructional Coordinator like a Teacher of teachers. This is a career centered around helping educators develop curricula and learning plans, guide them in successful teaching techniques, and learn the best ways to engage with their students.
This position takes you out of the classroom and out of everyday contact with pupils and makes the teachers your students.
Adult Literacy Teacher
Average Annual Salary Range: $39,000 to $50,000
Being a teacher doesn't mean that your pupils have to be children. Learning can happen at any age, and teaching adults can be just as rewarding.
Nearly 14% of adults in the United States are not functionally literate. Being an Adult Literacy Teacher means you can help them better understand the world around them every day.
ESL Teacher
Average Annual Salary Range: $49,000 to $57,000
Many of your online education degree colleagues may choose to take a year to travel and teach English as a second language. But being an ESL teacher doesn't have to last just one year.
As an ESL teacher, your students could be adults new to the country and learning English, or children half-way around the world who need to converse with someone regularly to build up their language skills.
Either way, you'll find this a fulfilling alternative. You'll likely need to add on an ESL certification to help those learning the language.
Librarian
Average Annual Salary Range: $34,000 to $53,000
Before you get too excited at the thought of quiet days surrounded by books and bibliophiles, your education degree is the first step to this career. You will need to continue your studies in library sciences.
Having said that, oh to live in a library! As a librarian, you can work in a school or university library, helping students find the resources they need and conduct research. If databases, organizing, and archiving are on your 'Thrilling' list, this might be the right career for you.
Final Thoughts
All online schools will offer a slightly different experience between coursework and practical expectations. Research thoroughly and ask every question you can to make sure the online education degree you choose is right for you.
Whether you plan to use your online school for an education degree to become a teacher to shape the minds of tomorrow or use it as a springboard into another role, choosing to start your online teaching degree is the first important step towards a gratifying career.
Related:
20 Best Online Schools for Early Childhood Education
20 Best Online Schools for Education (Graduate)