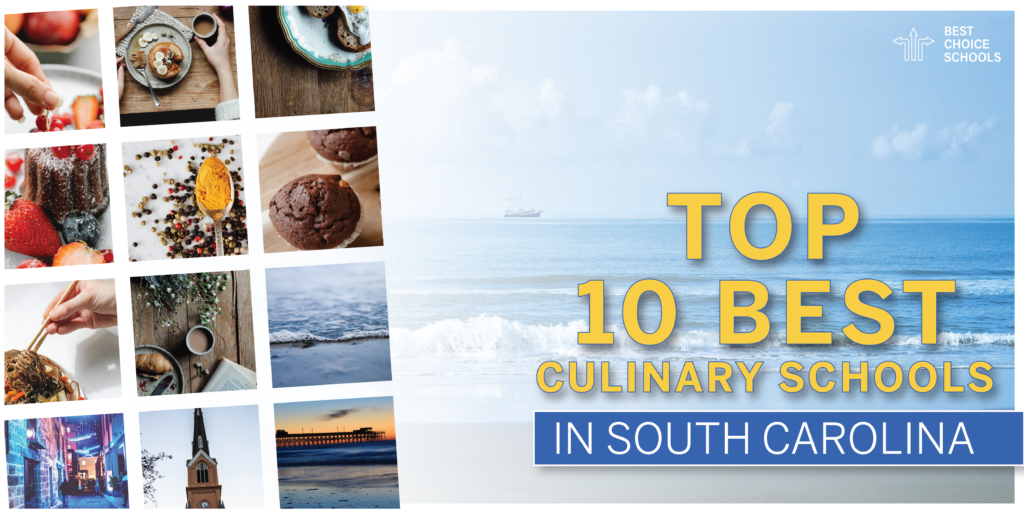 By BCS Staff
March 2021
The culinary industry in South Carolina plays a major role in the economy. Each year, residents and tourists spend over $10.7 billion in South Carolina restaurants. There are over 234,000 restaurant and foodservice jobs, with another 31,300 jobs expected to be added by 2029. Restaurant owners and hiring managers look for well educated and talented professionals to fill these positions, and earning a certificate or degree in the culinary arts is one way to stand out and get noticed!
We created a list of the top 10 best culinary schools in South Carolina. Schools included in our list offer hands-on training, a diverse culinary curriculum, internship/externship opportunities, and a positive reputation based on our research. Many of the schools featured in our list are accredited by the American Culinary Federation.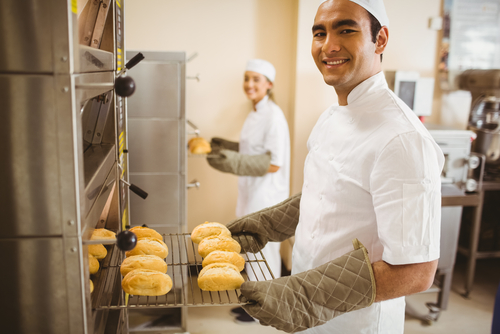 Clemson
Clemson University offers a number of degrees in food, nutrition, and culinary sciences. The degrees range from bachelor's to Ph.D.s, and include a Ph.D. in Food Technology and a Bachelor of Science in Food Science & Human Nutrition.
Beaufort
The Technical College of the Lowcountry offers a Culinary Arts Certificate that can be completed in just four months. Students take 18 credit hours which include both online courses and hands-on courses taught on location at the Sea Pines Resort. Students complete internships at restaurants and resorts nearby to gain additional professional skills. The program is fast-paced and intense, much like the culinary field itself! Instructors are recognized professionals in the field and come from all over the world.
Greenville
Bob Jones University is one of the few Christian institutions offering a culinary arts program. This top culinary school features an Associate of Science in Culinary Arts that can be completed in just two years. Students learn to determine food costs and develop appropriate menu pricing. They also learn different methods of cooking and receive hands-on instruction. Students learn how to make cheeses, sausages, baked goods, smoked foods, and wedding cakes. There is even a course in ice sculpting. Luncheons and fine dining events provide the opportunity to develop professional skills. Students even get experience working in a professional catering setting.
Denmark
Denmark Technical College is a top culinary school offering a Certificate in Applied Science in Culinary Arts for students who want to get into the industry on the ground level. Students in the program complete coursework related to food production, bakeshop production, sanitation, menu planning, and foodservice management. Skill development opportunities are offered in cooking techniques, cooking equipment use, and dining room operation. Culinary Students can also participate in the Culinary Arts Club, allowing them the opportunity for networking and professional development opportunities.
Columbia
The University of South Carolina College of Hospitality, Retail and Sport Management features a Culinary Institute Certification Program designed to be completed in just one year. The program is comprised of 11 different courses offered in the evening to accommodate working professionals. Students spend four hours, two days per week, in a blended lecture/hands-on learning environment. Students complete courses in sanitation, seafood, meat cutting, baking, garde manger, and International cuisine. Students typically complete the program in order to advance their careers in the industry.
Spartanburg
Spartanburg Community College offers both an AAS degree and Certificate in Culinary Arts that can prepare students for a career as a chef, baker, dining room host, server, or catering professional. The AAS program can be completed in under two years and includes hands-on coursework taught by experienced industry professionals. While students can enroll directly into the AAS degree program, it is designed for students who have already completed the Certificate program. Coursework covers areas such as baked goods and pastries, buffet planning, nutrition, dining room operations, and equipment operation. Students have access to a state of the art kitchen lab with all the modern conveniences found in a professional kitchen out in the field.
Orangeburg
South Carolina State University offers a Bachelor of Science in Nutrition and Food Management. Students must choose either food management or nutrition in which to focus. Either way, the degree requires 130 credit hours to complete, which include general education coursework. Potential major courses include Family and Consumer Sciences, management, and nutrition.
Conway
The International Culinary Institute of Myrtle Beach at Horry-Georgetown Technical College features a low student/ faculty ratio, allowing students to closely interact with their instructors. A new state-of-the-art culinary facility was opened as recently as 2016, and offers a nutrition lab, bakery laboratory, wine cellar, beverage bar, chef's table, chef's bar, and amphitheater. Culinary students receive real-world training at the student-run restaurant, Fowler Dining Room, by preparing and serving a variety of dishes sourced from local produce, meat, cheese, and eggs.
Charleston
The Culinary Institute of Charleston at Trident Technical College has been a leader in the culinary education industry for over 25 years. This top culinary school is accredited by the American Culinary Federation and features a low student/faculty ratio, state-of-the-art equipment, and hands-on training. Two student-run restaurants, Relish Restaurant and 181 Palmer provide students with the opportunity to apply their skills in a fine dining setting. TTC features many different culinary degrees and certificate programs to meet the needs of culinary students at every level on their career path. Graduates are prepared to work in traditional culinary settings as well as in sports/nutrition, private homes, research, and health care.
#1. Greenville Technical College
Greenville
The Culinary Institute of the Carolinas At Greenville Technical College is accredited by the American Culinary Federation and features state-of-the-art facilities, including five kitchens. Students also have access to an ice carving room, blast chiller, and programmable combination ovens. A student-operated dining room allows students the opportunity to apply their knowledge and skills in a professional work setting. Over 80% of culinary courses at GTC are offered in the evening or on the weekend. Culinary students learn about nutrition, menu preparation, customer service, kitchen safety, sanitation, culinary and baking science, and quality standards.
Related Rankings:
Top 10 Best Culinary Schools in North Carolina
Top 10 Best Culinary Schools in Georgia
Top 10 Best Culinary Schools in Tennessee
Save