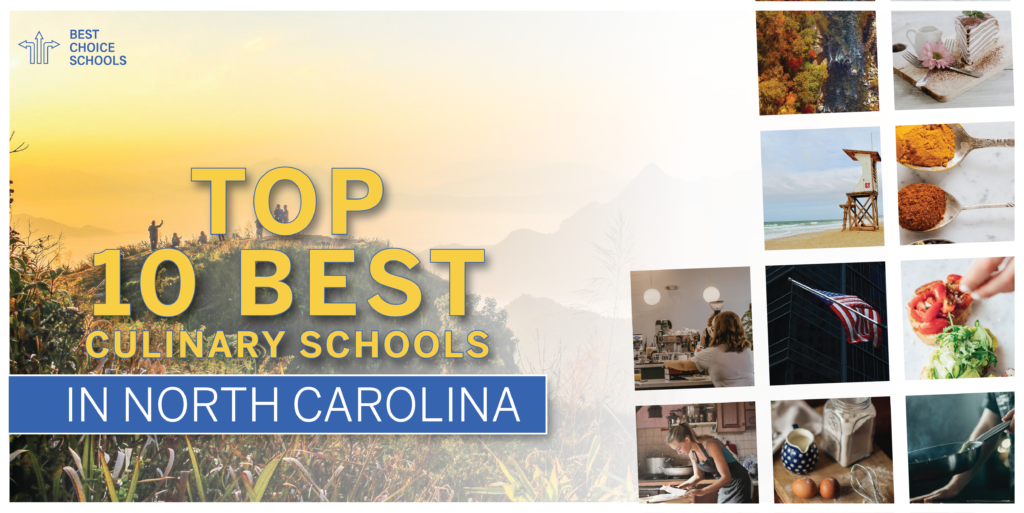 By BCS Staff
March 2021
The culinary industry provides about 481,900 jobs for residents of North Carolina, accounting for about 11% of employment in the state. The culinary industry is booming, with 64,100 jobs expected to be added by 2029 (an increase of 13.3%!). Those looking to enter the field need to make sure they have the proper credentials to achieve their goals. A certificate or degree from a top culinary school can make those dreams happen.
We developed a list of the top 10 best culinary schools in North Carolina. Schools were included in our list who provide students with hands on learning opportunities, practical work experience, experienced instructors, and have a positive reputation in the field based on our research. Many schools on our list are accredited by the American Culinary Federation, with some programs earning exemplary status indicated academic rigor.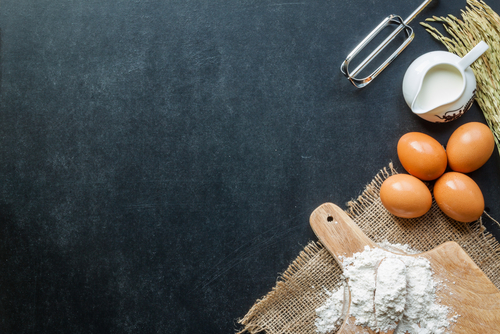 Graham
Alamance Community College is a top culinary school preparing students for a wide variety of culinary positions in various venues including resorts, clubs, hotels, and restaurants. Coursework covers a variety of areas such as baking, garde manger, nutrition, customer service, and human resource management. Students are taught about the importance of environmental stewardship, professionalism, and culinary standards. The AAS degree can be completed in just two years and students will be prepared to work in entry level positions such as prep cook or station chef.
Kinston
Lenoir Community College in Kinston, North Carolina features an AAS Degree in Culinary Arts that can be completed in just two years. Students also have the opportunity to earn a diploma or certificate in culinary arts as they work toward their degree. Certificate programs are 14-16 credit hours and cover basic culinary courses such as sanitation, nutrition, and purchasing. The diploma program is a 39 credit hour program that offers a greater variety of coursework including culinary skills and work-based learning. The AAS degree program features courses such as Farm-to-Table, Global Cuisine, and Menu Design. Work based learning is also a featured component of this program.
Raleigh
Wake Technical College is a top accredited culinary school with one of the lowest student faculty ratios among culinary schools. Students receive individualized attention in lab courses that have a ratio of 12:1. Students have the opportunity to begin the program at any time since entry level courses start each semester. Courses are offered during the day as well as the evening to accommodate busy scheduled. Instructors are experienced professionals in the field both as culinary experts and educators. Students have the opportunity to join the American Culinary Federation North Carolina Chapter to take advantage of professional development opportunities and networking.
Sanford
Central Carolina Community College features an exciting culinary arts program for those looking for a program focused on sustainable practices and practical application. A low student/faculty ratio of 10:1 ensures that students will receive individualized attention and communication from instructors. The program is also offered as a Fast Track Program, allowing students to complete in just one year. For students who plan to continue their education at a four year institution, an articulation agreement is in place with Johnson and Wales University. Several student operated restaurants are located on various campuses of CCCC. The Cougar Café features a short order menu and is open during the school year. Natural Chef Café is another dining option located on the Pittsboro Campus and offers sustainable meals that use local farms to supply ingredients. Menu selections may include gluten free, vegan, or vegetarian dishes.
Boone and Hudson
Caldwell Community College & Technical Institute offers an associate's degree in culinary arts, and a diploma in mobile catering and food truck management. Both culinary programs are available on campuses in Boone and Hudson. Coursework covers fundamentals like food prep and sanitation, plus the fun stuff like desserts. Plenty of hands-on experience is worked into the program to ensure students are employable upon graduation.
Wilmington
Cape Fear Community College features associate of applied science degrees and diplomas for both culinary arts and baking and pastry arts. Coursework is based on the practical elements of working in the food industry, and students get a lot of hands-on practice in the kitchen. Potential coursework includes Farm-to-Table, Wine Appreciation, and Global Cuisines, to name but three. Students also have three opportunities for work-based learning experiences.
Jamestown
Guilford Technical College features an AAS Degree in Culinary Technology that has been awarded exemplary status by the American Culinary Federation. A certificate and diploma program are also available. The Diploma Program can be completed in three semesters and covers courses in culinary skills, nutrition, food and beverage services, and baking. Students spend time in the lab practicing their technique. The Certificate Program can be completed in just two semesters and includes basic coursework to meet the needs of those just starting out. The Associate Degree program can be completed in two years and has received exemplary status from the American Culinary Federation. Students have the opportunity to engage in work based learning in their final year of the program. The program features a good blend of classroom and laboratory instruction.
Morehead City
Carteret Community College offers programs in the culinary arts, baking & pastry arts, foodservice technology, and hospitality management. The culinary arts program consists of coursework designed to prepare students for jobs in restaurants and other facets of the culinary industry. Those who choose to pursue a full degree will complete classes in menu preparation, classical cuisines, and human resource management, among other things. A work-based learning opportunity is also included in the curriculum.
Charlotte
Central Piedmont Community College features an AAS Degree program in Baking and Pastry Arts as well as an AAS Degree program in Culinary Arts. Several specialized Certificates are also available in Baking and Pastry. The Culinary Arts program has been awarded exemplary status by the American Culinary Federation. Students are engaged in a state-of-the-art kitchen facility and experience classroom and lab instruction throughout the program. Small class setting provides individual attention. Baking and Pastry students have the opportunity to earn a Bakery and Pastry Certificate in several different areas of specialization including Cake Artistry, Dessert Artistry, Chocolate and Sugar Artistry, and a brand new specialization in Cake Decorating and Design. Students can earn these certificates on their way to earning their AAS Degree.
Asheville
Asheville-Buncombe Technical Community College is a top culinary school offering programs accredited by the American Culinary Federation. A-B Tech has a solid industry reputation with the Culinary Team ranking 2nd in the country in 2013, a 2012 graduate named the Best Young Chef in the World in 2012, and in 2007 winning the American Culinary Federation Student Culinary Competition. Students receive a hands-on education with access to five state-of-the-art kitchen labs with modern equipment and the ability to view chef demonstrations in a modern demo kitchen. An on-campus restaurant provides students with the opportunity to apply their culinary skills in a professional setting. Students can also complete their degree in Brewering, Distillation, and Fermentation. Classroom and lab instruction are both part of this innovate degree program.
Related Rankings:
Top 10 Best Culinary Schools in South Carolina
Top 10 Best Culinary Schools in Tennessee
Top 20 Best Culinary Schools on the East Coast
Save
Save