By BCS Staff
March 2021
Nevada is the gambling and entertainment capital of the United States and has more than 219,200 restaurant and food service jobs. An additional 32,900 jobs are projected by 2029. Revenue is expected to top $9.9 billion this year, making the industry a major player in Nevada's overall economy. With the expected growth and increase in sales, the demand for culinary professionals is on the increase. Now is a great time to earn your degree or credential in culinary arts to get your foot in the door or advance in this exciting industry.
Nevada has several culinary schools that are prepared to meet the increase in demand for educated culinary professionals. We created a list of the top 4 best culinary schools in Nevada. Schools that made our list offer professional development opportunities, hands-on programs, a wide variety of coursework, and personalized instruction. We make note of programs accredited by the American Culinary Federation, an indicator of academic rigor.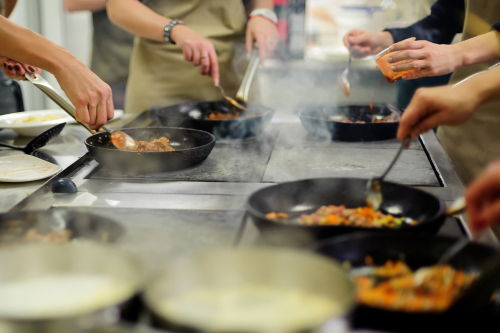 Las Vegas
The International School of Hospitality in Vegas offers a number of diplomas and certificates relating to catering management. Courses are taught by industry professionals, and the focus of all coursework is how to succeed in the world of hospitality. Classes take place in brick-and-mortar kitchens and classrooms. Externships are even arranged for students to gain real-world experience.
North Las Vegas
The Culinary Academy of Las Vegas is a top culinary school that provides culinary training with the goal of reducing poverty and unemployment. The program provides training in 12 different job classifications including baker's helper, fountain worker, professional cook, wine server, and bar apprentice. Classes feature a low faculty/student ratio and faculty have extensive experience in their area of instruction. Students gain hands-on experience in a culinary lab and by working banquet events. Internship opportunities are available to recent graduates.
Reno
Truckee Meadows Community College in Reno is a top culinary school offering both an AAS in Culinary Arts and a Certificate of Achievement. Students can complete the AAS program in two years by attending full time, and the Certificate in just one year. Course schedules are arranged so students can work while attending school. Courses cover areas such as garde manager, American regional cuisine, buffet catering, International cuisine, and saucier. Both the Certificate and AAS degree program allow students the opportunity to complete a culinary arts work experience. TMCC is accredited by the American Culinary Federation, an indicator of program quality.
North Las Vegas
The College of Southern Nevada is a top culinary school offering an AAS degree in Culinary Arts, Food and Beverage Management, and Pastry Arts. The program is accredited by the American Culinary Federation and the Accreditation Commission for Programs in Hospitality Administration. Students benefit from one-on-one attention in the classroom and lab. Students have the opportunity for hands-on learning in a state-of-the-art kitchen environment. The on-campus, student-run Russell's Restaurant gives students the chance to apply their skills in a real work setting. Students who want to continue their education can transfer their AAS degree to UNLV.
Related Rankings:
Top 10 Best Culinary Schools in California
Top 5 Best Culinary Schools in Oregon
Top 10 Best Culinary Schools in Colorado
Save