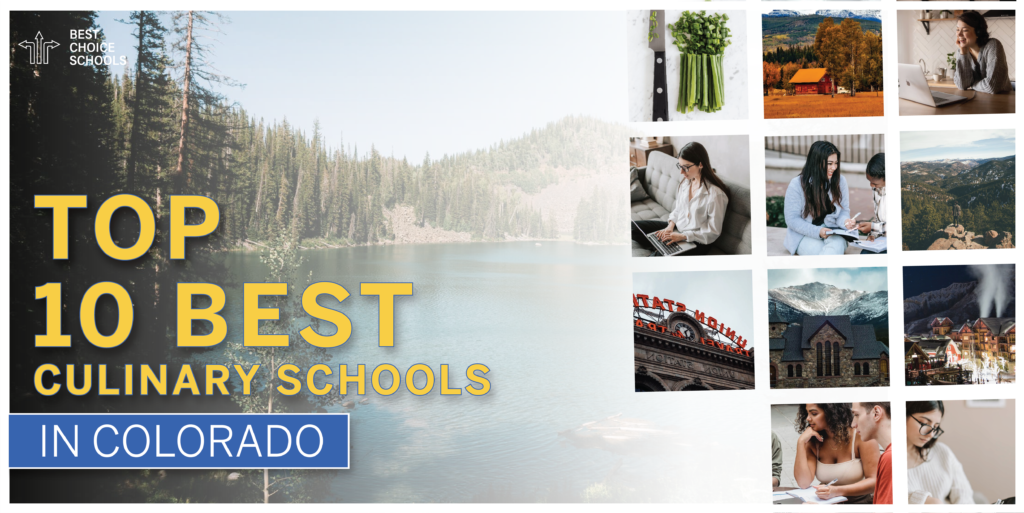 By BCS Staff
February 2021
There are 268,400 restaurant and foodservice jobs in the state of Colorado, with another 35,800 jobs expected by 2026. Revenue is expected to top $11.6 billion this year, making the industry a significant contributor to Colorado's economy. With the expected growth and increase in sales, the demand for culinary professionals is on the increase. Earning a degree or credential in culinary arts can help you get your foot in the door or work your way up the career ladder in this exciting industry.
Colorado has many culinary schools that are prepared to meet the demand for highly skilled culinary professionals. We created a list of the top 10 best culinary schools in Colorado. Schools that made our list offer professional development opportunities, hands-on programs, a wide variety of coursework, and professional level instruction. Many programs are also accredited by the American Culinary Federation, an indicator of academic rigor.

Denver
Unlike the other programs on our list, Cook Street School of Culinary Arts doesn't actually offer culinary degrees. Still, they are a fabulous option for anyone looking to boost their skill set or learn a new technique or two. Those up for an intensive curriculum can master regional cooking and wines of France and Italy, plus get a proverbial taste of pastry, savory cooking, and techniques and theory. Classes take place in the kitchen, and classes maintain a 10:1 student to instructor ratio. Alternatively, chefs and home cooks can participate in one-night classes or a short series of classes on anything from Braided Bread to Knife Skills.
Colorado Springs
Pikes Peak Community College offers both certificate programs and an AAS degree option for students who want to pursue education and training in the culinary arts. This top culinary school features four different emphasis areas for students who pursue their AAS degrees. Students can focus on Baking and Pastry, Culinary Arts, Food Service Management, and Sustainability Management and Dietary Cuisine. An internship experience is required as part of the AAS program to allow students to gain professional experience in the field before they complete the program. Students who are interested in completing a certificate program can select from Baking, Basic Skills, Culinary Arts, and Food Service Management. These programs offer both basic and advanced training in specific areas of focus to allow students to complete their education and enter the job market in less than 18 months.
Pueblo
Pueblo Community College offers two different AAS degree programs in Culinary Arts Production and Culinary Arts Management. These programs can be completed on either a full-time or part-time basis during the day or in the evening. The low student-to-faculty ratio (12:1 in most classes) ensures that students receive individualized attention throughout the program. Students can begin the program at any semester during the year and can typically complete the program in seven semesters of full-time study. Students learn a variety of skills including sanitation, hot and cold food production, baking, garden manager, and cost control. An internship experience is required as part of the program, which can lead to offers of employment. Faculty have over 220 combined years of experience in all areas of the industry, making Pueblo Community College one of the top culinary programs in the nation.
Aurora
Pickens Technical College in Aurora offers a Culinary Arts Certificate. Over the course of the two-semester program, students are introduced to basic kitchen management, nutrition and food safety, and the fundamentals of cooking and baking. By the time they graduate, students will be able to create their own recipes and incorporate their new skills into real-world situations. The certificate program also offers students opportunities to take field trips and participate in catering events. All instructors are industry professionals with multiple years of experience.
Glenwood Springs
Colorado Mountain Colleges offers one of the most diverse culinary programs in the state, with a variety of certificate and AAS degree programs at various campus locations. The Culinary Arts Apprenticeship AAS program is a blend of traditional culinary arts coursework with a European-style apprenticeship. Students learn professional skills and techniques through on-the-job training to be successful in the field. The Culinary Arts AAS program, offered in Vail Valley, features hands-on coursework and an internship opportunity in one of the area resorts. The AAS Degree in Restaurant and Culinary Management trains students in both culinary arts and management skills such as budgeting and purchasing. The program is in Steamboat Springs and features a brand new commercial kitchen. Certificate programs are also offered in Culinary Management and Restaurant Management.
Lakewood
Red Rocks Community College's Chef's Apprenticeship Program allows students to complete on-the-job training while completing coursework through a three-year European-style dual apprenticeship. Students receive payment for the time they spend working (full time) with the "earn while you learn" philosophy. Rocky Mountain Chefs of Colorado also offers an Introduction to Culinary Arts Certificate and Certificate in Culinary Arts. The Culinary Arts Certificate is a 57-credit hour program that includes three internship opportunities in addition to a variety of course offerings in baking, nutrition, garden manager, and food safety and sanitation. The Intro to Culinary Arts Certificate is a six-credit hour program that includes basic food production principles, menu planning, and food safety and sanitation. This top culinary school features a state-of-the-art kitchen laboratory and a low student-to-faculty ratio.
Grand Junction
Western Colorado Community College is a division of Colorado Mesa University. The school offers both an AAS in Culinary Arts and a Technical Certificate in Food Preparation. Students learn in small lab settings with a student-to-faculty ratio of about 16:1. Faculty members are experienced in the field and include business owners, managers, chefs, and bakers. Courses are taught in a modern culinary commercial kitchen, allowing students to practice their skills using the same equipment they will find in the workforce. Students can begin their studies in either the spring or the fall semester, providing flexibility and work-life balance. Chez Lena Restaurant is an on-campus full-service restaurant where students can prepare and serve meals to the public with fresh, local ingredients. This top culinary school is ideal for students who want to pursue a career as a certified culinarian, executive or pastry chef, or restaurant owner/manager.
Denver
Emily Griffith Technical College is a top culinary school conveniently located in Denver. The program features hands-on training in the on-campus restaurant, Emily's Café. Students can prepare and serve meals, mastering their culinary techniques. This integrative program includes field trips to area restaurants and food service establishments as well as the chance to hear guest speakers who are experienced in the industry. Coursework in the program covers areas of study such as baking, cooking techniques, front-of-the-house planning, cost controls, and line prep and cookery. An internship experience is also part of the curriculum.
Boulder
Auguste Escoffier School of Culinary Arts in Boulder, Colorado offers two different diploma programs, including Culinary Arts and Pastry Arts. Students learn a variety of culinary and pastry skills in a hands-on environment which allows them to practice their techniques in a supervised setting. Faculty are highly trained in both classical and modern cuisines and share their expertise with their students. This top culinary school is located less than an hour from Denver and features a vibrant restaurant scene and the organic food industry. Associate of Occupational Studies degrees in the same subjects are also offered. Auguste Escoffier School of Culinary Arts has received a Recognition of Quality Culinary Education from the World Association of Chefs Societies.
Denver
Johnson & Wales University is a leader in culinary education, offering many different Associates and Bachelor's degree programs. These include a Bachelor of Science in Culinary Arts. Regardless of degree choice, students learn the science behind cooking, allowing them to be creative in the kitchen. Faculty integrate professionalism, presentation techniques, and production methods into each culinary course. Kitchen labs are state of the art and have the latest culinary equipment. Internship opportunities are offered in both AS and BS degree programs to allow students to gain work experience and network with other professionals in the industry.
Related Rankings:
50 Best Culinary Schools in the U.S.
10 Best Culinary Schools in California
Top 20 Best Culinary Schools on the West Coast