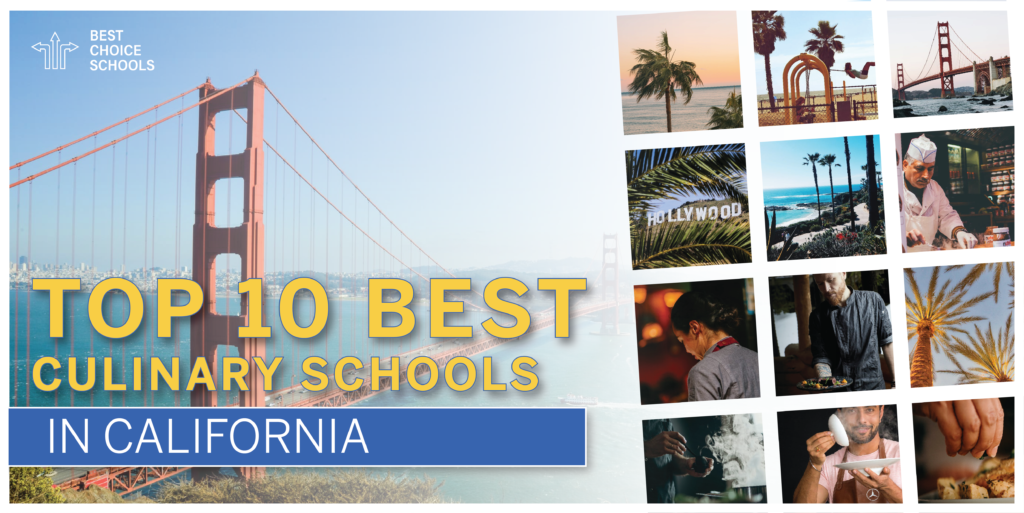 By BCS Staff
January 2021
California is a hot spot in the culinary industry. There are over 1.6 million jobs in restaurants and food service in the state, with another 172,000 expected by 2026. Formal education in the culinary arts can make a job applicant stand out and get noticed, landing a great job in an exciting field.
We put together a list of the top 10 best culinary schools in California. Schools featured in our list offer externship or internship opportunities, hands-on instruction, professional development opportunities, and have a positive reputation in the industry. Many of the programs on our list are accredited by the American Culinary Federation, an indication of a quality culinary program.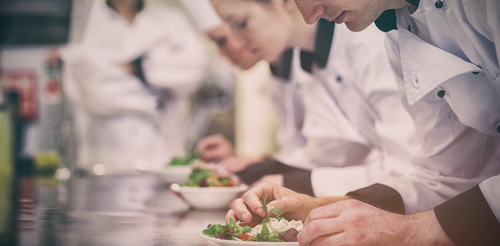 Clovis
The Clovis Culinary Arts School at the Institute of Technology offers state-of-the- art culinary training to help students be successful in a variety of professional culinary roles. Students learn principles related to the preparation of pastry and baked goods, American cuisine, catering, Garde Manger, and international cuisine preparation. Students complete an externship experience in a professional kitchen to master their culinary skills. The Institute of Technology is accredited by the American Culinary Federation.
Fort Bragg
Living Light Culinary Institute is a fantastic option for those interested in plant-based culinary arts. Located in Mendocino County, Living Light offers several programs to fit the needs of participants at all levels of culinary training and ability. Students progress through a time-tested curriculum that includes mastering knife technique, charting a menu, and even hosting large events.
Pleasant Hill
Diablo Valley College is a top culinary school with programs in restaurant management, culinary arts, and baking and pastry. Students in the associate degree programs have the opportunity to complete an internship opportunity to gain professional outside experience in the culinary industry. Baking and Pastry students have access to a fully equipped professional kitchen, demonstration laboratory, and a retail pastry shop where they can sell their baked goods. Culinary Arts students have access to the same amenities including the ability to work in the Noreseman Restaurant and the Express Bar. Both the Norseman Restaurant and the Express Bar are student run establishments where advanced culinary students have the opportunity to gain serving and food preparation experience.
San Francisco
City College of San Francisco is home to the Culinary Arts and Hospitality Studies Department. Associate degrees and certificates are available in Culinary Arts, Baking and Pastry, and Food Service, among others. Programs are rigorous, and take place five full days a week. Students learn the skills needed to start working in a kitchen as soon as graduation. Courses required for the Associate of Science degree include Culinary Fundamentals, Meat Analysis, and Procurement and Costing, to name but three.
Santa Clarita
The Southern California-based College of the Canyons offers a certificate program in the culinary arts. The program is designed to prepare students to work in the restaurant industry. Over the course of the 34-unit program, students focus on cooking skills, kitchen-based problem solving, and general food knowledge. Offered courses include Principles of Baking, Culinary Fundamentals, and International Cuisine.
Los Angeles
Culinary Students at the Los Angeles Trade-Tech College spend time working in the kitchen throughout their entire program. As one of the oldest culinary programs in the country, LATTC has perfected the art of training culinary professionals. Los Angeles Trade-Tech College Degree programs are accredited by the American Culinary Federation, an indicator of a quality culinary arts program. The learning environment includes commercial kitchens, an on campus restaurant, cafeteria, and catering service. Students are engaged in a variety of professional development opportunities including culinary competitions, field trips, and the opportunity to listen to guest lecturers.
St. Helena
The Culinary Institute of America is one of the most prestigious culinary schools in the United States. CIA features traditional culinary arts programs as well as specialty programs such as Wine and Beverage Studies and Baking and Pastry Arts. The learning environment is state-of-the-art and features professional kitchen labs and instruction in farm-to-table practices. Student run restaurants including The Bakery Café by illy and Wine Spectator Greystone Restaurant allow students to gain professional experience. Wine Spectator Greystone Restaurant features an open kitchen and serves meals made with fresh ingredients from the CIA farm and garden.
Costa Mesa
Orange Coast College is a top culinary school accredited by the American Culinary Federation. Students have the opportunity to gain work experience at the Captain's Table Dining Room, a student run restaurant on campus. Students prepare and serve meals each week for up to 100 people at the restaurant. Professional development opportunities including joining the culinary competition team which won the National Championship in 2005 for their outstanding skills and abilities in the culinary arts. Students at Orange Coast have access to a modern learning environment which includes a state-of-the-art professional kitchen where students work side-by-side with culinary staff.
Sonora
Columbia College has an extensive offering of culinary programs for every level of culinary professional. Students interact with faculty in an environment that supports career training and professional development. Columbia College is accredited by the American Culinary Federation. A wide variety of skills are taught, including wine making, fine dining room management, advanced classical cuisine preparation and beverage management. Students at Columbia College have the opportunity to complete internship opportunities to gain professional experience in the field before they join the workforce.
Los Angeles
Formerly known as the International Culinary Center, Institute of Culinary Education (ICE) has been called the best culinary school in the country. Programs are offered in the Culinary Arts, Baking and Pastry, Restaurant and Culinary Management, and Health-Supportive Culinary Arts. Each program lasts 8-12 months, and classes are conveniently made available during mornings, afternoons, and evenings.
Related Rankings:
50 Best Culinary Schools in the U.S.
Top 5 Best Culinary Schools in Oregon
Top 20 Best Culinary Schools on the West Coast
Save