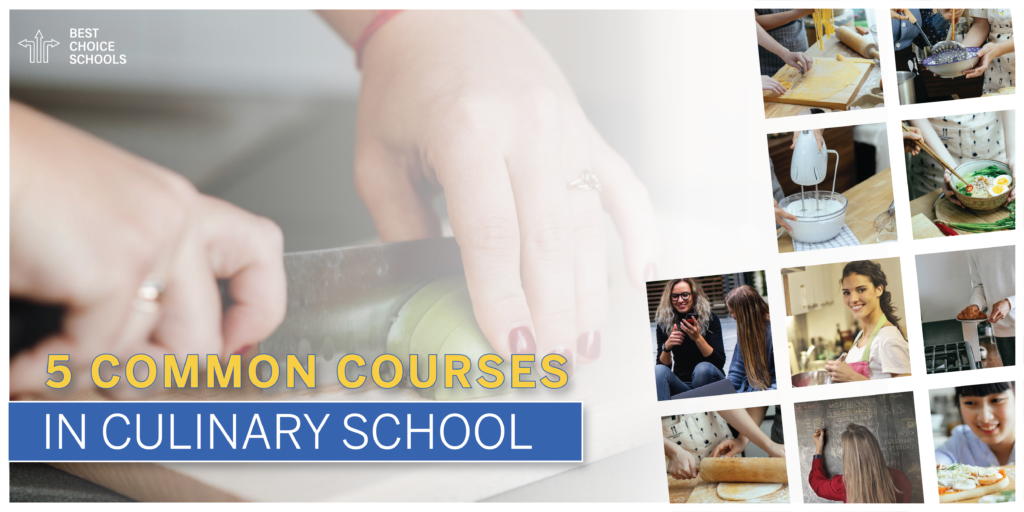 If you've decided to go attend culinary school, you may be curious about the types of courses offered. While the selections will vary depending on the college you choose, This article will discuss five of the most common course offerings.
What is Culinary Arts?
Culinary Arts is the art, science, and business of preparing food for the public or large institutions. While this includes the science and knowledge of food, diet, and nutrition, it also encompasses everything related to the food and restaurant industry.
When choosing the type of institution where you would like to study, it is essential to consider your career aspirations, which may lead you to a specific school choice.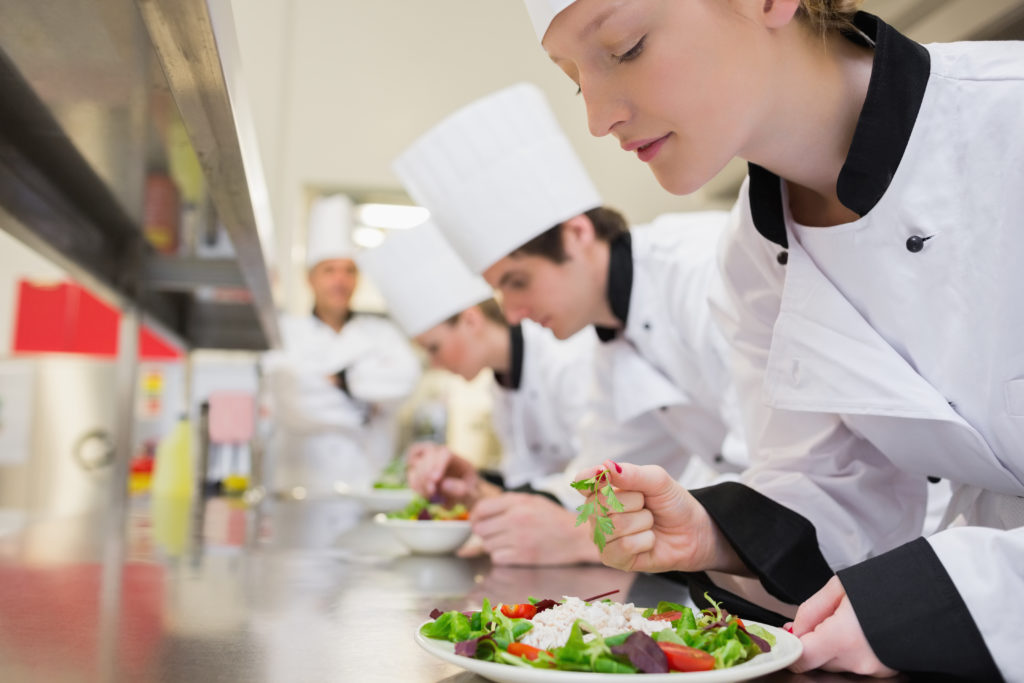 School Types for Culinary Arts
For example, you could choose a stand-alone school, a community or technical college, or a 4-year college. All options will provide you with viable career opportunities upon program completion. Whatever avenue you choose, you should leave culinary school having been taught, under supervision, by experienced chefs and ready to make your own way in the food industry.
Culinary Arts programs are typically tailored to focus on different areas in hospitality. You will want to choose the program that will prepare you for the position of your choice. A certificate or diploma takes one year, while an associate's degree takes about 2 years.
If you are looking to gain a diploma from a 4-year institution, you will also receive proficiency in general education courses while focusing on nutrition. Consider what role you would like to play in the restaurant industry and ensure that the program you choose fits that goal.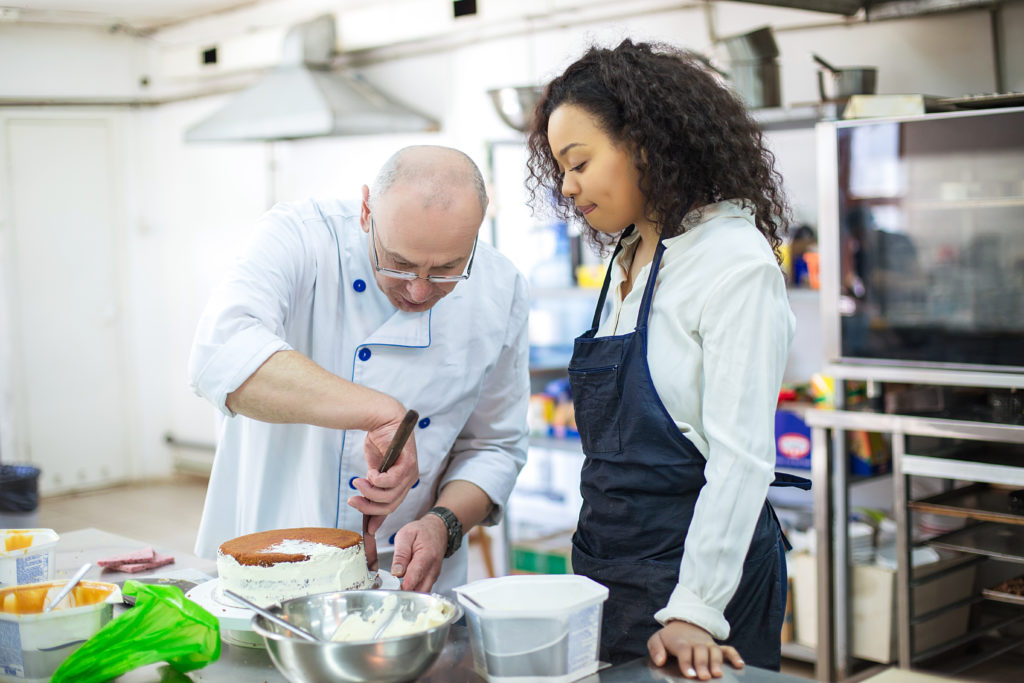 Benefits of Attending Culinary School
While you might be wondering what the benefits of attending a culinary school are, rest assured that if you have a passion for food, this career path is right for you. In fact, this passion is what led you to a culinary school in the first place.
In a culinary program, you not only have the opportunity to create and experiment, but you will also be joining one of the fastest-growing industries worldwide. Other careers might be hard to break into post-graduation. But, look no further for job security, as there are always reliable opportunities in many locations.
Want to travel the world? Well, you can find a job in the food industry across the globe. If you're looking to zero in on a specific cuisine, understand that you can literally cook or bake anywhere. The growth opportunities are endless, and if you want to work in an industry in which no day is ever the same, the food industry is a truly dynamic atmosphere.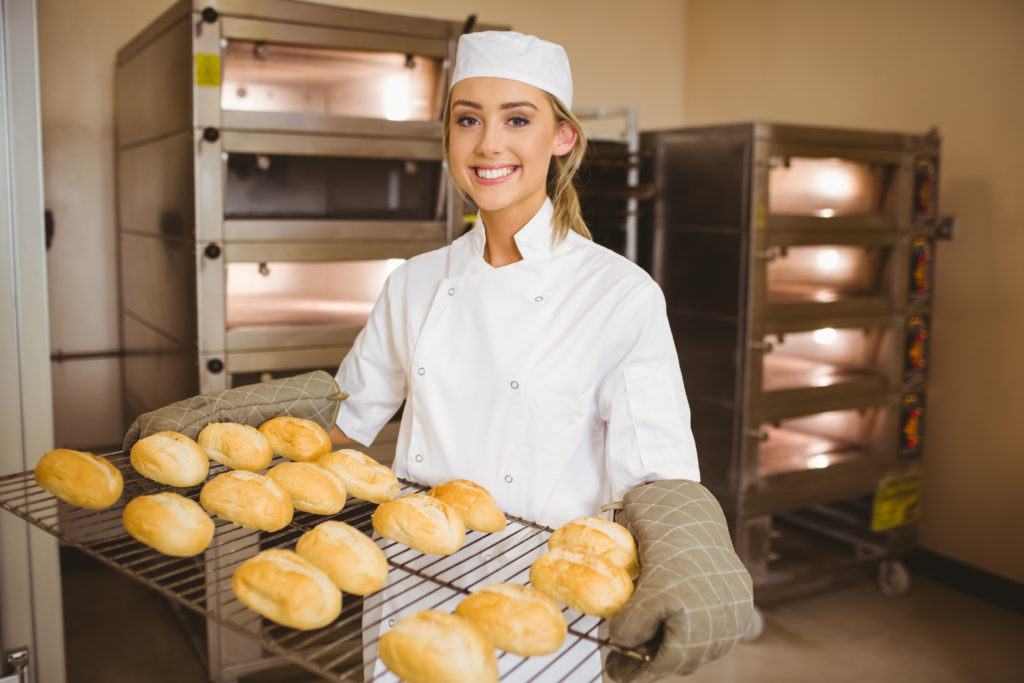 Thinking About Skipping Culinary School?
There are many opportunities available to you after graduating from culinary school. But, you may be thinking, why should I attend a culinary school when I can always work my way from the ground up and get started earlier? While you may start working earlier, a degree will earn you a higher position.
You can avoid spending time working your way up the ladder and jump right into a position to which you aspire. So, yes, there are no educational requirements to work in the food industry. But, a culinary arts degree has numerous benefits and will help you reach your goal faster.
Culinary arts school will prove to be the best path forward in your career, and you will gain specialized knowledge and skill sets. You will have the opportunity to hone your expertise while working under true professionals in an environment conducive to learning.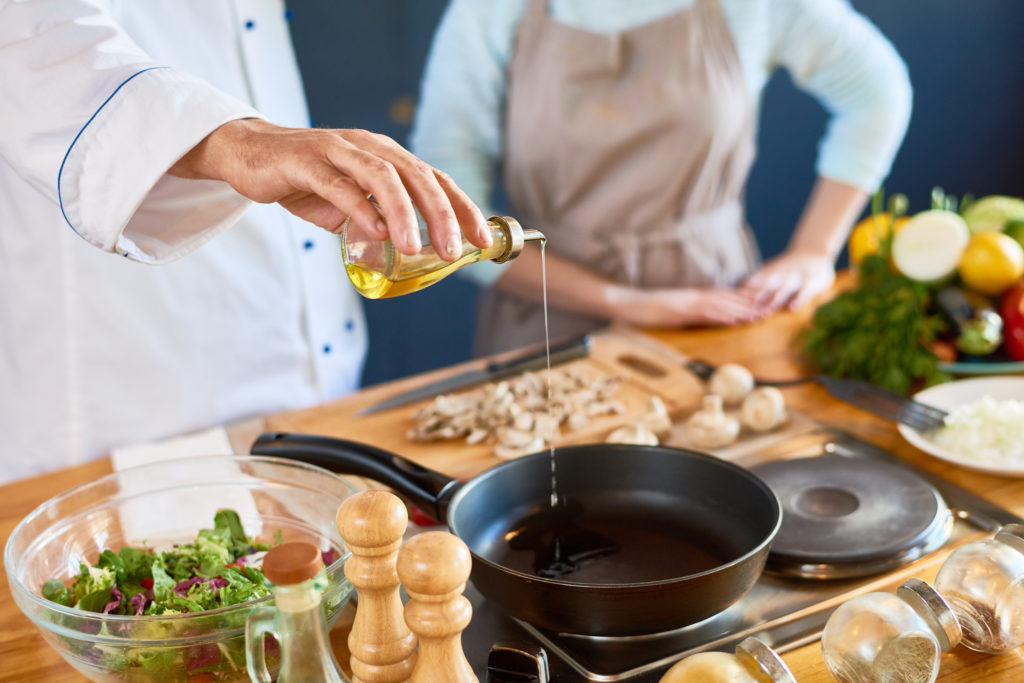 What Do I Need to Be Successful in the Culinary Arts?
Keep in mind that there are skills required to be successful after graduating from culinary school. A student can acquire these skills in the wide variety of classes offered in a culinary school curriculum.
Creativity
You will learn a lot both on the kitchen and business level. But, also consider that you will need to be creative, as a career in culinary arts doesn't just involve following recipes. Look at a career in hospitality as two-fold; the food portion and the business portion.
You will also need to cook for larger numbers of people and be creative in designing new food and providing unique presentations. While creativity is key, you must also have a great work ethic. A career in the food industry requires dedication. Being successful in this workforce requires a lot of practice over long hours, often beyond a typical 9-5 shift.
Flexibility
You may also have to sacrifice time and understand that some of the busiest times often coincide with holidays. An understanding that the food industry never really shuts down is key to a successful career path in hospitality. Of course, physical endurance is necessary because working in the food industry is also physically demanding, often including prolonged time on your feet and constant movement.
Physical Stamina
Lastly, you must demonstrate manual dexterity. Obviously, you will be working with your hands. Working in a kitchen can include duties such as mixing, slicing, assembly, and possible squeezing. Now that you know what soft skills you will need, let's move on to some of the paths you can take in a culinary arts career.
A Niche or Path
There are several concentrations to consider when you want to venture into the world of culinary arts. Consider what direction you want to take. If you would like to focus on desserts, a career as a pastry chef or chocolatier could be in your future.
You could also choose the avenue of straight-up cooking and become a sous chef or saucier. Aiming a little higher, try your hand at management, serving as a restaurant manager or executive or head chef. Want to venture out on your own? A career in catering or getting hired as a personal chef could be in your future.
All options are viable with a degree in culinary arts. No matter which path you choose to follow, there are courses that you will have to take to achieve your goals. You might be surprised at the coursework level that is involved in graduating from a culinary arts school. While it might seem like a fairly straightforward curriculum, there are some aspects of the culinary arts program that you may not have considered.
Why Culinary Arts Are Not Just Cooking and Baking
A degree in culinary arts invokes a picture of a kitchen full of chefs, food, and students learning new recipes or techniques. But, are there required courses to become a chef and graduate? Yes, a curriculum including cooking and baking classes is a given.
Still, one would be surprised to learn that there are many more niche classes that are required to be a successful culinary arts graduate. In fact, you will take chef courses such as baking, grilling, sauteing, pastry creations, garnishing, or even regional cuisines.
But, understand that there is more to a degree in the culinary arts. In fact, there may be some classes that will prepare you to be proficient in the kitchen and in the areas of food safety and business.
Beyond the Basics
Yes, you will learn the basics of classic preparation and fundamental techniques. Although there are many general culinary courses deemed essential to work in the food industry, there are some interesting culinary courses that are more specific in nature.
Also, some institutions may include a wine/beverage program. These introduce students to the sommelier or wine steward training. If you choose this path, you will master spirits and mixology for both alcoholic and non-alcoholic drinks. You will learn how to make classic and contemporary wines and spirits and pair them with food.
Culinary Arts + Hospitality
Considering that graduates can work in several venues, including restaurants, hotels, spas, resorts, casinos, hospitals, schools, cruise ships, or catering, having skills and knowledge in other areas will prove necessary as well.
Some future culinarians may want to venture into owning their own restaurant or working as a personal chef. There are many paths to consider when navigating your way through a degree in the culinary arts.
Therefore while courses that provide a basic introduction to kitchens and equipment are very important, it is also necessary to take courses in areas that don't directly involve cooking or baking. These courses will ensure that you are successful in the food and business areas of hospitality. These sorts of courses are fundamental in becoming a chef.
Related resource: Top 10 Best Culinary Schools in Pennsylvania
Five Valuable (and Common) Culinary School Courses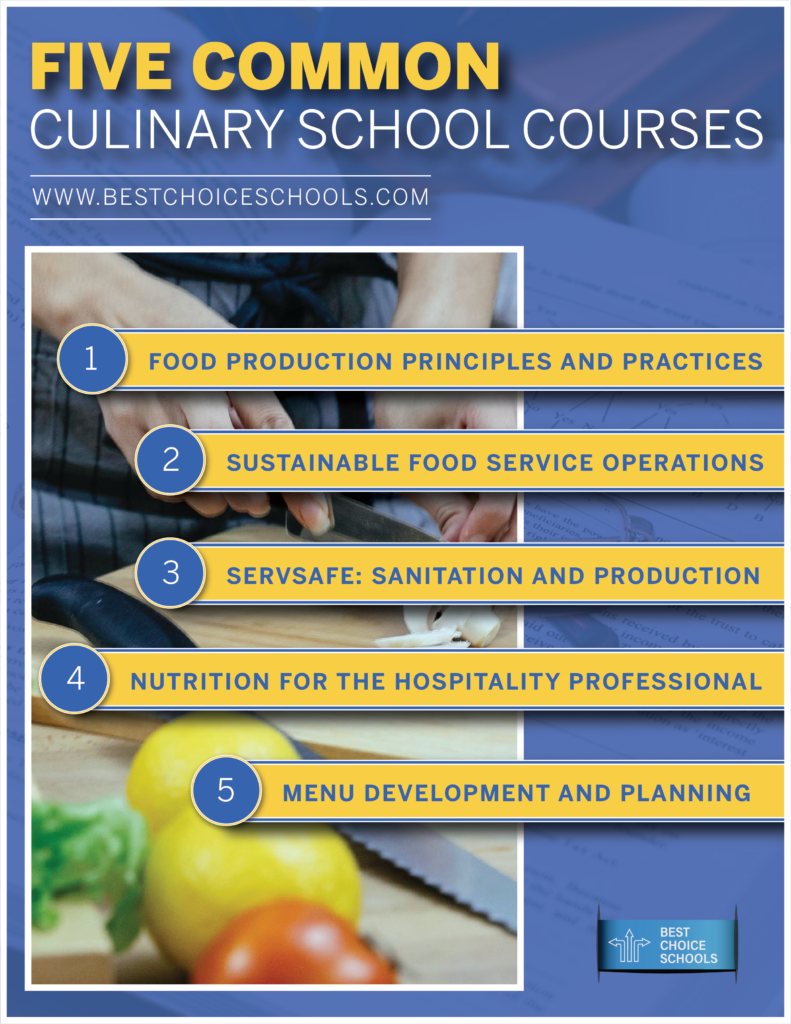 Food Production Principles and Practices
Commonly found in culinary school programs is Food Production Principles and Practices examines the following:
Work organization

Recipes and conversions

Safety and sanitation

Cooking methods

Using and maintaining tools and equipment
However, most schools require students to have completed the prerequisite course known as Food Safety and Sanitation. Obviously, this preceding course will ensure that students understand how to handle food to prevent foodborne illness properly.
They will also understand the requirements for the cleanliness of both equipment and facilities. Going further, Food Production Principles and Practices will prepare students to understand what is involved with kitchen operations on a profit-oriented level.
This course will ensure knowledge of skills, theories, practices, and techniques of the foodservice industry. Areas of study will include the organization of work, recipe use and conversions, and safety and sanitation applications.
Basic cooking methods are mastered and include understanding dietary recommendations, learning common cooking terms, and familiarization with preparation methods.
 In addition, students will master the appropriate use and maintenance of kitchen tools and equipment. Basically, students come away with the knowledge of the fundamental concepts of cooking, baking, food safety concepts, and properly maintaining equipment. Think of this course as the 101 of culinary arts.   
Sustainable Food Service Operations
Another common course in a culinary school program is Sustainable Food Service Operations. In this course, students will learn the importance of maintaining a sustainable foodservice organization.
Specifically taught is the understanding of sustainability in water and energy efficiency, using green materials, heating, and cooling options, procuring sustainable products, food processing and packaging, recycling, and waste management.
Students will come away with a knowledge of concepts of a sustainable business design and operation. These include growing their own produce or sourcing products, and creating seasonal and local menus.
Improving waste management practices will minimize garbage and maximize recycling to help create a more sustainable business. Students will understand cost vs. benefits and by subtracting the former from the latter. Some costs in the area of sustainability may outweigh the benefits.   
ServSafe: Sanitation and Production
Key to any successful kitchen is an understanding of safe food handling and sanitation practices. Therefore, it can be argued that one of the most important courses in a culinary school program is ServSafe: Sanitation and Production. Students gain an understanding of the National Restaurant Association's requirements of basic standards of food handling and sanitation.
Commercial food production principles, principles of classical cuisine, using weights and measures, common knife cuts, and recipe conversions are some of the topics touched on in this class.
However, this course focuses on the basic standards of safe food handling and sanitation. In fact, this course is the industry standard and incorporates the best practices in food safety. This program covers the following:
Basic food safety

Personal cleanliness

Cross-contamination

Allergens

Appropriate time and temperature levels

Cleaning and sanitation, including waste and recycling
Taking it a step further, one can also take the certification in the food manager program. This program includes:
Foodborne microorganisms and allergens

Personal cleanliness

Best practices in purchasing, receiving, and storing food

Preparing, cooking, and distributing food

Facilities, disinfecting and sterilizing, and pest management
 In addition to receiving credit towards one's degree, students will also obtain a ServSafe certificate.
Nutrition for the Hospitality Professional
Nutrition for the Hospitality Professional is another course that is included in a cooking school program. Understanding the basics of human nutrition and what is essential in a human's diet. Nutrition is the intake of food in relation to the body and dietary needs. Students will recognize what constitutes good nutrition and the connection between food and health.
Good nutrition is fundamental in preventing chronic disease and living a healthy, long life. Students will also gain knowledge of appropriate food purchasing and preparation and menu planning and budgeting. Students will come to understand how the nutritional needs of people change at different stages of life. Other topics examined in the course include:
Nutrition for people with special dietary needs

Dietary sources

Physiology and nutrition

Proper intake levels

Major nutrients

Biological determinants of nutrition

Nutrition assessment of populations
Students should walk away from this class with the skills and confidence to create not only delicious but nutritious meals as well.
Menu Development and Planning
Menu Development and Planning is obviously an essential course for culinary arts students. In this course, students will become proficient at menu planning's basic elements, according to best practices. This course's basic tenets include pricing, ordering, recipe conversion, various types of menus, and food preferences.
With an emphasis on nutrition, students will be educated in marketing strategies, the menu's life cycle, cost controls, and the technology involved in meal planning. Planning menus and incorporating them into commercial foodservice operations is integral in this class. Students will also come away with an understanding that planning and developing menus is directly related to purchasing.
Menu items and placement, creating appealing menu designs, food pricing, proper use of menu planning and design software, and the use of menus for marketing purposes are some of the more basic skills learned in this course. Some specific skills gained include:
Key considerations in developing and managing a menu

Accurate and complete product descriptions

Impact of nutrition and nutrition standards

Identify the relationship between the menu and marketing

Ensure balanced menus

Understand the importance of food allergen considerations in creating a menu
Next Steps to Culinary School
A degree in culinary arts encompasses more than basic cooking and baking. When applying for such a school, one must be aware that the curriculum is multi-faceted. There are also several courses in culinary school that you might not expect.
While it is common to think of culinary school only as a place where you will learn to cook and bake, there are numerous skills and techniques necessary to run a tight ship and be successful in this fast-paced environment,
Culinary arts courses are all-encompassing and should provide a student with all of the necessary tools to advance one's career in the food industry successfully. Five of the most important of these courses are described above and will ensure that you are well on your way to achieving success in a career in hospitality.
Related Articles: