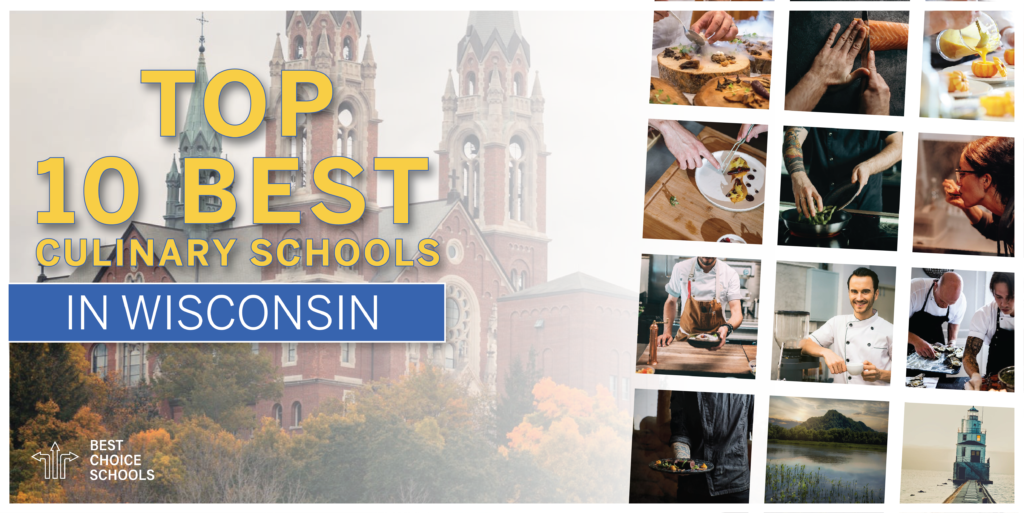 By BCS Staff
March 2021
There are 270,000 restaurant and food service jobs in the state of Wisconsin, accounting for 10% of employment in the state. An additional 26,000 additional jobs are expected by 2026. Not surprisingly then, food service is a significant contributor to Wisconsin's economy. As the demand for culinary professionals continues to rise, earning a degree or credential in culinary arts is a smart move to stand out and get noticed when applying for a position in this exciting industry.
Wisconsin has many culinary schools that are prepared to meet the demand for highly trained culinary professionals. We created a list of the top 10 best culinary schools in Wisconsin. Schools that made our list offer internship/externship opportunities, hands-on training, a wide variety of coursework, and expert level instruction. Many programs are also accredited by the American Culinary Federation, an indicator of academic rigor.
La Crosse
Western Technical College offers a Food Preparation Assistant certificate. The certificate prepares students for kitchen roles in restaurants, resorts, and anywhere else food might be prepared for guests. To earn the certificate, students must complete 13 credits. Coursework includes classes like Sanitation and Baking Fundamentals, to name but two.
Fennimore
Southwest Wisconsin Technical College is a top culinary school offering an Associate Degree in Culinary Arts. Students learn a wide array of skills including food preparation, nutrition, catering, wines, baking, and gourmet dining. This two-year culinary program takes about two years to complete and courses are offered during the day, allowing students time to work in the evenings if needed. Graduates can successfully design menus and apply cooking methods to prepare a variety of meats, vegetables, soups, sauces, and baked goods.
Rhinelander
Nicolet Area Technical College features a 66-credit AAS in Culinary Arts that includes coursework covering both basic and advanced culinary skills. This dynamic program teaches students principles of cost control, menu planning, food service supervision, and purchasing. Courses are taught in a variety of formats including lecture, hands on training, and demonstration. The student-run dining room, Top of the Hill, gives students the opportunity to demonstrate their culinary skills but preparing and serving food to the public during the spring semester. Graduates are prepared for a variety of positions including line cook, sous chef, assistant pastry chef, personal chef, and food purveyor. An AAS in Culinary Management is also offered, as are multiple certificates.
Cleveland
Lakeshore Technical College offers an associate degree in culinary arts. The degree program is offered as both a full time and part time program. Students who have worked in the field for at least one year have the opportunity to attend classes in the evening and earn credit while working. Students learn French techniques and methods in addition to contemporary fusion cuisine. Internship opportunities are offered to students in order to gain additional professional experience, modeling European style apprenticeship programs.
Racine
Gateway Technical College (GTC) follows the "Learning by Doing" philosophy in their approach to culinary education. Students participate in hands-on activities throughout the program including preparing and serving good in the college's dining service facility, event catering, and working in the retail outlet. GTC is a top culinary school featuring a newly renovated kitchen and serving facility with modern equipment such as Alto-sham combination ovens, walk-in freezer/cooler, and smoker. Students seeking additional hands on training can participate in statewide student competitions such as the Wisconsin Restaurant Expo's College Culinary Hot and Cold Plate competition. GTC also features a culinary club that provides networking opportunities and field trips throughout the program.
Milwaukee
Milwaukee Area Technical College offers two AAS degree programs in the culinary field. The AAS Degree in Culinary Arts is offered at both the Milwaukee and Oak Creek campuses and can be started in either the fall or spring semester. Students gain hands on experience working in the on-campus restaurant. The Baking and Pastry Arts program teaches students techniques such as the preparation of artisan breads, classic pastries, cakes, and confections. Students learn how to operate a successful bakery café as part of this top culinary program. Milwaukee Area Technical College also offers a certificate in Culinary Arts or Baking Production. Coursework completed as part of the certificate program can be applied to the corresponding AAS degree program.
Appleton
The AAS Degree in Culinary Arts from Fox Valley Technical College is a unique culinary program that is offered in both a standard or accelerated format. Students learn how to prepare a variety of meats, vegetables, soups, and desserts in addition to learning management skills, menu planning, and supervision strategies. Courses include unique offerings such as heart healthy cuisine, breakfast cookery, and meat identifications. Elective offerings include courses in ice carving, Latin American Cuisine, and catered event planning. Students also can participate on a culinary competition team through Fox Valley Technical College. Graduates are prepared to work as successful bakers, banquet chefs, head cooks, or sous chefs.
Janesville
Blackhawk Technical College offers an AAS Degree in Culinary Arts that can be completed in two years of study. Students learn skills related to food preparation, catering, restaurant operations, and production. Coursework covers areas such as food safety and sanitation, nutrition, supervision, and menu design. The program has been awarded the Exemplary Educational Service Award by the Wisconsin Board of Vocational Technical and Adult Education and is accredited by the American Culinary Federation. Potential employment opportunities for graduates of this top culinary school include kitchen manager, executive chef, lead cook, and executive sous chef.
Pewaukee
Waukesha County Technical College is a top culinary school offering an AAS Degree in Culinary Management that has earned exemplary status by the American Culinary Federation. This 69-credit program provides students with over 1,000 lab hours so they can learn the latest culinary techniques and trends in the industry. Hands on training in meal preparation and dining service is offered at the on-campus restaurant, The Classic Room. Students interested in international internships or tours can participate in a variety of opportunities including travel to Italy, France, and Germany. Waukesha County Technical College also offers a certificate in Culinary Skills.
Madison
Madison Area Technical College offers both an AAS Degree in Culinary Arts and a Technical Diploma in Baking and Pastry Arts that have earned exemplary status by the American Culinary Federation. Students of this top culinary school can earn an embedded technical diploma by completing the Culinary Production Specialist program as they pursue their AAS degree. Program instructors are engaged in professional development opportunities so they are staying on top of the latest trends in the industry. Students can develop their professional skills by working in the on-campus restaurant, Diane's Delicious Diner. Students prepare and serve a variety of foods by demonstrating their classical and ethnic cooking techniques. Students who earn their AAS degree in Culinary Arts can transfer to a four-year institution to continue their professional training.
If you have found our ranking of the best culinary schools in Wisconsin to be helpful, then be sure to check out these related resources:
Top 10 Best Culinary Schools in Minnesota
Top 10 Best Culinary Schools in Illinois
Top 10 Best Culinary Schools in Michigan