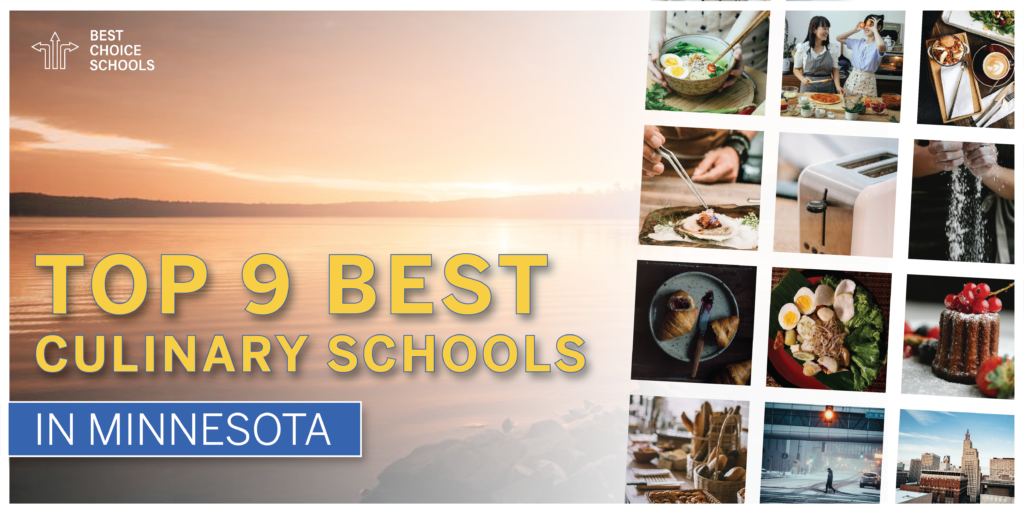 By BCS Staff
March 2021
Over 14.4 million people are employed in the restaurant industry in this country, with 275,900 of those jobs located in the state of Minnesota. Almost 24,000 jobs are expected to be added by 2029, creating a demand for highly trained and educated culinary professionals. Earning a certificate, diploma, or degree in the culinary arts can provide the training and experience needed to move up the career ladder to a satisfying career.
We created a ranking of the top 9 best culinary schools in Minnesota. Schools selected for our list offer a variety of coursework and credentials, hands-on instruction, internship opportunities, and a commercial kitchen learning environment. Several of the schools selected are accredited by the American Culinary Federation, an indicator of exceptional quality.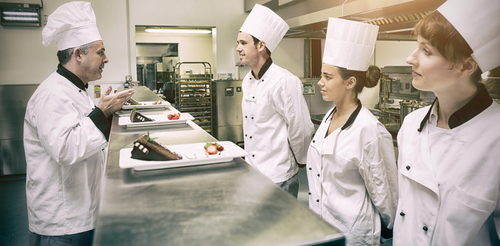 Albert Lea
Riverland Community College offers a unique Certificate and AS degree in Food Service Technology. Students study the scientific makeup of foods to assess vitamins, fat, sugar, and protein. The certificate program can be completed in just one semester and includes coursework in food processing, food safety, sanitation, and food security. Students who decide to further their education can continue on to earn their AS degree. Students study the science behind the processing and deterioration of foods to make them safe and healthy. Coursework also addresses the processes that transform raw foods into those that are consumed by the public. Graduates of the AS degree program are prepared to work in the food industry in roles related to production, quality assurance, sanitation, and laboratory analysis.
Bloomington
The Food and Beverage Management Certificate program from Normandale Community College is an exciting culinary program for those interested in managing food and beverage establishments. Students learn a variety of skills including how to analyze recipes and menus, determine cost, follow nutritional practices, and coordinate banquets and special events. Graduates are prepared to work as a food service director, catering manager, kitchen manager, or food service supervisor.
St. Cloud
Southwest Minnesota State University is a top culinary school offering a Bachelor of Science in Culinology. Culinology is an exciting degree program that blends the art and science of foods. Students are trained in a state-of-the-art culinary facility that includes a demonstration kitchen, restaurant kitchen, dining room, skills kitchen, and Culinology lab. Coursework includes Food Chemistry and Analysis, Aromatics and Flavors, Food Sensory Analysis, and Technical and Functional Ingredients in Food. An internship experience is also offered to students, allowing them to gain professional work experience.
St. Cloud
St. Cloud Technical and Community College offers both an AAS and Diploma program in Culinary Arts. Students learn a variety of skills including menu planning, food presentation, financial planning, human resources, kitchen procedures, and recipe development. The culinary arts organization, SkillsUSA, offers students the opportunity to participate in local and national culinary competitions to gain additional experience. Students enrolled in the diploma program complete coursework technical coursework specifically related to culinary arts, including a food service internship experience. The program can be completed in just one year. The AAS program also includes an internship opportunity and offers additional coursework fulfilling general education requirements.
North Mankato
South Central College is a top culinary school with an excellent reputation in the field. Students are taught by an accomplished chef who provides instruction in everything from menu planning to advanced culinary skills training. Students complete unique coursework such as butchery, sustainable foods, organic cooking, and hospitality nutrition. SCC has a dining room and cafeteria which allows students to apply their knowledge and training in a real world setting. Graduates are prepared to work in a variety of settings including sports arenas, conference centers, hotels, and restaurants.
Hibbing
Hibbing Community College offers a variety of culinary education programs for those just entering the field and for those who are ready to advance to more challenging positions. Hibbing students are able to learn their trade in a fast-paced environment which prepares them for the challenges they will face in an actual commercial kitchen. Students practice and demonstrate their skills in a state of the art kitchen laboratory. This top culinary school features a low faculty/student ratio and individualized attention. The 1 Year Diploma, 2 Year Diploma, and AAS Degree options provide students with the opportunity to select the program that best meets their professional needs.
Brainerd
Central Lakes College offers a Culinary Arts Certificate culminating in the ServSafe Food Manager certificate. Completing the certificate requires completing 30 credits. Coursework covers a variety of topics, including Baking Pastry Techniques, and Culinary Math and Spreadsheet Analysis, to name but two. A full 12 credits are earned by participating in an internship, allowing lots of opportunity for hands-on, real-world experience.
Brooklyn Park
Hennepin Technical College is a top accredited culinary school offering multiple programs for students on every step of the career ladder. Students are taught the skills they need to design menus, prepare for a banquet, cater events, decorate cakes, and prepare a variety of entrees. In addition to culinary skills, the program features the business side of working in the industry. An on-campus gourmet dining room gives students the chance to apply their skills in a professional work setting. Advanced students are given the opportunity to learn techniques such as ice carving, blown sugar, wine fundamentals, and international cuisine.
Saint Paul
Saint Paul College features a culinary program accredited by the American Culinary Federation. The AAS Degree program has received exemplary status by the ACF, indicating exceptional educational standards. Students learn to prepare both a la carte and banquet-style meals, as well as sanitation practices, cost control strategies, purchasing, and menu planning. Saint Paul College offers one of the largest variety of culinary certificates in the state, allowing students to obtain specialized training in focused areas. Graduates are well prepared to work in a variety of career settings including hotels and restaurants, resorts, catering facilities, and health care facilities.
Related Rankings:
Top 10 Best Culinary Schools in Iowa
Top 10 Best Culinary Schools in Illinois
Top 10 Best Culinary Schools in Wisconsin
Save