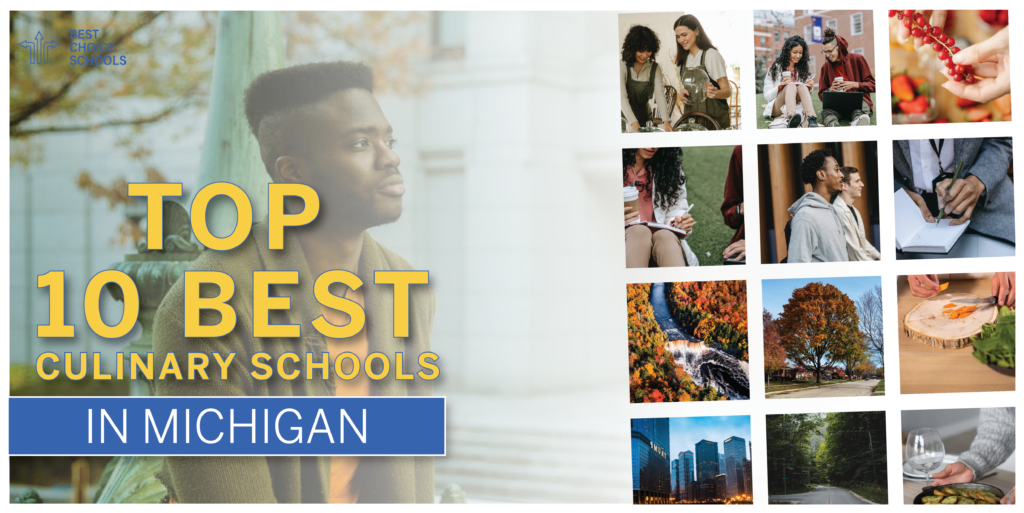 By BCS Staff
March 2021
According to the National Restaurant Association, Michigan employs over 447,200 foodservice and restaurant workers, accounting for 10% of all workers in the state. The demand for culinary professionals is on the rise, with another 31,900 jobs expected by 2029. To prepare for this influx, now is the time to earn your certificate or degree in the culinary arts. Employers are looking for culinary professionals with the skills and abilities needed to be successful in this competitive industry.
We developed a list of the top 10 best culinary schools in Michigan to showcase the top culinary schools in the state. Schools in our list provide students with the opportunity for hand-on skill development, individualized attention, use of professional equipment, and certificate or degree opportunities that are recognized in the field. Many of the schools listed have earned accreditation by the American Culinary Federation, an indicator of a quality culinary program.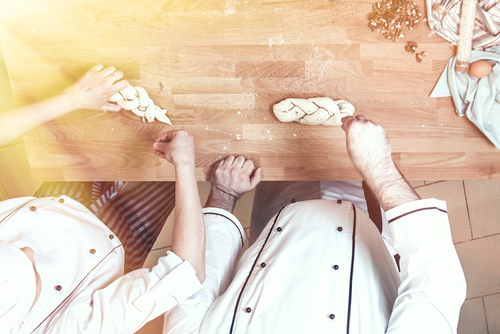 Ypsilanti
Eastern Michigan University offers a Bachelor of Science in Hotel and Restaurant Management. The four-year degree covers all facets of the hospitality industry, including legal aspects, food preparation, and event planning, to name but a few. Completing the bachelor's degree requires 124 credits of coursework. Potential classes include International Hospitality Management and Commercial Purchasing, among others.
Ann Arbor
Washtenaw Community College offers a certificate program in Culinary Skills and Operations. Students learn both classical and modern kitchen operations as well as kitchen operations in both American Regional and Global Cuisine. They also have the opportunity to earn various credentials to complement their program. Thirty-one credits are required to complete the certificate.
Roseville
Dorsey Culinary Academy at Dorsey Schools is a top accredited culinary school offering a Culinary Arts Diploma. Students have access to the latest in kitchen equipment and "learn by doing" throughout the program. An externship opportunity is provided for students to gain professional experience before earning their diploma. Courses cover areas such as food preparation, sanitation, menu planning, and kitchen management. Culinary techniques and skills related to baking, butchering, healthy cooking, and nutrition are also included as part of the program.
Clinton Township
The culinary arts program at Macomb Community College is accredited by both the National Restaurant Association and the American Culinary Federation Education Foundation Accrediting Commission. Students in the AAS in Culinary Arts program have the opportunity to complete a variety of courses including Nutritional Cooking; Vegetarian Cuisine, Pastry Arts; Catering, and Menu Planning. Culinary students operate the student-run restaurant, Center Stage, to prepare and serve meals to the public. Graduates of the certificate program are prepared to work in first line supervision of food preparation. Prep cook program graduates can be successful in positions such as food prep worker or food service worker.
Farmington Hills
The Culinary Studies Institute at Oakland Community College is a top culinary school with several academic programs to meet the needs of those just starting out in the industry as well as those ready to move up. Accredited by the American Culinary Federation the Culinary Arts AAS degree program features a working internship and the opportunity to participate in culinary competitions. Coursework in retail baking, restaurant meat cutting, buffets and banquets, and plated desserts are part of the program. Electives such as theme cakes, ice carving, chocolate artistry, and wedding cake design are offered. Baking and Pastry students earn their certificate by completing 32 credit hours of coursework specifically related to their specialty.
Traverse City
Great Lakes Culinary Institute at Northwestern Michigan College features both an AAS degree and a certificate program for students seeking a hands-on learning environment in a top accredited culinary school. Great Lakes Culinary Institute is accredited by the American Culinary Federation and the AAS degree program has been awarded exemplary status. GLCI features five culinary laboratories, a 90-seat training restaurant, Lobdell's, that is run by culinary students. The certificate program articulates to the AAS degree program, allowing students to continue their education if they choose to do so.
Livonia
The culinary arts program at Schoolcraft College is one of the best in Michigan. A small student/faculty ratio (16:1) ensures that students get individual attention from experienced faculty. Students have the opportunity to gain hands on work experience at the American Harvest Restaurant during the program. American Harvest Restaurant is open to the public, allowing students to prepare and serve meals to customers. The Main Street Café is another student operated dining facility on campus which provides additional training opportunity. Coursework covers the preparation of food for a variety of cultures and the importance of design in the food industry. Graduates of the associate degree program are prepared to work in an advanced level culinary position as a chef or manager.
Dearborn
Henry Ford College offers both a BS and AAS degree in Culinary Arts that feature hands-on instruction from experienced professionals in the field. Henry Ford College has six culinary labs, a culinary video production studio, and its own computer lab. Students develop business and management skills as well as a variety of culinary skills, making graduates suited to work in a variety of employment settings. Bachelor's degree students complete multiple internships to gain different perspectives and work experience during the program. The Associate Degree program has received exemplary status by the American Culinary Federation Education Foundation Accrediting Commission.
Muskegon
The Culinary Institute of Michigan at Baker College has the lowest student/faculty ratio in the state among culinary programs. Students learn from award winning faculty in well equipped, state-of-the-art kitchen labs. Culinary Arts students have access to equipment such as convection ovens and blast chillers. Baking and Pastry students have the opportunity to utilize a climate controlled chocolate and sugar lab. Baking and Pastry students can pursue either a certificate or an associate degree in their area of specialization. This top culinary school is accredited by the American Culinary Federation, with the Culinary Arts program receiving exemplary status.
Grand Rapids
Secchia Institute for Culinary Education at Grand Rapids Community College offers programs accredited by the American Culinary Federation, several with exemplary status. SICE culinary programs graduates are prepared to set into a variety of culinary positions in just about any type of venue. Associate degree students in their final year of study can gain professional experience in the workforce or can take additional coursework to prepare to transfer to a bachelor's degree program. Certificate students take specialized courses to focus on their individual area of interest. Student operated facilities such as Heritage Restaurant and Fountain Hill Brewery give advanced students the opportunity to demonstrate their skills and gain experience. Art and Bev's Bistro features a variety of baked goods prepared by baking and pastry students. Secchia has received many awards and honors including the National Award of Excellence in Post-Secondary Food Service Education from the National Restaurant Association.
Related Rankings:
Top 10 Best Culinary Schools in Ohio
Top 10 Best Culinary Schools in Illinois
Top 10 Best Culinary Schools in Pennsylvania
Save