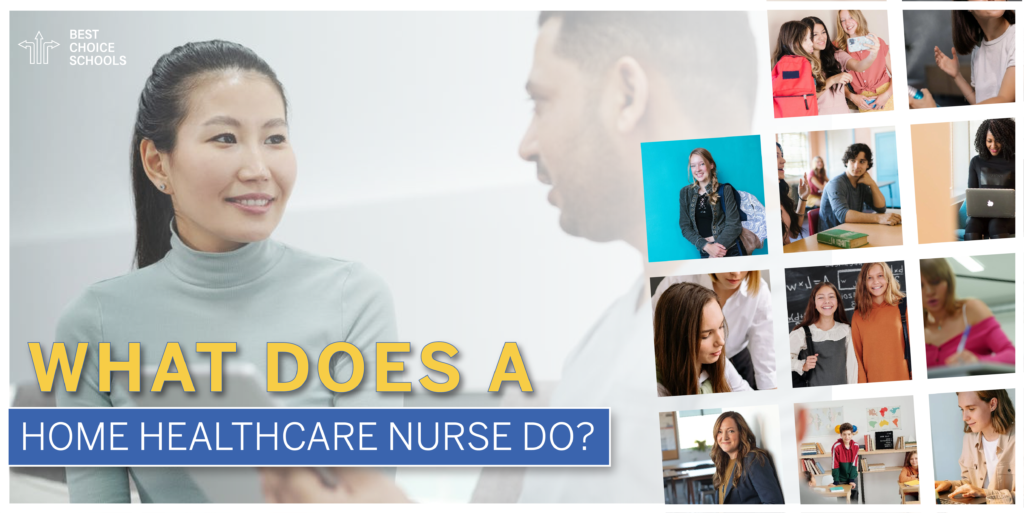 Home healthcare services continue to expand within the healthcare industry as demands for skilled nursing care options increase. There are many reasons for this phenomenon, including a rapidly aging number of Americans aged 65 and older who will require more health care, a lack of capacity in nursing care facilities, and the need to find affordable healthcare options to provide patient care services. Therefore, it is no surprise that more nurses are finding employment through health agencies to provide palliative care, post-surgical assistance, wellness checks, caregiver education, dietary and nutrition advice, medication monitoring, and treatment procedures to patients in their homes.
How Home Healthcare Nursing Works
While being in the home environment may yield many benefits for the recovery or treatment process, patients and caregivers can also feel apprehensive about being on their own. This is where a healthcare nurse can provide assistance and reassurance by answering questions about doctor's orders, medications, treatments or disease symptoms. In accordance with insurance and medical law, home care providers must follow a care plan that describes anticipated services and documents the patient's condition over time. Care plans typically include the following activities:
Completing intake paperwork and conducting an initial physical assessment
Assessing environmental issues, such as furniture placement or throw rugs, that could impede patient mobility or recovery
Educating patients and caregivers about care procedures, nutrition and pain management
Providing support and feedback for social-emotional issues affecting recovery
Noting improvements or declines in the patient since the last visit
Lifting, turning or moving patients
Administering injections, taking vital signs, and completing medical procedures such as setting up IV lines, changing bandages or inserting catheters
Making referrals for physical or occupational therapy based on patient progress or concerns
Calling in social workers or hospice providers to deal with family or psychological issues related to recovery or illness
Completing discharge paperwork when the recovery or treatment process is finished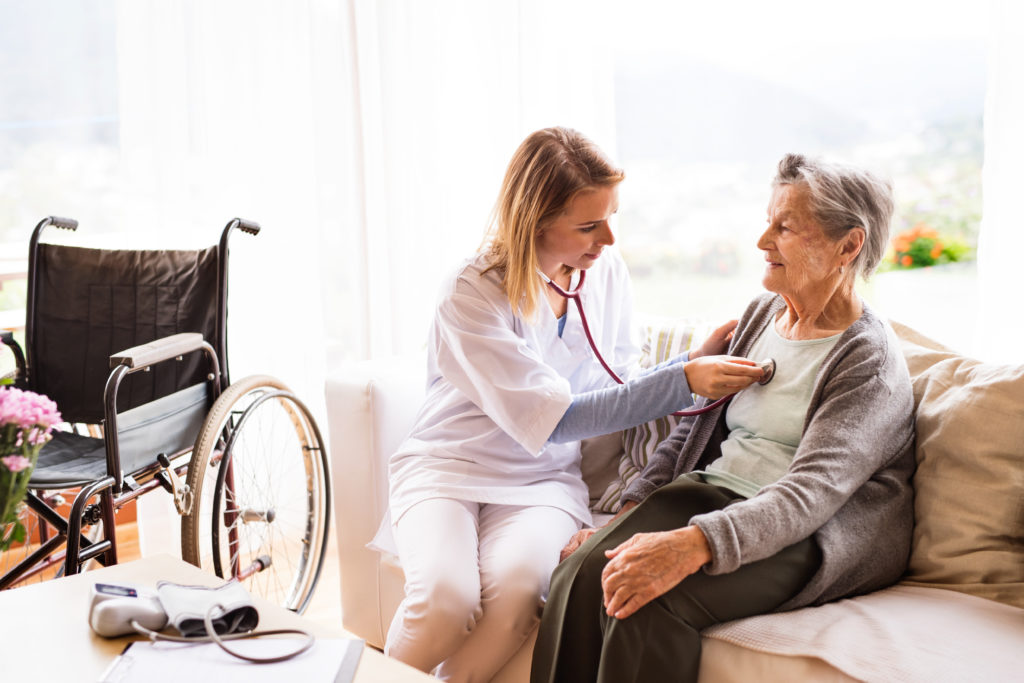 Qualifications for Becoming a Home Health Nurse
Home care nurses need to hold a nursing degree and be licensed to work as a registered nurse in their state. For patient protection, employers may also require home care nurses to pass medical screenings and drug tests. Job candidates must also hold a valid driver's license for self-transportation to patient homes. Other important qualities for home health nurses include having strong time management skills, being self-directed, possessing excellent written and oral communication skills, being physically fit to deal with job demands, and being able to get along with people from all walks of life.
Will There be Much Demand for Home Health Nurse Services in the Coming Years?
An increasing number of patients and their health care teams are becoming interested in providing ongoing care in the home. Enabling patients to recover or recuperate in their own home not only is less expensive but also far more comfortable than remaining in a hospital or other facility. Accordingly, this may ensure better outcomes.
With the U.S. government projecting that the elderly population is likely to outnumber the population of children in the 2020 census for the first time in history, it is clear that the need for qualified nursing services in the home is likely to remain high for the next several years. This assures candidates for these positions that they will enjoy secure employment for a significant time.
What Qualities Are Critical for a Nurse Who Specializes in Home Care?
Frequently, a nurse who provides care in the home is one of the few contacts with the outside world that the patient has. This means that patients often greatly anticipate these visits. A care provider who is warm, compassionate, friendly, and smiling is always welcome in a patient's home.
It is beneficial for the nurse to act as if they are a guest in the patient's home. Consequently, it is always wise to be polite and maintain a certain professional reserve. Patients tend to respond well to a nurse who asks them questions and then carefully listens to their answers. By being laid-back, the nurse also can help to keep these visits friendly and low-stress for everyone.
Great home healthcare nurses are fantastic communicators who help to educate their patients and keep physicians informed with regard to any change in the patient's condition.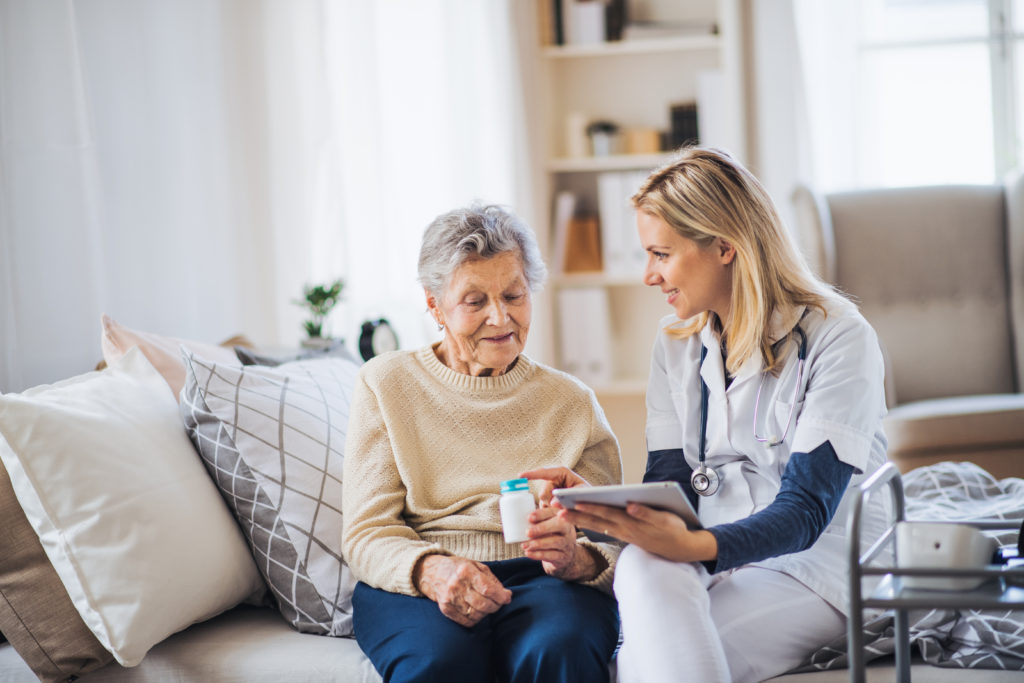 What Should I Do If I Want to Get into the Home Healthcare Field?
If you are a registered nurse who is currently employed by a hospital, clinic, or other facility and you are interested in providing home healthcare, then it is wise to seek the guidance of a colleague who is already working in this role. Ask them if you can do a "ride-along" with them to see what their job is really like.
The in-home nurse's day looks quite different from a nurse who works in the ICU, ER, or another unit. With far less structure and far more autonomy, the role of the home health nurse is not for everyone. Some nurses experience loneliness or miss the camaraderie of working in a hospital ward or doctor's office. Others dislike the unpredictability that comes with having a less predictable schedule. It is not unusual for a nurse to keep their existing position while accepting a few home health assignments on the side to see if the job is right for them.
It also makes sense to explore different health provider organizations before accepting a job as the duties and responsibilities of home health nurses may vary widely.
Should Nurses Who Practice Home Health Obtain Certain Training or Certifications?
Many nurses come to providing home healthcare after a varied career of looking after patients in every hospital department, a doctor's office, or even a nursing home or other long-term care facility. Accordingly, they likely are qualified to provide care in a great many diverse situations.
Despite all of this experience, some nurses who want to practice home healthcare need additional learning in subjects such as disease processes, diabetes education, and wound care. Providing care in these three areas repeatedly occurs in this field, making them worthy of extra attention and education.
Things like wound care frequently are provided by specialists in hospitals, so an RN may not have as much familiarity with this area. The agency for which the nurse works should be providing regular education in these subjects so that nurses are equipped to meet these patient needs.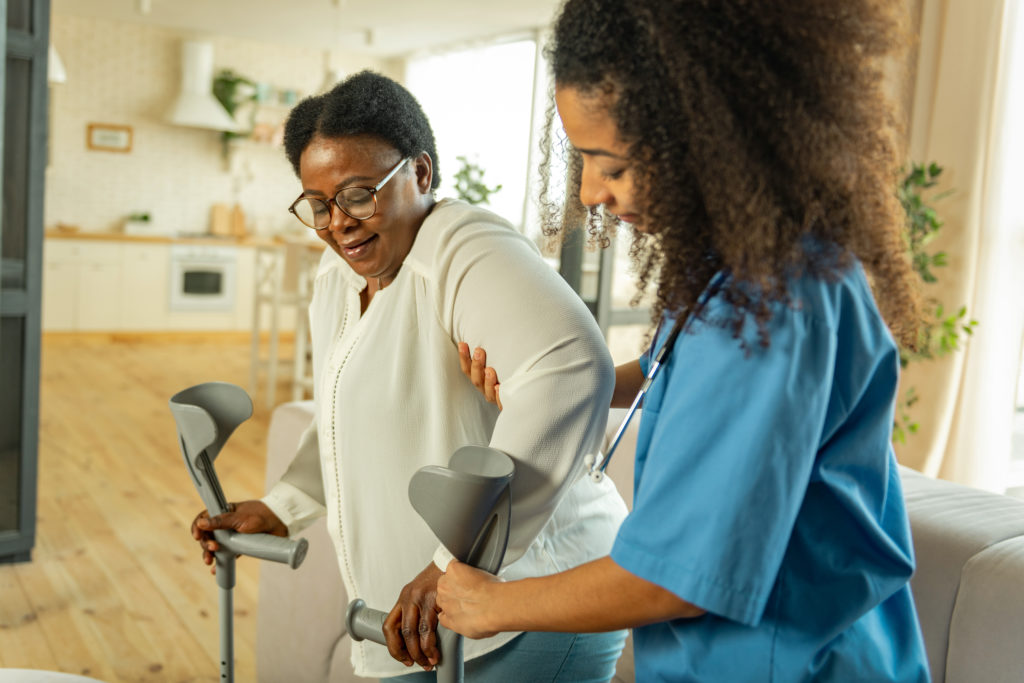 What Is the Transition to Becoming a Home Healthcare Nurse Like?
The transition from a setting like an ICU to a patient's home can be a difficult one. An ICU provides a highly structured setting where the nurse knows precisely what they will be encountering most of the time.
Things are less predictable in in-home healthcare. Unexpected situations arise, and this means that nurses in these positions must be incredibly flexible.
Similarly, home healthcare nurses must be singularly independent workers. They have little supervision and an exceptional degree of autonomy. At first, the transition from working under direct supervision to being more independent may be rough.
It's also worth noting that being a home healthcare nurse typically means spending a great deal more time in the car. While some individuals don't mind this, others find it difficult to tolerate.
What Is a Typical Home Visit Like?
Most agencies prefer that their nurses follow a solid routine so that every patient receives quality care. The agency may have some specific requirements that must be met with each visit, and these may vary a bit.
Nonetheless, most visits involve a review of the doctor's instructions for the patient's care. Nurses may provide reminders regarding follow-up visits with physicians and also answer questions that the patient or their caregivers may have. Ordering supplies and educating the patient and their caregivers also may be a part of many visits.
A home healthcare nurse further evaluates the patient's condition. This is accomplished through checking vital signs, monitoring wound or incision sites, and administering medications.
Any significant changes to the patient's condition promptly are reported to the treating physician, and the nurse may schedule additional follow-up visits depending upon the patient's condition.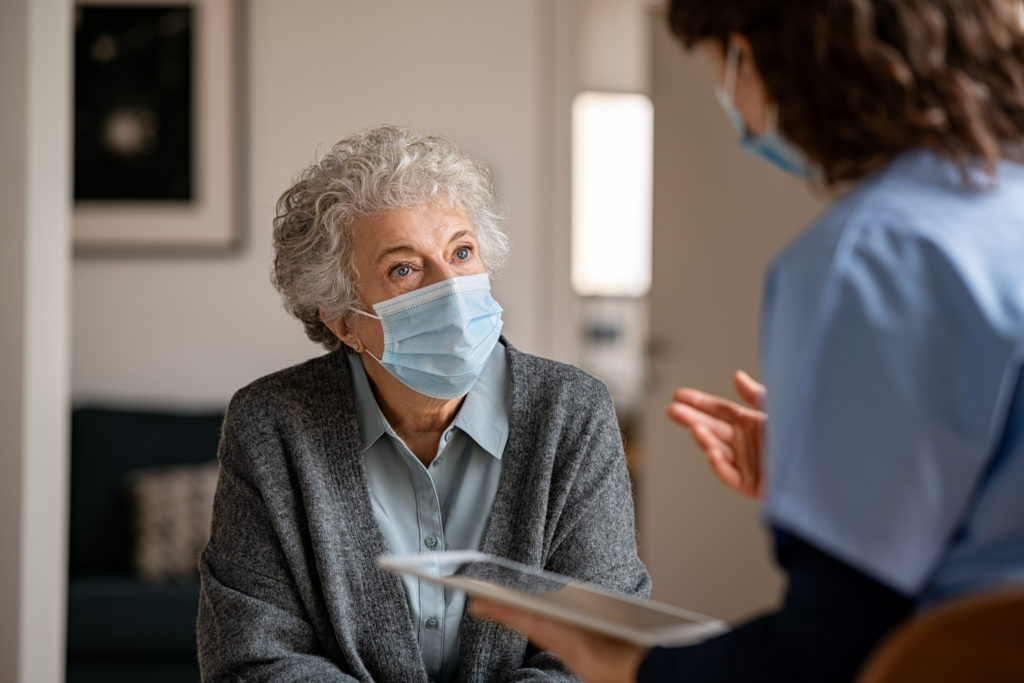 How Much Driving Is Required While Working as a Home Healthcare Nurse?
Because they travel to their patients' homes instead of having the patients come to them, it's inevitable that home healthcare nurses will spend a great deal of time in their cars. It is not particularly unusual for nurses to make five, six, or more visits per day, necessitating some significant time behind the wheel.
In interviews, most agencies will ask how far the candidate is willing to drive to visit a patient. A maximum of one hour is typical, but longer drives may be required of a home health nurse in remote areas.
Home care services provide many benefits to patients and nurses alike. For the patient, advantages of healing at home under supervised nursing care include reducing the risk of infections from other patients or hospital procedures, enjoying sound sleep and rest in a comfortable environment, maintaining social interactions in familiar surroundings with loved ones, and feeling more in control of the recovery process. Nurses, on the other hand, benefit from earning salaries commensurate with peers in comparable nursing positions, building meaningful relationships with patients and families, and enjoying the job flexibility associated with working as independent visiting nurses. As a result, working in the home healthcare profession is an increasingly popular choice for many registered nurses.
Related Articles:
10 Best Online Schools for Healthcare
5 Advantages of Studying Nursing Online
What Coursework Can I Expect When Preparing to Become a Registered Nurse?