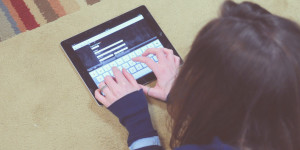 If your faith is important to you and you are looking for flexible education options, you may be wanting to learn about online Christian universities.
Like their secular counterparts, many Christian universities offer online course options. If a school offers one or more degrees primarily or completely online, it can be considered an online school, even if it also offers classes in a more traditional campus setting as well.
One of the advantages to getting a degree online is that it offers you the opportunity to take courses from your home without needing to relocate to a campus. The flexibility of online coursework may also be a big advantage if you need to continue to work a job while getting a degree.
Things to Look for in an Online School
When looking for an online school, it's important to consider how well established a college or university's online program is. If a school is new to online education, that doesn't necessarily mean you have to drop them from consideration, but they may still be on a learning curve with online pedagogy and the fact that they're still building the program may mean they don't have many financial savings to pass on to students. Still, online learning is still relatively new for everyone. The best way to decide if the university you're considering has a strong online program is to ask them questions and talk to students who have experienced it.
A few things you'll want to look for in any online university include a good student to teacher ratio, easy access to course materials (which should probably include an ability to access archives of course lectures any any time) and reliable ways to communicate with teachers and other academic support. If it's important to you that your degree be done completely online, research into that carefully before you start. Some colleges and universities offer online courses but not entire degrees online, while some offer a few and others many fully online degrees.
Other Considerations Specific to Online Christian Universities
Those are all general considerations that you might have with any school, but if you're looking for a Christian education as well as one delivered online, you will have other things to think about. You will want to ensure that the school you choose is accredited and has a good academic reputation, and you will likely want to consider what if any denominational affiliation it has. Some Christian universities are multi-denominational and not tied to any one tradition specifically, while others are steeped in a given tradition and may also be attached to a seminary. It will be up to you to decide which kind of college suits your needs. You will also want to note if the schools you're looking into have graduate degrees.
Many Christian colleges and universities now have strong online components. Liberty, Regent, Colorado Christian University, and LeTourneau are some of the larger programs you'll find featured in top lists, but there are plenty of other programs to choose from as well. As you consider your educational goals and the kind of faith-based education you're specifically looking for, you should have no problem finding online Christian universities that suit your needs.