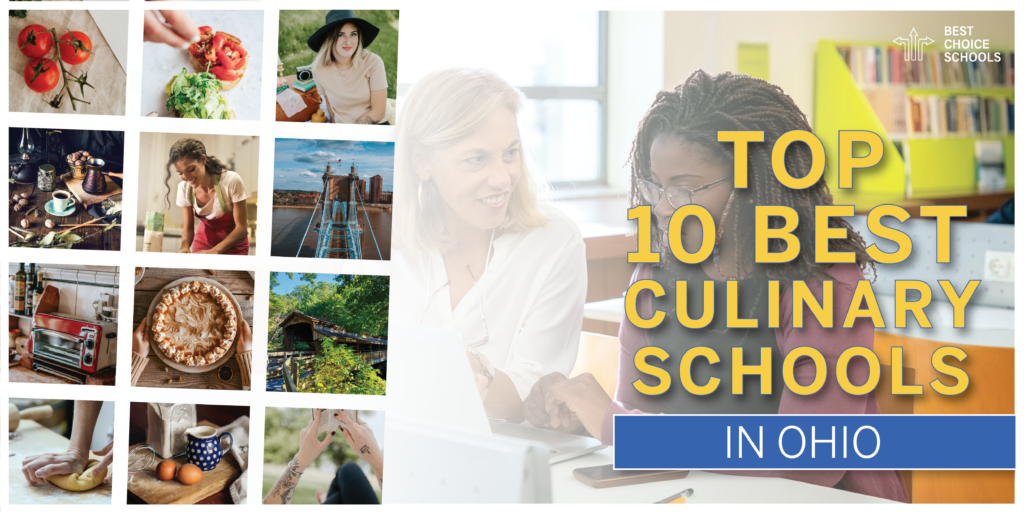 By BCS Staff
March 2021
According to the National Restaurant Association, the culinary industry in Ohio provides over 585,000 jobs, and brings in $24.2 billion in revenue each year. The industry is projected to grow by 9.1% by 2029, with over 53,000 new jobs being created. Earning a culinary degree by a reputable school is a great way to position yourself for a successful and exciting career in the culinary arts.
We created a list of the top 10 best culinary schools in Ohio. Schools included in our list offer hands-on learning, professional instruction, student-run restaurants, and internship/externship opportunities. Many schools have earned accreditation from the American Culinary Federation. Schools offer a variety of culinary degree and certificate options to meet the needs of both seasoned professionals and those new to the field.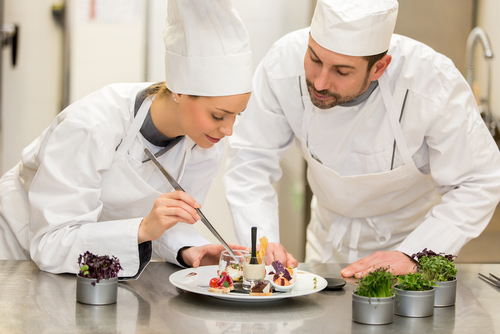 Columbus
The Columbus Culinary Institute at Bradford School is a top accredited culinary school offering both an 18-month associate degree and a one-year diploma program in the culinary arts. Students work side-by-side with experienced professionals to learn skills and techniques essential to success in the industry. Students can expect to learn both classical and contemporary culinary methods and excel in foundational skills such as cutting and seasoning. The associate degree program features an eight-week externship opportunity in the field to gain professional experience.
Cleveland
Cuyahoga Community College is a top accredited culinary school that offers degree and certificate programs featuring small class size and individualized attention. Students have the opportunity to learn and practice in state-of-the-art kitchen laboratories on campus. A studio kitchen is available for demonstration and instruction, allowing students the opportunity to engage with guest speakers. Cuyahoga culinary students operate two restaurant kitchens–Bistro 87 and Café 4250. Advanced culinary students have the opportunity to prepare meals and serve customers at both locations to gain professional industry experience before they graduate.
Dayton
Sinclair Community College is a top accredited culinary arts school that offers an AAS degree for students who want to pursue a career as a chef. Students learn skills related to both preparation and presentation. Concentrations are available in Pastry, Culinary, and Bakery Specialists. Coursework covers areas such as butchery and fish management, risk and prevention management, cost control, and equipment design and maintenance. A cooperative work experience is part of the program, allowing students to demonstrate their skills in a professional culinary environment.
Zanesville
The top accredited culinary program at Zane State College prepares students for professional mid-management level positions in the culinary field. Students are taught both basic and classical food preparation techniques as well as nutrition, sanitation, accounting, and business management. Zane State College is equipped with a state-of-the-art kitchen laboratory for students to gain hands-on experience throughout the program. Coursework includes Meat Technology, Professional Table Service, Financial Accounting, and Small Business Management. Most students can graduate in just two years of study.
Nelsonville
Students who are looking for a comprehensive culinary program with community interaction will feel right at home at Hocking TCollege. The culinary arts program at Hocking incorporates cooking and management skill training in a state-of-the-art cooking laboratory. Students also have the opportunity to apply their skills in the Starbrick Bistro and Rhapsody on campus restaurant facilities. Hocking provides students with the opportunity to gain additional hands-on experience through community involvement and professional development events. The Baking program features on campus practicum experience at the Rhapsody restaurant. Baking students can join the Epicurean Club and get involved in their community.
Perrysburg
Owens Community College features several different accredited culinary arts programs for students who want a professional degree or certificate. Students in the associate degree program learn both culinary and management skills and are prepared to work in a variety of positions including Sous Chef, Food Service Manager, and Private Chef. Advanced students have the opportunity to work in The Terrace View Café, an onsite student operated restaurant. The program requires students to complete a 320 clock hour cooperative work experience at The Terrace View Café to gain hands-on experience prior to graduation. Students interested in pastry arts can earn their Baking and Pastry Certificate and those wanting entry level experience in the field can pursue their Culinary Arts Certificate.
Columbus
Students who have already earned their culinary degree from a school accredited by the American Culinary Federation Education Foundation Accrediting Commission and want to earn their bachelor's degree can achieve their goal at Ohio State University. OSU features a BS in Agriculture focused on Culinary Science. Students have the opportunity to complete a food processing course from a variety of choices including Dairy Processing, Food Fermentation, and Fruit and Vegetable Processing. Additional coursework in Food Additives, Food Laws and Regulations, and Food Plant Management are also offered in this program. Students have the opportunity to join the Food Science Club to network while visiting restaurant, participating in product development competitions, and taking factory tours.
Chesterland
The International Culinary Arts and Sciences Institute offers various certificate and diploma programs in both culinary arts and pastry arts. European techniques are the main focus here, and all instructors are especially trained in styles so commonly seem in Europe. Basic programs and advanced programs ensure there is something for everyone. Certificate programs typically take about six months to complete.
Cincinnati
Cincinnati State Technical and Community College features 10 different culinary-themed programs. Additionally, the college has the largest co-op program in the country for two year institutions, providing students with abundant training and work opportunities. Students have the opportunity to learn in a variety of environments including a bakery kitchen, Garde Manger Kitchen, Pastry Kitchen, and International Kitchen. A butcher shop and fish shop are also on site to teach students how to process meat and fish. A 200-seat Demonstration Studio is state-of-the-art, able to broadcast demonstrations to both local and national television networks. The student run restaurant, The Summit, is a fine dining establishment serving both classical and modern dishes that are prepared and served by students in the culinary program.
Columbus
Columbus State Community College prepares culinary professionals for a successful career as a chef, bakery and pastry chef or manager. This top culinary school features program offerings accredited by the American Culinary Federation. Students in the Chef Apprenticeship program receive extensive on the job training under a professional chef working in a club, hotel, restaurant, or catering business. Baking and Pastry students learn the art of making pies, cookies, cakes, breads, and other deserts for bakeries or commercial establishments. The Food Service and Restaurant Management program can be completed in two years and includes a cooperative work experience designed to train up-and-coming culinary managers. Additional professional development opportunities are provided as students learn the ins and outs of running a restaurant through experience at Christopher's. This on-campus restaurant serves as a living laboratory for culinary students to showcase their skills and talents.
Related Rankings:
Top 10 Best Culinary Schools in Kentucky
Top 10 Best Culinary Schools in Michigan
Top 10 Best Culinary Schools in Pennsylvania
Save
Save