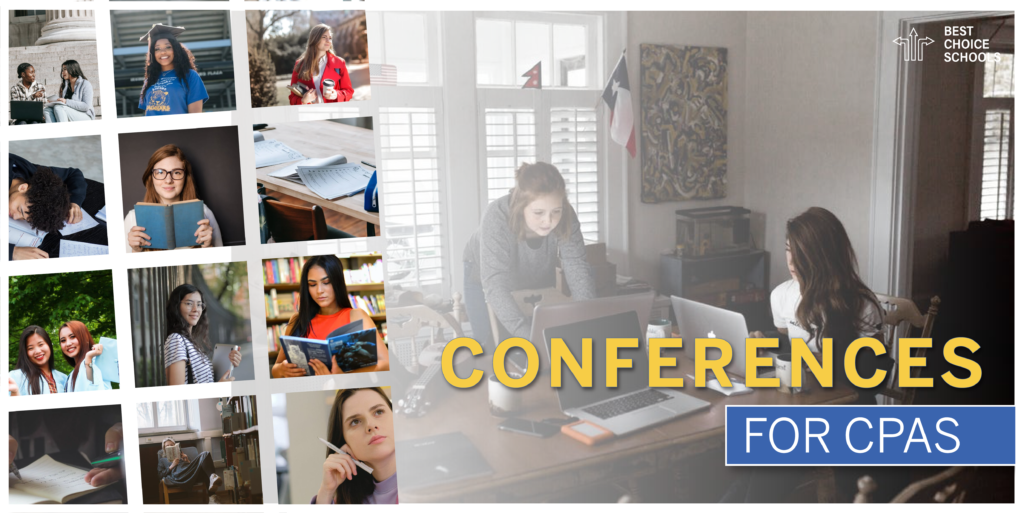 Accounting conferences, specifically those tailored for Certified Public Accountants (CPAs), are sought after by professionals in the field. These events take place globally and, more than ever, virtually. These lavish resort events feature entertainment, seminars, award ceremonies, and expert speakers, in addition to offering CPE credits. As a result, accounting conferences are an integral and exciting part of a CPA's success.
See Also: 20 Best Online Schools for Accounting Master's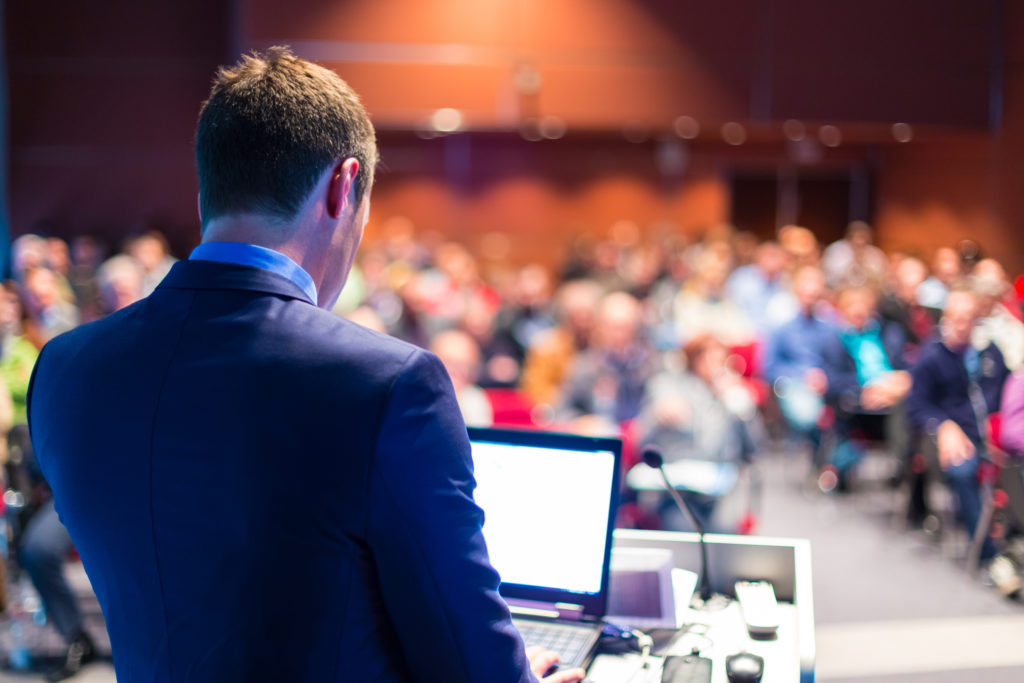 So why is it imperative that CPAs attend accounting conferences? CPAs are encouraged to attend conferences to learn about issues affecting their community and profession. The benefits of CPA conferences are abundant. Through them, CPAs can remain abreast of recent developments in accounting and auditing standards, anticipate and comprehend proposed changes before they occur, and remain in touch with the foremost experts in these fields. Other benefits include:
A CPA's participation in accounting conferences will increase exposure to new trends and ideas, allowing them to discover better ways to conduct their accounting practices and be more productive. 
Conferences for accountants are an excellent way to network with colleagues from different regions of the U.S. and around the globe, who can be valuable resources for referrals.
Accounting conferences offer attendees the opportunity to meet new suppliers and vendors. Staying competitive in today's fast-paced world requires discovering innovative products and services.  
Conferences are an excellent way to manage career development by combining learning efforts with industry branding and social interaction.
The cost of attending a CPA conference is tax-deductible. U.S. Treasury Regulation 1.162-5 Coughlin vs. Commissioner 203 F2d 307. provides that expenses for continuing education (including travel, registration fees, lodging, and meals) can be deducted from taxes.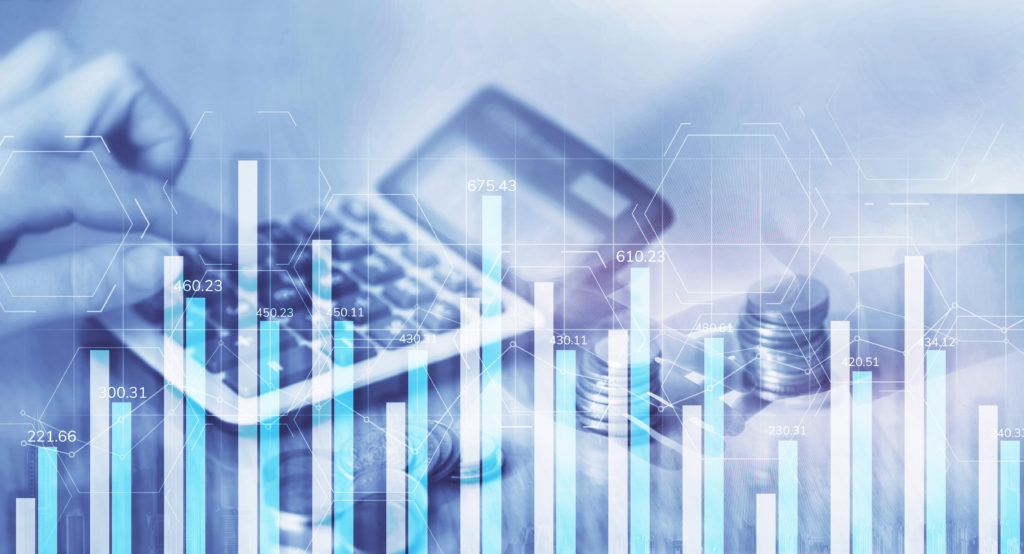 Perhaps the most significant benefit of CPA conferences is the potential to earn Continuing Professional Education (CPE) credits. The CPA's state requires these credits of practice to maintain a license. Therefore, practicing CPAs must follow these requirements to keep current on new developments in tax and accounting. While not all the conferences on our list offer this benefit, we have included the best events that do.
So which conferences to attend? We have done the work for you by researching and compiling a list of five outstanding accounting conferences for CPAs. These events promise to give the highest benefits and best experience.
See Also: Can I Get an Online Accounting Degree?
Best CPA Conferences 2022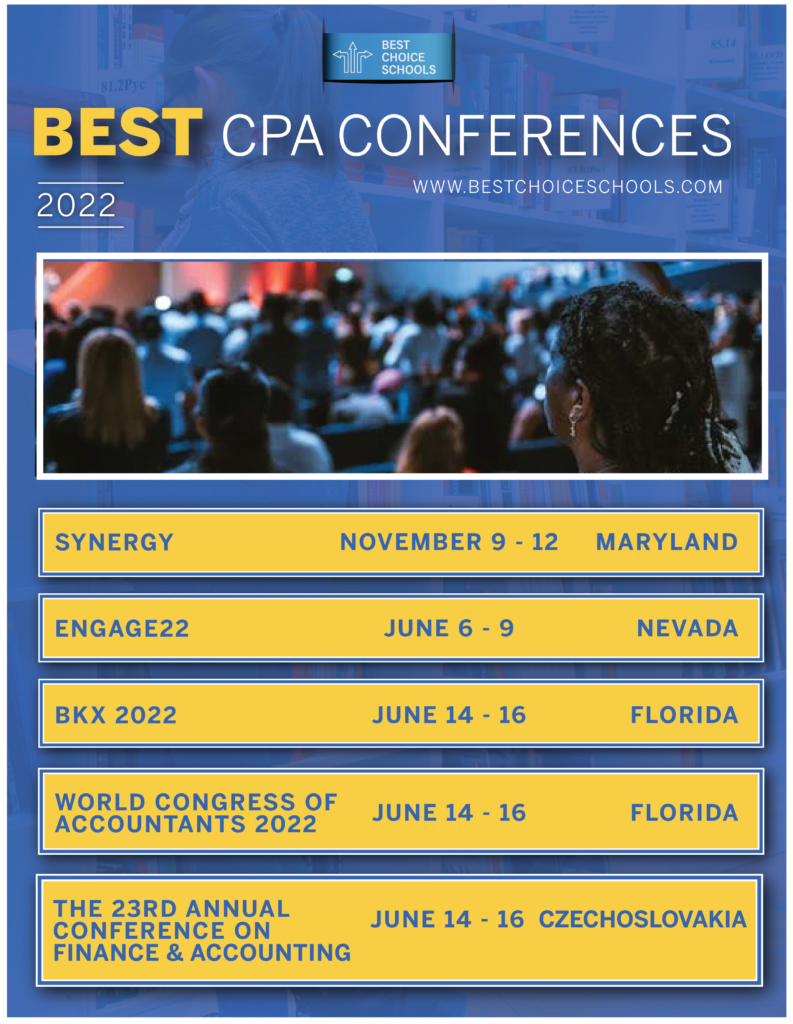 SYNERGY 2022
November 9 – 12, 2022
National Harbor, Maryland
*This conference includes a virtual option
Thomson Reuters' website for their Synergy2022 conference exclaims, "The premier user conference for legal professionals in the U.S.," and we couldn't agree more. This four-day event was a huge success last year and was hosted by television star and producer Seth Meyers. Synergy2022 promises to be even bigger and better with over 100 expert speakers. The conference features more than 100 sessions, including Practical Law, Legal Tracker, HighQ, and ProLaw, and sponsored exhibits with demo stations at Experience Zone. Synergy2022's ceremony, The Luca Pacioli Accounting Awards, presents awards like Firm of The Year, Rookie of The Year, Community Peer Support, and Trailblazing Women. Synergy 2022 will help CPAs understand the future of law, learn the latest trends, and gain experience using tools and technology that can transform firms, agencies, and roles.
Here's what Denise Rohrer, Owner, Denise Rohrer & Associates, had to say about the event: "When I started looking at all of the different classes that SYNERGY offers, I knew this was exactly what I needed to take me to the next level so that I could become more efficient for my clients." And more from Brian Donlan, Partner, Goldman & Roth, P.C.: "Since Thomson Reuters is on the leading edge, we rely on them to keep us updated and let us know what we should be thinking of and different products we should be considering."
Thomson Reuters Tax & Accounting Professional Software & Service is a sponsor of continuing professional education on the National Registry of CPE Sponsors, a National Association of State Boards of Accountancy (NASBA) program. Participants who attend the conference can earn up to 21 CPE credits, including advanced legal research and blockchain sessions. 
Synergy 2022 is hosted by the beautiful Gaylord National Resort & Convention Center. This luxurious resort sits on the Potomac River in National Harbor, Maryland, near our Nation's capital.
It is the largest combined convention center and hotel on the Eastern Seaboard, with 1,996 guest rooms. At this upscale resort, guests will find four signature restaurants, a 20,000 square-foot spa, a 100-seat ultra lounge, elegant retail shops, and a magnificent waterfront promenade leading to a full-service marina tucked between a 300-acre waterfront expanse. 
Covid Safety Information
The Synergy2022 conference requires all in-person participants to be fully vaccinated. However, virtual attendance is an option for the convenience and safety of anyone interested. Attendees can easily switch their registration from in-person to virtual (or vice versa) or cancel for a refund if plans change.
Interested parties can register here. 
Related: What are the Prerequisites for a Master's in Accounting?
ENGAGE22
June 6 – 9, 2022
Las Vegas, Nevada
*This conference includes a virtual option
The Chartered Institute of Management Accountants (CIMA) and the American Institute of CPAs (AICPA) collaborate to present ENGAGE22 for its second year in a Las Vegas, Nevada location. This four-day event expects over 38,000 attendees, with 75% of those representing small to mid-sized firms. This conference provides participants with curated content developed by experts focusing on current, relevant information. Presented in an in-person and virtual format, the dynamic hybrid event offers an excellent opportunity to establish long-term relationships and obtain qualified leads from various disciplines within the accounting profession. ENGAGE22 will feature 137 expert speakers throughout seven tracks covering the profession's most important focus areas, strengthening their competencies, expanding their skill sets, and gaining industry knowledge for career advancement. Tracks included in the conference are:
Tax Strategies For the High-Income Individual
Advanced Accounting & Auditing
EDGE Career Development
Advanced Estate Planning
Corporate Finance & Controllers
Advanced Personal Finance Planning
Practicioners and TECH+
As quoted from an ENGAGE2021 participant: "The networking at AICPA & CIMA ENGAGE is fantastic. Being able to meet and talk to other people in the community, learn about what they're doing, and help to better understand the CPA landscape is an invaluable benefit." 
The AICPA + CIMA offers up to 47 Continuing Professional Education credits at this conference.
The accommodations for ENGAGE22 include the choice of two world-class Vegas hotel choices. The conference sessions will take place primarily at the ARIA Resort by MGM, where lodging is the first option. Park MGM will host the keynote sessions and is the second lodging option. In addition to luxurious accommodations and spectacular views, both venues offer fine dining, spas, and massive gaming floors.
Interested parties can register here. 
See Also: Is an Online Accounting Degree Looked on Favorably in the Industry?
BKX 2022
June 14 – 16, 2022
Orlando, Florida
If a smaller conference is preferred, the BKX in Orlando should not be missed. As stated proudly on the website of the Digital Bookkeeper Association, BKX 2022 is "THE tribal community event exclusive to Bookkeeping Professionals." This two-day conference is designed to assist CPA professionals in accelerating their business, Connecting them with a community of like-minded professionals, and Energizing them by allowing them to focus on their business. The day of the opening is marked by a reception party, followed by lunches provided every day. Though the schedule is still being finalized, this conference will certainly not disappoint. The keynote speaker for the event will be Erin Brokovich, the American legal clerk, consumer advocate, and environmental activist. They played one of the most significant roles in building a case against the Pacific Gas & Electric Company (PG&E). 
BKX 2022 is presented by the Digital Bookkeeper Association(DBA). The DBA Family comprises Certified Digital Bookkeepers and Bookkeeping Professionals worldwide who wish to build an international network of 25,000 Certified Digital Bookkeepers by 2025. A vital tool for achieving that goal is the BKX 2022 conference. 
The event host, Rosen Plaza Hotel, is the ideal location for groups to experience their collaborative side. From the award-winning hospitality to our attentive staff, Rosen Plaza raises the bar for even the most seasoned travelers. A premier hotel in Orlando's entertainment district, it is renowned for its impeccable service and luxurious amenities. Guests can choose from various dining choices with numerous restaurants inside the resort. In addition, Rosen Plaza Hotel is only minutes away from Orlando's world-renowned attractions when conference participants need a break.
Interested parties can register here. 
Related: What are the Prerequisites for Taking the CPA Licensure Exam?
World Congress of Accountants 2022
November 18 – 21, 2022
Mumbai, India
Dubbed the "Olympics of the Accountancy Profession," the 21st World Congress of Accountants will be held in Mumbai, India, this year. The conference was first held in 1904 and occurs every four years. It is one of the richest and most significant events in the profession's history, offering opportunities for professional enrichment in contemporary and emerging fields. As part of the conference, participants have the chance to listen to world-class speakers and leaders in the business community, debate current issues and trends in accounting, and exchange views with colleagues from around the world. In addition, 6000 accounting and finance professionals worldwide will be on hand to inspire and enlighten attendees and network with more than 100 eminent luminaries from accounting and business firms.
The World Congress of Accountants 2022 is held under the auspices of the International Federation of Accountants (IFAC) and is hosted by the Institute of Chartered Accountants of India (ICAI). ICAI is regarded as India's premier professional accounting body and one of the largest accounting organizations in the world. 
India is proud to be the first country in South Asia to host the conference in its financial capital of Mumbai. The venue selected for the World Congress of Accountants, Jio World Centre, is one of the most significant mixed-use developments designed to bring the world to India. Only two years old, the 18-story highrise features a luxury mall, offices, a theater for the performing arts, conference rooms, exhibition areas, and serviced apartments for a total size of approximately seven million square feet. Located across from the American Consulate in Mumbai, the venue is 400 feet away from the Sofitel Mumbai BKC. The Sofitel is Mumbai's premier luxury hotel.
Interested parties can see registration contact information here. 
See Also: What is the Difference Between a Finance Degree and an Accounting Degree?
The 23rd Annual Conference on Finance and Accounting (ACFA 2022)
May 26 – 27, 2022
Prague, Czechoslovakia
The Faculty of Finance and Accounting at the Prague University of Economics and Business is proud to be the host institution for the 23rd Annual Conference on Finance and Accounting (ACFA 2022). It offers scholars a chance to present research-in-progress papers and papers almost ready for publication. Researchers from all over the world can share their thoughts, visions and discuss contemporary developments in the field on the Conference's platform, thus getting access to valuable feedback. Conference topics include Finance, Auditing, Monetary Theory, Public Taxation, and more. Participating in ACFA offers a wealth of publication opportunities. Participants can also publish in conference proceedings.
Originally, ACFA was solely aimed at doctoral students. The Conference has now widened its scope to include all researchers regardless of their academic status. As a result, both emerging researchers and experienced scholars can benefit from interactions. The Best Doctoral Paper Award will continue to be given to Ph.D. students at this year's conference.
The 23rd Annual Conference on Finance and Accounting takes place on the main campus of the Prague University of Economics and Business.  
Interested parties can register here. 
See Also: