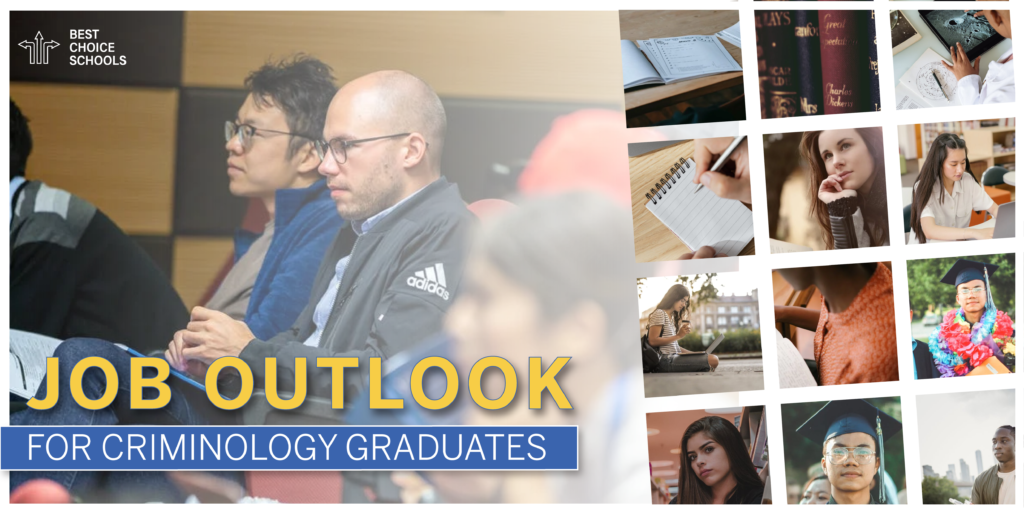 Individuals pursuing a career in criminology or law enforcement may wonder what the job outlook is for criminology graduates. This can be a difficult question to answer because criminology is such a broad field that offers so many career options. As a field of psychology, it may offer one set of career opportunities and offer entirely different career options when it's used in pursuit of criminal justice careers. Here is some general information on criminology.
Related resource: 20 Best Online Schools for Criminology
What is Criminology?
Criminology combines psychology and criminal justice. While criminology and criminal justice are very similar, they're also very different. Criminal justice deals with the factors after crimes are committed. When a crime is committed, police and detectives are called to a crime. They gather evidence, search for suspects, make an arrest and attempt to prosecute the criminal. Criminology deals with the why, how and where of the crimes. A person working in criminology gathers data, researches and analyzes it, and uses the data to gain information on the criminal.
What Does a Criminologist Do?
Criminologists study not just crimes and criminals but also the criminal justice system and the social aspect of crimes. When a crime is committed, they study all aspects of the crime, such as location, the age of criminal, location and social status. They gather data and analyze it to see if there is a pattern. For instance, they may study if robberies are being committed in a certain area at a certain time of day by a certain age group. When they work with law enforcement to analyze their data and try to determine patterns, they're often able to guess when the next crime might take place and where. With this information, they're often able to prevent the crime or arrest the guilty party.
Career Outlook for Criminology Graduates
U.S. Bureau of Labor Statistics (BLS) predicts that sociologists are not expected to see any change in job growth from 2016 to 2026. Although the BLS does group criminologists in the category or sociologists, criminology graduates often choose careers where they are used as an aid to law enforcement, which improves their chances of having good job growth. As the rate of crime continues to grow, so will the demand for trained criminal justice professionals.
Wage Potential for Criminology Graduates
The average annual wages earned by sociologists ranged from $38,710 to $141,450 with the average wage at $86,130 as of May 2017. PayScale reports that criminologists earned an average annual wage of $41,992 as of February 2019. Several factors can affect the earning potential for criminology graduates, including degree level, experience, employer and geographical location. Another factor that can affect wages is the position in which the criminology graduate holds.
Criminology is a field that offers so many career opportunities, so it's often difficult to name a specific wage for a criminology graduate. For instance, police officers earned an average annual wage of $64,490; detectives and criminal investigators earned $83,320; forensic science technicians earned $61,220 and criminal profilers earned about $73,000.
One of the biggest fears today of college graduates is if they'll find a job in their field once they graduate. Criminology graduates do not typically have this concern, at least not to any great degree. With so many different positions covered under the criminology field, there is a good job outlook for criminology graduates.
Related Articles:
Career Paths with a Degree in Criminology
5 Common Courses in a Criminology Degree