By Kelley Jacobs
With some of the best culinary schools in the nation, New Jersey is a fantastic place to start an exciting career in the culinary arts. In 2016, the New Jersey restaurant industry brought in $16 billion dollars in sales. There are over 330,700 foodservice and restaurant jobs in New Jersey and that number is expected to rise by 7.5% by 2026.
Recognizing the importance of getting a quality education in the culinary arts, we created a list of the top 10 culinary schools and programs in the state. Schools included in our list have a solid reputation in the industry based on our research, with many accredited by the American Culinary Federation. We looked for schools with hands-on learning opportunities and a variety of instruction methods. We included schools that offer degree programs as well as those offering certifications.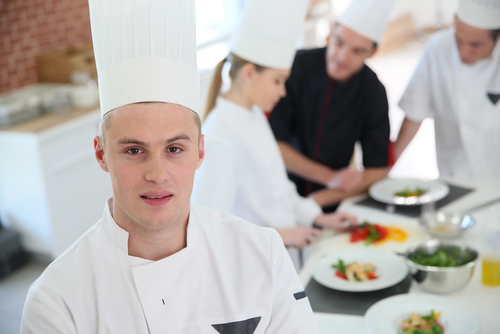 #10. Middlesex County College-Edison, New Jersey
Culinary Programs: Baking and Pastry Arts Certificate of Achievement; Culinary Arts Certificate; Culinary Arts Management
Website
Middlesex County College features an AAS in Restaurant/Food Service Management in addition to several different certificate programs for those interested in a career in the Culinary Arts. Students in the AAS program receive hands-on professional training and spend their final semester in a paid externship. There are articulation agreements in place with several four-year institutions for graduates who want additional education. The AAS degree can be completed in about two years, while certificates take about 14 months. All certificate coursework can be applied to the AAS program.
#9. Ocean County Vocational-Technical School-Toms River, New Jersey
Culinary Program: Cuisine on the Green at Atlantis-Culinary Arts Program
Website
The Ocean County Center for Culinary Arts-Ocean County Vocational-Technical School offers a unique 10-month program at the Atlantis Golf Course in Little Egg Harbor. Students receive classroom instruction and culinary skills training at this newly remodeled restaurant. Students learn farm to table concepts and environmentally conscious practices. Courses cover sanitation, commercial baking and food preparation, table skills, and dining room management. This top culinary program teaches principles of ecology to help reduce the environmental impact of the culinary industry.
#8. Bergen Community College-Paramus, New Jersey
Culinary Programs: Certificate in Culinary Arts
Website
Bergen Community College offers a one-year academic certificate in Culinary Arts. Students must complete 35 credit hours to be awarded the certificate. Coursework covers international cuisine, baking, computer application, menu planning, and food preparation. Bergen has two kitchen laboratories on campus where students learn and practice culinary techniques. The Bergen Room and Ender Hall Cafeteria are two student-operated dining facilities located on campus. Students gain valuable work experience in both fine dining and cafeteria-style settings. Classes are offered during the day as well as in the evenings to accommodate those with a busy schedule.
#7. Raritan Valley Community College-Somerville, New Jersey
Culinary Program: AAS in Food and Beverage Management
Website
Raritan Valley Community College in Somerville, New Jersey has partnered with Hunterdon County Polytech Career Academy to offer an AAS degree in Food and Beverage Management. This top culinary program has a full-sized commercial-grade kitchen where students will learn food preparation and sanitation. An externship experience is required as part of the program, allowing students to gain additional professional experience before venturing out on their own. Students can complete the program in two years of study if they attend full-time.
#6. County College of Morris-Randolph, New Jersey
Culinary Programs: Hospitality Management, Culinary Arts and Science, Restaurant and Culinary Management, Culinary Arts Certificate and Restaurant Management and Event Planning Certificate (NRAEF ManageFirst)
Website
County College of Morris offers an Associate's Degree in Culinary Arts. CCM features individualized kitchen workstations for students to gain hands-on experience and the opportunity to practice dining room and food/beverage management. Courses include food as art, restaurant operations, and human resources in the hospitality industry. Courses in international foods are offered in Italian, Chinese, Latin, and American cuisine. CCM is a member of the National Restaurant Association Educational Foundation and the American Culinary Federation.
#5. Brookdale Community College-Lincoln, New Jersey
Culinary Programs: Culinary Arts Associates of Applied Science; Culinary Arts Certificate; Pastry Arts Certificate
Website
The Culinary Education Center features a student-run restaurant offering breakfast, lunch, and dinner services throughout the week. The bakery features delicious cakes and treats made by pastry students. Exciting internship opportunities are available at locations such as Atlantic City and Disney World. Coursework covers both beginning and advanced cooking techniques as well as wines, buffets, and a la cart dining. Graduates have gone on to be successful cooks including Emily Chapman, winner of "Chopped," and Drew Araneo, named a "Top Chef" by Inside Jersey.
#4. Mercer County Community College-Trenton, New Jersey
Culinary Program: AAS in Culinary Arts
Website
Mercer County Community College offers a new culinary program with two concentrations:  Culinary Arts and Pastry Arts. Students learn principles of cooking and baking, food presentation, and safety and sanitation. This top culinary school has two culinary labs so students have the opportunity to learn in a state-of-the-art environment. The Viking Café and Latitude 40 Degrees are both student-run dining establishments on campus that allow students to gain valuable work experience in preparation and servicing. Graduates are able to transfer to Fairleigh Dickinson University to pursue a BA degree in Individualized Studies as well as Johnson and Wales University.
#3. Rowan College at Burlington County-Mt. Holly, New Jersey
Culinary Programs: AS and AAS in Culinary Arts; AAS in Pastry Arts; Cooking and Baking Certificate
Website
The Culinary Arts Center at Rowan College offers several different programs in the culinary arts. The 19,000 square foot training facility teaches students cutting edge culinary skills and techniques that make graduates extremely marketable in the field. The AAS and AS degree programs in Culinary Arts can be completed in two years and include a practicum experience. Graduates of the AS program are prepared to transfer to a four-year school for additional culinary training. The AAS in Pastry Arts trains students to be pastry professionals working in a variety of settings. Students in the Certificate program complete 27 credit hours of culinary coursework, including a practicum experience. A student-run restaurant operates on campus and is open during the school year, allowing culinary students to showcase their skills and techniques to their peers and the general public.
#2. Hudson County Community College-Jersey City, New Jersey
Culinary Programs: AAS Degree in Culinary Arts; Certificate in Culinary Arts (both exemplary)
Website
Hudson County Community College offers exemplary culinary programs accredited by the American Culinary Federation Educational Foundation. Students can elect to complete a one-year certificate in Culinary Arts, or pursue an Associate degree in Culinary Arts. The Culinary Arts Institute features a 72,000 square foot facility offering state-of-the-art kitchens and classrooms. Kitchen labs accommodate up to 16 students at a time, guaranteeing individualized attention during training. This top culinary school has an ice sculpting room, fish and butchery room, mock hospitality suite, and bakery lab available to students who are interested in specialty areas. The facilities at CAI have been featured on TLC's "Cake Boss: The Next Great Baker."
#1. Academy of Culinary Arts at Atlantic Cape Community College-Mays Landing, New Jersey
Culinary Programs: AAS Degree in Baking and Pastry; AAS Degree in Culinary Arts (exemplary); Certificate in Baking and Pastry; Certificate in Culinary Arts
Website
Atlantic Cape Community College operates the Academy of Culinary Arts, offering a variety of American Culinary Federation accredited culinary programs. This top culinary school educates more students in the state than any other culinary school. Students are engaged throughout the program with a mix of classroom training, kitchen laboratory expedience, and externship experience. ACCC operates an on-campus restaurant that is open to both students and the community. An organic greenhouse and herb garden are located on campus, which provides the opportunity for students to learn about planting and harvesting a variety of fruits and vegetables. ACCC is affiliated with the National Restaurant Association Education Foundation and the National Restaurant Association.
---
Featured Ranking
---