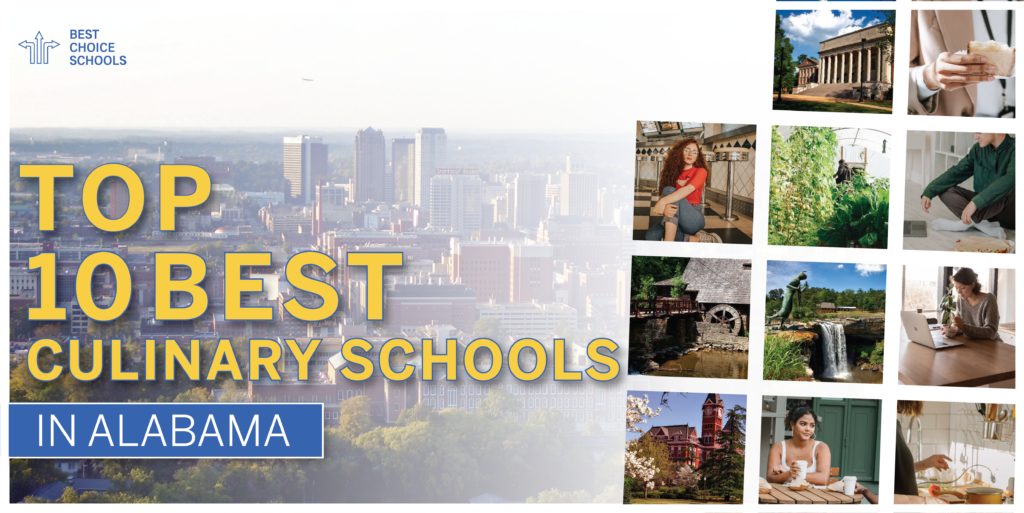 By BCS Staff
January 2021
The culinary industry in Alabama is booming, with over 24,600 new jobs expected by 2026. Indeed, Birmingham is one of the fastest-growing cities in the nation for culinary job opportunities. Revenue of over $7.8 billion each year is brought into Alabama's economy through restaurant and beverage establishments.
Alabama has many culinary schools that are striving to meet the demand for highly educated culinary professionals. We created a list of the top 10 best culinary schools in Alabama. Schools that made our list offer hands-on programs, a wide variety of coursework, externship/internship opportunities, and professional level instruction. Many programs are also accredited by the American Culinary Federation, an indicator of academic rigor.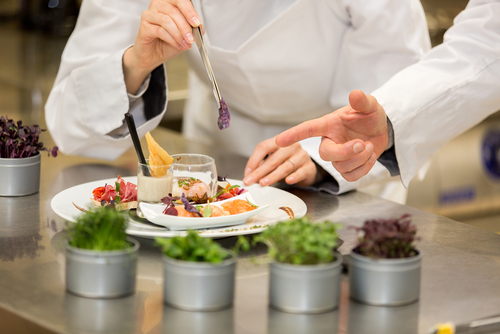 Birmingham
For students interested in a food-related career, or a degree which complements their culinary training, there is Samford University's Bachelor of Science in Foods and Nutrition. The degree program ensures students graduate with a broad understanding of culinary skills and personal nutrition. Required courses include Introduction to Nutrition and Dietetics; Food, Culture, and Society; and Food Service Organization, to name but three.
Gadsden
The Gadsden Job Corps Center may not hand out degrees in the same way our other entries do, but Gadsden students can be sure they are receiving some of the best culinary training in the state of Alabama. Students receive training in everything from equipment and technique, to calculating measurements and properly storing food. Most program graduates successfully find jobs in the food service industry upon graduation.
Birmingham
Lawson State Community College in Birmingham is a top culinary school in Alabama featuring a state-of-the-art culinary facility. The Associate in Applied Science degree in Culinary Arts provides the advanced training that professionals need to move up the career ladder in the competitive culinary industry. Students have the opportunity to complete work-study or externship opportunities at some of the finest restaurants in the area. In many cases, this leads to permanent employment after graduation. Coursework covers a variety of areas, including food preparation, desserts, menu preparation, and cost control.
Tuscaloosa
An Associate in Applied Science in Culinary Arts from Shelton State Community College will transform the way students view food preparation and the culinary arts. This two-year program includes intensive hands-on instruction in a newly renovated kitchen where most classes take place. State-of-the-art equipment is available to students, similar to what they will find in a real commercial kitchen. Students learn a wide variety of skills including dessert and entrée preparation, catering, menu development, and management. Coursework is as unique as the program, covering areas such as chocolate and truffles, plated dessert design, aromatic and flavor combinations, meal management, and sculpture. An internship opportunity is required to gain professional work experience.
Florence
The University of North Alabama has a top culinary program featuring a state-of-the-art professional kitchen with a baking area, multiple prep units, main kitchen, and classrooms. A demonstration kitchen and restaurants provide students with further opportunity to learn the foodservice industry inside and out. This accredited culinary program prepares students for the field with instruction in facilities management, budget and cost control, cultural diversity, and food preparation. A culinary arts club provides students with the opportunity to network while participating in community and department activities. Graduates are prepared to be successful in positions such as restaurant manager, chef, catering manager, and culinary entrepreneur.
Jacksonville
Jacksonville State University offers a Bachelor of Science in Family and Consumer Sciences. Students interested in the culinary arts may choose to concentrate in Hospitality and Culinary Management. The concentration provides background in the culinary arts, plus practical field experience in hospitality. Major-specific courses include Principles of Accounting, Quantity Food Production, and International Foods, among others. The degree is accredited by the American Association of Family and Consumer Sciences.
Hanceville
Wallace State Community College offers a five-semester Associate in Applied Science degree in the Culinary Arts. Students receive both classroom and laboratory instruction from experienced culinary professionals. The Culinary Arts program features intensive training as students learn safe food handling, food processing, cooking techniques, management, and nutrition. Graduates have gone on to work in a variety of positions including prep cook, sous chef, and head cook.
Montgomery
The Culinary Arts program at Trenholm State Community College has earned exemplary status by the American Culinary Federation. Students come from around the globe (18 countries and 30 different states to be exact!) to master their culinary skills. Students have the opportunity to work at Harper's, a student-run restaurant located on campus. At Harper's, students serve and prepare meals to faculty, staff, students, and the public. Trenholm strives to prepare students for a successful career in the culinary arts.
Birmingham
Jefferson State College is a top culinary school, graduating culinary professionals who have the skills and aptitude to be successful in the industry. Jefferson State College has the longest-running accredited culinary program in the state. Birmingham is one of the top 10 cities in the country in terms of potential growth in the culinary industry and The Culinary and Hospitality Institute strives to meet the need for qualified staff. Students have the opportunity to gain professional experience working in the Bistro proVare, a student-run café on campus. An active culinary club gives students the opportunity to network, offer tutoring, and share their passion with the community.
Gulf Shores
Coastal Alabama Community College offers an Associate in Applied Science in Culinary Arts. The five-semester program is designed to train future management personnel for the culinary and hospitality industries. To ensure students are ready for such an exciting and ever-changing world, the college offers a curriculum made up of classes in general education, professional skills, and career development. Culinary Arts classes are taken from the first semester. Required courses include Sanitation and Safety, Intro to Garde Manger, and Human Resource Management.
Related Rankings:
50 Best Culinary Schools in the U.S.
Top 10 Best Culinary Schools in Louisiana
Top 10 Best Culinary Schools in Mississippi
Save