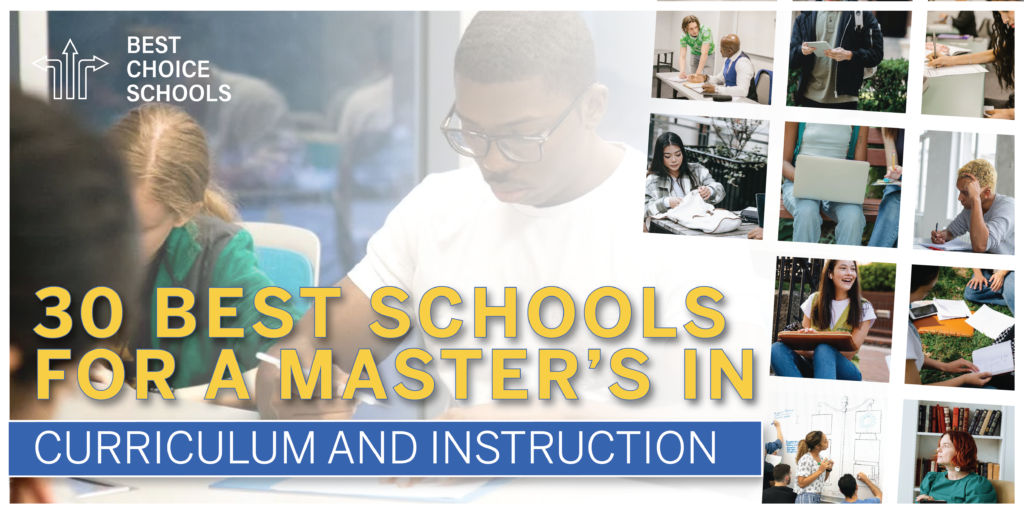 Educators who pursue a Master's in Curriculum and Instruction will not only improve their performance in the classroom; they can expect to move into leadership positions in the field of education. This degree teaches students advanced skills in developing strategies and learning materials that meet the needs of diverse groups of students. It will also provide them with the tools and skills necessary to evaluate how well a school's curriculum is performing and how they can improve upon it to better meet all students' needs.
Those who work toward a Master's in Curriculum and Instruction will typically earn more, too. For example, among the many positions you might qualify for with this advanced degree, a job as an instructional coordinator is one of the most well-known options. According to the Bureau of Labor Statistics, the average salary for instructional coordinators is $66,970 per year, while the average pay for an elementary school teacher is $60,660 per year, so this advanced credential can pay off over time. Furthermore, job growth in this area is expected to grow six percent by 2029, faster than the average for all other occupations.
Of course, a position as an instructional coordinator is not the only career those with a Master's in Curriculum and Instruction can aspire to. we've listed a few other careers you can pursue with this degree below.
Other Careers in Curriculum and Instruction
Special Education Teacher
Special education teachers are in high demand as schools become more aware of the unique needs of children with disabilities. A special education teacher works with children and teenagers who require specialized instruction and guidance to succeed in school. They often need to modify or even create new curricula to match each student's strengths and competencies. In addition, they help develop IEPs— Individualized Education Programs tailored to the child's abilities.
The average annual salary for special education instructors is $61,420 per year, and demand for this position is expected to grow by three percent through 2029
Assistant Principal
While assistant principals enforce the rules and policies of a school, they are also heavily involved in developing curriculum standards, evaluating and improving upon the existing learning materials, and coordinating student's learning schedules. Those who want to pursue this or any other position in educational leadership will find that a Master's in Curriculum and Instruction can help them get there.
According to PayScale, the average annual salary for an assistant principal is $74,688 a year. Projected growth through 2029 for school principals, in general, is four percent, which is just about average for all occupations.
Online Teacher
Online instruction is a relatively new career focus, spurred on by the pandemic and the need to adapt and support all types of learners in an online classroom environment. An online instructor develops tools, strategies, and methods of teaching that encompass new technologies and a new way of learning.
There is little information yet about projected growth and annual salaries because there is not much data to report on this new occupation. However, if you are passionate about making the virtual classroom a success for students, this up-and-coming career may be an exciting concentration for those pursuing a Master's in Curriculum and Instruction.
If you're going to pursue this master's degree, You'll want to be sure to choose the school that fits best with your lifestyle, finances, and other needs.
That's why we put together this list of the 30 best schools for a Master's in Curriculum and Instruction. Here, you will find essential details about each, as well as our exclusive ranking of each.
Methodology
The ranking system we've used to create this list is based on various factors, such as the cost of in-state graduate tuition, how many applicants get admitted, and the student-to-faculty ratio. This information comes from the institutions themselves, the National Center for Education Statistics College Navigator, US News and World Report, and other sources.
Each part of the criteria represents several points, and we've listed these schools with our favorite picks at the top. If there was a tie between schools, we gave higher placement to the college with lower graduate tuition fees.
With the criteria that we're using, here's how we've calculated those points:
Acceptance Rate
More than 50% of applicants accepted – 3 points
25% to 50% of applicants accepted – 2 points
Less than 25% of applicants accepted – 1 point
In-state Graduate Tuition Fees
Less than $15,000/year – 3 points
$15,001 to $20,000/year – 2 points
Over $20,001/year – 1 point
Student to Faculty Ratio
10 to 1 or less – 3 points
11 to 15 to 1 – 2 points
16 or more to 1 – 1 points
Please note that the listed tuition is based on the total cost for a specific program and may vary depending on whether you are a resident, non-resident, or an online student.
Master's in Curriculum and Instruction—Top 30 Schools
University of North Carolina
Charlotte, North Carolina
Tuition/Fees: $8,411
The University of North Carolina tops our list of the best Master's in Curriculum and Instruction thanks to the quality of the program, low tuition cost, and faculty to student ratio of three to one. The Master of Education in Curriculum and Instruction at UNC is a 30-credit-hour program leading to the Advance (M) teaching license in the state of North Carolina. Students can choose from three concentrations that include nine content areas:
Middle Grades English/language arts (6-9)
Middle Grades Mathematics (6-9)
Middle Grades Science (6-9)
Middle Grades Social Studies (6-9)
Secondary Education English/language arts (9-12)
Secondary Education Mathematics (9-12)
Secondary Education Science (9-12)
Secondary Education Social Studies (9-12)
Teaching English as a Second Language (K-12)
The areas of study in the program include curriculum theory, advanced methodology, educational research methodology, analysis of teaching, and curriculum development. Study also provides the application of technology in education and advanced coursework in the student's licensure area.
Delivery of the program is 100 percent online, and you can begin in the Fall, Spring, or Summer sessions. For students who are residents of North Carolina, the entire program's cost is significantly cheaper than it is for those who reside outside of the state.
Texas A&M University
College Station, TX
Tuition/Fees: $8,460
The Master of Education (MEd) program at Texas A&M is offered on campus and online. It is a non-thesis degree that requires you to complete a comprehensive final exam. However, if you choose the online delivery method, you can also complete a capstone course in place of the exam.
The online program is primarily asynchronous, although a few of the Reading Specialist courses are synchronous. If you anticipate needing a long time to complete your degree requirements, this program may work out well for you since students have seven years to fulfill all the requirements.
Students can also choose to pursue the Master of Science (M.S.) degree program in Curriculum and Instruction, which does have a thesis requirement. However, it is designed for those students who want a research-intensive experience and is ideal if you intend to pursue a research-focused Ph.D.
The Graduate and Professional School at Texas A&M is an exceptional institution with a rich history and a diverse student body. Students who pursue an education at this school can expect a well-rounded and enhanced experience with many personal and professional growth opportunities.
University of Wyoming
Laramie, Wyoming
Tuition/Fees: $8,970
The Master's in Curriculum and Instruction at U.W. is offered as a Master of Arts in Education with a curriculum and instruction concentration. It's a customizable program that will allow you to pursue other endorsements like early childhood special education, ESL, or Literacy. Plus, you can also develop curriculum or content specialties within the program.
All students in the program must complete the core courses of the M.A. in Education plus those required for their emphasis. The core requirements take between 17 to 20 credit hours and include courses like Issues in Multicultural Education, Principles of Curriculum, and Intro to Research.
Those pursuing the emphasis in curriculum and instruction will need 15 to 20 credit hours and can select from several courses. A few of these include:
Research Methods
Counseling
Instructional Technology
Special Education
English as a Second Language (ESL)
Diversity
Teachers of American Indian Children
There are also many opportunities for graduate assistantships, and students can even meet their capstone project requirements by using this degree to work toward National Board Certification.
University of Georgia
Athens, GA
Tuition: $31,387
The College of Education at the University of Georgia offers several Master of education degree programs. The most relevant to this list is the MEd in Learning, Design, and Technology. This 33-credit program is designed to accommodate the needs of busy working professionals with a flexible online schedule. Students can even customize the degree to include a STEM certificate or online teaching endorsement.
Students will take the following courses:
Intro. to Digital Learning
Emerging Perspectives
Instructional Design
Project, Problem, and Place-Based Learning
Games and Learning
Technology Planning
Professional Learning through Technology
Diversity, Technology, and Learning
Research in Instructional Technology
Online Learning
After admission, you will develop a relationship with an advisor who will guide you through the program. Many resources both inside and outside the classroom are available to students, including clubs, experiential learning, professional organizations, and more. In addition, students at the University of Georgia typically qualify for various scholarships, assistantships, and financial awards that can help offset the cost of their education.
Ball State University
Muncie, Indiana
Tuition/Fees: $12,720
Ball State University offers an entirely online Masters of Arts in Curriculum and Educational Technology program that has been nationally ranked by U.S. News & World Report. With a bit of planning, students can also opt to obtain a Certificate in Computer Education while completing this program, and there are no additional courses to take.
There are two specialization tracks available: educational technology or curriculum. Students can pick the one that most applies to their career interests, and all students will take 21 credits of courses that are common to both tracks. Thus, upon completion of the program, you will be prepared to utilize technology and develop a curriculum to meet the needs of a broad range of students.
Many of the courses for this remote program focus specifically on curriculum for different groups and grade levels, including:
The Elementary School Curriculum
The Secondary School Curriculum
The Junior High and Middle School Curriculum
Alternative School Curricula
Integrative STEM Education: Principles and Pedagogy
Evaluation of Educational Materials
Evaluation of Educational Personnel to Strengthen Curriculum
Staff Development to Strengthen Curriculum
Florida State University
Tallahassee, Florida
Tuition/Fees: $13,327
The online Master's degree in Curriculum and Instruction (C&I) at Florida State consistently ranks high nationally for having one of the top programs of its kind. Students start the program in the fall, completing online courses designed to work around the schedule of working teachers. Since they are asynchronous, there is a great deal of flexibility for those who already have busy work and personal lives. However, depending on the courses the student selects, there may be some face-to-face interaction.
The online Master's program has a 30 credit hour requirement of 10 three-credit-hour courses, plus a portfolio to be completed the last summer students are enrolled. On a part-time basis, you can complete the program in about two years. Students will work with their faculty advisor to determine the program of study.
Core courses for the program include:
Making Sense of Data to Inform Instruction
Using Assessments in the PK-12 Classroom to Differentiate Instruction
Teachers as Informed Curriculum Decision Makers
Analyzing and Refining Teaching
Culturally Responsive Teaching
Teaching and Technology
Adaptations and Accommodations for Learners with Disabilities
University of Florida
Gainesville, Florida
Tuition/Fees: $13,470
The department of curriculum and instruction at the University of Florida seeks to educate its academic professionals through a balance of theoretical and applied knowledge. The graduate school has two impressive options that will appeal to students pursuing a Master's in Curriculum and Instruction.
The first program is a Master of Arts in Education (M.A.E.) in Curriculum & Instruction. For those who are interested in research and practical knowledge, it is ideal. Students will need to complete a final project or thesis with this option, and there are several specializations within the program to choose from, including:
Reading and Literacy Education
Schools, Society and Culture
ESOL/Bilingual Education
Educational Technology
Media Literacy Education
Literacy & the Arts (also available online)
The second program is a professional degree. The Master of Education (M.Ed.) in Curriculum & Instruction is designed for current and aspiring educators to move into various emerging and established roles and activities. Specializations for this program include:
Schools, Society and Culture
ESOL/Bilingual Education
Educational Technology (also available online)
Teacher Leadership for School Improvement (TLSI) (also available online)
Both of these excellent programs are designed to create versatile educational professionals.
University at Albany (SUNY)
Albany, New York
Tuition/Fees: $14,130
The University at Albany offers a master's degree program in Curriculum Development and Instructional Technology (CDIT) that provides students with a blend of cutting-edge technology for 21st-century teaching and skills for practical curriculum and instructional design.
Through this flexible, 30-credit program, you will learn to develop a curriculum that enhances a student's learning experience in an interactive classroom.
The program provides a track to certification for professional teaching in New York. Additionally, students can opt to pursue a career training adult learners instead. Students can enroll for part-time or full-time learning and get their Master's degree entirely online. Through the OpenSUNY+ program, students have 24/7 access to support services like online tutoring, the help desk, and advising. A sampling of courses includes:
Understanding Learning and Teaching, Systematic Design of Instruction
Curriculum Development and Instructional Technology
Fundamentals of Program Development
Perspectives in Bilingual Education
Contemporary Patterns in Teaching
Media in Teaching and Learning
Critical Introduction to Educational Research Paradigms
University of Houston
Houston, Texas
Tuition/Fees: $14,280
The Master's program in Curriculum & Instruction – Learning, Design & Technology at the University of Houston is a 10-course program that can help prepare students for careers in:
Community Colleges and Universities
Public and Private Schools
Hospitals and Health Care Facilities
Corporations
Hospitals and Health Care Facilities
Students in this program will study a wide range of technologies to collaborate and communicate with others to develop, design, and evaluate learning experiences. The program teaches strategic planning and implementation of technology use in the classroom. Students work independently and collaboratively to explore how technology can help support training, learning, and teaching. Learning is accomplished through a variety of hands-on experiences and project-based learning opportunities.
The Master's degree program in Curriculum & Instruction – Learning, Design & Technology also not only prepares educators for careers in various settings but also provides the training and coursework needed to obtain the following certifications:
Certificate in Designing and Developing Educational Graphics
Certificate in Designing and Developing Educational Multimedia
Certificate in Online Teaching and Learning
Clemson University
Clemson, South Carolina
Tuition/Fees: $14,970
Clemson University offers an online Master of Education in Teaching and Learning program that students can personalize to their own goals and experience. It is designed for current K-12 educators who want to obtain their degree in just 18 months. Upon completing the program, students will be prepared to continue working as classroom teachers or advance into positions like curriculum specialist, instructional coach, department chair, and others.
Students who apply to the program must already be working in an informal or formal education setting.
The program consists of 18 hours of core pedagogical coursework and 12 hours of specialization courses. All students will also choose a specialization area:
Effective and Reflective Teaching
Experiential Learning for Early Childhood
Instructional Coaching
STEAM
Courses are taught one at a time over five semesters. They include Curriculum Theory, Learning and Motivation in Context, Contemporary Issues in Assessment, Classroom-Based Research, and Cultural Diversity in Education. Plus, students will also choose four specialization courses and complete a capstone project.
University of Southern Maine
Portland, Maine
Tuition/Fees: $12,900
At the University of Southern Maine, students can pursue a fully online Master of Science in Education in Teacher Leadership with a concentration in curriculum, instruction, and assessment. This affordable 30-credit hour program can be completed in as little as ten months and includes the following core courses:
Introduction to Educational Leadership
Analysis of Teaching and Assessment
Curriculum Development
Research Methods and Techniques
Testing and Assessment
Organizational Behavior
Special Topics in Teacher Leadership: Coaching and Mentoring Teachers
Professional Learning in Schools
Evaluation & Supervision of Teaching
Teacher Leadership Capstone
The program is designed to give students the skills to develop strategies for children in grades K-12 and to identify the individual needs of various learners. It has a strong focus on the InTASC Model Core Teaching Standards. Students will learn how to design standards-based curriculum, instruction, and assessment and use multiple resources and strategies to meet the educational needs of diverse populations. Additionally, you will learn how to integrate new teaching strategies using technology in the classroom.
California State University
Los Angeles, California
Tuition/Fees: $16,432
Cal State LA's M.A. in Education Option in Curriculum and Instruction program is a 30-credit hour program with three areas of emphasis: Leadership in Urban Schools, Creative Literacies and Literature, or Science, Technology, Engineering, Arts, Math (STEAM).
The program is designed to allow educators to develop the knowledge and skills to design curriculum and instructional programs to conduct inquiry, implement programs, and assess the success of those programs in grades K-12.
All students will take core courses to give them a background in curriculum, research, and urban leadership with 21st-century outcomes. Then, they can either write a thesis/project in their research area of choice or take a comprehensive exam. Students will choose an area of emphasis based on the grade levels they plan to work with.
The required courses include:
Principles and Practices of Curriculum in Urban Schools
Teaching for Cross-Cultural and Global Awareness
Teacher Leadership in the Urban School: Issues, Trends, and New Directions
Research Methods in Education or Seminar in Qualitative Research in Education
The list of courses for each area of interest is numerous, and students will work with their advisor to develop a custom plan that aligns with their career goals and interests.
University of Kansas
Lawrence, Kansas
Tuition/Fees: $17,850
The University of Kansas offers an excellent Master's in Curriculum and Instruction program through the school's innovative online format. It's designed to blend hands-on implementation with the latest theories and is highly practitioner-focused and practical, so you can apply everything you learn in the classroom. The goal is to improve your curriculum development skills and improve the educational experience for the students you come into contact with.
No GRE is required for admission to K.U.'s Master's in Curriculum and Instruction program, and there is no practicum or residency requirement. You can graduate in as little as two years by taking ten courses for eight weeks each. Courses include:
Foundations of Curriculum and Instruction
Multicultural Education
Instructional Strategies & Models
Understanding Research in Education
Differentiating Curriculum & Instruction
Constructivist Learning Technologies
Curriculum Planning for Education Settings
Pedagogical Considerations in the 21st Century Classroom
Planning for School Improvement
Master's Project
Students will need to determine the licensure requirements for their own state and apply for them independently. However, a licensure officer and staff can provide guidance and support through this process if needed.
University of Texas
Austin, Texas
Tuition/Fees: $18,548
Established in 1910, The University of Texas at Austin hosts a significant graduate program, so if you're looking for a large school with many opportunities, this may be an excellent choice for you. UT Austin's sizable department of curriculum and instruction has several paths for the Master's student to choose from. Options include:
Bilingual/Bicultural Education
Cultural Studies in Education
Early Childhood Education
Language and Literacy Studies
Learning Technologies
Physical Education Teacher Education
Social Studies Education
STEM Education
Urban Teachers Program
The programs are all designed to prepare students for careers that promote equality and justice in education and leadership roles in the country's diverse communities. They focus on democratic and innovative approaches to teaching in a variety of disciplines.
Additionally, many of the Master's programs also offer teacher certification, which is a plus for those students who want to work in the classroom as soon as possible. Conveniently, UT Austin also provides several curriculum and instruction doctoral programs for those who wish to advance their education further.
Indiana University
Bloomington, Indiana
Tuition/Fees: $17,064
Established in 1820, Indiana University boasts an exciting campus life and beautiful facilities. Its education department offers more than a dozen options for those seeking additional education in instruction. These include specialized paths such as History/Philosophy of Education, Mental Health Counselor Education, and Educational Leadership.
For students who want to pursue a more tech-oriented curriculum and instruction career, the school offers an excellent M.S.Ed. in Instructional Systems Technology program. It is available on campus or online. The program takes a minimum of 36 credit hours and includes an internship and a year-long studio project in addition to the coursework.
The purpose of this track is for students to learn how to design, analyze, and develop instructional materials programs, tools, and systems that they can use in training and educational programs. Students will take courses like:
Teaching with Technology
Instructional Design and Development
Instructional and Performance Technologies Foundations
Instructional Strategies to Facilitate Thinking, Collaboration, Motivation
Instructional Graphic Design
Application of Research Methods in IST Issues
Change Management, Consulting, Group Training
University of Maryland
College Park, Maryland
Tuition/Fees: $21,900
The University of Maryland is home to one of the largest graduate schools in the country. This research institution seeks to ensure quality across all of its programs, and they offer graduate study leading to a Master of Education (M.Ed.)
The school's Curriculum and Instruction (EDCI) program is within the Department of Teaching and Learning, Policy, and Leadership. In this program, U.M. will prepare you for any educational professional you wish to go into, including academic research and teacher consulting at all levels. Specialties include:
Arts education
History/social studies education
Elementary/middle school education English education
Applied Linguistics and Language Education (ALLE)
World languages education
English as a second language (TESOL)
Minority and urban education
Mathematics education
Science education.
Reading education
Located in the city of College Park, you're sure to find a close-knit community during your time at U.M. Master of Education (M.Ed.) with Certification programs are also offered.
Michigan State University
East Lansing, Michigan
Tuition/Fees: $24,570
Michigan State University is considered one of the top schools in the country for students pursuing a graduate degree in curriculum and instruction. The school's MATC (Master of Arts in Teaching and Curriculum) program is ideal for those who want to further their knowledge and understanding of curriculum for diverse learners of all levels, from K-12th grade.
Within the MATC, there are eight 9-credit concentrations to select from, including:
Educational Psychology
Math/Science
ESL
K12 Administration
Educational Technology
Literacy
Kinesiology
Sociocultural Perspectives
Students can also choose to complete a Graduate Specialization in ESL or Literacy and Language Instruction instead of one of the above concentrations. Either of these programs will prepare them for additional endorsements such as a BR (Reading Specialist), B.T. (Reading), or a K12-level ESL endorsement.
Admissions are somewhat rigorous, and faculty carefully screen applicants who can show they are prepared for advanced professional study and will likely be successful at completing the program. When choosing the best candidates for admission, a prospective student's work experience, prior education, letters of recommendation, a professional essay, and a statement of professional goals are considered.
MSU is a terrific option for dedicated educators who want to go even further and receive their doctorate since the university offers a Ph.D. in Curriculum, Instruction, and Teacher Education.
Arizona State University
Tempe, Arizona
Tuition/Fees: $25,110
Arizona State University offers a Master of Education in curriculum and instruction early childhood program that is entirely online. This 30-credit hour program is designed for educators working with infants and children up to grade three. Through online coursework, in-person activities, and clinical experiences, students will gain advanced knowledge in policy analysis, childhood pedagogy, technology, community collaboration, administration, and advocacy.
Those interested in pursuing an MEd with Certification in Arizona can also opt for a 45-credit hour program.
For educators who are interested in working with gifted learners, the school offers a similar program. The Online Master of Education in Curriculum & Instruction for Gifted Education program will help students develop the skills needed to create interventions and support academically talented students.
Through this program, you will also explore learning and instructional design using emerging technologies. Therefore, a willingness to learn new technology is critical for your success in the program.
All of the courses for these two programs are fully online, but students must complete practicum placement in person. U.S. News and World Report have ranked Arizona State University as having the best online Master's in curriculum and instruction in the nation.
University of Washington
Seattle, Washington
Tuition/Fees: $26,070
The University of Washington offers an excellent Teaching, Learning & Curriculum (TLC) Masters of Education through the school's College of Education. The program provides cohort-based support and personalized advising for several concentrations, all of which take a methodological, theoretical, and disciplinary approach to learning and teaching knowledge. Graduates of the program work as researchers, educators, curriculum developers, and leaders in the community. The specializations for the program include:
Instructional Leadership
Language, Literacy, and Culture
Mathematics or Science Education
Multicultural Education
Teacher Quality & Teacher Education
Additionally, the school offers a unique Islandwood option, which focuses on integrating environmental and multicultural education with hands-on instruction during school overnight programs for 4th, 5th, and 6th-grade children.
In all of U.W.'s curriculum and instruction programs, students and faculty work closely with community youth and educators to continually update approaches and methods to teaching. As a result, the opportunities for becoming a better educator through U.W. are numerous.
University of Illinois
Champaign, Illinois
Tuition/Fees: $26,352
The University of Illinois's curriculum and instruction department seeks to address learning and social justice issues both locally and globally and offers a wide selection of programs to prepare their graduates to do so. Master's level programs include:
Bilingual / Bi-cultural
Curriculum Research, Early Childhood Education, Aesthetics & Teacher Education (CREATE)
Digital Environments for Learning, Teaching, & Agency
Digital Learning
Early Childhood Education
Elementary Education
Language & Literacy
Mathematics, Science, & Engineering Education
Perspectives and Practices
Secondary Education Plus Teacher Licensure
Teaching Biology
With these 11 academic offerings to choose from, there is no limit to what students who want to study curriculum and instruction can accomplish at this school. Additionally, U of I offers an online Master of Education degree in Curriculum and Instruction with a concentration in digital learning, perspectives and practices, or a Bilingual/Bi-cultural concentration.
While students of the program focus on one area related to curriculum and instruction, the department encourages faculty and students to take an integrated and interdisciplinary approach to learning. Therefore, if you are looking for a well-rounded curriculum and instruction program, this school would be an excellent choice.
Penn State World Campus
Online
Tuition/Fees: $28,500
Penn State World Campus has developed an excellent reputation for outstanding programs students can access remotely. World Campus is the online campus of Pennsylvania State University, offering the same high-quality courses and instruction as the on-campus versions.
The school's Master of Education (M.Ed.) in Curriculum and Instruction is a 30-credit program with six learning paths offered through Penn State's College of Education. Students will work closely with their advisors to develop a customized learning plan for one of the following:
Children's Literature
Science, Technology, Engineering, and Mathematics (STEM) Education
Elementary Education
Curriculum and Supervision
Curriculum and Instruction Customized Path
Specialized Path: English Language Arts, World Languages/ESL, or Social Studies
While it may help you renew or keep your existing certification, the program will not lead to teacher certification. You should consult with the Department of Education in your state if you have questions about licensure requirements.
University of Virginia
Charlottesville, Virginia
Tuition/Fees: $33,000
The University of Virginia boasts a unique M.E.d in Curriculum and Instruction that is delivered entirely online. Offered through the UVA School of Education and Human Development, the program is designed for educators who want to make a difference by developing better curriculum strategies and more effective methods of instruction.
Students can choose a 15-credit area of emphasis from the following specializations:
Instructional Technology
Educational Innovation
Professional Studies
English as a Second Language
Social and Emotional Learning
Special Education
Science Education
Gifted Education
Social Foundations
Literacy
Applied Behavior Analysis (BCBA)
If you are looking for an affordable online curriculum and instruction program that will fit around your current obligations and responsibilities, we strongly recommend this option. It's highly flexible, allowing you to complete the program whenever it works for you. In addition, full-time students can finish up in two semesters and one summer, while part-time students have five years to complete the program.
North Carolina State University
Raleigh, North Carolina
Tuition/Fees: $46,980
NCSU offers a Master of Education or Master of Science Program in Curriculum and Instruction with a concentration in Curriculum and Developmental Supervision. The purpose of the programs is to prepare students for specialized roles or departmental positions or specialized roles such as lead teacher, coach, grade-level chairperson, mentor, instructional coach, and more. It is also designed to prepare them for supervisory positions in regional centers, local school systems, or central offices.
The program leads to a Master of Education and Curriculum-Instructional Specialist License. You will need a minimum of three years of teaching experience, and those who do not hold an initial teaching license will not be eligible for the specialist license.
There is a minimum of 30 semester hours of course work involved, including 24-credit hours in curriculum and instruction and at least three credit hours of research. Courses may include:
Special Topics in Education
Classroom Assessment Principles and Practices
Principles of Developing and Interpreting Assessment
Exploring Diversity in Classroom and Community
Teacher Leadership
Special Problems in Teaching and Learning
Introduction to Research Design in Education
Applied Quantitative Methods in Education I
Mixed Methods Research in Education
Diversity and Equity in Schools and Communities
Systemic Change in Education
University of Michigan
Ann Arbor, MI
Tuition/Fees: $51,420
Students who want to obtain a Master's in Curriculum and Instruction at the University of Michigan have a couple of options to choose from. While there is no specific curriculum program, students can choose several learning threads by pursuing a Master of Arts in Educational Studies.
The primary option is Design and Technologies for Learning Across Culture and Contexts. This track focuses on readying educators for creating and working with content for learners of all ages and in all contexts. It's a 30-credit program where students can take courses like:
Curriculum Evaluation and Development
Education and Cultural Studies
Transformative Learning and Teaching with Technology
Principles of Software and New Media Design for Learning
Design-Based Research for Assessing Learning Environments
There is also the option of a Master of Arts in Higher Education program with an individually designed focus. In this thread, students are matched with an advisor from a faculty member from the Center for the Study of Higher and Postsecondary Education (CSHPE) based on shared professional interests. The student will work with their advisor to develop a plan appropriate to their goals and interests.
University of Pennsylvania
Philadelphia, Pennsylvania
Tuition/Fees: $52,560
The University of Pennsylvania is a research institution that prioritizes diversity, inclusion, growth, and community. The Graduate School of Education at UPenn offers many excellent options to prepare educators for curriculum design, teaching, nonprofit administration, and careers in the for-profit sector.
The school's one-year Learning Sciences and Technologies Master's program is said to be on "the leading edge of innovation in learning analytics, curriculum, and technology in education."
The innovative coursework is only a part of the entire graduate experience in this program. Each student also receives an internship placement in an out-of-school environment such as a museum, library, educational nonprofit, or cultural institution.
There are ten courses in all—seven are required, and three are electives. Students will also work on a final capstone project. In this student-driven program, participants will work side-by-side with their academic advisors to create a custom program of study aligned with their goals and interests.
Notably, the program qualifies for the STEM OPT extension for students on an F-1 visa.
Teachers College Columbia University
New York, NY
Tuition/Fees: $53,040
Teachers College, Columbia University bills themselves as "the nation's first, largest, and most comprehensive graduate school of education, health, and psychology." This New York City college prides itself on being an institution where students learn curriculum and teaching in both theory and practice, with a program that strongly emphasizes equality in education and social justice.
The Curriculum & Teaching program at Columbia is designed for those who want to continue working in education while pursuing their graduate degree. Students can attend full-time or part-time. There are two Master's programs to select from—A Master of Education (Ed.M) or an M.A. program in Curriculum and Teaching.
The M.A. program is a 32-credit program designed to teach educators to be leaders in the curriculum spaces at their schools. This program supports the colleges three primary philosophies of preparing teachers for leadership:
Teaching as curriculum-making
Teaching as inquiry
Teaching for social justice
Students can complete the program within 12 to 17 months full-time, but part-time students can also participate. Since this degree does not lead to certification, it is highly flexible.
The Ed.M. program is more advanced than the M.A. but less so than the ED.D program. Flexible and broad, this program focuses on research, designing professional development, creating curricula, and studying teaching. In addition, students will learn how to think of new possibilities in education and how to challenge inequalities.
Vanderbilt University
Nashville, TN
Tuition: $60,750
Vanderbilt University's Peabody College offers a master's degree program in Learning and Design for students who want to create and collaborate on innovative learning environments both in and out of school. From designing curriculums to developing community initiates, this degree will prepare students for many exciting careers in education.
The curriculum focuses on a combination of core and elective courses, plus a final capstone project. Some of the courses include:
Planning and Assessment Strategies
Teaching Writing and Multimedia Composition
Computers, Teaching, and Mathematical Visualizations
Design for Disruption
Product Design & Development
Planning and Assessment Strategies
Culturally Responsive Pedagogy
This 10-month-long cohort program also includes quite a bit of fieldwork with select community partners. This component is essential to the degree as it allows students to see what instructional design actually looks like in various contexts.
The program is 31 credit hours. A full 100 percent of Learning and Design graduates who sought employment after completing the program were working within four months.
University of Wisconsin
Madison, Wisconsin
Tuition/Fees: $20,100
The University of Wisconsin has an entire department dedicated to curriculum and instruction. This premier research institution strives to "impact the world beyond the classroom" by developing mission-driven, critical-thinking teachers and researchers. There are two main paths for students to pursue a graduate degree in curriculum and teaching, and both seek to form well-rounded, experienced educational professionals:
Master of Science (M.S.) in Curriculum and Instruction: Research
Master of Science in Curriculum & Instruction program with dual certification
The first program is designed to prepare students for higher-level work in education. In some cases, it will allow participants to enter new careers as educational specialists. In other cases, it will enable them to move to more advanced positions or take on additional responsibilities at their current jobs.
The M.S. in Curriculum and Instruction with dual certification is a 14-month program offering a mix of classroom and community experience. Graduates will achieve certification in English as a Second Language as well as their preferred subject area.
Boston College
Chestnut Hill, MA
Tuition/Fees: $46,140
At BC, students can pursue a Master of Education (M.Ed.) program in Curriculum and Instruction, a 30-credit hour program designed for students who already have some teaching experience and want to expand their knowledge and pursue new interests.
Full-time students can usually complete the program in one to one and a half years, and you can start it either in the Fall, Spring, or Summer semesters. It consists of 10 courses in total. The program does not lead to licensure.
Students in the U.S. who already have their initial license are eligible for the program. International students who seek to learn the most cutting-edge thinking on educational reform, pedagogy, and curriculum are also good candidates. In addition, private school educators and even educators in the Boston area interested in curriculum design, museum education, and publishing may wish to take this program.
If you do choose the M.Ed. program in Curriculum and Instruction at BU, you can be assured of gaining exciting new knowledge in designs for learning, special education, assessment, policy, ESL, and leadership.
Stanford University
Stanford, CA
Tuition: $60,851
Stanford University's Master's in Curriculum Teacher Education (CTE) program is designed for experienced educators who want to further develop their abilities to work in practice and theory. Whether those include curriculum issues, teacher education, school reform, or other areas, the CTE program hopes to pave the way to further graduate study.
A limited number of students are allowed into Stanford's CTE program each year. Those who are accepted can expect to work closely with their advisor to develop a program of study involving your areas of interest. You can also work on specializations within specific subject areas.
The program does not lead to certification. For that, you would want to inquire about the University's STEP program. One great thing about the CTE program is that you will have plenty of opportunities to take courses at both the Graduate School of Education and Stanford at large.
Related: