5 Early Childhood Education Podcasts
The Essence of Teaching Podcast
The Preschool Podcast
Little Sprigs Podcast
Research in Leadership in Schools, Early Childhood Settings and Social Care Settings
Pre-K Teach and Play
Early childhood education is a calling that draws dedicated practitioners to the field. Sometimes the task of preparing young children for the future while addressing their current needs can be daunting. Despite industry credentials and professional training, early childhood educators find they must constantly reevaluate their pedagogy and learn new skills. This constant need to adapt can be discouraging and the daily demands of the classroom can be exhausting. Of course, early childhood educators don't have to face this journey alone. There are a plethora of experts and mentors who are ready to lend a hand. Some come in the form of podcast hosts. Below are five of the best podcasts for early childhood educators.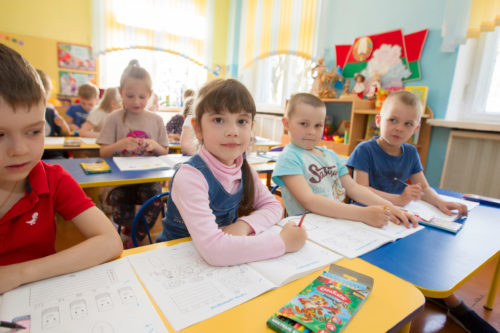 Related resource: 20 Best Online Schools for Early Childhood Education
"Queenie" Fong Kwin Tan is a kindergarten teacher, parenting coach, published author, podcaster and international speaker. In her early childhood education podcast The Essence of Teaching, Tan helps early childhood educators develop the skills, needed to maintain the passion and enthusiasm for this challenging and rewarding field. Tan also answers questions called in by listeners for personalized advice that everyone can learn from.
The Preschool Podcast is produced by HiMama, a childcare app for daycare providers. This podcast features motivational stories to inspire early childhood leaders and to provide practical advice on classroom management from experienced professionals. New episodes are available every Tuesday and include previous titles such as: "The Joy Of Movement For Young Kids," "Learned Optimism In Early Childhood," and "Developing Social Competency In Young Children."
Little Sprigs Podcast focuses on early childhood, communication, and mindfulness. Parent educator and child advocate Christina Rochelle has over a decade of experience in early childhood education and covers topics like building a child's emotional intelligence and interpersonal communication with episodes such as "Setting Intentions" and "The Power of Nonverbal Communication and How It Affects Your Children." Subscribing to Little Springs provides free weekly content that is delivered straight to your email.
This podcast hosted by assistant professor in educational management, hosted by Jóhannes Miðskarð Ph.D., features interviews with prominent researchers in the fields of school leadership, early childhood settings, and social care settings. Recent podcast titles include "Leading Together in Schools," "Well-being in Early Childhood Settings," and "Research-Informed Practice." This podcast is a must-listen for any early childhood practitioner who is academically sound research within the discipline.
Pre-K Teach and Play is hosted by Dr. Kristie Pretti-Frontczak. Her goal is to provide tools and training to early childhood education practitioners. She is concerned about striking a balance between the accountability mandates that pressures pre-K teachers to prepare children for kindergarten and addressing the needs children have in their everyday lives, including the need for play. Pretti-Frontczak believes that these everyday activities and opportunities for play can be converted into powerful learning experiences to diffuse this readiness conflict.
Teaching early childhood education can be a noble and exhausting profession. It can easily lead to exhaustion and frustration. However, a constant influx of support and motivation from knowledgeable sources can have an uplifting effect. Try any of these five podcasts for early childhood educators for a little wisdom and inspiration.