5 Places of Employment for Cyber Security Professionals
Universities
Hospitals
Public Schools
Political Organizations
Government Offices
Five Jobs for Cybersecurity Majors
The world has become extraordinarily reliant on data – from social media platforms to health records for hospital patients. With every passing year, the need for solid data and internet security has grown, leading to cybersecurity becoming a booming profession.
According to the Bureau of Labor Statistics, the field is growing significantly faster than average. From universities to hospitals, a large number of job settings exist for cybersecurity majors. Here are five job settings for cybersecurity graduates.
1. Universities
Universities have a great deal of data to manage, from employee records to student data. Cybersecurity professionals can be found working in universities in a variety of roles, from security systems administrator to system architect. Student data requires knowledge of FERPA (the Family Educational Rights and Privacy Act) laws as well, and cybersecurity professionals must ensure compliance with these laws to keep data safe and make sure it is not delivered into the wrong hands.
2. Hospitals
The security of healthcare records is of the utmost importance. Hospitals, clinics, and other medical organizations often have large and highly skilled cybersecurity teams to ensure the safety of medical data. These professionals may also train medical staff on secure systems usage in addition to consistently monitoring systems for attacks and unauthorized data access.
3. Public Schools
Public schools all over the country have dramatically increased usage of technological resources, not only in the office but in the classroom. Working cybersecurity in a public school system presents a variety of security challenges, made more difficult by the importance of protecting data on minor children combined with FERPA compliance. Cybersecurity professionals may provide a wide array of services to public school systems, including systems architecture and maintenance, security analysis, systems administration, and security architecture.
4. Political Organizations
Political organizations of every stripe compile a great deal of data, and like any other kind of sensitive data, it must be carefully managed. From political campaign data to political science research organizations, keeping data safe is a common thread. Data may range from voter records and survey submissions to statistics on social justice issues, all with various statute compliance requirements. For cybersecurity majors who may have taken a minor in history, sociology, or political science, this may be an excellent arena to apply cybersecurity skills.
5. Government Offices
Government data is extraordinarily sensitive, and all kinds of government institutions – from local town and city halls to national government offices – invest heavily in cybersecurity. Roles for all kinds of cybersecurity professionals are found in the government sector, including security systems administrators, penetration testers, IT security engineers, and information security analysts. Government data also comes with a wide range of compliances required by law, and subsequently represents a challenge for maintenance. However, state and government jobs often come with a good salary, generous benefits, and a pension. Cybersecurity professionals who thrive on a challenge and are interested in long-term job security may enjoy working in the government arena.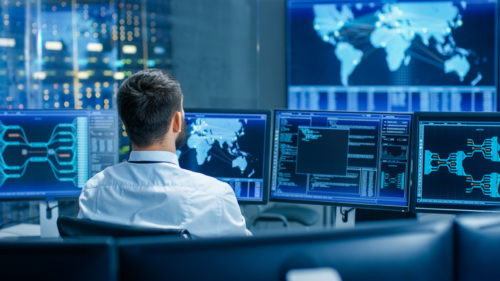 Each of these job settings provides a different range of challenges and opportunities to apply different skill areas of cybersecurity – and may offer long-term job stability as well.