Experienced Faculty
Hands-On Opportunities
Accreditation
Class Availability
Job Placement Rates
For people who enjoy working with small children, and early childhood education degree can be the gateway to an exciting career. During the college search, keep in mind that not all degree programs are created equally. Before registering for a program, make sure that it meets these five criteria.
Related resource: 20 Best Online Schools for Early Childhood Education
1.Experienced Faculty
Experienced faculty members make a big difference in an early childhood education program. They provide students with a wealth of insight and advice that serves them well in future careers. Check out the profiles of each faculty member, paying special attention to the instructors for specialized high-level classes. Do they have experience in research or industry? Do they have advanced degrees from reputable colleges? It's also helpful to do a quick search for the professor's name to find any notable awards or positive press mentions. The better the faculty, the stronger the program.
2. Hands-On Opportunities
Some degrees in early childhood education offer opportunities to put classroom concepts into action; they might help students find co-ops, internships, or summer jobs at educational facilities. Others focus heavily on theory and are geared toward preparing students for advanced degrees. While looking through different programs, compare them to your goals. Does the curriculum offer opportunities to work with kids during school? Is it possible to get credit for real-world work experience? For practice-focused students, these hands-on settings can enhance the educational experience.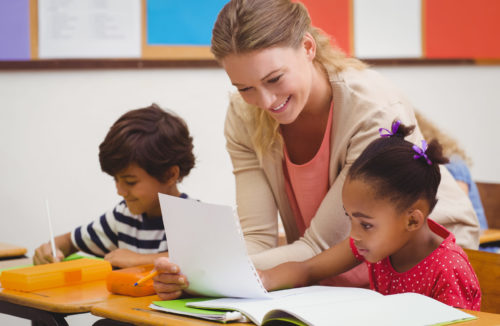 3. Accreditation
Before choosing a school, it's important to make sure its early childhood degree program is accredited. Why does this matter? According to the U.S. Department of Education, the accreditation process ensures that universities meet federal quality standards. Accredited schools are reviewed frequently to ensure that they're upholding their standards. For students, this means that the program brings in qualified faculty and teaches an appropriate range of early childhood education courses. After graduation, a degree from an accredited institution often holds more weight with employers than a degree from a non-accredited school.
4. Class Availability
To graduate from an early childhood education program on time, the school must offer the required classes regularly. If not, students might find themselves in school for longer or taking classes that are unrelated to their professional interests. To figure out a possible schedule, look at the course offerings for the next several years. Then, map them to the degree schedule that's published on the department's website. Make sure that the availability of each class matches the planned progression, especially for classes that are offered every other semester or year. For extra help, contact the department — they'll be happy to answer questions about scheduling.
5. Job Placement Rates
Most students go to college in the hopes of pursuing a better, higher-paying career than they could get without a degree. In the case of early childhood education, this could be the difference between working as a low-paid aide and teaching the class itself. Before choosing a program, talk to the university's career center about job placement. How many graduates get a job right after graduation? What types of jobs are they hired to do? A high placement rate in desirable jobs is a sign of a solid program.
A college degree requires a serious investment of time and money — that's why it's important to choose a solid program with a good reputation. By making sure that each top degree program in early childhood education has these five signs, it's easier to select a great school.