Must-Know Facts About Cybersecurity
The Number of Cyber Attacks Is Increasing
Ransomware Is the Leading Mode of Attack
Nearly All Cyber Attacks Start With Email
Financial Organizations Are the Biggest Targets
Most Breaches Are Easy to Prevent
Technology has infiltrated every part of everyday life, and everyone needs to know these five fascinating facts about cybersecurity. From electronic health records that patients have to trust are kept encrypted to submitting a credit card for online payment of household products, people do all sorts of things every day that put their information and identity at risk. Being aware of these cybersecurity facts could make it easier for a person to protect their sensitive information.
Related resource: 20 Best Online Schools for Cyber Security
1. The Number of Cyber Attacks Is Increasing
Even with so much knowledge of how to prevent cybersecurity problems, the total number of cyber-attacks has been going up every year. In 2017, the number of cyber-attacks doubled compared to 2016. The proliferation of free public Wi-Fi and the use of smartphones means that there are a lot more opportunities for hackers to gain access to a device and all of the data that is on it.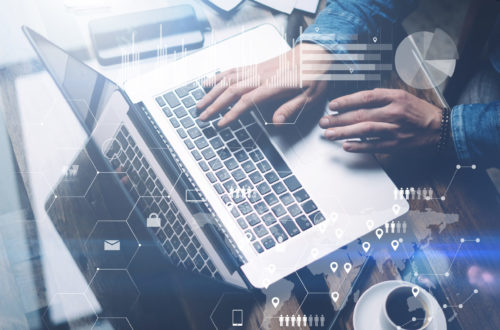 2. Ransomware Is the Leading Mode of Attack
Ransomware is the leading method of cyber-attacks. It involves putting software on a computer or network that holds the data hostage. The victim has to pay up under threat of having their data published or their account access blocked by the hacker.
3. Nearly All Cyber Attacks Start With Email
About 91 percent of cyber attacks start with a phishing email. If the recipient clicks on the link or replies with personal details, the scam is a success. A person should never click on a link in an email from an unknown source. The "from" header should show an email address from a legitimate company or person who is known by the recipient.
4. Financial Organizations Are the Biggest Targets
Mortgage companies are the biggest target of cybersecurity threats. This is because they maintain a vast treasure trove of information about their clients. Once a hacker gains access, they can find nearly every detail about a person's identity and financial life. Mortgage companies collect social security numbers, dates of birth, addresses, employment history, earnings, credit scores, driver's license numbers, debts, bank account information and more. Of all cybersecurity breaches in 2017, 24 percent were in the financial services sector of the economy.
5. Most Breaches Are Easy to Prevent
One study found that 93 percent of security breaches could have been easily prevented with simple steps. Those steps include routine software updates, restricting data access internally and using cloud-based storage solutions. According to the Department of Homeland Security, identity thieves stole more than $16 billion in 2016. In order to protect themselves, individuals should use strong passphrases, shred any document with financial or health information, not give out information over the phone if they did not initiate the call and avoid using public Wi-Fi for banking or online shopping.
It is easier and less time-consuming to protect one's sensitive information than to take care of the aftermath if someone gets unauthorized access to it. Being aware of cybersecurity risks and how data is protected can help a person take action. Awareness of these five fascinating facts about cybersecurity is a good first step, and people should always stay on top of the latest cyber threats and reports of data breaches that could affect their identity and finances.