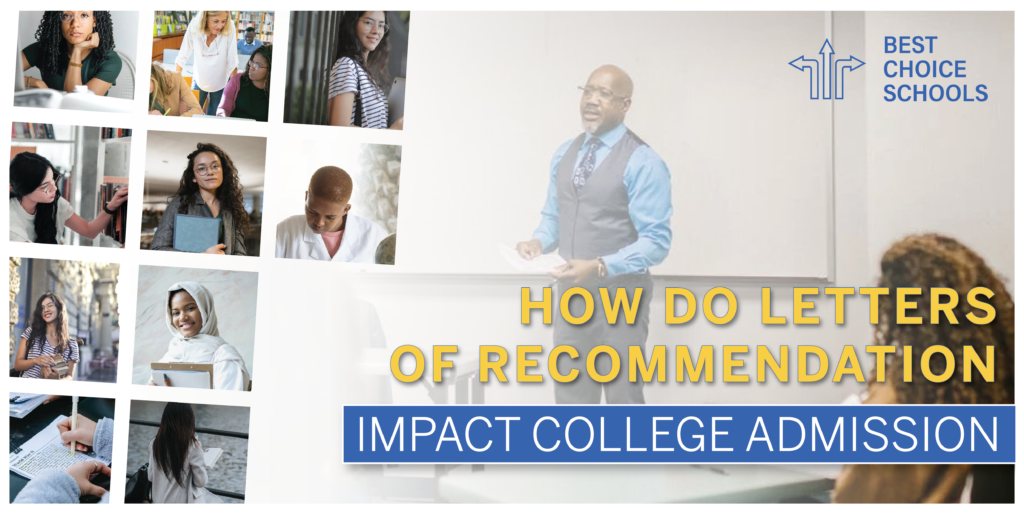 Most requirements for the college admissions process are under your control: grades in college preparatory courses, overall high school GPA, admission test scores, personal essay, extracurricular activities and class rank. While that may seem like sufficient information to an admissions officer, competitive college programs have many applicants with similar qualifications.
What impact do recommendation letters have on the college admissions process? Quite a bit, as it turns out.
An excellent letter of recommendation can serve as a tie-breaker against another student with similar credentials. Unfortunately, negative, tepid, or generic college recommendation letters can cause the school to reject your application, regardless of how well everything else looks.
For most of the application process, you are self-promoting. The letter of recommendation is the opportunity for someone who knows you well to confirm that you are the best candidate for a spot at your chosen educational institution.
See also: How Do I Find out How Many Students Apply to a School, and How Many are Accepted?
Letters of Recommendation and College Admissions
The National Association for College Admission Counseling surveys colleges every year about their admissions practices. The data shows that letters of recommendation from counselors and teachers were as important as the personal essay, demonstrated interest, extracurricular activities and class rank.
Smaller, private and highly selective colleges place great importance on college recommendation letters. These institutions expect highly qualified applicants and look beyond your academic work to who you are as a person. The letter of recommendation is your chance to stand out from the crowd.
It is the goal of admissions officers to select students who will succeed in the classroom, generate new ideas, and enhance the intellectual climate on and off-campus.
They may look for qualities such as leadership, integrity, intellectual curiosity, and dedication. What are your values, and who are you as a person? They'll judge if you will be a good fit for their school's culture and if you will take advantage of the opportunities they have to offer.
Highly favorable and convincing college recommendation letters will enhance the efficacy of your application by verifying the characteristics you have demonstrated through extracurricular activities and your personal essay from the perspective of an outside party.
Colleges with numerous applicants and limited staff for reviewing the applications may only briefly review your college recommendation letters. Admission officers expect that references will focus on the positive traits of the person they're recommending.
Negative recommendations will be noted in either case and may affect your ability to be accepted.
Strong Letters of Recommendation
An application filled with numbers and statistics doesn't give the admissions officer a sense of your humanity and character. A recommendation letter serves to provide colleges with a deeper understanding of the type of person you are.
In addition to describing you as a student, your references need to represent you as a dynamic and three-dimensional person. If your teachers don't know you personally, it becomes challenging for them to do that.
Therefore, get to know your instructors. It is necessary to build relationships with teachers in order for them to write letters filled with praise for your work and contributions that are both meaningful and personal. While that may sound challenging, you will find that befriending teachers is much easier than you think.
Building Relationships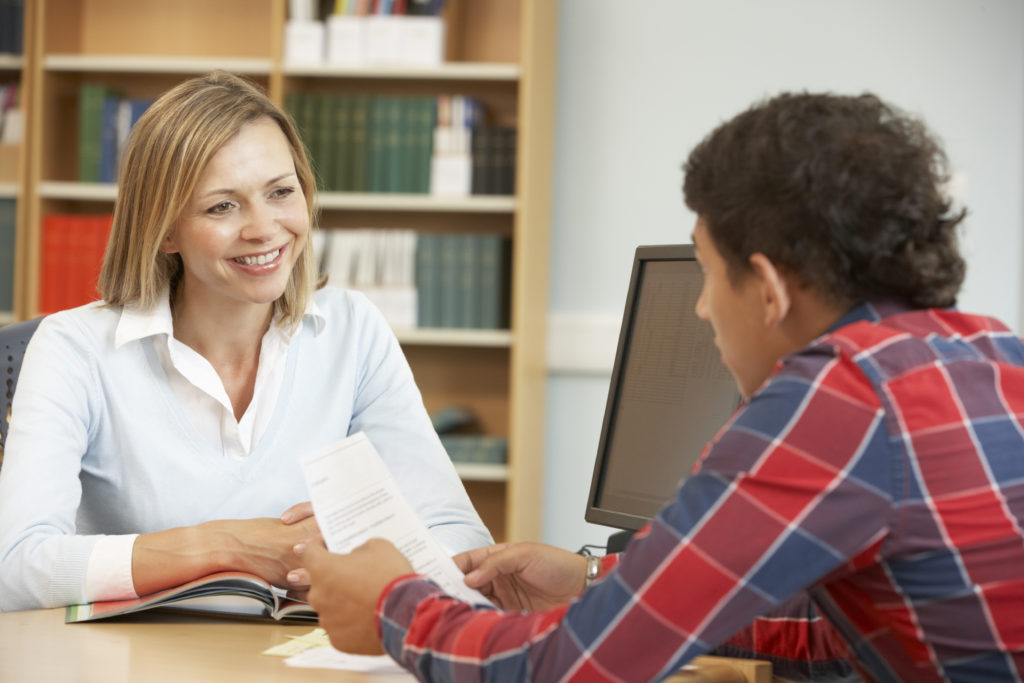 It is never too early to get to know your teachers and build a positive relationship with them. Even as you start your high school career as a freshman, you should be active in the classroom.
Teachers take note of students that are regular discussion participants, ask questions, and seek help when needed. Demonstrate that you see value in the material they are teaching and care about learning.
If you aren't comfortable speaking up in class, talk to the teacher outside of class. Schedule a time to discuss the assignments or your grade. Alternatives to discussing assignments include talking about something related to the class, telling stories about your personal experiences or asking teachers about themselves.
Cultivate relationships with teachers outside of class. In many cases, your teachers will be involved in extracurricular activities, coaching teams, directing plays or musicals, and mentoring students in various ways.
Establish a mentor-mentee relationship with your teachers that are in the field you wish to study or with the school counselor before your junior year, if possible. These individuals can help you succeed even beyond the college recommendation.
Teachers are more likely to assist you in your academic endeavors and write a powerful recommendation letter if they understand you and can relate to you.
When to Ask
The earlier you ask, the better. Remember that some teachers will be writing a large number of college recommendation letters, which takes time. Often they prefer to write them over the summer and will produce a better letter if they don't have to rush.
The best time to request a letter of recommendation is at the end of your junior year. It would be ideal to ask a teacher whose class you just completed or someone with whom you've recently worked in a club or on a project.
If this is not attainable, ensure that your references have at least one month before your earliest deadline to complete and submit their letters. If you apply under early decision or early action plans, ask for recommendations by the start of your senior year, if not before.
See also: Who Should I Ask to Give Me a Letter of Recommendation for College Applications?
Whom to Ask
You should carefully review each of your college applications. Schools often specify the number of college recommendation letters they want and whether they require a recommendation from an academic teacher in particular subjects or from a school counselor.
Typically, colleges want two letters of recommendation. Admissions officials prefer recommendations from a current perspective, so choose a teacher from your junior year or one familiar with your achievements.
Consult with your counselor, teachers, parents, and friends about who they think would be good references. Asking is a particularly effective strategy if they went to the same college to which you are applying.
Asking others about who they think will provide a good reference serves another purpose. Writing good college recommendation letters takes time and writing talent. Discover which teachers are known for writing the best letters and which send out the same form letter for everyone.
Also, consider time constraints. Students may ask the most popular teachers to write dozens of letters each year. When dealing with many requests, composing a unique and personalized recommendation letter for everyone is not an easy task, particularly when late requests are received.
Don't discount asking a teacher who knows you outside the classroom. The teacher who supervised your robotics club or the one you helped to organize the soup kitchen volunteer club can make a great reference.
Occasionally, it may be beneficial to ask for a college recommendation letter from an individual outside of class who has a good understanding of your abilities and talents. An employer, coach or adviser from an outside-of-school activity could write about your character and qualities.
Most importantly, choose someone enthusiastic about writing the letter for you. College admission officers seek evidence that your references believe in your abilities and future success.
At times you could have concerns that the person writing your recommendation might not be entirely supportive. Politely ask them if they would feel comfortable recommending you and accept their answer if they say no. A weak letter may not hurt your chances, but it also won't help you with the college application process.
Prepare to Ask for the Letter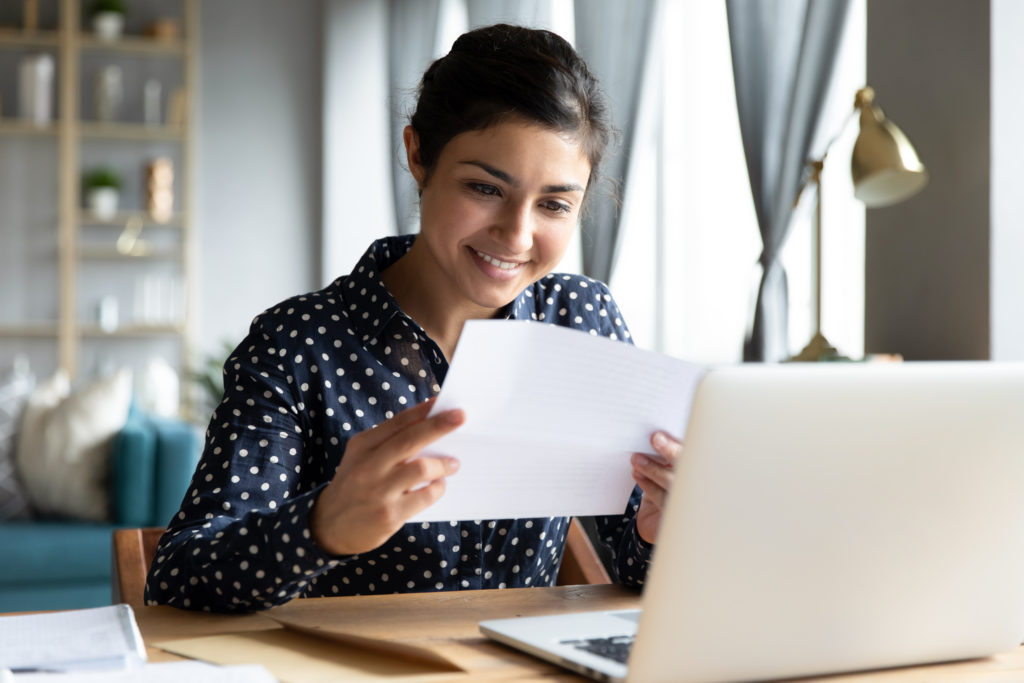 Before approaching your teachers or counselor, consider that you should provide them with the information they need to write an effective recommendation letter.
Teachers work with numerous students and are often requested to write a large number of college recommendation letters. Even if the teacher knows you well, they may not keep track of all your achievements. Providing them with a portfolio of background information makes it easier for them to write positive, detailed information regarding your accomplishments and potential.
There are three areas that college admissions will focus on, so it is beneficial to address those areas when preparing your background information.
Academics: More Than a Transcript
Although it is informative for your teachers to see how you have performed outside of their classes, they will go one step further for your letter of recommendation.
An effective letter of recommendation will discuss your achievements and attitude toward learning. Your teacher may write about what you are interested in and what you have studied outside of the classroom. In addition, they may assess your ability to handle stress, manage time, work as a team, and hold yourself accountable.
Strength of Character
The goal of admissions officers is to create an active student body that will get along with one another, stand up for causes, forge positive connections, and make an impact.
Personal qualities that your references could talk about are demonstrated leadership, integrity, caring for others, thoughtfulness, humor, and passion. Find ways to show your strong character and how it will positively impact the college's community.
How Do You Spend Your Time?
Admissions officers are interested in your extracurricular activities, both within and outside of school. What you have done in the past is a good indicator of what you will do in the future.
Recommendation letters that your teachers, counselors, or other adults wrote show how your internal strengths and interests transfer to your external actions. In other words, you demonstrate what you are interested in by how you spend your free time outside of classes.
Supplying your references with this information allows them to provide specific examples. Many people find it beneficial to write this in the form of a resume. Regardless of how you choose to present it, make sure the information is easy to reference.
The Ask
It is always best to ask for a letter of recommendation in person. Not only is it more professional, but it also gives the two of you a chance to discuss any reservations the other person may have. For instance, they may not have time to write the recommendation and might suggest an alternative reference.
Contact the person for an appointment to sit down and chat. In this way, you will be able to discuss your request without interruption.
Use this time to talk about your education, experiences both in and outside of school, hobbies, plans for college, and career goals. You can remind them of your class participation and what you learned in their classes. You can also inform them of the deadline for submitting the letter.
Provide your teacher with your resume and supporting documents which they can use for reference when writing the recommendation. An excellent way to stand out is to provide a stamped and addressed envelope for each college. It is details such as these that can have a significant influence.
It may be tempting for you to conceal some less than savory aspects of your past. Perhaps you had low grades for a semester or got suspended for fighting. Your best course of action is to broach the subject with your reference. It is an excellent opportunity to show your maturity. Talk about how you turned things around and learned from your mistakes.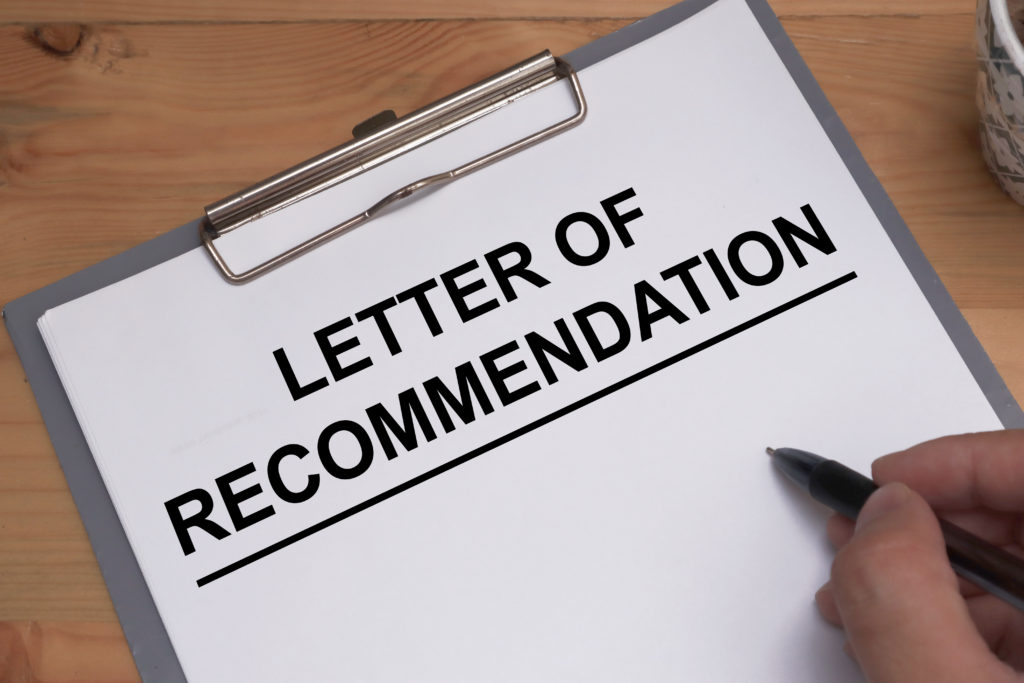 Never ask to read the letter of recommendation. Even worse, do not volunteer to write it yourself. As well as being considered inappropriate, this is also insulting. When the teacher has completed the letter, they may offer to show it to you, in which case you can accept it. However, college admissions give higher value to recommendations that you have not seen.
Your teacher is doing you a favor by helping you succeed, and you should treat them with the highest respect. Express gratitude for the recommendation and respect their time. Follow up within 48 hours if providing additional information or scheduling another meeting. Always send a thank you email within a day of your conference to them for their time and efforts.
Sadly, at times we all get distracted from our best intentions. It is perfectly acceptable to follow up with your references a week or so before recommendations are due. You can phrase it as a gentle reminder and ask if they require any additional information from you.
When you have decided which college to attend, it is appropriate to write or visit your references with an update. Tell them where you plan on going and again express your gratitude for their support. Also, don't overlook the power of a physical thank you card or letter. Snail mail is rare these days, and is likely to be appreciated even more than an email.
Top Ten Tips When Seeking Letters of Recommendation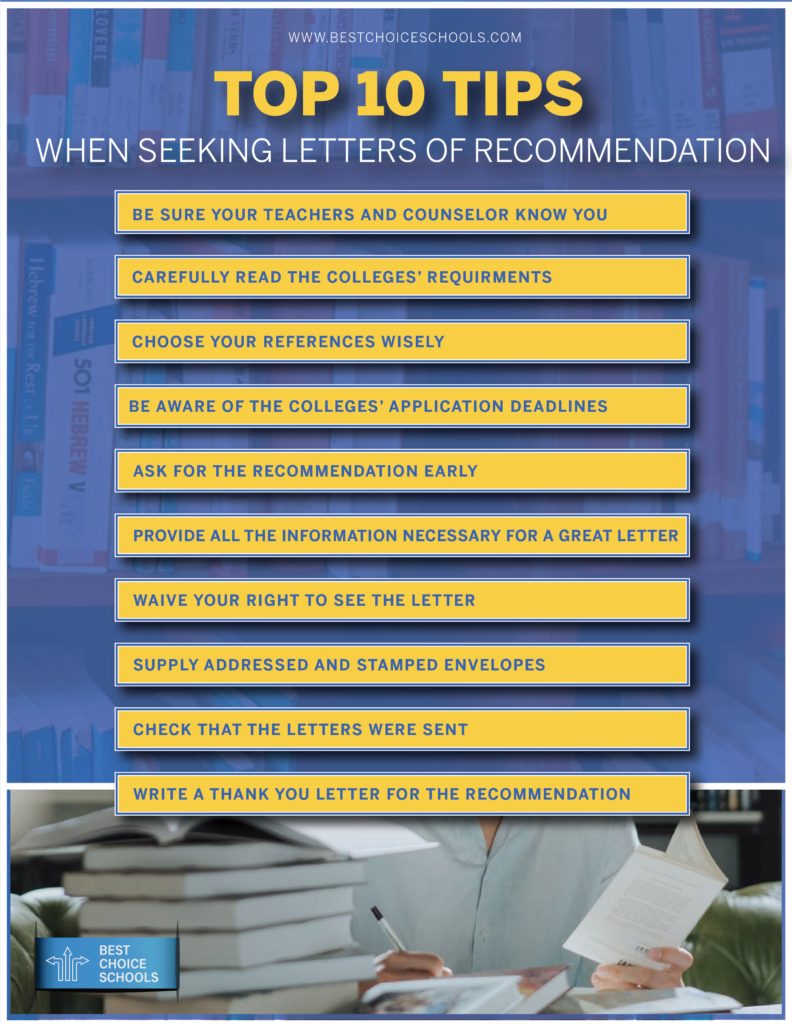 You may also like:
Who Should I Ask to Give Me a Letter of Recommendation for College Applications?
Frequently Asked Questions About Choosing the Best School and Degree
The 20 Most Affordable Colleges with High Four-year Graduation Rates 2021