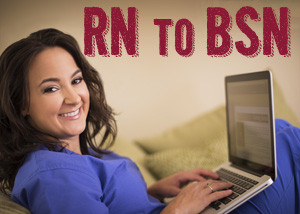 If you're currently working in the nursing field and interested in career advancement, then you may be wondering about an RN to BSN degree program.
As a registered nurse, you already have the requisite skills and aptitude for expanding your education, which is important because today's nursing field offers a wide range of options for those who attain higher degrees.
Nursing schools, four-year universities and some technical schools offer baccalaureate completion programs for working professionals, many of which can be taken entirely online for convenience. The goal is to produce nurses with advanced skills.
Defining the BSN
A BSN degree is a Bachelor of Science in Nursing, which is an undergraduate degree that many hospitals and medical facilities require of certain nursing professionals. Registered nurses often complete two-year degrees from community colleges or designated nursing schools, and while these diplomas may be enough to get a job in health care, they may not be enough to help you get the job that you really want. Many nurses find that once they enter the field, they'd like to specialize in a particular area of medicine or patient care. A bachelor's degree will open more doors.
Convenience and Efficiency
In a 2008 article on nursing career pathways, The Online Journal of Issues in Nursing asserts that RN to BSN degree programs seek to "enhance professional development, prepare for a broader scope of practice, and provide a better understanding" of patient care.
While traditional bachelor's degree programs can take four years or longer to complete, there are completion programs available to nurses who already hold an associate's degree. You may also see them listed as "bridge" programs because they bridge an educational gap. Bridge programs assume that students already have training and experience with the basics, and they're designed to provide a more efficient and career-focused educational experience. Many nurses don't have the option to commit to a weekday schedule, which is why many BSN completion programs are offered during the evenings, on weekends or through a university's online college. In the nursing field, an online degree from a reputable and accredited school is just as valuable as one from a brick-and-mortar institution. (See: 15 Most Affordable Best Online RN to BSN Nursing Degree Programs)
In-depth Training and Education
According to the Bureau of Labor Statistics, becoming a registered nurse requires certain levels of education depending on what you want to do with your career. Baccalaureate programs typically cover courses related to "physical and social sciences, communication, leadership, and critical thinking" as well as clinical internship experiences outside of the hospital setting. If you want to teach, take on a leadership or administrative role, conduct research or offer consulting services, then a bachelor's degree is usually the entry point for these types of careers. To specialize in an area of medicine, most nurses would need a master's degree. There are RN to MSN completion programs that are similar to bachelor's programs, and many of these can also be taken online.
Nursing is a high-demand career according to the BLS. Over the next decade, nurses should see job demand go up by about 16 percent, which is much faster than the average for other occupations. Nurses who want to advance in their careers should consider pursuing more educational opportunities as more training typically lends itself to better work and job options. An RN to BSN degree program offers a solid starting point.