Smart, ambitious students want to earn college credit while still in high school. With online classes, it's possible to work towards a bachelor's or associate's degree before earning a high school diploma. Here are four ways to start tackling a college degree before finishing high school.
Related resource: Top 10 Online Universities for Senior Year
Dual Enrollment
One of the easiest ways to start college while still in high school is through dual enrollment or concurrent enrollment programs. These innovative programs allow high school students to attend college part-time and use college courses towards a high school degree. Rather than taking a high school course in U.S. History then recovering some of the same material with a college-level American History class, students study American History at a local college and satisfy both the requirements of both a high school diploma and a bachelor's degree. These programs are popular because they offer a strong sense of structure. Some high schools offer special seminars on preparing for college to help students succeed in their coursework; others offer academic counseling services to students to help them manage their courseloads.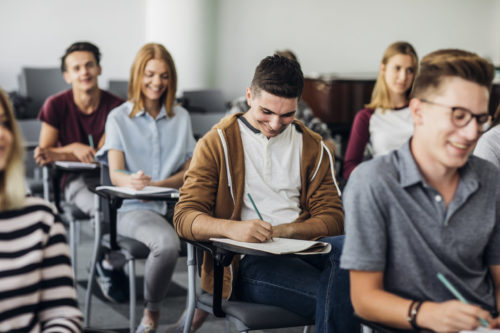 Community College
Community colleges often pride themselves on an open-enrollment admission policy, meaning anyone who wants to learn is able to enroll in courses. Don't be fooled, though – community college can be incredibly challenging, especially for brand-new college students. Many professors teach at both traditional universities and local junior colleges, so students can expect challenging material and a fast-paced class schedule. Because anyone can enroll in a course, it's possible for high schools to take college classes with a family member or older friend. This approach lets students ease into a college schedule with a strong safety net. Many community colleges offer online classes.
AP Classes
Another way to earn college credits in high school is taking Advanced Placement, or AP, courses. Many high schools offer AP classes as part of the regular curriculum, so students can stay on their high school campuses and take classes with students they already know. At the end of the semester, students take a standardized test on the material taught in class. Based on the score each student receives, future colleges may award zero, three or six credit hours towards a bachelor's degree. Because students can complete AP courses for free while they're enrolled in high school, this is a money-saving technique for earning a bachelor's degree. According to The College Board, the organization that runs the AP curriculum, 38 courses in a variety of academic disciplines are currently available for students.
College-Level Examination Program (CLEP)
Much like AP classes, the CLEP program allows students who can pass subject-specific tests to skip college coursework on the way to a degree. However, the CLEP program does not require that students attend specific classes. Instead, students simply sign up for tests on subjects like Algebra, Financial Accounting and American Government. With a high-enough score, many colleges will award credit hours or let students skip straight past introductory courses and on to more challenging upper-level classwork. CLEP tests are a great way for self-motivated high school students to earn college credit.
With the cost of a traditional college degree rising every year, it's important to look for alternatives. Starting college while in high school can be a great option for disciplined and ambitious students.