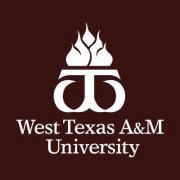 Affordable, Accredited Academics Available at WTAMU
West Texas A&M University appears in our ranking of the 20 Best Online Schools for Finance.
Ranked 243rd nationally by Washington Monthly, West Texas A&M University is a state-funded, coed AASCU member in the Amarillo Metro that offers 81 bachelor's, 39 master's, and two doctoral options, including 32 online degrees, plus the Pre-University Program for high schoolers with a 20:1 student-faculty ratio. For example, the Music Therapy B.M. builds a 120-credit, AMTA-approved path to board certification with six-month internships like Texas Children's Hospital, Grace Hamilton Piano Festival participation, and Symphonic Band practice. Chaired by Dr. Erick Butler, the Environmental Engineering B.S. follows a 120-credit, ABET-accredited plan where undergrads can join Engineers Without Borders, intern with Bechtel, and engage with the Ogallala Aquifer Program during PE Exam prep.
Online on Blackboard since Fall 2012, the Nursing Education M.S.N. has developed a 39-credit, CCNE-accredited curriculum where registered nurses take 24/7 courses from Bioethics to Advanced Pathophysiology with one 180-hour Texas practicum for the Certified Nurse Educator Exam. Directed by Dr. Lance Kieth, the Agriculture Ph.D. has grown a 90-credit, post-bachelor's sequence with scholarly opportunities to join the Ag Development Association, conduct Beef Carcass Research Center projects, and work on the 2,393-acre Nance Ranch. Other West Texas A&M degrees include the Marketing B.B.A., Emergency Management Administration B.A.A.S., Sociology B.A., Physics B.S., Dance B.F.A., Communication M.A., Counseling M.Ed., Math M.S., History M.A., and Educational Leadership Ed.D.
About West Texas A&M University
West Texas A&M University originated on September 9, 1909, when the 31st Texas Legislature passed legislation to create the West Texas State Normal College for the Panhandle. In Fall 1910, President R.B. Cousins welcomed an inaugural class of 152 for teacher preparation. In 1916, West Texas notably hired Georgia O'Keeffe to lead the Art Department in Old Main. Six years later, the Board of Regents approved of the college's first baccalaureate. In 1924, West Texas joined the National Collegiate Athletic Association by invitation. In 1937, President J.A. Hill broadened the curriculum with pre-law and pre-medicine studies. By April 1963, Governor John Connally was signing legislation to rename it West Texas State University. In 1968, more than $100,000 was raised to establish the School of Agriculture. On September 1, 1990, West Texas State joined the Texas A&M University System based in College Station. In 2008, the Buff Promise Program was launched for Texas families with income below $80,000.
Endowed for $88.7 million, West Texas A&M University now employs 430 faculty teaching 7,376 undergrad and 2,653 post-grad Buffs from 39 countries on its 35-building, 176-acre Canyon campus, at the Amarillo Center, or fully online with 90+ clubs like the Maroon Platoon for 65 percent retention. In 2017, WTMAU earned an Alpha Tau Omega Chapter Excellence Award. In 2018, West Texas A&M accepted the PGMS Green Star Honor Award. West Texas A&M University won a 2019 CASE Educational Fundraising Award too. The U.S. News & World Report picked WTAMU 143rd for engineering, 220th for fine arts, and 229th for speech-language pathology degrees. On Niche, WTAMU boasts America's 41st best agriculture and 135th top public policy programs. College Factual named West Texas A&M the 168th best value without financial aid. The Princeton Review chose West Texas A&M University 23rd for Online MBAs.
West Texas A&M University Accreditation Details
On December 16, 2016, the Southern Association of Colleges and Schools (SACS) Board of Trustees voted to reaffirm the Level V accreditation status at West Texas A&M University until the 2022 Interim Fifth-Year Review under Provost Neil Terry, Ph.D., who receive the Jack Welch Distinguished Management Award. Located 1,127 miles east via Interstate 40 in Decatur, Georgia, this esteemed 11-state Southeast Region accreditor is recognized by the Council on Higher Education Accreditation (CHEA). The 2019-20 Academic Catalog also lists the following approvals:
National Association of Schools of Theatre
Council on Social Work Education
Accreditation Board for Engineering and Technology
Commission on Accreditation of Athletic Training Education
National Association of Schools of Music
American Music Therapy Association
Texas State Board for Educator Certification
Association to Advance Collegiate Schools of Business
Commission on Collegiate Nursing Education
American Speech-Language-Hearing Association
West Texas A&M University Application Requirements
Admission at West Texas A&M University is classified as "moderately difficult" by Peterson's since only 3,521 of the 5,427 Fall 2018 applicants were triumphant for 65 percent acceptance. First-year Buffs must graduate with a Texas Distinguished or similar out-of-state diploma. Only the Pre-University Program accepts high school juniors and seniors from five local districts. Passing Texas Success Initiative scores and GPAs above 3.0 are also required. Degree-seeking freshmen can have GPAs as low as 2.0. Ranking in the top 25th percentile makes testing optional. Otherwise, undergrads need a minimum 480 English and 530 math score. Equivalent ACT scores would be 18 in English, 22 in Reading, and 22 in Math. Transfers with 24+ accredited credits need minimum 2.25 GPAs. International learners need at least 6.0 IELTS or 525 TOEFL PBT scores. The Graduate School generally seeks 3.0 or greater bachelor's GPAs. Post-grads achieve an average 154 Verbal and 158 Quantitative GRE score. The Paul & Virginia Engler College accepts a median 560 GMAT score.
West Texas A&M University currently has priority undergrad deadlines of August 1st for Fall, December 1st for Spring, May 15th for Summer I, and June 24th for Summer II. The Graduate School has wide-ranging program deadlines. For instance, the Animal Science M.S. has July 1st, November 1st, and April 1st cutoffs. The Educational Leadership Ed.D. closes on October 1st. School Psychology S.S.P. cohorts must file before August 1st. The Studio Arts M.F.A. seeks applicants by April 10th. Prospective Buffs complete the ApplyTexas Application online for $55 ($75 if international). Official transcripts are shipped to Box 60907 in Canyon, TX 79016. Testing results are forwarded using SAT/GRE code 6938 or ACT code 4250. Contact (806) 651-2020 or admissions@wtamu.edu about other program requirements.
Tuition and Financial Aid
For 2020-21, West Texas A&M University is billing in-state undergrads $4,519 per semester or $9,038 annually. Non-resident bachelor's tuition will be $5,335 by term or $10,670 each year. International students pay $11,670 every semester or $23,340 yearly. These figures include the $416 athletic fee, $70 health fee, $70 rec sports fee, and $217 student service fee. Studying part-time incurs $163 to $459 per credit. Residing at the Canyon dorms like Guenther Hall adds $2,005 to $3,898 for semester housing. Platinum meal plans for Main Dining Hall are $1,980 extra. WTAMU budgets $1,000 for books and $4,854 for miscellaneous expenses. Annual undergrad attendance averages $21,485 in-state and $22,891 out-of-state. The Graduate School charges full-time Texans $3,583 and non-residents $4,016 each semester. International post-grad tuition rises to $7,675 per term.
The National Center for Education Statistics reports that the Office of Financial Aid in Old Main Room 108 connects 86 percent of new, full-time WTAMU Buffs to tuition assistance averaging $6,606 each for $6.02 million combined. University funds include the Baker-Singhal Scholarship, Patrick Acker Memorial Scholarship, Annette Couch Leadership Scholarship, Spicer Gripp Rodeo Scholarship, Virginia Maples Women Scholarship, Ruth Cox Merchant Scholarship, Jim Reed Scholarship, Starcher-Nelson Renewable Energy Scholarship, Eddie Wilson Memorial Scholarship, and Bertie May Williams Scholarship. The President's Scholarship awards $6,000 annually to exemplary freshmen with minimum 1420 SAT or 32 ACT scores. The $2,000 Resident Transfer Assistance Scholarship goes to in-state undergrads with 30+ previous credits and GPAs above 3.0. Federal programs, such as the Pell Grant and Perkins Loan require FAFSA applications coded 003665. Texans also utilize the Top 10 Percent Scholarship, Public Educational Grant, TEXAS Grant, Fifth Year Accounting Scholarship, Teacher Loan Forgiveness Program, and more.
Explore 22 academic departments that confer 120+ public, practical degrees placed 292nd by The Economist at the West Texas A&M University website.