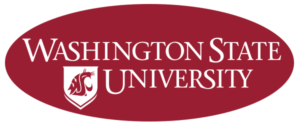 Degrees Offered at Washington State University
Washington State University appears in our ranking of the 30 Best Online Schools for Graduate Degrees.
Earning a degree at Washington State University can occur at the university's main campus in Pullman, at one of its satellite locations, or through WSU Online. Degrees are offered within ten academic colleges that include the Carson College of Business, the College of Education, and the College of Nursing, as well as a handful of other schools. Degrees offered at WSU include undergraduate, graduate, non-degree options, teaching endorsements, and various certificate programs. Admission to the school's programs is considered somewhat competitive with around 70 percent of applicants gaining acceptance.
Some of the popular majors at the school include Nursing, Psychology, and degrees in the social sciences. There are some differences in the programs offered at the university's various locations, so students should investigate their options ahead of applying. Students who apply to the university's online programs will receive all of the same benefits as on-campus students will access to advisors, 24/7 tech support, and off-campus events designed for online students. Undergraduate programs include those in Business, Criminal Justice, Data Analytics, Economics, History, Hospitality, the Humanities, Psychology, Sociology, and a handful of others.
Students can also declare a minor for their online school in an area like Aging, Biology, History, or Film Studies. Online students who aren't interested in seeking a degree can enroll in a variety of online certificate programs and non-degree options. Some of the areas available for study include Professional Writing, Molecular Biosciences, Gerontology, and Early Childhood Education. Graduate programs available online include master's degrees in Food Science & Management, Plant Health Management, Electric Power Engineering, Engineering & Technology Management, Software Engineering, Special Education, and Strategic Communication.
Students can also earn an Executive Master of Business Administration or a regular Master of Business Administration. The business programs at WSU are a popular option, and the school offers many ways to specialize in business whether students attend online or on-campus classes. Some of the business majors available at WSU include programs in finance, accounting, management, marketing, and management information systems. The university also offers unique programs like its Wine and Beverage Business Management Degree.
About Washington State University
Established in 1890, Washington State University is a public school in the city of Pullman in Washington. The land-grant university has more than 30,000 students enrolled at its Pullman campus and its secondary campuses in Spokane, Everett, Vancouver, and the Tri-Cities. Around 3,000 students attend classes through the Global Campus and WSU Online. The university sits in a rural area on a campus that covers 640 acres at its main location. The official colors of the school are crimson and gray, and the sports teams are known as the Cougars. The university was originally established as part of the Morrill Act and a federal grant. The purpose of the school was to act as an agricultural college that also operated a school of science. Money for the school was provided in 1890, but the school wouldn't open until 1892 because of an extended search for an appropriate location for the school.
Washington State University Accreditation Details
Washington State University is accredited by the Northwest Commission on Colleges and Universities and recently underwent reaccreditation. Programs offered by the university are also accredited by various organizations. For example, the American Chemical Society (ACS) has accredited the bachelor's degree program in chemistry, and the National Association of Schools of Music has accredited the bachelor's degrees and the master's degree in music. The National Association of Schools of Public Affairs and Administration has accredited the public affairs program offered at the Vancouver campus, and the American Psychological Association Commission on Accreditation has accredited the doctoral program in clinical psychology. Other agencies that have accredited programs include the Association to Advance Collegiate Schools of Business, the Commission on Accreditation of Athletic Training Commission on Education, and the Washington Professional Educator Standards Board.
Washington State University Application Requirements
Applying to Washington State University as a first-year student begins with filling out the official application. Students who haven't attended college before must submit their official high school transcripts, as well as their standardized test scores for the SAT or ACT. Students who are 25-years-old or older will apply as adult students and will need to submit their high school transcripts, as well as records from any college-level classes they've taken. Students who have a GED or who have completed homeschooling are also eligible to apply. Students interested in applying to graduate school at Washington State University will also submit their official application, as well as letters of recommendation, and scores from the GMAT or GRE. Students can also apply to the school's online programs as freshmen, adult students, post-bachelors students, graduate students, or international students. The application fee is $50 for first-year students and transfer students and $25 for students who have already attended classes at WSU.
Tuition and Financial Aid
Estimated yearly costs for students at Washington State University come to $23,485 for Washington State residents and $37,721 for non-residents. Tuition and fees include tuition, housing costs, dining costs, books, and a variety of smaller fees. The tuition amount differs for residents and out-of-state students. Washington residents pay $10,268 for tuition and out-of-state students pay $24,504 for tuition. All students pay the same amount for other costs like books, a dining plan, and housing. For graduate students, graduate tuition for residents is $5,891.50 for 10 to 18 hours and an additional $561 per credit for every credit above 18 hours. Non-residents will pay $12,607.50 for their tuition for 10 to 18 credits and $1,233 per credit for every hour above 18.
Students who attend Washington State University are eligible for several types of aid that include student loans, student jobs, tuition waivers, scholarships, and grants. Students who want to apply for student loans will submit a FAFSA form, and the university will inform the student whether he or she is eligible for loans and other aid. Students may qualify for state and federal grants, as well as grants offered by the university, TEACH grants, and Cougar Commitment grants. Some of the scholarships a student may qualify for include Cougar Academic Awards, College Bound awards, Distinguished University Achievement Awards, Everett Scholars Awards, and Academic Achievement and Diversity Scholarships. Students enrolled in degrees, majors, and programs at Washington State University can qualify for financial aid whether they attend classes on one of the university's campuses or through WSU Online.