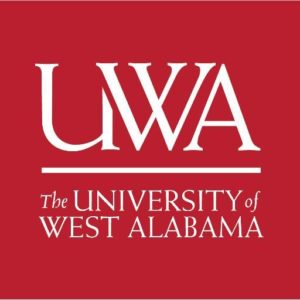 Degrees Offered by the University of West Alabama
The University of West Alabama appears in our ranking of the 20 Best Online Schools for Marketing.
The University of West Alabama offers degree programs through five on-campus colleges and divisions, the smallest of which is the Division of Nursing. This division offers an Associate of Science in Nursing (ASN) that allows students to finish a nursing degree in five semesters. Students will take courses designed to help them pass the national comprehensive exam to get a nursing license and clinical work that they'll do in the form of rotations in hospitals and other medical facilities.
Through the College of Business and Technology, undergrads can major in business administration, finance, accounting, engineering, technology or marketing. An automotive engineering technology major helps students earn an Associate of Applied Science (AAS) degree. They learn how to build vehicles and repair them through courses that include Fundamentals of Automotive Technology, Drive Train and Axles, Automotive Engines and Automotive Braking and Steering/Suspension Systems. Also available is a Master of Business Administration (MBA). The university encourages MBA students to join the marketing, finance and/or accounting clubs. It includes classes such as Managerial Accounting, Operations Research and Strategic Management, and Business Policy. MBA students can pick a concentration in finance or general business.
The College of Education at the University of West Alabama offers even more degree programs. Students in the collaborative teaching program will both work with other students and do some fieldwork to earn their degrees. They can focus on special education or early childhood education. Most of the programs available from this college are for graduate students only. The university offers a rural education program designed to meet the needs of students in school districts that lack funding and resources. It allows students to do practicums and internships in those districts. Some of the graduate programs available from this college include Master of Arts in Teaching (MAT) and Master of Education programs such as one in school counseling.
Exercise science and sport management are just some of the majors available from the university's College of Natural Sciences and Mathematics. There is a general biology major designed for undergrads and a biology program with an emphasis in teaching. Students can also major in chemistry and choose from concentrations in forensics or pharmacy. Through the University of West Alabama online campus, students can choose from nearly 60 programs to earn both full degrees and certificates. Physical education, family counseling, business administration and biology are some of the majors available for online students.
About the University of West Alabama
The University of West Alabama is a public university nicknamed UWA. Established in 1835 as the Livingston Female Academy, it charged young women one rate and allowed them to pay extra to take embroidery, French and piano classes. During the early years, the academy had an affiliation with the Presbyterian Church through members who sat on the board. Renamed the Livingston Normal College in 1878, it remained committed to the education of women up until it became the Livingston State Teachers College and began accepting men. Also known as Livingston State College and Livingston University in honor of the city, it became UWA in 1995. The university now has rodeo teams that compete in national events and are open to men and women. More than 5,000 students attend the main campus, with hundreds more enrolling in some of the online programs now available.
University of West Alabama Accreditation Details
UWA students at the undergraduate and graduate/doctoral levels can apply for financial aid and get a package that includes university aid and government programs. They can use the Free Application for Federal Student Aid (FAFSA) because UWA has regional accreditation from the Southern Association of Colleges and Schools (SACS). The same accreditation allows UWA students to transfer with their college credits too. Other accreditation held by the university comes from the National Council for Accreditation of Teacher Education (NCATE) and the Accreditation Commission for Education in Nursing (ACEN).
University of West Alabama Application Requirements
Though UWA has the same application requirements for most undergrads, it asks that students who want to study nursing first apply to the university and then the program. They need a high school grade point average of 2.5 or higher and a GPA of 3.0 or higher in all the classes they took at UWA. The university requires that they take the Health Systems, Inc. (HESI) exam and score a 75 percent in three sections on the test. Nursing majors also need to have up to date vaccinations and present proof of their immunizations. Undergrads applying to other degree programs can submit their high school transcripts, an ACT or SAT score and immunization records after they apply online.
To apply to the MBA program or any other graduate track, UWA asks students for their official college transcripts and an application fee as well as the graduate school application. The graduate and education specialist programs require a copy of the student's teaching license too. All online students need a remote proctor too. Students can download the software from the university's website, which allows UWA to use his or her webcam during exams.
Tuition and Financial Aid
At UWA, undergrads in all programs pay $9,100 for tuition and $1,890 in fees each year if they qualify for in-state tuition. Students who do not qualify for that rate pay $18,200 every year. When they do their clinical rotations, nursing majors pay a $50 fee too. Students pay another $5,600 for a dorm room and $2,750 for a meal plan each year. UWA charges online undergrads $325 per credit hour. Online students also pay a $50 technology fee every semester. Graduate students at the university pay $429 per credit hour, and doctoral students pay $630 per credit hour.
With UWA payment plans, students can make payments to the university at multiple intervals each semester rather than at the start of the term. There is a military discount available for those in the military and their dependents and spouses, which reduces their costs by $100 for each credit they take. Another discount reduces the rate by $50 per credit hour for teachers. With the FAFSA, students can get the federal loans and Pell grants that they need and see if they qualify for work-study. The University of West Alabama offers scholarships for students in all degree programs too.