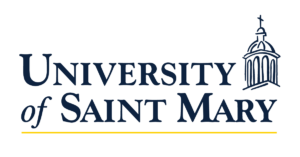 Degrees Offered at the University of Saint Mary
The University of Saint Mary appears in our ranking of the 20 Best Online Schools for Finance.
The University of Saint Mary offers a number of degrees, including campus-based and online learning programs. Both undergraduate and graduate students attend the school. About 61% of students who apply get accepted. Of its courses of study, psychology, biomedical and biological sciences, marketing and management, education and health professions count among the most popular.
Some of the more interesting majors include criminology, art therapy, digital communications, global studies, philosophy, cybersecurity, nursing, and exercise science. The school also offers pre-professional tracks in subjects, like pre-dentistry, pre-chiropractic, pre-occupational therapy and pre-pharmacy to name but a few.
Its graduate school offers a number of diverse programs. This includes its Master of Business Administration program, which has seven concentrations. There are also graduate degrees in education, physical therapy, nursing, and athletic training.
Its online programs include its MBA program, as well as its online RN-to-BSN and health information management program.
About the University of Saint Mary
The University of Saint Mary began as a private Catholic school for women in the 1850s, though nowadays, the school is co-ed. It's associated with the Sisters of Charity Saint Vincent de Paul. Its main campus is a 200-acre expanse in Leavenworth, Kansas. All of the school's main administrative and academic offices are on this campus.
The school also has campuses in Overland Park, Wyandotte County, and Shawnee, Kansas. About 1,200 students attend the school. The US News and World Report ranks it 84th in the Regional Universities Midwest and 111th in the Top Performers on Social Mobility categories.
Student life is community-oriented. The school's "Into the Streets" program encourages freshmen to get involved with projects, like mentoring middle school students or helping the local shelter with maintenance. The University of Saint Mary offers a volunteer spring break program in Guatemala.
In their off-time, students can blow off steam at the Ryan Sports Center. It has an indoor track, racquetball courts, and a training room. It's the main facility for intramural sports on campus, as well as for student-athletes' practice and training sessions. School sports include basketball, football, soccer, and volleyball.
University of Saint Mary Accreditation
The University of Saint Mary has a number of accreditations. These include accreditation from the Higher Learning Commission of the North Central Association of Colleges and Secondary Schools. USM is also supported by the Kansas State Department of Education, the National Council for the Accreditation of Teacher Education, the Commission on Accreditation of Physical Therapy Education, the International Accreditation Council for Business Education and the Commission on Collegiate Nursing Education.
University of Saint Mary Application Requirements
The University of Saint Mary has simplified the application process for undergraduates. Incoming high school students must have at least a 2.5 grade point average on a 4.0 scale. Their standardized test scores should be at least an 18 on the Act or a 970 on the SAT (composite score).
Once incoming freshmen are ready to turn in their application materials, they'll fill out the online application. Then, they'll be asked to submit their test scores and their transcripts along with the application. The school offers rolling admission, so students are welcome to apply at any time.
The application process is similar for transfer students. The difference is they must submit transcripts for every college or university they've attended. If they have earned 12 credits or fewer at another institution of higher learning, then they must also send USM their SAT or ACT scores, as well as their high school transcripts. The school requires incoming transfer students to have at least a 2.0 GPA.
International students have some specific requirements (in addition to turning in the application and SATs or ACTs). They must submit transcripts that have been translated into English, as well as their TOEFL scores. An approved evaluation agency must also evaluate their transcripts. The school also asks for proof of health insurance and a declaration of financial support.
Prospective graduate students will want to contact the specific department they want to apply to. Each department has its own specific application process and requirements.
Tuition and Financial Aid
USM is very generous with its scholarships. According to the school's website, the University of Saint Mary's gives Saint Mary's students more than $7 million in scholarship money each year. On average, the students entering the freshman class of 2017 were awarded more than $12,000 in scholarships, as well as thousands of dollars in educational grants.
Overall, freshman students receive around $22,000 financial aid for the year. Transfer students receive financial aid packages that total $18,000 on average.
As for scholarship types, USM offers a number of them. There are scholarships for those who are talented in athletics. There are also fine arts and merit scholarships, as well as specialty awards. Some of the school's specialty scholarships and awards include the USM BizFest Scholarship, the Antoinette Berkel Memorial Scholarship, and the Saint Vincent de Paul Service Award.
Students also have access to work-study monies and federal educational loans. Those who wish to qualify for financial aid need to fill out the FAFSA and turn it into the financial aid office.
The University of Saint Mary is a private school. As such, there are no out-of-state tuition costs. Undergraduates on campus pay $14,430 per semester to attend the school full time. Online programs are charged by the credit hour: Prices range from $460 per credit for undergrads to $615 for grad students.
The Master of Science in Athletic Training charges students $580 per credit, while the Doctor of Physical Therapy program charges students just over $800 per credit.
The university also offers meal plans. All freshmen are required to purchase a meal plan that includes 20 meals a week. This runs just over $2,100 per semester. The school offers other meal plans that range in price from $170 to $1,975. Housing costs vary. Students can expect to pay between $1,875 and $3,750 per semester.
Learn more about the degrees offered at the University of Saint Mary.