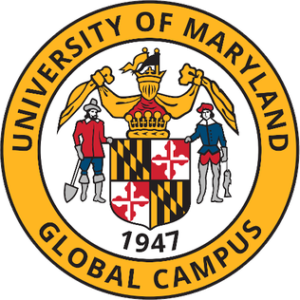 Innovative Degrees and Programs at the University of Maryland Global Campus
University of Maryland Global Campus appears in our ranking of the 20 Best Online Schools for Marketing.
University of Maryland Global Campus offers online and hybrid programs for working adults. The face-to-face courses in the hybrid format are delivered on evenings and weekends at more than 20 locations throughout the United States. There are more than 90 programs available, and most course materials are digital at no cost to the student.
There are several associate degrees and certificates that can be earned through UMGC. Military personnel and their qualifying family members can earn an Associate of Arts in General Studies. This degree program contains 60 credit-hours and has ten available specializations including Business and Management, Computer Studies, Criminal Justice and others.
Students can earn certificates in Computer Networking, Management Foundations, Project Management, Management Foundations, Spanish for Business and the Professions and more. All but the Spanish certificate require 18 credit hours. These programs are for people who want to become midlevel managers, or who just want to raise their knowledge base and skill level.
There are more than 32 undergraduate programs available through UMGC. These programs include bachelor's degrees in Business and Management; Accounting; Human Resource Management; Management Studies; Marketing, Finance, Cybersecurity Management, and Policy and Legal Studies. The Bachelor of Science in Legal Studies contains 120 credit-hours including 33 in the major plus university general education studies and electives. Sample courses include Introduction to Law, Techniques of Legal Research, Torts and others.
Students may also earn bachelor's degrees in Biotechnology, Business Administration, Communication Studies, Computer Sciences, East Asian Studies, Environmental Management and others including the Bachelor of Gerontology and Aging Services. The last offering is a 120 credit-hour program that includes the psychosocial, health and political aspects of aging. There are 33 credit-hours in the major including courses such as Contemporary Issues in Aging, Health and Aging, Workplace Learning in Gerontology, and others. There are 41 credits in general education including courses in research and computer literacy; communication; mathematics, arts and humanities, behavioral sciences, biological and physical sciences, and others.
The University of Maryland Global Campus has 18 master's programs including Accounting and Financial Management; Accounting and Information Systems; Cloud Computing Architecture and Cybersecurity Technology, a 36 credit-hour master's program that teaches students how to "balance the use of people, policy and technology" in addressing cybersecurity issues. Students learn how to develop cybersecurity programs appropriate for particular organizations and to be proactive in business risk management.
The Master of Science in Healthcare Administration is a 42 credit-hour program that builds strong analytical and business skills. It contains courses such as Intercultural Communications and Leadership; The US Health Care System; The Business of Healthcare and Long-Term Care Administration. Students without backgrounds in finance or accounting, statistics and writing should take leveling prerequisite courses before entering the program.
The MEd in Instructional Technology is a 33 credit-hour program for people who teach at the PreK-12 level. Courses included in the program are Web-Based Teaching and Learning and Learning: Design and Pedagogy; Using Technology for Instructional Improvement: Research, Data and Best Practices; Leading Technology Change; Teaching and Learning in Virtual Schools and others. There is also a required capstone project.
There are two doctoral programs at UMUC. The Doctor of Business Administration program has 48 credit-hours. It is online except for a two-day campus residency each term. Courses must be completed in the order they are listed in the catalog.
The Doctor of Management in Community College Policy and Administration is also a 48 credit-hour-program that is a broad-based program for those who want to engage in practice rather than academics.
About The University of Maryland Global Campus
This school began in 1947 with the mission of sending professors overseas to teach military personnel. They were the first university to do so and worked largely in tent-schools. UMGC is a member of the University of Maryland system and has a student body of more than 59,000.
UMGC still focuses on the needs of military students. It offers courses online but has more than 140 "service locations." Students may also choose to pursue programs in blended or hybrid formats by attending some on-campus classes or by taking some courses traditionally on a University of Maryland campus or at one of the school's 20 satellite locations.
University of Maryland Global Campus Accreditation Details
The Middle States Commission on Higher Education
The Commission on Health Informatics and Information Management Education (CAHIM)
Project Management Institute Global Accreditation Center for Project Management Education Programs
Council for the Accreditation of Educator Preparation
International Accreditation Council for Business Education (IACBE)
Commission on Collegiate Nursing Education
University of Maryland Global Campus Application Requirements
Students applying to this university do so online. They complete an online application and then are given a student account through which they may track the admission process, pay fees and perform other tasks. When completing the application, students may self-report some items but will have to submit official transcripts before being accepted. Military students should have service date information at hand. There is a $50 non-refundable application fee, but some students may have this waived for early application or other qualifications. Applicants complete the FAFSA form for financial aid, and the data is used to consider them for university awards as well. There is no requisite for SAT/ACT scores or for the GRE.
Graduate students apply for admission online as well but apply to their program. Requisites vary.
Tuition and Financial Aid
Undergraduate tuition at the University of Maryland Global Campus is $294 per credit hour for the spring sessions and $300 for the fall and summer sessions. Standard graduate programs are $480 for the fall and summer sessions and specialty graduate degrees are $694 per-credit-hour. Doctoral degree programs are $1,087.
Military students and their qualifying family members pay $250 per-credit-hour for undergraduate courses and $480 for graduate degree programs. The exception is the Master in Transformational Leadership degree available only to certain service personnel. The cost per credit-hour for that program is $350.
Although expenses at this school are mitigated by having virtual textbooks and educational materials, students must still consider the cost of a computer and Internet connection.
Students complete the FAFSA form as a part of their application process, and the school used information from that form to award some university scholarships and grants. There are more than 100 scholarships available through the university on a needs-based or merit-based qualification.
Maryland has six needs-based scholarships, two legislative and nine career or occupation-based scholarships. Additionally, the state offers help to certain populations and has a program to help with loan repayment. The university offers scholarships for academic achievement as well as for participation in selected activities such as sports. The school also has scholarships with various requisites endowed by private individuals. All of these can be located on the school website. Additionally, there are outside scholarships and grants funded by individuals, service organizations and even corporations. These can be found by searching the Internet.
A student loan is another option, however, students should try to avoid graduating with a large repayment burden. While juggling academics and a part-time job schedule may be difficult, work-study opportunities and part-time jobs that offer salaries and experience might be a better way of financing a degree program at the University of Maryland Global Campus.