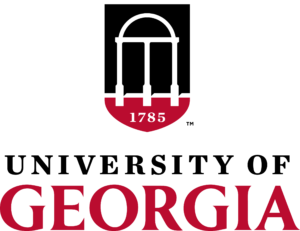 Degrees Offered at University of Georgia
The University of Georgia appears in our ranking of the 20 Best Online Schools for Education (Graduate).
The University of Georgia offers a number of degrees from 30 departments, as well as an online program. Students can study subjects, like art, agriculture, veterinary medicine, health and pre-pharmacy, engineering, family science, business and ecology, to name but a few. Its most popular majors are General Psychology, Biology, Finance, and Business Administration and Management. Freshman retention rate stands at 95%.
Students who wish to take advantage of UGA Online must first apply for acceptance to the school if they are not already students. At the moment, only one degree is available online: Bachelor of Science in Special Education. However, the university offers many of its classes online.
To meet its requirements as a land-grant university, the University of Georgia offers a military program, the University of Georgia ROTC program, which trains the Reserve Officer Training Corps. Both the Air Force and the Army have staff on campus at UGA as a part of this academic program.
Additionally, the university offers a number of master- and doctoral-level degrees. These include Anthropology, Animal Science, Avian Health and Medicine, Higher Education, Philosophy, Film, Television, and Digital Media (MFA) and Textiles, Merchandising and Interiors (MS; MS-Non Thesis) to name but a few.
Finally, the university offers a study abroad program for students who want to participate in language and cultural exchanges around the world.
About University of Georgia
The University of Georgia has a great deal to offer its students. Founded in 1785, this university was the US's first state-supported, public college. It's situated in Athens, Georgia: UGA is located about an hour away from Atlanta, Georgia. About 30,000 undergraduate students attend the university. It ranked 50th on US News and World Report's list for National Universities.
The student-to-faculty ratio comes in at 17:1. Many of its classes have 20 students or fewer. In its time, many of the programs at the university have become quite renowned, including the University of Georgia Law School and the College of Education. UGA is a land- and sea-grant university. As such, it provides numerous programs that promote both of these subjects.
Students at this university can participate in numerous campus-based activities. UGA boasts more than 700 organizations and clubs. Some of the clubs and organizations on campus are American Meteorological Society, American Society for Microbiology Student Chapter, the Aviation Club at UGA, Public Service and Outreach Student Scholars Program, Center for Leadership and Service, The Professional Entertainment and Sports Association, American Medical Student Association, the Society of Environmental Engineers and the Real Estate Society.
There are at least 60 Greek chapters on the campus of this Georgia school. Approximately a quarter of the students who attend the University of Georgia participate in Greek life. Some of the Greek organizations on campus include Alpha Epsilon Pi, Kappa Alpha Order, Gamma Phi Beta, Delta Delta Delta, Zeta Beta Tau and Pi Beta Phi.
UGA students are encouraged to be active members of the community. To that end, they can participate in numerous philanthropic endeavors, including a 24-hour dance marathon, the UGA Miracle.
Additionally, sports fans can participate as athletes or spectators in the University of Georgia's sports programs. The Georgia Bulldogs are part of the NCAA's Division I. Students, alumni and faculty alike come out to cheer on their teams against rivals, like Florida Gators, Auburn Tigers, and Georgia Tech Yellow Jackets. UGA's non-varsity sports include sports like crew, wrestling, lacrosse and men's soccer.
University of Georgia Accreditation
The University of Georgia gets its accreditation from the Schools Commission on Colleges and Southern Association of Colleges. The accreditation process is voluntary. It provides universities with a peer review. By receiving accreditation, a university can offer its student federal financial aid, as well as offer grants to researchers at the university.
University of Georgia Application Requirements
The University of Georgia offers first-year students the option of Early Action (EA) and Regular Decision (RD) admission. However, all students at this level have the same admission review process.
To apply, these students should submit:
Evidence of a rigorous curriculum via their transcripts
Their grades, showing their academic progress up through the end of their junior year
Their ACT or SAT scores
Evidence of intercultural exchanges and creative pursuits, public service activities, extra- and co-curricular activities and leadership activities
It should be noted that all first-year students are required by the University of Georgia to live on campus.
Students who wish to transfer to the University of Georgia must have completed between 30 and 59 credit hours by the time of their application. They must also be high school graduates and have a GPA of at least 3.0. They must also have completed at least one year of university or college before they apply.
International students must have an F-1 visa or evidence of permanent residency. Visitors to the US who are on asylum must present that paperwork to the university.
People who wish to apply to the graduate school should have completed a bachelor's degree at an accredited college or university. To apply, they must submit the following:
Transcripts
Letters of recommendation
Graduate school entrance test scores
Admission application and the processing fee
Applicants should check to see if the department they're applying to has any additional application requirements.
Finally, graduate school applicants should have graduated from their undergraduate degrees in the upper half of their class.
Tuition and Financial Aid
For Georgia residents in undergraduate programs, the estimated overall cost of attendance is about $26,000 a year. This includes tuition and fees, plus room and board. Non-residents will pay $45,000+ a year.
Graduate students who are Georgia residents pay just over $28,000 per year, while out-of-state grad students pay just over $45,000 a year for tuition, books, room and board, and other expenses.
Almost half of UGA students receive some sort of financial aid, including grants, loans, and scholarships. The school also has some resources for students who are experiencing financial hardships. In order to receive financial aid, University of Georgia students must fill out the FAFSA.