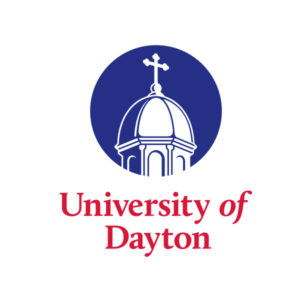 Degrees Offered at University of Dayton
The University of Dayton appears in our ranking of the 20 Best Online Schools for Education (Graduate).
The University of Dayton is a private research institution located in Dayton, Ohio. It's a Roman Catholic school that offers 80 undergraduate and 50 postgraduate programs in a wide range of disciplines. Many students can earn their degrees or certificates entirely online. Class sizes are small, and students receive personal attention from their professors. With high-quality learning tools and a top-ranked engineering program, UD is able to offer students an exceptional experience. Academic programs are offered by the following schools and colleges:
College of Arts and Sciences
School of Business Administration
School of Education and Health Sciences
School of Engineering
School of Law
UD offers opportunities for high school students to earn college credit. By taking Advanced Placement or College Level Examination Program tests, students can earn college credit for work they have already done. Students transferring from the U.K. can earn credit by submitting their General Certificate of Education A-Level test scores. These tests are designed to evaluate the college-level skills acquired by students in their high school classes. Credit is awarded based on scores from particular test sections. Test averages aren't considered for credit at UD.
One of the top bachelor's degrees offered at UD is the Bachelor of Science in Business Administration: Business Economics. It's designed for undergraduate students seeking a challenging experience that will prepare them for high-earning careers in business. The faculty members at UD put care and attention into the programs they offer to ensure that students will be able to function at a high level upon graduation. B.S.B.A. students will study subjects fundamental to business economics, including finance, management, business theory, and macroeconomics. Graduates of this program will have the skills needed to enter careers in business or continue to graduate school to begin a master's program.
Graduate students at UD can pursue the Master of Science in Education: Higher Education Administration degree. This 39-credit-hour program offers students an experiential learning path to higher education administration. It combines theory and classroom study with hands-on practice to bring students up to speed with modern practices. Students will study subjects ranging from history to philosophy to finance, and full-time students can expect to complete their studies in two years. Part-time students can focus on their jobs while working toward their M.S.E. degree.
UD offers many online options for undergraduate and graduate students. From early childhood education to engineering management, the online programs available at UD are ideal for aspiring professionals. Working adults can also benefit from the many online certificates available at UD. Online certificates cover subjects such as six sigma, teacher leadership, design of experiments, business analytics and technology-enhanced learning. Legal professionals can earn a doctorate in jurisprudence online. While most of the courses in this program can be attended remotely, it has some residency requirements, so students must live near campus.
About the University of Dayton
UD is the second-largest private university in Ohio. It was founded in 1850 by the Society of Mary, a Catholic Marianist group that settled in the region in the 19th century. Today, UD is one of three Marianist universities in the country. It has been ranked the number one Catholic university for engineering research and development. More than 11,000 students have chosen UD as their alma mater. Notable alumni include American humorist Erma Bombeck, football coach Jon Gruden, sportscaster Dan Patrick, and professional football player Chuck Noll.
University of Dayton Accreditation Details
The University of Dayton is accredited by the North Central Association of Colleges and Schools of the Higher Learning Commission (NCA-HCL). The NCA-HCL is a regional agency that provides accreditation for schools at the institutional level. The Department of Education recognizes the NCA-HCL as the regional provider of institutional accreditation in the Upper Midwest. With regional accreditation, UD is able to offer college credits that will be recognized at institutions throughout the world. Individual programs at UD are accredited by professional agencies such as:
Academy of Nutrition and Dietetics
American Bar Association
American Physical Therapy Association
National Association of Schools of Art and Design
National Association of Schools of Music
National Council for Accreditation of Teacher Education
Students in vocational and professional programs at UD can be sure that their degree will prepare them for real-world challenges in their careers. Accreditation is renewed every five to 10 years, and UD accreditation has consistently been kept up to date and in good standing.
University of Dayton Application Requirements
Students can begin the application process by filling out a common or coalition application online. Submitting an application automatically qualifies students for a merit scholarship for the amount of up to $112,000. All applications must be accompanied by official transcripts. Incoming freshmen without high school transcripts must provide proof of a GED. The common and coalition applications are intended for undergraduate and graduate students looking to take courses online or on campus. Admissions to the University of Dayton are based on the following criteria:
Grade point average
Graduation ranking
Course schedule
Letters of recommendation
SAT or ACT scores
GRE scores
Advanced Placement or CLEP exam scores
Extracurricular activities
Personal background
Regular applications are due by February 1, and early action applications are due by November 1. UD provides additional resources for transfer students and international students. All applicants can take the free college major selection quiz, and visits to the campus can be scheduled online for available dates.
Tuition and Financial Aid
The cost of tuition at UD is around $42,900 per year. Tuition is the same for graduates and undergraduates taking traditional or online classes. When the cost of living and books is included, the total amount is increased by around $12,000 to $15,000 per year, depending on the student's major or degree program. After financial aid has been calculated, UD students can expect to pay around $33,000 in total. The Free Application for Federal Student Aid (FAFSA) program offers access to free grants and low-interest loans for qualifying students.
The academic programs at the University of Dayton are rigorous and challenging, and they encompass a wide range of disciplines and professional fields relevant to today's economy.