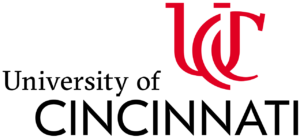 Degree Programs at the University of Cincinnati
The University of Cincinnati appears in our ranking of the 30 Best Online Schools for Graduate Degrees.
The University of Cincinnati offers a range of degree programs that include some online options. It introduced the concept of co-op education in which students work for employers and gain practical skills and experience. Students can earn their degrees from one of the seven schools that operate within the university, including the College of Arts and Sciences and the College of Allied Health Sciences. Some of the majors available at the University of Cincinnati for undergrads include business, communication, fire science technology and interdisciplinary studies.
Graduate students can also earn their degrees from the University of Cincinnati. They have the choice between taking classes on the campus in Cincinnati or a smaller campus, but they can also earn their degrees through the university's online campus. A Master of Health Administration (MHA) is available from the College of Allied Health Sciences as both an online and a traditional program. Many of its programs are available from the university's College of Education, Criminal Justice and Human Services. Those programs include a Master of Education in Curriculum and Instruction and a Master of Science in Criminal Justice.
Undergrads can now earn 15 degrees online from the University of Cincinnati too. Its Bachelor of Science in Health Science (BSHS) programs include majors in health information management and behavior and occupation studies. An interdisciplinary studies program allows students to study multiple subjects without picking one specific major. The university's online programs include some associate degree options too. It worked with Clermont College to establish programs in health information systems technology and business information technology. Other associate degree programs available online include those in early childhood education, fire science technology and early childhood care and education.
About the University of Cincinnati
The University of Cincinnati is a comprehensive public university in Cincinnati, Ohio. Often called Cincinnati or UC, it has an enrollment of more than 44,000 students, which makes it one of the largest schools in Ohio. Established in 1819 as the Cincinnati College, it opened at the same time that the Medical College of Ohio did. The college closed for several years due to financial problems. When it opened again, it merged with the Cincinnati Law School. The college would move to a new location in the city in 1890 where it still has a campus today. Many people know UC because it invented the idea of co-op education. Students can now work for public and private corporations and institutions across the region.
UC is now home to several campuses. The Uptown campus is the largest and serves as the flagship campus. Other campuses are joint efforts between the university and Blue Ash College and Clearmont College. UC East is a newer campus owned by the university that operates out of a former auto plant. U.S. News & World Report ranks UC as the 64th best American public university, the 135th best overall university in the country and the 189th best school in the world. Some of the students and faculty working for UC helped develop the first electronic organ, oral vaccine for polio and antihistamine.
University of Cincinnati Accreditation Details
UC has regional accreditation from the North Central Association of Colleges and Schools (NCACS), which also grants accreditation to other schools in Ohio and surrounding states. This accreditation lets UC design curriculum for each of its degree programs and to award financial aid packages based on the unique needs that each student has. Some of its courses and programs have program accreditation from organizations, including the American Bar Association (ABA), Council on Education for Public Health (CEPH), National Council for Accreditation of Teacher Education (NCATE) and National Association of Schools of Music (NASM).
University of Cincinnati Application Requirements
The average GPA for an incoming freshman at UC is 3.6. This includes high school grades of mainly As with a few B grades. UC has an acceptance rate of more than 78% and will enroll those with a lower GPA if their test scores show that they are capable of doing college work. To apply, all undergrads must submit the UC application and pay the university's application fee. They will also need to provide high school or college transcripts and an ACT/SAT score. Students should follow the college prep curriculum in Ohio or a similar curriculum from another state.
Graduate students can also apply to UC, but they will need to use the UC Graduate School application. The university only accepts those who meet the requirements of this school and the program. Each program has its own requirements, which usually include the application and transcripts. Students usually need a college GA of at least 3.0 and a strong history that shows they take courses relating to their majors. They may need to provide references who can talk about their academic achievements and professional experiences or submit letters of recommendation. Many UC programs also require personal essays or statements too.
Tuition and Financial Aid
With three campuses to choose from, UC charges students different rates based on where they attend college. Those taking classes on the Uptown campus pay $459 per credit hour as an Ohio resident. Those living in the metropolitan area around Cincinnati pay $484 per credit hour, and those who live outside of that area pay $1,098 per credit hour. The Clermont and Blue Ash campuses charge undergrads as little as $222 per credit hour. Graduate students at UC pay $724 per credit hour as an Ohio resident and $754 per credit hour as a resident living in the metro area. The university also charges a rate of $1,311 per credit hour for all nonresident grad students.
To get financial aid, UC students can apply for both government aid and institutional aid. Government aid comes from both the federal and the state government and includes subsidized loans for undergrads and unsubsidized loans for graduate students. Grants and scholarships are both examples of the institutional aid that is available. UC will look at the FAFSA to see if a student needs aid based on merit, need or both and design a package to cover his or her overall need. Students can also join the Federal Work Study program or work for the university. The University of Cincinnati offers financial aid for traditional students as well as online students.