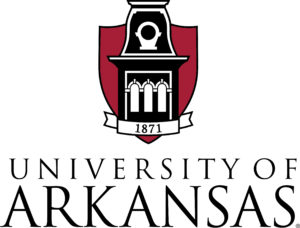 University of Arkansas Degree Programs
The University of Arkansas appears in our ranking of the 20 Best Online Schools for Doctorate Degrees.
The University of Arkansas (UA) is a public educational institution that provides quality education for over 27,000 students. The UA occupies the hilltops that sweep across the picturesque western horizon of Fayetteville, AR. The campus operates as the flagship of an extensive University of Arkansas System of schools. UA is noted for its motto of "students first," a sentiment that has endured since the founding of the school in the 1870s. Student life is augmented by 360 organizations that incorporate everything from religious to scientific leanings in which students are encouraged to test their boundaries while cultivating their new-found worlds of thought. Students can select among 14 sororities or 20 fraternities that have houses on campus. With 91 fields of study to choose from, undergraduates have plenty of opportunities to select the pathway toward their future.
The school streamlines its academics through ten colleges or divisions. Those internal schools include:
Dale Bumpers College of Agricultural, Food and Life Sciences
Fay Jones School of Architecture and Design
J. William Fulbright College of Arts and Sciences
Sam M Walton College of Business
College of Education and Health Professions
College of Engineering
Honors College
Global Campus
Graduate School and International Education
School of Law
The honors program at the UA allows access to the finest faculty the UA has to offer to students who excel in their studies. Students in the honors program enjoy smaller classes, individualized instruction, and a clear path to success. The student, in turn, is expected to continue to apply themselves to their work and maintain a high GPA as well as an excellent participation record in extracurricular activities.
At the UA, the Global Campus is a complete division devoted to the development and maintenance of online educational programs. The university's dedication to distance learning is an outreach to those who otherwise would not have an opportunity to gain access to higher education. The division is an excellent example of how the university's motto of "student first" projects itself throughout the curriculum.
The UA prepares students for life after college by offering 87 pathways toward an undergraduate degree. The programs involve essential areas of study such as business, anthropology, foreign languages, fashion, art, history, biology, chemistry, physics, engineering, communication, information systems, criminology, agriculture, education, English, nutrition, horticulture, nursing, healthcare, and so many more. Of the 87 major degrees offered on campus, eight are presented entirely online for those who are unable to attend traditional classes, including:
Bachelor of Arts in Communication
Bachelor of Arts in Interdisciplinary Studies
Bachelor of Science in Business Administration-Accounting
Bachelor of Science in Business Administration—General Business
Bachelor of Science in Business Administration—Supply Chain Management
Bachelor of Science in Education—Human Resource and Workforce Development Education
Bachelor of Science in Nursing—LPN to BSN
Bachelor of Science in Nursing—RN to BSN
The UA encourages students to seek a minor field of study to add to their major area of study. Generally, minors are used to supplement the education of the student and provide an added field in which they can confidently seek employment. Some students use a minor to explore areas far removed from the major they are seeking. Most students use the minor to augment their degree in a specialty, almost as a certification in a specialty area within their field of study. Students who seek a minor must complete 12 to 18 hours of upper-division studies in the added area. Many students utilize their electives to satisfy the requirements of their minor degree. Some students strategize their minor degree to keep their minds in the academic loop during summer months while still visiting friends, working, or relishing their time with family. Those students who use their summer months for studies in a minor field take advantage of the Global Campus which offers 17 minor fields of study.
At the graduate-level, the UA offers 130 pathways for students to advance their educational portfolio, including master's degrees, graduate-level certifications, and doctoral degrees. Of those pathways, the masters-level degrees are the most populous with 87 degrees offered. Global Campus presents 22 entirely online in coordination with the on-campus programs. Some professional studies work through the Global Campus in coordination with partnerships melded through industries to complete the lab work through practical experience that would typically be covered in on-campus courses. To achieve a master's degree, a student must participate in 30 to 36 credit hours of study and accomplish either a capstone or thesis project.
Some students elect to sharpen their expertise after completion of a Master's degree through the certification process. These programs include 12-18 hours of intense study. The UA presents a student with 32 choices for post-graduate certification. In an acknowledgment that many of the students seeking certification are working and have no time to attend classes, the Global Campus presents 17 of the programs entirely online, the diversity of which demonstrates the commitment the UA has toward professional excellence.
The UA delivers 61 doctoral-level programs. These programs involve over 60-credit hours of study beyond any previous degree studies. Almost all the programs require students to attend classes on campus. Most doctoral candidates serve as instructors of lower-level classes to augment the cost of their further education. The subjects of doctoral studies cover the full gamut of the educational digest offered at UA. There are four doctorate degrees that Global Campus offers online. They include:
Doctor of Education in Adult and Lifelong Learning
Doctor of Education in Educational Leadership
Doctor of Education in Human Resource and Workforce Development Education
Doctor of Nursing Practice
About University of Arkansas
Against all the odds, the UA was founded in 1871 during the ravages brought by the American Civil War. Located in the northwest hills of Arkansas, the college found a ready home in Fayetteville. The relationship between the university and the community of Fayetteville is considered one of the finest in the country. The school sponsors two arboretums that overlook the vast panorama of the Arkansas Ozark region providing a delightful atmosphere for students to study. The environment is an open appeal for faculty members who raise their families in an environment that nurtures the mind as well as the body.
The Academic Ranking of World Universities, an organization that ranks schools according to academic achievements, places the UA at number 138 among all schools across the globe. US News & World Report ranks the UA as 153rd in its list of Top Public Schools, 109th in Best Colleges for Veterans, and 167th in Best Value Schools.
University of Arkansas Accreditation Details
The UA is regionally accredited through the Institutional Actions Council of the Higher Learning Commission and has been since 1924. Specialized accreditations for individual schools and colleges within the UA include:
Accreditation Board of Engineering and Technology (ABET)
American Council for Construction Education (ACCE)
The Association to Advance Collegiate Schools of Business (AACSB)
Network of Schools of Public Policy, Affairs, and Administration (NSPPAA)
Committee on Professional Training of the American Chemical (CPTAC)
National Association of Schools of Art and Design (NASAD)
National Association of Schools of Music (NASM)
National Association of Schools of Theatre (NAST)
American Council on the Teaching of Foreign Languages (ACTTFL)
American Bar Association (ABA)
Association of American Law Schools (AALS)
Association for Education and Rehabilitation of the Blind and Visually Impaired (AERBVI)
Council for the Accreditation of Educator Preparation (CAEP)
Council for Accreditation of Counseling and Related Education Programs (CACREP)
Commission on Collegiate Interpreter Education (CCIE)
Commission of Professors of Adult Education (CPAE)
Arkansas State Board of Nursing (ASBN)
Accreditation Commission for Education in Nursing (ACEN)
Arkansas Department of Education (ADE)
Council on Social Work Education (CSWE)
University of Arkansas Application Requirements
The UA has an open admittance application process that can be found online. Students that satisfy the minimum admittance requirements are encouraged to apply. Those minimums include the submission of an official high school transcript that shows a 3.0 or higher GPA, an ACT score of 20 or higher, or an SAT equivalent score. The high school transcript must show the following courses taken:
Four units of English
Four units of mathematics including algebra I and higher courses
Three units of science with lab experience including biology, physics, and chemistry
Three units of social sciences, including U.S. or world history
Two units of advanced electives
Applicants for Graduate studies must present all official transcripts from post-secondary schools attended. Each graduate-level program has different test requirements which may or may not include GRE or GMAT scores. Contact the Graduate School for more details.
Tuition and Financial Aid
Tuition at the UA varies greatly between those students who are residents of Arkansas and non-residents. In-state students pay $9,384 in tuition and fees per year, while non-residents pay $25,872. Students who live on-campus pay another $11,330 in room and board. Online and graduate student costs are assessed by each program and are generally applied on a per credit hour taken basis. Consult with either the Global Campus or the Graduate School for price details.
To help pay for the cost of college, the UA Financial Aid Department works with each student to find scholarships, grants, or loans. The department works to find Pell Grants, Need Grants, and community, organizational, or state scholarships for students and helps them through the application process. The UA is fully accredited and, therefore able to obtain loans through the Federal Student Loan Program but encourages students to find other means to finance their education first.
The UA presents students with an incredible array of educational opportunities in a peaceful and secure environment. Graduates from the University of Arkansas see a high employment success rate where their education acts as a springboard to a successful career.