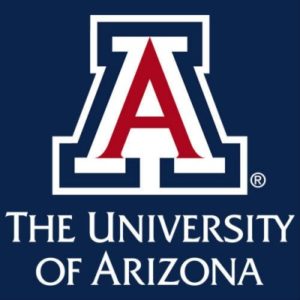 University of Arizona Wildcat Degrees and Programs
The University of Arizona appears in our ranking of the 30 Best Online Schools for Graduate Degrees.
The wildcat is known for its variations and its wide distribution. Degrees at the University of Arizona have those characteristics as well. There are more than 167 undergraduate areas of study and 300 graduate degrees in more than 150 areas of study. Additionally, there are more than 150 degrees available online.
Undergraduate degree programs at UA include degrees in accounting, agriculture, anthropology, American Indian studies, and aerospace engineering. The Bachelor of Science in Aerospace Engineering, for instance, is a 120 credit-hour program that includes courses in several areas of study including thermodynamics, fluid mechanics, solid mechanics, aerodynamics, gas dynamics, and control system design. There are opportunities for wind tunnel testing and laboratory experiments as well as internships. Students have hands-on experiences with real-world problems.
Undergraduates can also earn a Bachelor of Applied Science degree in many emphases. The BAS, Administration of Justice is a 120 credit-hour program that leads to careers in law enforcement, court systems, public safety, and immigration and customs enforcement. It is offered in a traditional format, online, as an interactive TV option or a hybrid.
There are several Bachelor of Business Administration programs available at the university. Most of these are offered online and are actually pre-business degrees that lead to specializations such as Business Economics, Business Management, and Management. Students may also earn a BS in Entrepreneurship and in Finance.
Undergraduate programs in education include degrees in Early Childhood Education, Elementary Education, Elementary Education-Bilingual Emphasis and Elementary Education-English as a Second Language. There are undergraduate degrees in engineering, in fine arts and family studies as well.
The Bachelor of General Studies is a unique program that allows students to design their own degrees. In addition to university general education courses, students in this program choose one of six emphasis areas that include Arts, Media and Entertainment; Economy and Industry; Global and Cultural Understanding; Science, Technology, Health and Society; Social Behavior and Human Understanding and Sports and Society. The multidisciplinary program requires 27 credit hours in one of these areas and 27 hours split evenly between three degree concentrations.
Other undergraduate degree programs include geosciences, humanities, history, journalism, mathematics, natural resources, neurosciences, nursing, sociology and many more. In fact, there are more than 300 undergraduate majors offered at the University of Arizona.
Graduate programs are no less diverse. Students may earn a Master of Accounting, Master of Science in Accounting or a certificate in accounting. The Eller College of Management also offers MBAs, MPAs, masters and doctoral degrees in economics, entrepreneurship, finance, marketing, management, and public administration.
The Master of Science in Aerospace Engineering can be earned in one of three formats. The thesis option contains 26 units of coursework and six units in the thesis development. The Non-Thesis option requires 29 units of coursework and three units in the writing and presentation of a report. The non-thesis, coursework-only format requires 32 units and is not available to students with a university fellowship or assistantship.
There are 11 graduate programs in agriculture, several degrees and a certificate in biomedical science, and seven degrees in counseling including the Master of Arts in Counseling; MA in Counseling, Rehabilitation, and Mental Health; MA in Counseling, School Counseling; MA in Counseling, Rehab Counseling, and others. Counselor Education and Supervision may be earned as a minor or in a Ph.D. program. Many of these are offered online.
Graduate Education degrees include a Master of Arts in Educational Policy, Ph.D. in Educational Leadership and Policy, an EDD, EDS, and MEd in Educational Leadership, MA in Educational Psychology and a Ph.D. in Educational Psychology. There is a Master of Arts in Library and Information Science that is offered on campus or online. It is an accelerated program that allows students to earn a BA in Information Sciences and eSociety plus the master's degree in library in five tears.
Graduate degrees are also available in journalism, mining, natural resources, nursing, and many other programs. There are also several certificate programs, most of which are online. Additionally, there are more than 150 degree offerings that are 100 percent online.
About the University of Arizona
This school was founded as a Morrill Land Grant school in 1885. It was the first university in Arizona Territory. The University of Arizona is classified as a Carnegie High-Research school which means it receives a significant amount of money for, and expends much of its budget in, research. In 2009, the school received more than $325 million for work on the NASA Mars Mission. The University of Arizona has a student body of nearly 45,000 and is ranked as # 106 of National Universities by the US News and World Report. Its online programs are also highly ranked. Most classes at the school have fewer than 20 students, and the student-to-faculty ratio is 15:1.
University of Arizona Accreditation Details
Accreditations at this school include:
Higher Learning Commission
American Association of Veterinary Laboratory Diagnostics
Arizona Department of Education
Accrediting Board for Engineering and Technology (ABET)
Accreditation Council for Range Management
Society for Range Management
Council on Rehabilitation Education
Council for the Accreditation of Counseling and Related Educational Programs (CACREP)
American Psychological Association
National Association of Schools of Arts and Design
National Association of Schools of Dance
Commission on English Language Program Accreditation
Accreditation Council for Graduate Medical Education
Commission on Collegiate Nursing Education
Accreditation Council for Pharmacy Education
American Chemical Society
American Bar Association
Association for the Advancement of Collegiate Schools of Business
And others
University of Arizona Application Requirements
Students applying as freshmen should complete the application form and submit it, along with the $50 application fee to the school. Applicants self-report their grades from the first six semesters of high school and then arrange for the school to send the official transcript. They must also submit the official SAT or ACT scores.
Graduate students applying to the university should first choose a program and then create an online profile with the school. They will have to choose a campus, and students may not be enrolled on more than one campus at a time. Applicants must have their official undergraduate transcripts sent to the university and pay the non-refundable application fee of $85. Additionally, each program or department has requisites, so applicants must check their department and submit all required materials.
Tuition and Financial Aid
The estimated cost of attendance for undergraduates at the University of Arizona is $20,500 per year. That amount includes tuition, room and board, books and supplies and miscellaneous expenses. The estimated cost of attendance for graduate students is $32,450.
Getting help to pay that bill begins with completing the FAFSA form. Once students receive their award letters from that government program, they can begin searching for financial aid. Arizona sponsors the Leveraging Education Assistance Program which assists low-income students and the Teacher Student Loan Program which helps teachers repay student loans.
The University of Arizona has several scholarships and grants as well. Some of these are the Arizona Merit Tuition Awards, awards for Native Americans, the Flinn Foundation Grant, and others. There are also funds for students in specific programs or from specific populations. Many of these are funded by private individuals or foundations, service organizations and even corporations. The university has a list of these, and others may be found through an Internet search.
Paying for an education is challenging, but possible. These funds, along with loans, work-study opportunities and part-time employment will help students meet their expenses for degree programs at the University of Arizona.