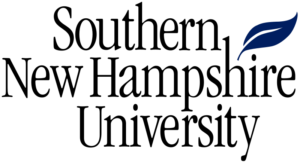 Degrees Offered at Southern New Hampshire University
Southern New Hampshire University appears in our ranking of the 10 Best Online Schools for Graphic Design.
Southern New Hampshire University offers a complete selection of bachelor's, master's and doctoral degrees in both online and in-person formats. SNHU is a private, nonprofit university that specializes in educating aspiring professionals who are looking for convenient scheduling options and state-of-the-art learning technologies. While the degree options at SNHU are extensive and varied, students can combine courses from unrelated disciplines to make their university education more well-rounded and relevant to various fields in the economy.
Undergraduate students can choose from a wide selection of associate's programs and degree minors that are designed to help them find the perfect career after graduation. Degree minors do not have to be related to degree majors, so science majors can minor in the humanities, and vice-versa. All of the campus resources needed to successfully complete a bachelor's, master's or doctoral degree plan are available to online and non-residential students. From library computers, printers, scanners, and software to job placement and internship resources, all students at SNHU have the tools and technology they need to graduate in a timely manner.
Online classes at SNHU are designed to be flexible and rewarding for students of all ages and life experience. The selection of online classes at SNHU is quite large, and the online course schedule is divided into convenient mini-semesters. Students can alternate between online and on-campus classes from one semester to another, and they can enroll in a mixed schedule of online and in-person classes.
From accounting and business administration to anthropology and creative writing, the degrees available online cover the full range of accredited degrees at SNHU. Online students can major in criminal justice, graphic design & media arts, education, cybersecurity, digital photography, environmental science, and many other options. Master's students who want to enroll in online classes can choose from a wide range of degree programs, including finance, health information management, history, human resources, and many others.
Many subjects include several options for a degree focus. Accounting students can focus on auditing, forensic accounting, management accounting or taxation. Master of education students can specialize in dyslexia and language-based learning disabilities, educational leadership, special education or technology integration. Master's students must choose a degree focus at the time of enrollment. Each specialization culminates in a capstone project that draws from material taught throughout the master's program.
SNHU offers over 30 non-degree certificate programs for busy professionals. Certificates typically take up to one year to complete and may require a bachelor's degree for enrollment. From accounting to advanced counterterrorism and homeland security, the certificate programs at SNHU offer excellent professional preparation and credentials. Working professionals don't need to take time off from their jobs to acquire the skills they need to advance their careers. Certificates are available online and on-campus, depending on the program. Online certificates include finance, athletic administration, nonprofit leadership, project management, and others. Certificates available only on campus include educational leadership, police and law enforcement, pre-law and many more.
Over 300 degree and certificate programs are available to students at SNHU. The faculty at SNHU is renowned for being one of the most elite groups of instructors in the education system. Administrators at SNHU are always available to assist students with questions and offer guidance for their enrollment. Whether a student is enrolled in graduate or undergraduate courses, he or she can expect personal support and meaningful encouragement.
Doctoral students at SNHU have three accredited programs to choose from, all available on campus only. The international business Ph.D. program prepares students for leadership positions at major corporations across the world. Education students can choose from a Ph.D. or Ed.D. in educational leadership degree program.
About Southern New Hampshire University
Southern New Hampshire University was founded in 1932 as a small, privately funded school designed to train professional bookkeepers, accountants, and auditors. In 1948, several academic programs were added to the curriculum, including business, marketing, psychology, economics, and public speaking. Throughout the rest of the 20th century, SNHU continued to add programs and expand its academic resources. Degree programs became accredited during the 1970s, and SNHU became a full-fledged university in the early 2000s. Online classes were added to the enrollment options in 2002, and the number of online and on-campus programs has continued to increase ever since. In 2004, the School of Education was added to the campus of SNHU, and several doctoral degree programs were accredited. The College of Engineering, Technology and Aeronautics opened in 2017.
Southern New Hampshire University Accreditation Details
Southern New Hampshire University is accredited by the New England Commission of Higher Education (NECHE) to award bachelor's, master's and doctoral degrees to students in every academic discipline. Several degree programs are individually accredited by separate commissions. Hospitality degrees are accredited by the Accreditation Commission for Programs in Hospitality Administration (ACPHA). Several business degree programs are accredited by the Accreditation Council for Business Schools and Programs (ACBSP). Nursing programs at SNHU are accredited by the Commission on Collegiate Nursing Education (CCNE). The education school at SNHU is accredited by the Council for the Accreditation of Educator Preparation (CAEP) to award a wide range of two- and four-year degrees as well as several professional certificates and two doctoral degrees.
Southern New Hampshire University Application Requirements
Applying for admission to Southern New Hampshire University is a straightforward process. Prospective students must have a high school or college transcript with GPA, class ranking and class size information. Graduate students must have a college transcript with information pertaining to a bachelor's degree from an accredited university. Applicants must include SAT, ACT or GRE scores with their applications. Applications for online students are somewhat more flexible than applications for residential students. Online classes follow year-round eight- or 10-week semester schedules. The shorter class schedules for online students decrease the importance of enrollment deadlines. Applications for residential students must be submitted by June 3 for fall enrollment and October 14 for spring enrollment.
Tuition and Financial Aid
The cost of tuition at Southern New Hampshire University is approximately $31,136 per year for both in-state and out-of-state residents. Books, food, room, board, and other fees can increase this cost by $12,000 to $20,000 per year. Financial aid is available to all students through the financial aid office as well as the Free Application for Federal Student Aid (FAFSA) website. Through FAFSA, students can apply for grants and low-cost loans available through federally approved loan providers. Many scholarships and work-study opportunities are available through the financial aid office at Southern New Hampshire University.