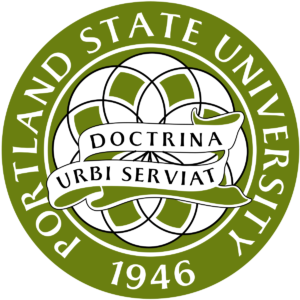 Degree Programs at Portland State University
Portland State University appears in our ranking of the 20 Best Online Schools for Early Childhood Education.
At Portland State University, students can choose from undergraduate, graduate and online degree programs. All of the undergraduate programs include a core curriculum that asks students to take math, English, science and other courses to gain a basic understanding of the subjects they will study later. It offers one of the only majors in comic studies in the world. Available from the College of Arts, it helps students become better writers and artists as they study the comic book medium.
Child, youth and family studies is another undergraduate program offered by Portland State University. It prepares students for working with children and teenagers in different settings and can help them become licensed social workers. The core in this program features classes that include Family Theories, Families, Stress and Change, History of American Families and Family Law and Policy. Majors also do field practicums to become more familiar with working with kids and their families. In the jazz studies program, students can hone their musical skills as they work with professors and other students in their classes and on stage. Other majors for undergrads include business administration, music theory, public health, social work, secondary education, and physics.
At the graduate level, students can choose from majors such as addictions counseling and marriage, family and couple counseling. Most of the counseling programs have accreditation and help students become licensed counselors in Oregon. It includes practicums in counseling centers too. Another popular choice for graduate students is the Master of Business Administration (MBA) program. It includes a Green MBA option that Princeton Review ranked as one of the top five business programs in the country. Business analytics, finance, taxation, and the athletic and outdoor industry are some of the concentrations available for majors. Chemistry, art, biology, English, math education and hydrology are other majors that Portland State University offers for graduate students.
Through Portland State University Online, students can earn both degrees and certificates. Certificates include fields such as advanced crime analysis, teaching adult learners, taxation, HR analytics, and infant and toddler mental health. Students seeking a bachelor's degree can study criminal justice, public health, social science and urban and public affairs among other topics. The university offers a few graduate degree programs online, including those in curriculum and instruction, early childhood education, taxation and public health practice. Portland State University can also help teachers add new endorsements to their licenses through its online system.
About Portland State University
Portland State University is a public university with a large campus in Portland, Oregon. Stephen Edward Epler established the university in 1946 as the Vanport Extension Center as a way to meet the demands of students using the GI Bill after World War II. It would become the Portland Extension Center in the early 1950s and Portland State College a few years later. The college continued growing through the 1950s and 1960s and became Portland State University at the end of the decade, quickly adopting the PSU and Portland State nicknames. PSU now has an enrollment of more than 28,000 students and ranks on several global and national lists. U.S. News and World Report ranks the university as having some of the top programs in subjects such as counseling, social work, and education.
Portland State University Accreditation Details
PSU has institutional accreditation from the Northwest Commission on Colleges and Universities (NWCCU), which is the organization that grants regional accreditation to schools in the northwest. This allows students seeking a financial aid package from the university to use the Free Application for Federal Student Aid (FAFSA) and to both transfer credits to and from Portland as needed. Some of the programs at PSU that have specialty accreditation include those in theater, music, chemistry, urban planning and public health. Students can view all of the university's program accreditation before they enroll.
Portland State University Application Requirements
PSU accepts more than 90% of the applications that it receives from prospective undergrads every year. Freshmen need both an unweighted grade point average of 3.0 or higher and a high school diploma. The university asks for an ACT or SAT score from students who graduated from high school in the last three years but allows older students to apply without a test score. Students also need to complete the core high school curriculum that features two years of a foreign language and four years of English classes. They can apply and check their application status online, but their transcripts and test scores either need to come through the mail or electronically.
Any student applying to one of the graduate programs at PSU needs to make sure that they completed all prerequisites of the program before they apply. This can include general education courses or classes that relate to specific areas of their majors. The application for the university's graduate school opens in the middle of September and asks students to apply by the middle of January. They typically need to submit their official or unofficial transcripts, a resume and two letters of recommendation. The counseling programs and others have an interview requirement in which students need to interview with faculty members after they apply.
Tuition and Financial Aid
PSU undergrads pay $171 per credit hour if they live in Oregon. The university's tuition does not include all of the fees that students pay, which a $44 per credit hour academic fee and a $149 health services fee. Only students who take a minimum of five credits need to pay this fee. Undergrads who come from outside of Oregon pay $570 per credit hour. Graduate students attending PSU pay $414 per credit hour as an Oregon resident and $630 as a nonresident.
With financial aid packages, PSU can help students pay their way through school. It looks at how much the families of undergrads can contribute to their estimated costs and the merit that they showed on their applications. Those students can qualify for the federal work-study program that gives them a job on or off the campus, state grants, federal loans, and university scholarships. Graduate students can also get jobs at PSU and federal loans, but the FAFSA does not ask about how much they or their families will contribute. Financial aid award letters go out by the early summer to students accepted into the degree programs at Portland State University.