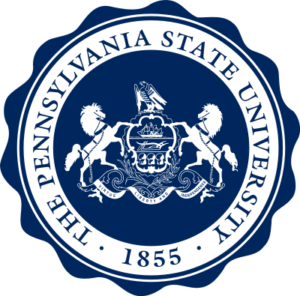 Degrees Offered at Pennsylvania State University
Pennsylvania State University appears in our ranking of the 30 Best Online Schools for Graduate Degrees.
Pennsylvania State University offers all the bachelor's degrees and graduate degrees students need to be competitive in the modern economy. With several campuses spanning a large region of the state of Pennsylvania, the university is home to a wide range of colleges covering every discipline from fine arts to engineering, mathematics, and physics. Most of the college departments at Penn State have been educating students and conducting world-class research for generations. Students of all educational programs at Penn State have the benefit of working with some of the most talented professors in their respective fields. Whether a student is enrolled in undergraduate courses, graduate courses or a post-graduate research project, the resources, tools, and technology needed for a successful experience will be easily accessible. Penn State is famous for its innovative World Campus online learning program that offers each student a top-ranked education at his or her own pace.
More than 100 degree programs are offered online by the World Campus program at Penn State. Many graduate courses are available online, and graduate students can enroll in a wide selection of degree programs that are conducted entirely online. Undergraduate degrees in disciplines ranging from business and law to liberal arts and sciences are offered by the World Campus. A large selection of master's degrees are also available online, including degrees specializing in homeland security, nursing, geospatial technology, and many others. World Campus programs have the same graduation requirements as in-person programs. Students must attend all the required lecture hours for a course to receive credit whether they take the course online or in person. Online programs at Penn State are offered by the same colleges on campus as the traditional in-person programs.
Most students at Pennsylvania State University are enrolled in one of the hundreds of bachelor's programs available in the dozens of academic departments on campus. A four-year degree at Penn State consists of eight full-time semesters of classroom or online learning and one or more capstone projects before graduation. A senior thesis project typically takes an entire semester to complete and draws on material covered throughout the degree program. From medicine and law to psychology and media studies, the majors available at Penn State are varied in their subject matter and consistent in their high standard of excellence. Separate colleges exist to provide Penn State students with educations in law and pre-medicine, respectively. While all of the degree programs at Penn State are offered by individual colleges on campus, the law and pre-medical schools have special requirements for enrollment. The Dickinson Law building is one of the oldest law schools in Pennsylvania, and the Penn State Law building offers students a legal education that is renowned throughout the world.
The graduate programs at Pennsylvania State University are designed to give students the expertise and knowledge they need to become leaders in the industries they join after graduation. From agricultural science to arts and architecture, the various colleges at Penn State offer world-class graduate programs. Students of the school of education can learn from many of the top teacher educators and academic administrators in the country. Penn State is one of the top public research universities awarding graduate degrees across all disciplines, and a master's or doctoral degree from Penn State is highly prestigious in any industry or academic department. Graduate students at Penn State must be able to perform high-caliber work independently or in small groups for a sustained period of time. The pace of these programs, both online and in person, is highly accelerated. Quality of learning is the focus of graduate programs at Penn State.
About Pennsylvania State University
Pennsylvania State University is one of the largest and oldest post-secondary schools in the state of Pennsylvania. It is ranked in the top one percent of colleges worldwide, and students who graduate from Penn State have excellent job placement success. Over 100,000 students are enrolled in undergraduate and graduate programs at Penn State. There are 24 campuses located throughout the state of Pennsylvania, and the university employs over 17,000 faculty members across all academic disciplines. Penn State was founded in 1855 as an agricultural college, and it has grown over the generations into one of the top public research universities in the world. It is widely considered to be one of the "Public Ivies" by academic commentators and analysts.
Pennsylvania State University Accreditation Details
Each college and department at Pennsylvania State University is accredited by a commission that specializes in the subject of a particular academic discipline. Depending on the degree that a student wants to pursue at Penn State, the accrediting commission responsible for validating the degree program will be different. A few of the top accrediting bodies commissioned by Penn State include the National Architectural Accrediting Board (NAAB), the Accreditation Review Commission on Education for the Physician Assistant (ARC-PA), the Accreditation Association for Ambulatory Health Care (AAAHC) and the Joint Review Committee on Education in Radiologic Technology (JRCERT). Accreditation details for specific degree programs can be found on the Penn State website.
Pennsylvania State University Application Requirements
The process of enrollment at Pennsylvania State University varies by degree type. All programs require students to submit high school or college transcripts with GPA information. Undergraduate students must also include SAT or ACT scores with their applications. World Campus students can apply for admission on the Penn State website for the World Campus system. Undergraduate, graduate and continuing education students can submit applications for enrollment on the Penn State Web pages associated with their degree type. The review process is highly selective, so applicants should ensure that their academic records are above-average.
Tuition and Financial Aid
Tuition costs at Pennsylvania State University reflect the cost of education in the northeastern United States. In-state residents can expect to pay around $18,000 per year for an undergraduate degree while out-of-state residents can expect to pay around $34,000 per year. The cost of online and graduate school courses is approximately the same as the cost of on-campus undergraduate courses. Financial aid is available to all Penn State students, and most or all of tuition, books and living expenses can be covered by financial aid. The Free Application for Federal Student Aid (FAFSA) website offers a simple application for grants and loans from approved providers. With careful planning, it is possible for students to graduate from Pennsylvania State University with minimal student loan debt.