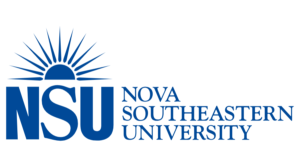 Nova Southeastern University Degrees & Programs
Nova Southeastern University appears in our ranking of the 20 Best Online Schools for Forensic Psychology.
More than 150 programs of study are available at Nova Southeastern University, and those programs are housed within 18 schools and colleges. Some of the most popular degrees earned at Nova Southeastern University include those in various health professions, biology, business, psychology, and education. The university enjoys a respectable freshman retention rate of 78 percent.
Students who have not yet earned a bachelor's degree may qualify for the dual admission option, which allows highly motivated students to qualify for entry into a graduate degree program before starting a bachelor's degree. Students must submit an extra application called the Premier Programs Application and fill out the dual admission section.
Some of the colleges, schools, and centers that offer programs include the Schools of Business, Computing and Engineering, Law, Allopathic Medicine, and Dental Medicine. The university also has official Departments of Honors Studies, Health Care Sciences, National Sciences and Oceanography, and Early Childhood Education.
Students may pursue bachelor's, doctoral, dual admission, master's, minors, and specialist degrees and programs. Locations available for enrollment include the main campus in Fort Lauderdale, as well as the cities of Clearwater, Miami, and Jacksonville, as well as a handful of other communities. Students can also study online or in San Juan, Puerto Rico.
A handful of undergraduate programs available includes the Bachelor of Science in Accounting, the Bachelor of Science in Behavioral Neuroscience, and the Bachelor of Science in Sonography. Other topics available for study at the undergraduate level include criminal justice, English, dance, human services administration, legal studies, and information technology.
For graduate students, some of the degrees include a Master of Science in Clinical Vision Research, a Master of Business Administration, a Master of Science in Dental Medicine, and a Master of Science in Experimental Psychology. Students can also study health law, family therapy, information assurance and cybersecurity, or forensic pathology.
Students interested in entering doctoral or specialist programs also have many areas of study available, from computer science to audiology to criminal justice. Degrees include a Ph.D. in Family Therapy, a Doctor of Health Science, and a Doctor of Marriage and Family Therapy. Post-professional programs are available in areas like occupational therapy, and the university also has a doctoral hybrid program available in physical therapy.
About Nova Southeastern University
Nova Southeastern University is a private university in Davie, Florida. The school was founded in 1964 and was originally placed on a landing field that was built during the Second World War. Once named the Nova University of Advanced Technology, the university's initial offerings were graduate degrees in social and physical science subjects. Today, the university has around 20,000 students enrolled.
The university's official colors are gray and blue, and its athletic teams play in NCAA Division II games as part of the Sunshine State Conference. The teams are nicknamed the Sharks, and they're joined by an official mascot named Razor the Shark. The student newspaper at the university is named "The Current." The main campus in suburban Fort Lauderdale covers 480 acres. The first class at the university had just 17 students enrolled.
Nova Southeastern University Accreditation Details
The regional accreditation agency for Nova Southeastern University is the Southern Association of Colleges and Schools. Accreditation allows the university to confer degrees, as well as offer student financial aid through the federal loan program. To maintain accreditation, the university regularly introduces initiatives to help students and improve operations. For example, the most recent reaccreditation process included an official Quality Enhancement Plan.
Academic programs and departments throughout the university are also accredited. For example, the American Psychological Association, as well as the Florida Department of Education, have accredited programs within the Center for Psychological Studies. Preliminary accreditation from the Liaison Committee on Medical Education has been earned by the College of Allopathic Medicine. The university's H. Wayne Huizenga School of Business and Entrepreneurship is accredited by the International Assembly for Collegiate Business Education.
Nova Southeastern University Application Requirements
Admissions requirements for students interested in enrolling at Nova Southeastern University include a non-refundable application fee of $50, the NSU Shark Select Application or The Common Application, and an optional personal essay. Students must also have official transcripts, standardized test scores, and letters of recommendation sent to the university.
Students who want to apply to a graduate program at Nova Southeastern University will submit the official application and an application fee of $50. Official transcripts from all previously attended institutions of higher learning are also required, and students who successfully apply are required to sign an enrollment agreement. The university may grant provisional acceptance if a student doesn't yet have evidence of having earned a bachelor's degree or final college transcripts available at the time of the initial application.
Tuition and Financial Aid
Tuition for undergraduate students at Nova Southeastern University is a flat rate of $15,575 for 12 to 18 credits. The per-credit cost is $1,038 for students taking fewer than 12 credits, and students will also pay an additional $1,038 for credits above 12. The Online eArmy program is $614 per credit. Room and board charges will add between $9,070 and $15,300 per year.
Tuition for graduate students at Nova Southeastern University varies and is based on the program in which a student enrolls. Generally, students in graduate degree programs will pay $790 per credit hour, and doctoral program students will pay $1,128 per credit hour. Students may also need to pay a registration fee of $30 each semester, as well as a student services fee of $500 for four or more credits or $250 for one to three credits. Transcripts are $10 per transcript.
The university offers many scholarship opportunities for students that vary from those offered to undergraduate students to others offered to graduate students. Some of the scholarships a student may qualify for include the Changing Lives Dean Yang Alumni Scholarship, the American Medical Technologists Outstanding Student Award, or the Broward International Women's Club Grant. There are also many fellowships available for students in certain programs.
Fellowships include the MD-AMA Government Relations Advocacy Fellowship and the Computer Science & Information Assurance Ph.D. Fellowship Program. Students may apply to as many scholarships as they want when they attend Nova Southeastern University and are encouraged to check with the university on a regular basis for information on newly added scholarships.