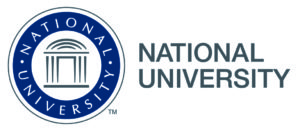 Degrees Offered at National University
National University appears in our ranking of the 20 Best Online Schools for Forensic Psychology.
National University offers its students many ways to earn undergraduate and graduate degrees through online study or attendance at one of the many campuses the university owns throughout California. Popular degrees at the university include those in nursing, business administration, psychology, early childhood education, and criminal justice.
The student-to-faculty ratio is 19-to-1, and about 79 percent of its classes are offered with fewer than 20 students. Available programs include bachelor's degrees and minors at the undergraduate level and graduate degrees and certificates at the graduate level. Some of the undergraduate programs available include a Bachelor of Arts in Digital Media Design, a Bachelor of Arts in Early Childhood Education, and a Bachelor of Arts in Interdisciplinary Studies.
For graduate students, available programs include a Master of Arts in Film Studies, a Master of Criminal Justice, and a Master of Accountancy. Students can also earn certificates like the Graduate Certificate in Applied Behavior Analysis or the Graduate Certificate in Health Informatics. Additionally, the university offers some credentialing programs.
Credentials are offered to students in Nevada and California. For Nevada-based students, the university offers an Endorsement for Generalist Resource Room. California residents can earn the Preliminary Administrative Services Credential. The university also offers a doctoral program with its Doctor of Nurse Anesthesia Practice.
Some of the additional areas of study at the university include electrical engineering, health informatics, juvenile justice, and homeland security. Students can also study sport psychology, sociology, political science, or mathematics.
The professional schools and colleges at National University include the College of Letters and Sciences, the School of Professional Studies, and the Sanford College of Education. The university also has the School of Business and Management, the School of Health and Human Services, and the School of Engineering and Computing within it. There is also a Division of Extended Learning where professional development classes are offered.
The university debuted a virtual high school in 2004 called the National University Virtual High School, which was designed as an opportunity for young adults to receive career and educational assistance online that might otherwise be unavailable to them in their home location. When the virtual high school was opened, National University had already been offering online courses for many years.
About National University
National University was founded in 1971 and is a private university in California. Students may attend classes online or at any of almost 30 campuses throughout the state. The university counts more than 170,000 alumni, with more than 23,000 students currently enrolled. The university's headquarters is in La Jolla, California, and around 2,700 academic staff members serve students there and at the university's other locations.
After its initial founding, it only took a few years until the university started expanding with two additional properties in Mission Valley. The 1980s brought further expansion to major cities throughout California, as well as Costa Rica and Las Vegas, Nevada. The university's official colors are gray and blue. The university was the recipient of an Emmy Award in 2006 for a commercial it aired called "One University."
National University Accreditation Details
National University is accredited by the Western Association of Schools and Colleges and is also accredited by several agencies for its professional schools, colleges, and programs. Regional accreditation gives the university the authority to award college degrees and offer financial aid to its students. Programmatic accreditations include those from the International Assembly for Collegiate Business Education and the National Council of Accreditation of Teacher Education.
Additional accreditations have been granted by the California Board of Registered Nursing, as well as the Commission on Collegiate Nursing Education, for the university's Bachelor of Science in Nursing. The Council on Education in Public Health and the Accreditation Board for Engineering and Technology have also accredited programs at the school.
National University Application Requirements
Prospective undergraduate students at National University must take a placement test for English and math before the university will finalize admission. High school graduates must earn a cumulative GPA of at least 2.0 or higher in their high school curriculum but may gain admission as a probationary student with the approval of the admissions team at the university.
To qualify for admission to one of the university's bachelor's degree programs, students must have a minimum of a bachelor's degree from a regionally accredited institution, as well as a grade point average of 2.5 or above. Students can gain admission to the university with a lower GPA as long as they have been able to earn a satisfactory score on the GMAT or another university-approved standardized test.
Tuition and Financial Aid
Students who enroll at National University pay $370 per credit, which is equal to $1,665 per 4.5 quarter unit course. The university operates on a quarter schedule rather than a semester arrangement. Students will also pay a handful of fees when they attend the university, and those fees are non-refundable even if the student withdraws from classes and receives a refund on the base tuition. Fees may include a $100 graduation fee and a $60 fee for international students for their activity fee.
For graduate students, the per-credit rate is $442, with a total cost for each 4.5 credit course at $1,989. Students may also need to pay some fees in addition to the base tuition like an international student orientation fee of $50 or a transcript fee of $5. Some programs may also require other fees. For example, the nursing program requires an e-portfolio fee of $35 per year and a nursing clinical laboratory fee of $675 per course.
Students may want to apply for financial aid when they attend National University, and the process begins with the submission of an official FAFSA form. Eligibility requires that the student is a high school graduate or that he or she has earned a GED. Students must also be a U.S. citizen or an eligible non-citizen, as well as be enrolled in a degree or certificate program.
Applicants for financial aid may also need to submit copies of federal tax forms and other financial documents if they are requested by the university. Some students may also be required to sign a Statement of Educational Purpose or a Certification Statement. After receiving financial aid at National University, students must maintain satisfactory academic progress to continue receiving aid each year.